Thailand is full of lovely people, amazing adventures, lush beaches, sacred temples, and a lot of history. It's one of the most frequently visited countries in the world! When planning a trip to Thailand, many tourists are searching for the 10 days Thailand itinerary. No wonder why! It's a perfect time to get to know the country and see its highlights.
Of course, you can travel around Thailand for months and still have lots to see. However, not all of us can afford to take such a long break. Spending 10 days in Thailand will be enough to visit the most important sights, try local food, do some shopping, and of course- spend some time on the beach!
This 10 day Thailand itinerary is jam-packed, however, you will still have some time to simply relax and enjoy the famous Thai massage. When moving from one place to another, you will sometimes need to book a flight, since Thailand is a really big country. For example, it would take 22 hours of driving non-stop to get from the northern Chiang Rai to the southern island of Phuket!
Here's our suggested 10 days Thailand itinerary in the nutshell. Keep on reading, to get to know all the details:
Here's a map of all the places mentioned in our 10 days in Thailand itinerary:
Bangkok: Day 1 of 10 Days in Thailand Itinerary
Be sure to buy Thai Sim card at the airport to have Internet access throughout the stay.
You've most likely taken a red-eye flight in, so take the time to freshen up at your hotel before heading out to Bangkok. Like most cities worth visiting, Bangkok is divided into an old city and a new city. Work out your itinerary so that you're not dashing between one and other, but rather have enough time to spend in each place.
Visit the Grand Palace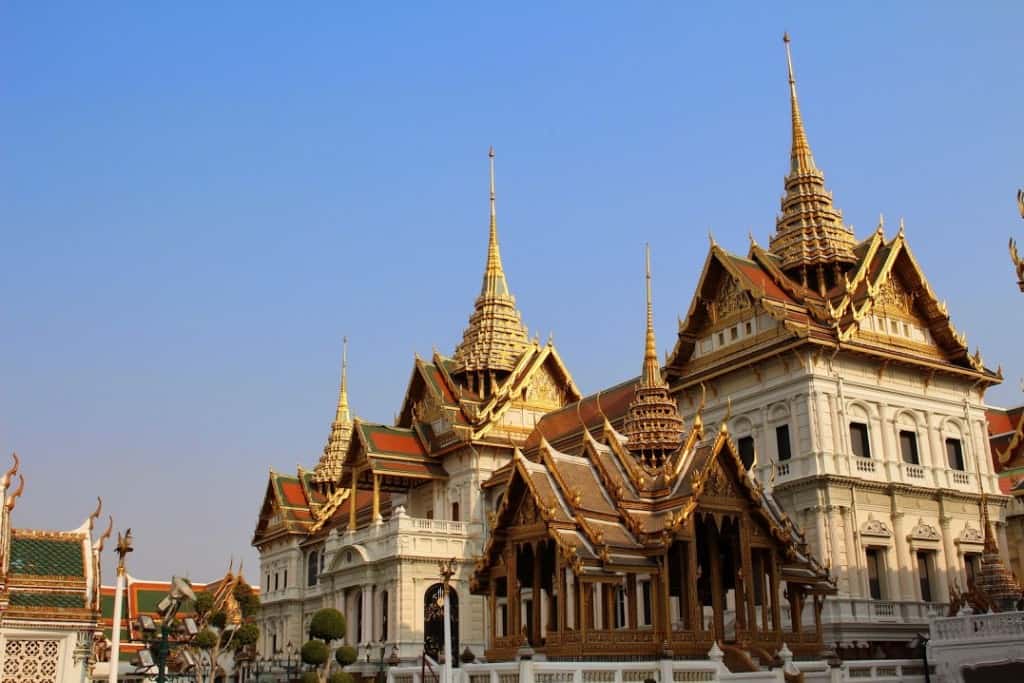 One of the most beautiful palaces in the world and the home of the Emerald Buddha, the opulent Grand Palace is a must-visit tourist attraction in Bangkok. There's also a copy of the Angkor Wat here, so if you can't make it to the real one, visit this one.
Other attractions in the Grand Palace complex include the Wat Phra Kaeo, Phra Mondop, Boromabiman Hall, the Great Chakri Palace, Amarindra Vinichai, Dusit Maha Prasat and the Amphorn Phimon Prasat. Book a tour to Grand Palace to make sure you get the most of your visit.
Getting there
You can take a ride in a lovely tuk-tuk or a plain old cab. If you love water, you can take a ride on a boat and get off at Chang Pier, from where it's a short walk to the Palace.
Time required
If you rush, 1 hour. If you love really taking in everything and want to visit most of the buildings in the complex, spend at least 3 or 4 hours here.
Cost
500 Baht or 17 USD. Yes, it is expensive, but if you see the scale and complexity of the place, you'll definitely not regret it!
Tips
Try to go fully clothed. Visitors wearing shorts or open arms are often refused entry. Remember that this is a sacred place.
As in all temples, you will have to take your footwear off. So if you're worried about hygiene, rather than being refused entry, wear socks!
Wat Pho – The Golden Temple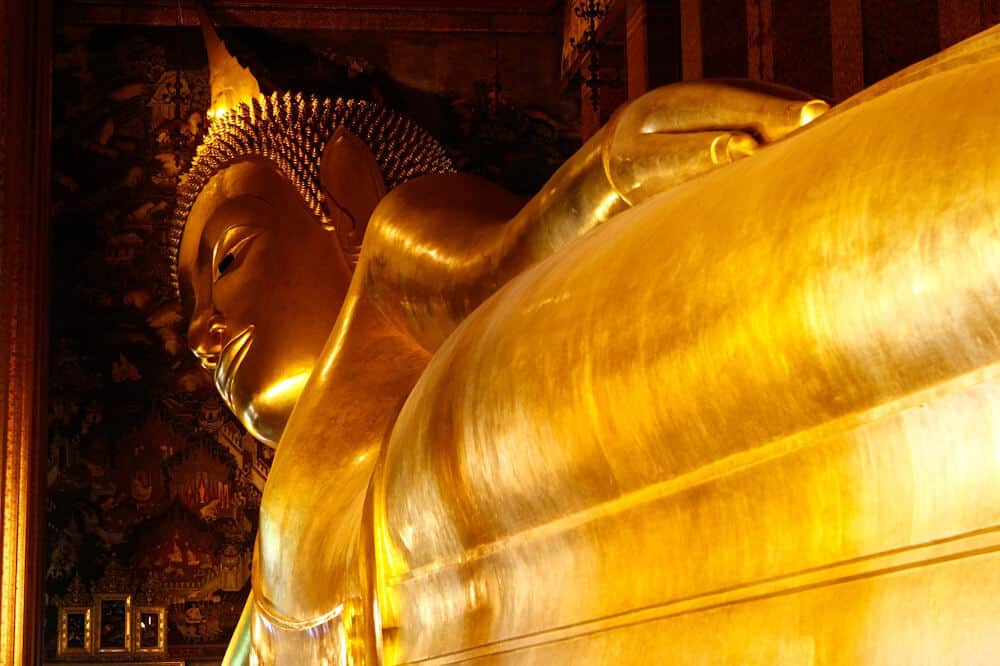 The Golden Buddha in the Wat Pho is just next to the Grand Palace. The reclining Buddha here is one of the largest in the world and is a must to add to your 10 days in Thailand itinerary. There are metal bowls along the side of the Buddha to drop your offerings.
Getting there
This one's easy for the 10 day itinerary Thailand, just walk across from the Grand Palace, that you have visited by bus or train. If you want to take the bus, the ones that get here are 1, 3, 25, 44, 48, 91, 508 and 512.
Time required
1 to 2 hours.
Cost
200 Baht or 7 USD, which is really cheap for a bit of serenity and a look at the 250+ year old Golden Temple. Check out the Bangkok temple tour if you want to get the most of your trip.
Tips
Wear long sleeves tops and long trousers.
Eat And Shop On The Khao San Road
If you're worried about how much money to take to Thailand for 10 days, here's a tip; take more than you originally planned. Because once you get to Khao San Road, the smells of the food will be the best on your 10 nights in Thailand.
Although it's open all day, the most popular vendors are here after 6 pm. So you can come anytime after 6 and spend hours here buying the wares and tasting the food.
Khao San is the most famous road in Thailand, often called the backpackers' paradise. It's where you can try the famous fried scorpions, bugs, and make new friends.
Getting there
Built in 1892, the small 410 meter Khao San Road is about a km from the Grand Palace.
Time required
2 – 4 hours, or even the entire night, depending whether you will start to party or not ;).
Cost
How much you spend depends on how much you shop or eat.
Tips
Remember to bargain. Everything has a price. Think of this place like a flea market.
Bangkok: Day 2 of 10 Days in Thailand Itinerary
Spending a minimum of 2 days in Bangkok is a must (3 days is advised!). There are plenty of things to do there!
Shop And Eat In Ratchaprasong And Siam
One of the highlights of your 10 days in Thailand will be visiting the central shopping district of Siam. This is the area you'll find the best shopping products, both originals, and fakes at really cheap costs. Also, go shopping in the nearby Chatuchak Weekend Market or the Ratchada Night Market.
Getting there
Located in Pathum Wan, the Siam and Ratchaprasong shopping areas are easily accessible by anyone via taxi or tuk-tuk. You can also book a Bangkok shopping tour with a private driver to save yourself a hassle.
Time required
Time depends on what you're here to do. You could shop for just one trinket or spend 3 to 4 hours haggling for antiques.
Cost
Depends on what you buy.
Tips
Bargain! No matter what, bargain! All prices are exaggerated. So the best you can do here is bargain.
Visit a Lady Boy Cabaret
Ladyboys are a dime a dozen in Bangkok. But there are some of them that have amazing talent. You can catch a musical at the Calypso Cabaret. While you're listening to those old songs and classics, you'd hardly realize that they were actually ladyboys performing.
Getting there
In addition to Calypso Cabaret, there are actually quite a few around the city. Ask your hotel for the best options.
Time required
The show takes 1.5 to 2 hours.
Cost
Around 600 to 900 Baht for just the show. And 1,500 Baht for the show plus dinner.
Tips
Don't take a picture with a ladyboy after the show unless you plan on paying for it.
Tips are definitely accepted here!
Bangkok-Ayutthaya: Day 3 of 10 Days in Thailand
Visit The Ruins Of Ayutthaya
Take a day trip to Ayutthaya, the UNESCO listed ruins of the ancient capital of Siam and the world's largest city from the 14th to the 18th centuries, till it was destroyed by the Burmese.
Situated at the head of the Gulf of Siam, the city is equidistant from India and China. When the capital was moved downstream to Bangkok in the 18th century, many of the elements from Ayutthaya were emulated here. There are many ruins to see in Ayutthaya, but the most famous are the Wat Chaiwattaranaram, Wat Phra Mahathat, Mongkhon Bophit and Wat Phra Si Sanphet.
Getting there
Ayutthaya is situated 85 km (53 miles) north of Bangkok. It's more of a day trip type of place and you can travel by bus, train or minivan.
If you chose to go by train, Hualamphong Station, Don Muang and Bang Pa-In have trains going there every hour. From Ayutthaya Station, you can either walk for 10 minutes, then take a ferry across the Prasak river, then walk for 30 minutes to the UNESCO site, or hire a much-needed tuk-tuk.
The best option though is to book a guided tour to Ayutthaya from Bangkok. You will save yourself a hassle and the cost is pretty much the same as if you were going on your own.
Time required
You can easily spend half a day or up to two days there.
Cost
The cheapest day trips from Bangkok average around $50, depending on who you book with. We recommend going with GetYourGuide.
Tips
You could opt to stay near Ayutthaya for a few days, but it's not worth the time and cost. A day trip is quite enough.
Where To Stay In Bangkok?
There are many options to stay in Bangkok during your 10 day tour of Thailand, from budget hostels to all-out luxurious resorts.
Luxurious Hotels
Chakrabonsge Villas are located on Rattanakosin Road, about 10-minutes walk from the Grand Palace.
Featuring one of the highest rooftop bars in the city, the Lebua At State Tower is the epitome of luxury.
Budget Hotels
The Great Residence Hotel in Lat Prabang is clean, affordable and easy on your pocket.
Hostel
The colorful exterior of the Boxpackers Hotel Pratunam invites you into this hotel with spacious dorms and rooms.
Chic and colorful, the walls in every room at Chic Hostel tell a different story, and it's easy on your budget too!
Chiang Mai: Day 4 of 10 Days in Thailand
Take a domestic flight from Bangkok to Chiang Mai.
Head to the vibrant city of Chiang Mai, a must on your 10 day Thailand itinerary. Surrounded by lush greenery, it's an adventurer's hideout, perfect for trekking and climbing. But on your fir and replete with beautiful temples.
If you have a few more days to spend in Chiang Mai, visit Doi Ithanon, the mountain that's called the 'Roof of Thailand'.
There are over a dozen temples worth visiting in Chiang Mai, but Wat Phra Singh, Wat Chedi Luang, and Doi Suthep are our favorites. Wat Phra Singh houses the infamous Lion Buddha next to the golden chedi.
The famous Emerald Buddha from the Grand Palace in Bangkok once rested in the Wat Chedi Luang. The ruins of this temple date back to 1441 and the Lanna kingdom and look impressive with the stone elephants lining the sides.
Founded by Phaya Mengrai in 1297, the Wat Chiang Man is the oldest temple here. The stark contrast of the elephants at the base with the golden top add an amazing magnetism to this temple.
Going to Wat Chedi Luang and Wat Chiang Man will save a bit off your budget for 10 days in Thailand since they're both free to enter.
Getting there
Wat Phra Singh is located on Ratchadamnoen Rd in the West of the Old City. Wat Chedi Luang is a 10-minute walk from Wat Phra Singh. Wat Chiang Man is on Ratchaphakhinai Rd, which is also an easy 15-minute walk from both Wat Phra Singh or Wat Chedi Luang.
Time required
Since you have only a day in Chiang Mai, spend 30 minutes to an hour in each temple.
Cost
Wat Phra Singh – 20 Baht
Doi Suthep – 30 Baht
Wat Chedi Luang – Free
Wat Chiang Man – Free
Tips
Be respectful. Wear socks if you don't want to get your feet dirty since you'll have to take your shoes off.
Visit an Elephant Park
There are elephant parks and then there are elephant parks. Some parks like the Elephant Nature Park are ethical and do not allow you to ride the elephants or too much contact with them. They're more of rehabilitation centers for the animals. The others that allow you to ride elephants, you must stay away from. They're unethical and harm the animals!
Getting there
The park office is located at Ramtakka Road in Phra Singh. The park agents pick you up from their office, your accommodation or a designated pick up area. Book a tour here.
Time required
1 to 2 hours.
Cost
Short park visits and single-day visits cost 2500 Baht. If you have an extra day here and want to stay in the park overnight, it's 6000 Baht.
Tips
Do the ethical thing and don't spend too much time taking photos with the animals.
Make sure the park you're visiting is actually caring for the animals and not exploiting them.
Visit the Chiang Mai Night Bazaar
The night bazaar is the place to visit if you want to purchase knickknacks and souvenirs, clothes, spices, shoes, Thai silk, handicrafts, purses, wallets, Oriental furniture, samurai swords, and more.

Getting there
The bazaar is in the center of Chiang Mai, so you can get there by walking, tuk-tuk or taxi. You can also take a night food tour with a guide.
Time required
1 to 2 hours.
Cost
There's no cost to get there, but what you spend depends on you.
Tips
Haggle, haggle, haggle!
Where To Stay in Chiang Mai?
For this stop on your Thailand 10 day trip itinerary, there are many options to choose from.
Luxurious Hotels
Shangri La Hotel Chiang Mai is a luxurious 5-star hotel within walking distance of the Chiang Mai night bazaar.
Close to the night market and Wat Phra Singh, the traditional Anantara Chiang Mai Resort with a rooftop terrace provides luxurious accommodation.
Budget Hotels
The Rainforest Boutique Hotel Chiang Mai is an affordable place to relax just minutes from Chiang Mai railway station.
The economical Vieng Mantra Hotel is close to major Chiang Mai attractions and nightlife spots.
Chiang Rai: Day 5 of 10 Days in Thailand
You can either spend a night in Chiang Rai or take a day tour to Chiang Rai and come back to Chiang Mai for a night.
Home to the famous White Temple or Wat Rong Khun, Chiang Rai sits on the border with Laos. We recommend saving some of your 10 days in Thailand budget for Chiang Rai.
Visit The Long Neck Karen Tribe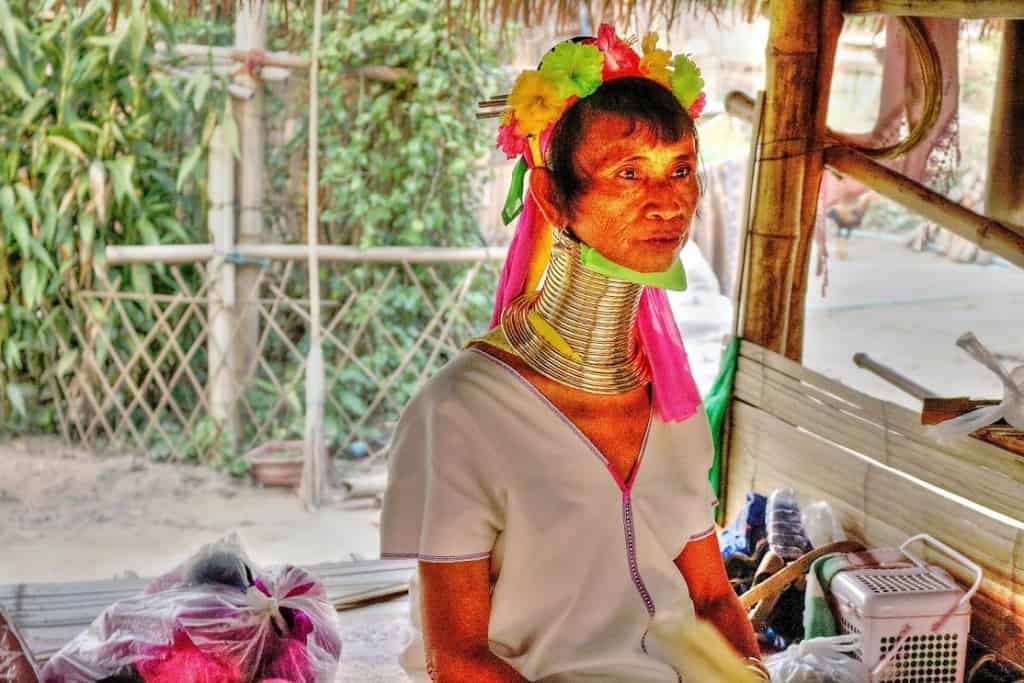 The Karen tribe originally came over from the Yunnan Province of China and then Burma and then finally settled in the hills of Chiang Rai. The tribe has held on to their traditions, one of which is the addition of rings to their necks.
It's a difficult decision whether or not to visit them. It's said that they cannot get local jobs and hence have to resort to tourism for their income. If you visit, you're contributing to their income, but then again maybe you're contributing to exploitation.
Getting there
It depends on the agency you book with. There are 5 different villages and every agency has a specific preference. The best option is to book a general hill tribe tour.
Time required
A few hours.
Cost
Group tours are between 300 to 500 Baht per person.
Tips
You can also pre-book accommodation to spend the night in a tribal village.
Visit The White Temple
The fascinating White Temple or Wat Rong Khun was designed by artist Chalermchai Kositpipat and is replete with figures and designs that make you stop and stare in amazement.
The blindingly white temple features structures like the sea of hands, gateway of heaven, golden building, the cycle of rebirth and has to be added to your 10 days Thailand itinerary.
Getting there
It's located 13 km (8 miles) outside Chiang Rai. So you'll need to take a bus from Chiang Rai station and pay 20 Baht to get here. Alternatively, take a taxi.
Time required
2 to 3 hours.
Cost
50 Baht.
Tips
Dress appropriately. Skirts or pants should cover your knees.
Where To Stay In Chiang Rai?
Luxurious Hotels
Modern accommodation with earthy tones, Laluna Hotel and Resort Chiang Rai offers families the best place to relax in Chiang Rai.
Budget Hotels
Economical, yet classy, Nak Nakara Hotel is centrally located in Chiang Rai.
Phuket: Day 6 of 10 Days in Thailand
It's time to head to the other end of Thailand. So catch a flight to Phuket.
Yes, you could drive down, but that would mean spending a lot of your Thailand island itinerary 10 days just driving. As the crow flies, it's a 22-hour straight drive. A flight from Mae Fah Luang International Airport in Chiang Rai to Phuket International Airport will take you just over 2 hours. But add to that the time spent waiting in the airports, and you're down half a day.
Just spend this day at leisure and maybe try some local dinner once in Phuket.
Have A Night Out At Bangla Soi
For a fun night out in Phuket, Bangla Soi or Bangla Road has it all. The 400-meter street is a no-vehicle street that comes alive after sunset. Pubs, bars, and discos line this street and are open till the wee hours. If you spend just one of a night out on your 10 day Thailand trip, it has to be at Bangla Soi.
Getting there
Most hotels are within walking distance of Bangla Soi, but if you're located further away, catch a tuk-tuk or taxi.
Tips
Some of the touts may try to force you into their bars or pubs, literally! Just be firm with your 'No' till you find a place you want to hang out at.
Phuket: Day 7 of 10 Days in Thailand
Thailand's largest island, Phuket draws most of the touristic crowd, and yet hasn't lost its charm.
It's a place to relax, enjoy the nightlife, and spend days lazing on the beach. Massages are also available at street corners or in luxurious spas. When you're budgeting how much spending money for Thailand 10 days, set a little aside for the spas.
Watersports are big in here. And you have to add surfing, scuba diving, snorkeling, sailing, and more 10 days in Thailand, Phuket plan.
Hire a boat or join a tour and go island hopping. You don't need to book all of your 10 day Thailand tour options in advance. Just inquire at your hotel reception or head down to the beach and you'll be accosted by a number of touts asking you to join their tours. Bargain to get the best deal here!
Check out the best tours to take in Phuket:

Where To Stay In Phuket?
The best of Thailand in 10 days must include a stay in Phuket, the largest island. Here are some good stay options for your Thailand 10 nights stop at Phuket.
Luxurious Hotels
With a pool overlooking the sea, this 5-star hotel has all the luxury you want. Check out the Sri Panwa hotel.
Close to the Kata Beach and Nai Harn Beach, with rooms and suites that leave nothing lacking, the Katathani Phuket Beach Resort is the epitome of luxury.
Budget Hotels
Simple and chic, this boutique Surintra Boutique Hotel is located close to Surin Beach.
Koh Phi Phi / Krabi: Day 8 of 10 Days in Thailand
The best of Thailand in 10 days trip cannot be complete without a visit to the island of Koh Phi Phi or the province of Krabi. If you want to stay there longer, see this suggested Krabi itinerary.
Visit Koh Phi Phi Island
If you've seen the movie, The Beach starring Leonardo DiCaprio, you'll want to tick Koh Phi Phi off your bucket list. Spend half a day here indulging in water sports and getting a tan.
If you want to travel to Krabi as well, we suggest you spend a few early morning hours at Phi Phi during your 10 days Thailand trip. Of course, you could also spend the night at the luxurious Phi Phi Island Village Beach Resort or the Zeavola Resort that has its own private beach; but that would increase your 10 day trip to Thailand cost and time.
Getting there
Accessible by speedboat or ferry from both Phuket and Krabi.
The ferry is the cheaper method with ferries leaving the Rassada pier in Phuket, Sea Angel pier in Phuket or Klong Jilad pier in Krabi every few hours and stopping at the Tonsai pier in Phi Phi.
Time required
Few hours to a whole day.
Cost
Ferries cost 500 Baht one way.
Spend The Night in Krabi
After visiting Phi Phi Island, you can either return to Phuket or add Krabi to your Thailand itinerary 10 days.
Krabi is not an island, but a province in South-Western Thailand. Full of beautiful coral covered islands, national parks, and caves, Krabi is a must add to your list of what to see in Thailand in 10 days.
There are a lot of things to do in Krabi. The problem is picking just one or two out of them. You could visit a well-known Railay beach but it may be too crowded.
Hire a boat or a guide and visit one of over 80 islands in the Krabi Province, especially Chicken Island, Koh Lanta, Pranang Beach, Ao Nang. Or go hiking in the Thung Teao National Park, the Koh Lanta National Park, Phi Phi Marine National Park, and others. Visit the tiger cave temples at Wat Tham Sua and climb up to see the footprint of the Buddha.
Getting there
Krabi is a 2-hour drive from Phuket or a 2.5-hour ferry ride.
Time required
Spend the night or do a day trip.
Cost
The taxi or car rental to Krabi from Phuket costs 2500 Baht, the bus costs 150 Baht while the ferry costs 700 Baht each way. The Tiger Cave temple is free to visit. National Park entrance fees average of 400 Baht.
Tips
While budgeting how much money for 10 days in Thailand, please also consider the costs of boat rentals, scuba gear rentals, and food. We strongly encourage you to book as many trips online as possible- it will be easier for you to instantly calculate your budget.
If you want a more relaxed Thailand itinerary 10 days, it's better to skip Chiang Rai and add an extra day in Krabi.
Your next stop will be Pattaya. Although there are flights to Pattaya from Krabi, they are either very expensive or via flights that will have you spending the entire day in airports.
For the return flights, it's better to go back to Phuket Airport and fly to Pattaya. That being said, you can choose to spend all the nights in Phuket, not Krabi, which may save your time and allow you to take an early morning flight to Pattaya.
Where To Stay in Krabi?
Luxurious Hotels
With everything at your fingertips, the Dusit Thani Krabi is as luxurious as it gets.
Staying at the Amari Vogue Krabi is like walking into an oriental dream paradise.
Budget Hotels
The relaxing Phra Nang Hotel by Vacation Village is both affordable and classy.
The economical SriSuksant Square hostel, also known as Seacation Krabi provides guests with luggage services and an option of dorm rooms or private rooms.
Pattaya: Day 9 of 10 Days in Thailand
Check out the latest deals here.
Till the 1960s, Pattaya was a quiet fishing village. It's now famous for its beaches, nightlife, and food. It's also infamous for its sex industry, but that's not what Pattaya is really about.
Pattaya is famous for the Alacazar Cabaret show featuring transgender artists, for the street food and nightlife on Walking Street, for Mini Siam and the Sanctuary of Truth, for Jomtien Beach and Pattaya beach, and also for the Pattaya Floating Market.
Getting there
We suggest you fly from Phuket to Pattaya which is 1.5 hours away by flight or 14 hours of straight driving. Flying is cheaper.
Cost
Flights average 1500 to 4000 Baht one way. Also, take into account the cost of airport shuttles or taxis on your Thailand 10 days package.
Visit Koh Larn Island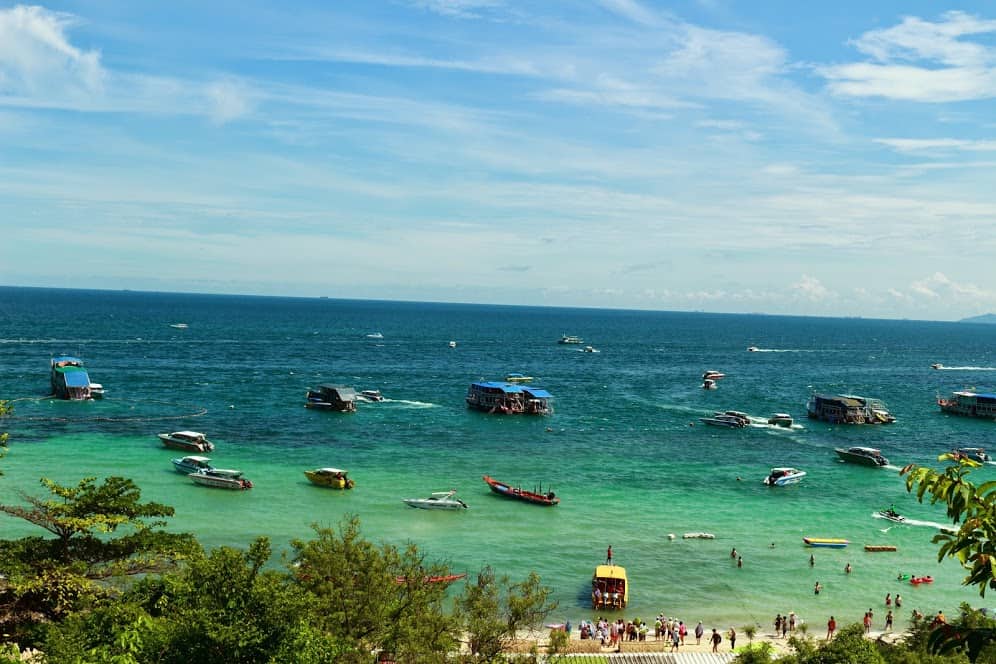 You'll have lost half a day getting here, so spend the afternoon on one of the Pattaya beaches or take a boat ride to Koh Larn island and go scuba diving, snorkeling or paragliding.
The beautiful coral island has 6 main beaches and many smaller ones. You can also take part in fun activities like banana boat rides, water skiing, and more. Or just rent a beach chair for 50 to 100 Baht and laze on the beach.
Restaurants on the island serve traditional and continental fare, but seafood is the dominant choice on this leg of your Thailand in ten days trip.
Getting there and Cost
Speed boats from Bali Hai pier to Koh Larn cost about 300 to 400 Baht per person and take 15 minutes, while the Koh Larn ferry costs 30 Baht and takes 45 minutes. The cost of water sports activities varies depending on the season and the activity.
Tips
Check out our ultimate guide to Koh Larn island. Rent a motorbike to drive around the island for 300 Baht.
The speedboat ride is very bumpy and you might come away with a sore underside. If you're not okay with this, take the ferry.
Pattaya Floating Market
A hub of arts and crafts and almost every other goods there are, the Pattaya Floating Market is a flea market where the vendors sell goods and food items from boats and stalls. You can also hire a guide with a boat to take you around.
There's a lot to buy here, from traditional clothing to spices, to keepsakes and souvenirs. Some of the must-try foods are sticky mango rice and fried insects.
Getting there
The Pattaya Floating Market is located near Sukhumvit Road in Pattaya City. You can get here via taxi or tuk-tuk.
Time required
A few hours. But it closes at 8 pm, so try to get there by 6 pm.
Cost
The entrance fees are 200 Baht. Rest depends on what you buy.
Tips
Bargain, bargain, bargain!
Where To Stay in Pattaya?
Luxurious Hotels
Featuring its own waterpark with jungle, river, and waterfalls, the luxurious Centara Grand Mirage Pattaya is within walking distance of major attractions.
Budget Hotels
Traditional, earthy and comfortable, the Sabai Resort Pattaya is also close to Pattaya's attractions.
Bangkok: Day 10 of 10 Days in Thailand
Go Back To Bangkok And Visit The Night Markets
It's the last day of your 10 days in Thailand, where to go? Go back from Pattaya to Bangkok and enjoy one last night out in the capital before your flight home.
If your flight is the next morning, you can spend the evening visiting the late-night markets to pick up some last-minute keep souvenirs for your friends and loved ones. The markets are also where you can buy some grub to eat or take back home.
You have two choices, MBK Shopping center or Sukhumvit Soi 38 Night food market.
MBK or Mahboonkrong is a mega-mall boasting over 2000 shops and is popular with locals and tourists alike. Sukhumvit Soi 38 Night food market is a popular market filled with cheap street food stalls. It was scheduled to be redeveloped in 2016, but it's still there in the next alleyway serving tasty Thailand snacks and meals like noodles with pork, mango sticky rice, papaya salad, pad thai and more.
Getting there
MBK is on Phayathai Rd while the street food stalls are at Soi Sukhumvit 38. Both markets are accessible by tuk-tuk or taxi. You can also take a night Bangkok tour.
Time required and Cost
Expect to spend a few hours here. MBK is open from 10 am to 10 pm while Soi Sukhumvit 38 is only open post 5 pm. Expenditure at Sukhumvit Soi can range from 100 to 1000 Baht, depending on the number of dishes you try.
Tips
Be prepared to splurge at MBK since you'll find products from many of your favorite brands sold here at lower prices.
Ning Sisters mango sticky rice is a must-try at Sukhumvit Soi.
More Options To Stay In Bangkok
There are many options to stay in Bangkok during your 10 day tour of Thailand, from budget hostels to all-out luxurious resorts.
Luxurious Hotels
Close to the Emerald Buddha and Grand Palace, the riverside Chatrium Hotel Riverside Bangkok is a trendy epitome of luxury.
Budget Hotels
The mix of traditional wooden and modern design at the Orchid Hotel makes you feel at home in Bangkok.
Okay, so there may be a lot of things to do on this Thailand travel itinerary 10 days. But it's just here for you to pick what you'd really like to do. We obviously cannot see all of Thailand in 10 days, but why not see as much as possible. The places we've added to this list are the ones we think are the most important. But feel free to skip one or two and just take the time to relax and walk around the city you're in.
Pin For Later:
If you think we should add a few more places to this itinerary, comment and let us know! And if you would like to read some stories from traveling around Thailand, follow the link!