10 things we love about Thailand
If you ever wondered why so many people fall in love with Thailand, you can find 10 main reasons below. There are some many things we love about Thailand 🙂
1. Food
Thai people are crazy about food and it's really easy to feel the same way while being in Thailand. Everything is so fresh, fragrant and delicious!
One of the good things about Thailand is that you can buy something tasty to eat everywhere and every time. It's just impossible to be hungry in this country.

2. Prices.
Thailand is a perfect combination of quality and low prices.
Double room with A.C. and WiFi costs about $20 per night. Standard meal costs $1 and fresh coffee is only $1.5. What more can you expect? 🙂
3. Massage.
You will be offered a massage everywhere in Thailand. And you should definately try it!
It's a great way to relax and forget about worries of everyday life. Traditional one-hour Thai massage costs only $4-5.
Cheap and awesome massage it the one of the best things we love about Thailand 🙂

4. Drinks.
Drinks are our favorite. Everywhere in Thailand you can buy delicious drinks with a large amount of ice, to cool during the hot day.
The best are of course fruit shakes (fresh fruits blended with ice), teas (especially Thai and Green Milk Tea) and coffee (Latte or Capuccino).
5. People.
Friendly, helpful and always smiling! Thai people are amazing and the only thing you should remember to be nice to them. Don't get angry and relax, no matter what happens.
Thai people do not tolerate aggression.
6. Scooters.
Fast and easy way to get around Thailand. Scooters are very popular among locals and tourists. One day rental costs about $5.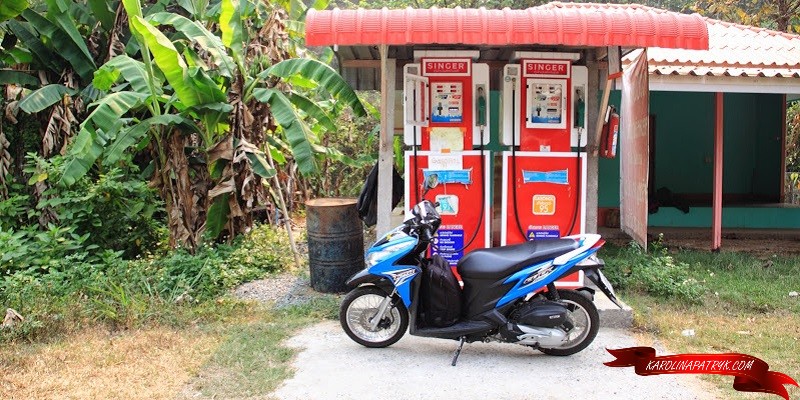 7. Internet.
It's very easy to find a place with good Internet in Thailand.
Most of coffee shops and restaurant has free WiFi

8. Nature.
Needless to say, Thailand is beautiful!
You can find everything you need there: beautiful beaches, high mountains, wild forests and unexplored waterfalls.

9. Temples.
Thailand is full of beautiful temples. Thai architecture is amazing. Pointed roofs and rich ornaments make you feel like you were in the fairy tale!

10. Tolerance.
There are many sexes in Thailand. And Thai people really tolerate everybody. No matter if you are ladyboy or transvestite– you still are human and you deserve being respected.

There are also many weird things about Thailand! Our friend Josh wrote about it on his blog: Bangkok's Most Weird Attractions.
What do you love about Thailand? 🙂