London is by far one of the coolest cities to visit in the world. What sets London apart from other large cities in the world is its gritty and palpable history. Examples include the Tower of London where some of your favorite prisoners were executed, including two of King Henry VIII's wives, Anne Boleyn and Catherine Howard. Another is the Globe Theatre, where Elizabethan players performed some of William Shakespeare's most famous works.
It is also home to some of the best fashion and some of the best food in the world (mostly thanks to the Indians). And on a sunny day, there is no more enjoyable activity than reading a historical fiction novel in one of London's many tree-shaded parks.
Whether you're an experienced traveler or this is your first time and you're looking for some tips, bringing your family with you is a wonderful way of seeing the different sites and experiencing the ambiance through multiple lenses.
Traveling with family, much more than traveling alone, requires quite a bit of planning, which can definitely be overwhelming, even for the most organized of parents. But have no fear, for the following is itinerary for 5 days in London with family.
Day 1 of 5 Days In London With Family
After getting settled in your hotel and having a revitalizing cup of coffee or tea, it's time to head out and see the sights. If you've traveled from far away, you may be tempted to sleep, but the best thing for you to do to adjust to London time is to stay awake until a reasonable local hour to go to sleep.
A great introduction to London is the Hop-On Hop-Off Bus Tour. You may be hesitant to go on such a "touristy" tour, but the city of London is so big that there's really no other efficient to see everything.
Since it's day one in your new city, you can definitely allow yourself to indulge in some of the more touristy activities. The London Eye is one of the best things to do in London with kids.
It provides a breath-taking view of the River Thames, Parliament, and the London skyline. It's also conveniently located on the bus tours' routes, so you can take the bus tour to get there.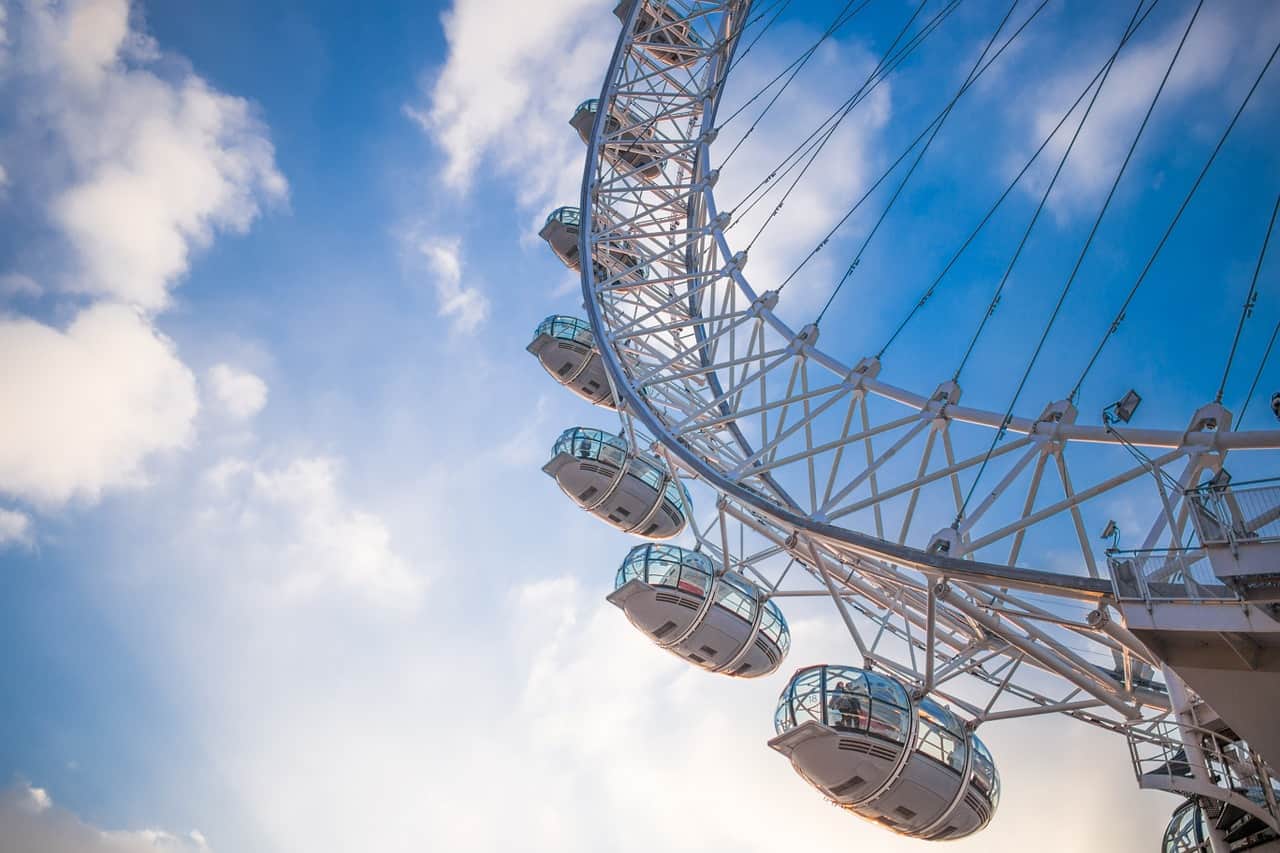 Where to Eat on the First Day?
You can either go to The Green Room or to Bleecker Burger. The first one is located behind the National Theatre. You can enjoy there simple and delicious authentic British fare.
If you or your kids want something that's quick, filling and tasty, you will find Bleecker Burger under the Hungerford Bridge where you can enjoy standard but well-prepared fast-food offerings.
Day 2 of
5 Days In London With Family
Avid fans of historical fiction novels, or just plain history in general, will delight in visiting Westminster Abbey.
You will relive the coronation of monarchs and royal weddings, and an audio guide included in your entry fee explains the history of this iconic place.
After your visit to Westminster Abbey, it's time to continue on to another must-see London attraction.
The changing of the Guard at Buckingham Palace occurs every other day at 11 am. You can watch this ceremony from the Mall and in front of the palace.
Covent Garden
Covent Garden is located in the West End and is ideal for wandering around and taking in the ambiance. Your kids will enjoy the many colorful stalls and street performers, and just around the corner, you'll want to sample some artisanal cheese from Neal's Yard Dairy.
Where to Eat on the Second Day?
Walk over to Whitehall and have lunch at The Red Lion.
The whole family will enjoy traditional English dishes like fish and chips and bangers and mash. This small and cozy pub offers excellent service and has some great cider offerings for the adults.
Day 3 of
5 Days In London With Family
Oxford/Regent Street
Take a break from being a tourist and hit the stores to do some shopping. Oxford street is bustling every day with hundreds of thousands of tourists and residents and has something for everyone.
If you have younger children with you, you absolutely can't miss Hamleys Toy Store. Hamleys is the world's oldest toy shop and features seven floors of toys and games. Your teenagers will quickly shed that scowl when they see all of their favorite brand stores as well, like Topshop, American Apparel and H&M, to name a few.
And if you're interested in doing some window shopping, or actual shopping, stop over to Selfridges, in fact, it is said that this department store invented window shopping. You'll find some quintessential British design names like Vivienne Westwood, Paul Smith, Mulberry, Barbour, and Burberry.
Sightseeing
Ok, so even though it's a shopping day, what's a day in London without at least a little sightseeing? Head over to the Marble Arch if you're into London's darker history, for it was commonplace for public execution from 1388 to 1793.
For a happier place to go, you can rest your feet in Hyde Park and then go check out the Princess Diana Memorial Fountain to pay your respects to the late princess.
Where to Eat on the Third Day?
Breakfast
Fuel up for your big day of shopping at the Riding House Café.
It has something on the menu for everyone, with lighter fare such as brioche French toast for your picky teenage daughter, or the Full English breakfast for your constantly growing teenage boy.
Lunch
For lunch stop into Silvio's on Duke Street. This Italian-inspired sandwich shop is great for taking away a quick bite.
Afternoon Tea
If you like to respect the traditions of the place you are visiting, you'll want to take a break for afternoon tea at The Tea Terrace. If you have a little one with you who loves Disney, it might be a good idea to have your tea in the Cinderella carriage.
Dinner
No visit to London is complete without fish and chips. The Mayfair Chippy is a renowned fryer, using sourdough bread for sandwiches and also serving a variety of other seafood and even vegan fish and chips.
Dinner and drinks if you brought a babysitter
If you've sent the nanny back to the hotel to take care of the kids for the evening, you and your partner should head to Berners Tavern for a real treat.
This glamorous restaurant is adorned with sparkling chandeliers and lustrous, gilded detailing. Champagne served by the glass from a trolley is just what you need to take the edge off of a long day of shopping with kids.
Day 4 of
5 Days In London With Family
The Tower of London opens at 10 am, so get there first thing to avoid the lines (you can also book a tour online). The White Tower has kid-friendly activities and is home to the Crown Jewels. Afterward, walk over Tower Bridge to have a look at the exhibition which will tell you how the bridge was made.
After having lunch near the Tower, hop on the bus tour at Tower Hill and rest your feet while getting another great look at the city's tourist attractions. You can get off at Whitehall, walk through St. James Park and stop at the St. James Hotel and Club for tea.
Where to Eat on the Fourth Day?
Lunch
Hop over to St. Katherine Docks where you'll find Kerb, a market featuring the very best of London's street food traders.
Tea
St. James Hotel and Club welcomes families with special children's tea and board games.
Day 5 of
5 Days In London With Family
Take this day to revisit your favorite stops or see some that you didn't get to:
This is a super fun way to see London with your kids. You get to ride in a WWII amphibious vehicle, originally made for D-day landing, and see the main landmarks of London before splashing into the Thames.
The famous wax figure museum has something for everyone. Adults will delight in seeing the British royal family, and favorite Hollywood actors. Older kids will get a laugh out of seeing Donald Trump or Barack Obama, while small children will love Shrek and King Kong.
Skip the lines and book your Madame Tussauds tickets here.
Harrods
This may be more for the adults, but if you love shopping it is a must-visit. Harrods is one of London's most famous department stores and has been patronized by the elite since opening in 1824.
You'll find fresh meat and cheese, and fancy marmalades and pates. Lose yourself in sumptuous clothes and lavish perfumes while your kids enjoy the toy section and the pet department.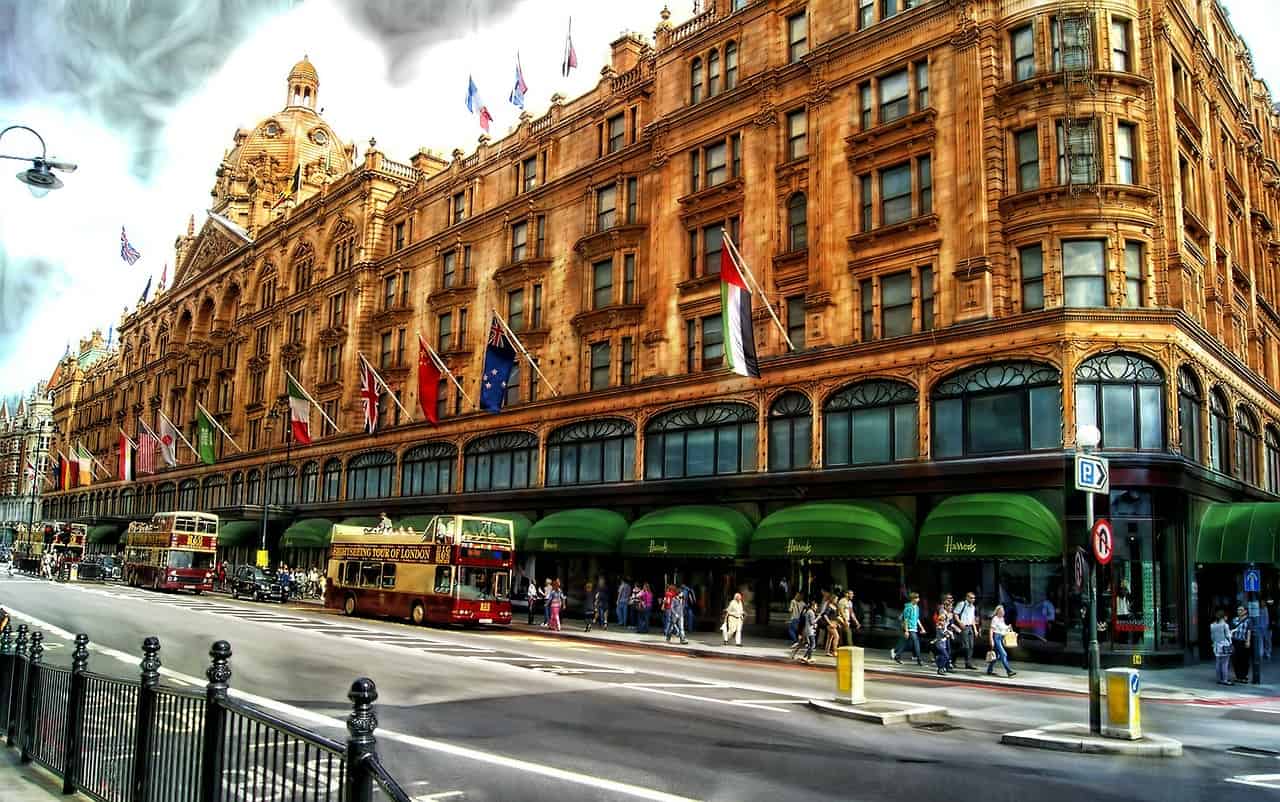 If your family is big on England's royal family, then the Royal Mews is definitely worth a visit.
It's a short visit, so easy to fit in, and features the royal carriages, including an eight horse-drawn Gold State Coach that has been used at every coronation since the late 18th century.
Catch a play at this historic theatre, which was rebuilt after the original burned down. You will be transported back to the Elizabethan era while you lose yourself in the whimsical prose of Shakespeare.
Lovers of English royalty will want to visit Western Europe's tallest building and have Royal High Tea at the Shangri-La Hotel on the 34th floor.
The capital of England is a lively, international city, so you won't get bored during your 5 days in London with family.
By the end of your trip, you will surely already be planning ahead for the next visit.
So, what are you waiting for? Book your flight, reserve your hotel (check out 44 Curzon street hotel), and pack your bags, to head off to one of the most awesome cities in the world!
Pin For Later:
Did you enjoy reading this itinerary for 5 days in London with family? Share your thoughts in comments!