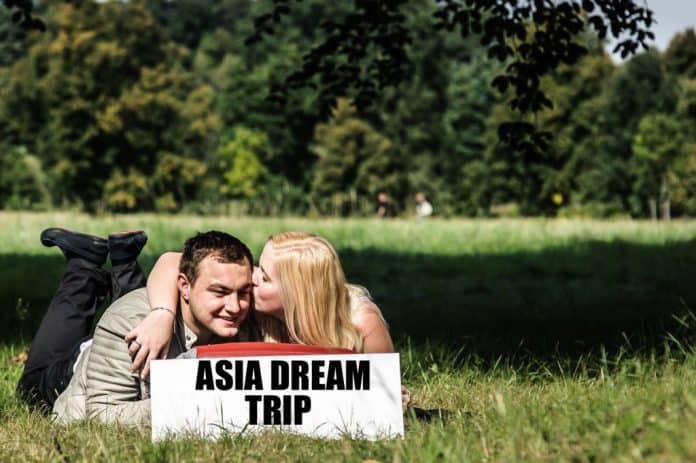 Our Asia dream trip!
We've been in Thailand, Vietnam and Cambodia on spring but now we want to share with you tips how to travel through this wonderful continent. Our Asia dream trip is something we will never forget.
We've put all informations together. Below you can see the map where have we been and how did we get from point A to point B.
If you need some travel inspirations in Asia, you can follow our trail. We really enjoyed our Asia dream trip, we are sure you'll have fun as well 🙂
1. From Bangkok to Ko Tao
We booked combined ticket for bus and ferry.
It was really great! We were travelling at night and we've been on Ko Tao early in the morning.
There are 2 stops during the travel to buy something to drink and eat and to use the toilet.
Travel time is about 10 hours.
2. From Ko Tao to Koh Phangan
It's really close distance, so we just went to pier and buy a ticket. That's it. Travel time was about one hour.
Koh Phangan was the most beautiful place we've been to during our Asia dream trip :).
Again, we used FerrySamui website. We had combined ticket for ferry and bus. Unfortunately, the bus driver turned out to be fraudulent.
Nevertheless, the whole trip was good and fast.
Travel time was about 10 hours.
4. From Phuket to Bangkok
This time, we were travelling by plane. We used AirAsia airline. It is cheap, comfortable and clean. It's simmilar to European RyanAir or WizzAir.
Travel time was about 1 hour
Again, we were flying by AirAsia.
Travel time is about 1,5 hour.
Remember that you can't get visa on arrival in Vietnam! You need to have it before you come. The best and the easiest way is to apply for Vietnamese visa online.
6. From Ho Chi Minh to Mekong Delta and back
We bought a trip offered in our hotel. We were travelling by bus. It was pretty good and cheap.
Travel time is about 2 hours.
7. From Ho Chi Minh to Angkor Wat (Siem Reap)
It was really difficult, tiring and long journey.
We were travelling by bus with a stop in Phnom Penh, the capital city of Cambodia.
Travel time is 15 hours.
8. From Siem Reap to Koh Chang
We took a private taxi for about $60. Hotel staff helped us to book it in advance.
We crossed the border on foot and take another taxi in Thailand.
Note! Always set the price with driver before entering the taxi. Don't be affraid to bargain. The lower price, the better for you. Make your Asia dream trip as cheap as possible.
Travel time is about 8 hours.
9. From Koh Chang to Bangkok
We book ticket for minibus in our hotel. It was good because they came for us and take us to the pier.
We didn't have to change conveyance because ferry was big enough to transport our car.
So we get to Bangkok directly from Koh Chang island :).
Travel time is about 7 hours.
What is your Asia dream trip? Which country in Asia do you like to most?