Malaysia is one of the most frequently visited countries in South East Asia. No wonder why! It's highly developed, safe, and to be honest, it has it all! From the pristine beaches to vibrant cities and interesting monuments. In this post, we are giving you the most beautiful places in Malaysia on and off the beaten path.
It was hard to select these spots, as the entire country of Malaysia is amazing. With help of our blogging friends, we've managed to create this list of Malaysia beautiful places that will hopefully fuel your wanderlust.
Here's the map of the most beautiful places in Malaysia that you can find in this post:
Cameron Highlands
One of the most beautiful places in Malaysia is the Cameron Highlands. It is about 3.5 hours' drive away from
Kuala Lumpur
, depending on the traffic conditions of course. There are
express buses that depart from TBS
(Terminal Bersepadu Selatan) and terminate at Tanah Rata bus terminal and takes 3-4 hours also.
Just remember to request a toilet break if you need, otherwise, they won't stop!
When it comes to the best season to visit, you must visit during monsoon season (November and February) because that's when you can witness the greenery in full bloom, and February to April you get a little dry weather if that's more your style.
Cameron Highlands' visit is incomplete without visiting the vast tea plantations. They are absolutely stunning with that lush serene view! If you are into hiking there are one day to multi-day trails and don't forget the strawberry farms, you can pluck fresh strawberry at the farm!
Some other must-see does include eating lavender ice cream at the lavender garden, go back in time at the Time Tunnel Museum, see colorful butterflies at the butterfly farm, more trials at Mossy forest, Gunung brinchang, cactus valley, and visiting Sam Poh Temple is also highly recommended.
Langkawi
Before heading towards Langkawi, make sure to take your swimsuits and manage a window seat. Moments before the airplane lands, you will be awestruck by the beautiful dotted islands placed on the vast Andaman ocean like droplets of tears. This charm will go on for the entire trip, as it's one of the most beautiful places in Malaysia.
There are many reasons Langkawi is the most attractive tourist destination in Malaysia. It's simple to reach there, Langkawi has an international airport. There are frequent and
cheap flights available from Kuala Lumpur
, it takes only an hour to reach there.
It's a fascinating island circled by greeneries. As it is small, you can navigate it easily by an automobile and enjoy a scenic drive in parallel to the ocean.
A typical trip to Langkawi starts by riding the Langkawi Sky Cab (a cable car) which offers a panoramic view of the island. Sky Cab will drop you to the Langkawi Sky Bridge which is a magnificent walkway built on top of the highest mountain of Langkawi.
When you have enough of the bird's-eye view of the island, you can choose to relax from numerous beaches. Everyone heads toward Cenang beach for nightlife, but the Tanjung Rhu is the loveliest. After beach bumming, take a boat to Kilim Geoforest Park for a trip to the mangrove forest to watch eagles, wild monkeys, and bats in a cave along with the gorgeous surroundings.
If you bring in your children with you, they will have a marvelous time in the Langkawi underwater world watching penguins, dolphins, colorful fishes, and birds. When you will be done with all these, go for a shopping spree, Langkawi is a duty-free destination.
Penang
Its main call to fame is UNESCO-inscribed George Town and the popular street art that spruces up its decadent heritage walls, but Penang is a whole tropical island rich in culture and heritage.
Nature lovers will enjoy Penang Hill, a former British colonial hill station, with its many hiking trails for all levels of difficulty and a quick and easy funicular train that whisks visitors up to 833-meters high Top Station. Don't miss the Habitat here, a nature park with ziplines, one of the world's longest suspended canopy walkway, and the Curtis Crest, or Penang's highest viewpoint.
Temple lovers should go to Kek Lok Si, one of Southeast Asia's biggest Buddhist temples, also on one flank of Penang Hill. It has an 82.7-meters high statue of Goddess of mercy Kwan Yin, the biggest in the world, and a multi-level pagoda built in a mix of Thai, Chinese and Burmese styles. Other interesting shrines are the Snake Temple, Hindu Sri Maha Mariamman in Little India, and the black-domed Kapitan Keling Mosque.
George Town is filled with boutique hotels, guesthouses, and cafes, and is the first port of call for the many tourists who arrive directly from Penang airport, which is well-connected to other destinations in Malaysia, Southeast Asia, and beyond. You can also arrive by train and ferry via Butterworth, or using one of the frequent minivan services coming from Hat Yai in southern Thailand.
Sekinchan
Any list of the most beautiful places in Malaysia would not be complete without a mention of Sekinchan, a quaint fishing village on the west coast of the Malay Peninsula.
Located roughly 1.5 hours away (by car) from Kuala Lumpur, Sekinchan is often a relaxing escape from the bustling city life, especially on the weekend. If you don't have a car or wish to rent a car, public transportation is also available, though a bit unreliable and slow. Travelers can catch the SPT bus to Teluk Intan from Pudu Sentral (Puduraya) in KL.
Don't get discouraged by the long commute, as Sekichan is truly a breathtaking place. Though a fishing village, the surrounding acres of rice paddy fields are the main attraction in Sekinchan. These lush plants are best explored by a bike, which visitors can easily rent in town. Make sure to visit them when they are in season. If you come directly after harvest season, you don't find a single thing.
Though the paddy fields are the main attraction, there are plenty of things to do in Sekinchan. After spending the afternoon exploring the rice paddies, head over the Pantai Redang, Sekinchan's only beach. Here you will find the Wishing Tree where visitors can make a wish by tossing a coin attached to a ribbon up the tree. Alternatively, if you have no wishes, you can just chill on the family-friendly beach and watch the sunset.
Don't forget to enjoy a delicious and fresh seafood dinner before you leave!
Melaka
Melaka is a beautiful UNESCO world heritage riverside town, rich in British, Dutch, and Portuguese colonial history and a must-visit destination for your Malaysia itinerary. The town is a popular tourist destination and is filled with wonderful colorful heritage buildings, quirky street art, and famous historical landmarks.
Many visitors travel to Melaka as a day trip from Kuala Lumpur or to stay for a few nights, and the best way to reach Melaka is either by private car transfer or by taking the bus. There are several bus departures a day from Kuala Lumpur and the journey takes 2.5 hours, costing around RM15 for a one-way ticket.
There are many fun things to do in Melaka but one of the highlights is the huge Jonker Street Weekend Night Market. This is one of the best markets in Southeast Asia and runs every Friday to Sunday, starting from the river and ending at the far end of Jonker Street.
You'll find multiple stalls selling souvenirs, handicrafts, and amazing Malaysian delicacies. Another fun thing to do is to take a scenic river cruise and view the many beautiful historical buildings and interesting sights around Melaka's old town, including Kampung Morten – one of the few remaining traditional villages in the area.
Tioman Island
If you are looking for the most beautiful places in Malaysia, you can't beat
Tioman Island
. From the first glance as you travel to Tioman from peninsular Malaysia on a ferry, you'll see a mountainous jungle-clad island with gorgeous beaches. And that's just on top of the water! Below is a protected marine park full of corals and fish to explore and enjoy.
Tioman Island is located off the southeastern part of peninsular Malaysia. It is easily reached by a 1.5-2 hour ferry from Mersing or Tanjung Gemok which are just a couple of hours from Johor Bahru or Singapore. There is a Marine Park entrance fee to pay after buying your ferry ticket which helps protect the surrounding waters.
There are only a few roads on Tioman which adds to the beauty. Most exploration needs to take place on foot or by boat which adds to the fun. Most attractions are in the sea with diving and snorkeling being popular activities. In the wet season, surfing is also popular.
On land, there is great trekking through the jungle and you'll really feel like you have got away from it all. There are waterfalls, cliffs, and jungle animals to discover. Over on the east coast, there is also a turtle sanctuary.
There are many resorts dotting the gorgeous coastline. The best choice for easy exploration of the rest of the island is Berjaya Tioman which is connected by road to a couple of places and has its own jetty and kayaks for sea exploration.
The only downside of Tioman is the monsoonal weather which nearly shuts down the entire island from late October to March. At this time, ferries are unreliable and it's not a great time to visit unless you are a surfer. Otherwise, Tioman should be top of your list of beautiful places to visit in Malaysia.
Ipoh
The combination of a delightfully dilapidated downtown and lush jungle right on the city's doorstep makes Ipoh one of the most beautiful places in Malaysia.
The biggest hub of Perak State, Ipoh often gets compared to Penang's George Town: the two have similar architecture, including five-foot ways, and Ipoh also boasts a series of large-scale street murals drawn by Lithuanian artist Ernest Zakharevich.
But Ipoh has a more local feel than Penang and is a lot less touristy, which adds to its charm. It's definitely one of the most beautiful places in Malaysia.
Many of Ipoh's finest British colonial buildings, including the railway station, are well-preserved and can be appreciated by walking the Heritage Trail through the heart of the city. Some of the oldest buildings have been transformed into cute cafes and boutique hotels. There's also understated beauty in Ipoh's details, especially the flaking facades of its turn-of-the-century shophouses and the laneways strung with lanterns.
If you're at all interested in heritage architecture, you'll agree that Ipoh is a visual treat. Take the time to learn the stories behind some of the most prominent houses to elevate your experience even further.
As soon as you leave the city center, Ipoh's natural beauty takes over. Perak is known for its dense jungles, mirror lakes, and limestone rock formations that hold hundreds of caves, some with vibrant temples and shrines nestled inside. Many can be accessed from Ipoh in under an hour by car.
The easiest way to get to Ipoh from Kuala Lumpur is by train. The journey takes around 3 hours.
Kuching
Many of the visitors who travel through Malaysia only see the part of the country located on the mainland. However, the part of the country on the island of Borneo also has a lot to offer and is home to some of its most fascinating places.
If you decide to visit Borneo, you might want to make sure to plan a stay in Kuching, the biggest city on Borneo.
Kuching translates as "cat," and so you will discover loads of cute cat pictures and statues throughout the city – there is even a cat museum.
In general, Kuching is perfect for anyone looking for a relaxing city break. Take a stroll along the waterfront for a view of the city's eye-catching government building. Eat delicious snacks in
China
Town or discover the city's incredible street art.
Anyway, if you are more active, just near Kuching, another big highlight is waiting for your visit: Bako National Park. The park, located on a peninsula, can only be reached by boat. You can visit it as a day trip, but you should definitely stay at least one night if you want to go hiking in the jungle.
On the fantastic hikes through the stunning jungle, you can discover a lot of different animal species. Arguably the most impressive of these is the proboscis monkeys, which can only be found on Borneo's island.
Bako National Park, Sarawak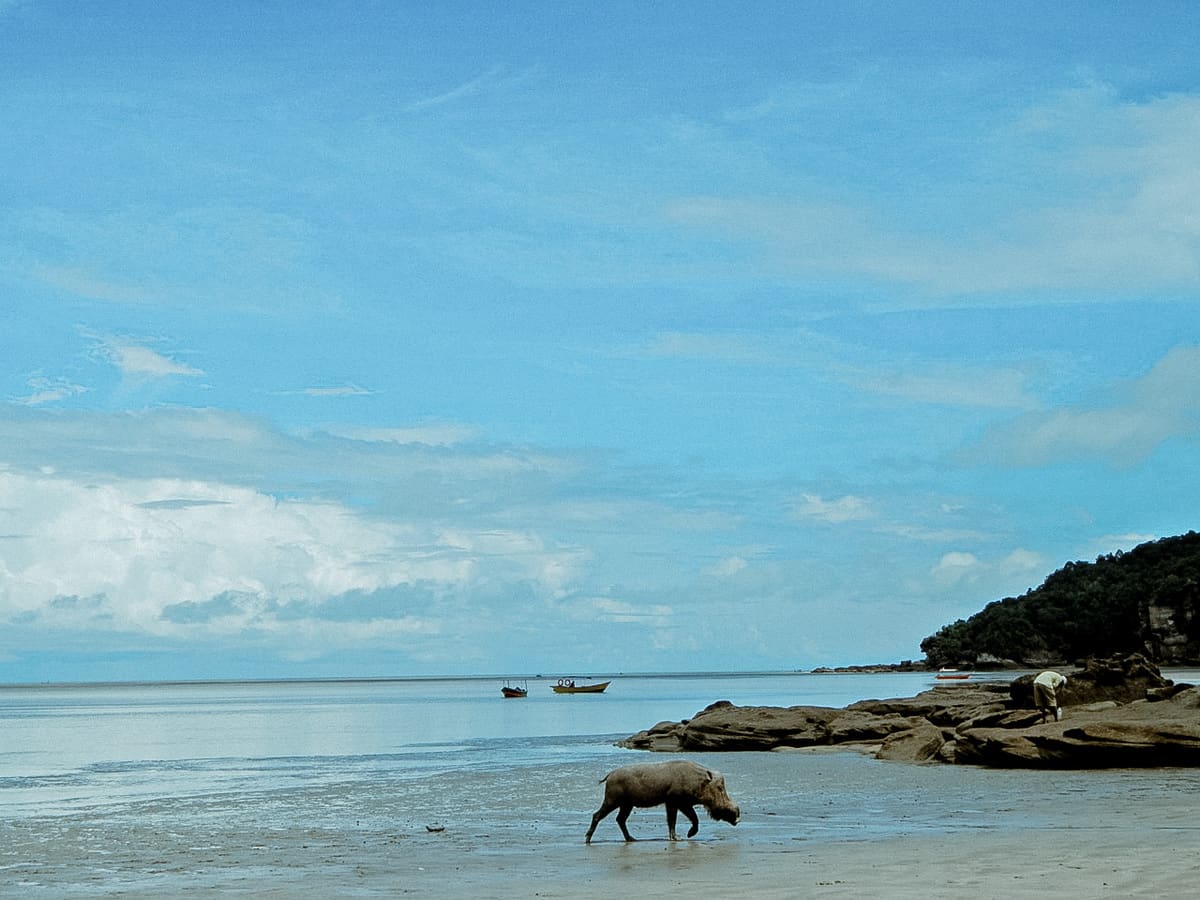 If you manage to stop by East Malaysia in Borneo, don't miss your chance to visit Bako National Park in Sarawak.
Operating since 1957, Bako is the oldest national park in Sarawak that offers you a great experience and introduction to Sarawak's forest and wildlife. The national park is also the home for proboscis monkey, the long-nosed monkey that is also one of Borneo's prominent species.
You can take a bus from Kuching Bus Station for 5 RM. The trip to Bako will take around an hour, and the entry ticket to the national park will cost around 30 RM per person. Traveling in a group can also get you a cheaper price than if you travel solo to Bako National Park.
While it is possible to spend half-day in Bako to do trekking and other activities, you can also stay overnight at the national park to immerse the wildlife day and night.
Various types of accommodation are available, which you can easily book through Sarawak eBooking Portal. From a shared room in a hostel to a private cabin, Bako National Park can be a good place for a short getaway from the city life.
Apart from its wildlife and vegetation, Bako also has some white sand beaches where you can rest while enjoying its surroundings.
Redang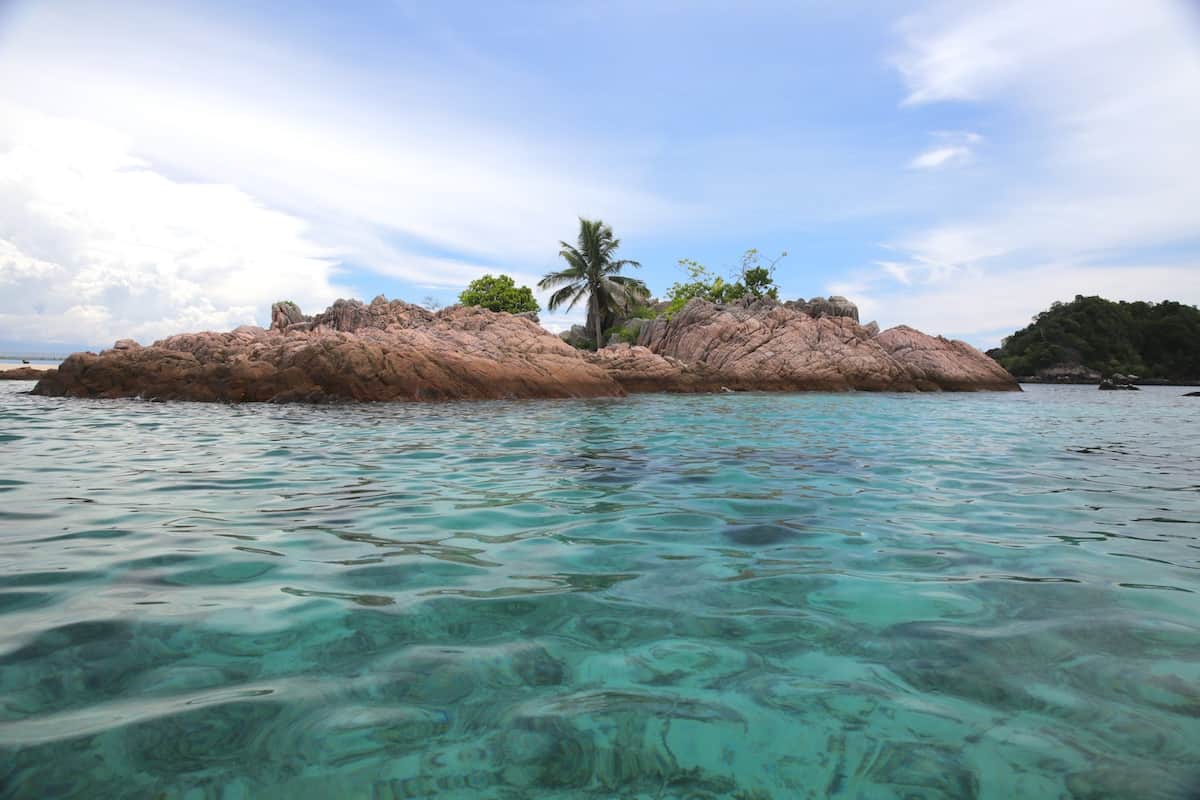 If you've ever dreamed about visiting a remote island with palm tree coves and crystal clear water, then Redang, Malaysia, is the answer to your dreams. The glistening white sand and deep azure water will leave you breathless.
It's part of the Coral Triangle between the Philippines, Papua New Guinea, and Indonesia and a global center for marine biodiversity – which ensures fantastic marine life and beautifully preserved coral. It's no wonder that the snorkeling and scuba diving are some of the best in the region.
If you've ever wanted to learn to scuba, this is the place. But if you only want to try it out, then opt for a discovery dive. There are quite a few dive companies to choose from for divers of all levels.
If you'd rather stay on top of the azure water, there are tons of boat tours, and in some areas, you can snorkel right off the beach.
The interior of the island is dense with jungle, so if hiking is your thing, you are in luck. Look out for prehistoric-looking monitor lizards, cheeky monkeys, and all kinds of colorful birds.
Important things to know about Redang:
From November to March Redang shuts down – it's monsoon season.
There are no ATM's on Redang so cash is king. Only a few hotels accept credit cards.
How to get to Redang:
Redang is just off the east coast of Malaysia. Getting there is pretty straightforward. The best way is to fly into Kuala Terengganu. Air Asia, Firefly, and Malindo have direct flights from Kuala Lumpur, and it is only a one-hour flight.
There are two ferry ports to choose from Merang and Shahbandar. Which port you to go depends on the hotel you are staying at, so ask the hotel when you book.
From the airport, take a Grab or taxi to either ferry port. Shahbandar is a 15-minute drive and a 1.5-hour ferry ride. Merang is a 35-minute drive and a 45-minute ferry.
Pulau Kapas Island
If you are looking for quiet, sandy beaches combined with incredible snorkeling, look no further than Pulau Kapas. Unlike the better known Perhentian islands, that are further north, this tiny island off the east coast of Malaysia is rather low-key overall.
Kapas Island is a tropical paradise on earth. It has beautiful, powder-white beaches, with a backdrop of a lush green forest. There are no roads, and the island is totally vehicle-free. You can easily walk around the whole island in a couple of hours and take in the exotic ambiance.
Pulau Kapas has some of the best snorkeling in SE Asia. You can just dive from the shore, and spot several exotic species, including sharks and turtles. The water is really warm, and you can stay in the sea for hours.
All along the west side of the island, there is a long series of sandy beaches. It takes less than an hour to walk from south to north and enjoy the lovely scenery. This is where most of the places to stay in Kapas are located.
You will find several restaurants and cafes along the beautiful beach. Koko's of KBC are both good choices, but there are many more. Sunsets are incredibly pretty here!
To the south end of the beach, you will find a hiking path going over the hill. This leads you to a smaller, more secluded, south-facing beach. Here you will find the small Turtle Valley resort, which has its own restaurant.
To get to Pulau Kapas, you will need to get Marang Jetty, from where there are a few boats per day. The closest airport is in Kuala Terengganu, and you can get a taxi or bus to Marang.
The island is a popular day trip for Malaysians, but it's better to spend a few days if you want to make the most of it. In that case, consider getting some water and groceries from Marang, as there is no mini-market or other store on the island.
Perhentians Islands
One of the most beautiful places in Malaysia are without a doubt the Perhentian Islands. With crystal clear water, white sand beaches and tropical forest these islands are the embodiment of a perfect getaway.
This archipelago is located just off peninsular Malaysia's Northeast coast, across the village Kuala Besut. While there isn't particularly much to do in Kuala Besut itself, this sleepy town is the gateway to the Perhentians. Boats depart every hour between 8 am and 5 pm and tickets are 35RM.
The two main islands are Perhentian Besar and Kecil, both are about a 45-minute boat ride and excellent places to relax and spend a couple of days.
Diving on the Perhentian Islands is a highly recommended activity, you'll see plenty of beautiful tropical fish and lots of coral. If you don't have your PADI, you can either take a course here or go snorkeling instead.
Have a drink at Coral Bay, hike to Windmill Point, enjoy delicious fresh seafood, or read a book on one of the stunning beaches. A nice place to stay is Bubu Resort on Perhentian Kecil, a small-scale resort with lovely well-maintained rooms. The onsite restaurant serves up amazing food, their seafood barbeque is excellent!
Altogether, the Perhentian Islands are the picture-perfect tropical retreat and a must-visit on your Malaysia itinerary!
Port Dickson
Located about 45 minutes from KL airport, Port Dickson makes a perfect choice as a lesser-known tourist destination in Malaysia. With magnificent sea views and 18 KM stretch of beautiful beaches fringed by casuarinas and beautiful palm trees, Port Dickson is home to a chilled out vacation.
People come here to relax and enjoy the natural beauty which is aplenty. Also, from above you can see a set of water bungalows "Hibiscus Island" which has an elegant hibiscus-like landscape and you may stay there as well.
There are many things to do in Port Dickson. The dual attraction of the Lukut Museum and Fort is one of the must-see places in Port Dickson. It includes historical artifacts and monuments of Lukut and also a sunken Dutch battleship. The Army Museum has galleries with the military history of the Malay peninsula and armored cars, tanks, and helicopters among other artifacts that'll keep your kids engaged. The entrance is free of charge.
PD Ostrich Farm is also something which you shouldn't miss either. It's a fun attraction with Ostriches being the stars of the show. There are many ostriches and you can feed them as well. you can also measure yourself with an Ostrich egg! Another attraction is the Wan Loong Chinese Temple, not very big, but rich in colors and ponds with turtles, etc.
The best way to spend time is to sit on a beach or on a promenade and watch beautiful sunsets while relishing local delicacies such as Ikan Bakar. There are sitting places where you have chess boards on the table too. The best way to go there from Kuala Lumpur is to go by road. Hire a taxi or drive down to cover around 70 KMs.
Resorts World Genting
If you are looking for a perfect getaway that is a complete indulgence for the senses, then Resorts World Genting fits the bill perfectly. It is nestled atop a mountain called Ulu Kali about 55 kilometers from Kuala Lumpur.
Resorts World Genting is an integrated Resort township that is home to some of the most luxurious hotels, restaurants, entertainment centers, casinos, and shopping arcades.
You can enjoy a stay in an Uber luxury hotel or stay at the Theme Park Hotel which is touted as the largest hotel in the world. Indoor theme parks and state of the art virtual reality shows ensure that you never have a dull moment. Choose between Ripley's World, Snow World, and a host of other entertainment avenues. If you want to go outdoors, just hop on to a cable car and float down to the enchanting Chin Swi temple or go for a trek in the Awana Bio Park.
You can embark on an epicurean journey and choose from any of the cuisines of the world, and if it is shopping that you are addicted to, shop for the latest offerings from the top international brands at the Premium shopping outlets and avail of great offers too. Resorts World Genting offers the additional bonus of pleasant weather throughout the year, making it an ideal getaway in Malaysia.
Pangkor island
Pulau Pangkor is a beautiful island with exotic beaches, a jungle full of wildlife, and a friendly local community. Pangkor Island is one of the most overlooked islands in Malaysia, which is a shame because it has so much to offer for every kind of traveler.
If you are looking for sunbathing on beautiful beaches, eating at delicious restaurants with your toes in the sand or just searching for amazing sunsets, then Pangkor island is just the kind of island you're looking for.
However, there are also many activities on Pangkor island for the more adventurous type of traveler. You can easily rent a scooter and go explore all its interesting places such as the mosque on water, the Chinese temple on the hill or the local fisherman's village. It's also possible to go jungle trekking, kayaking, snorkeling, diving or even try out a banana boat.
Pangkor island is also one of the easiest accessible islands in Malaysia since it's only a stone's throw away from Kuala Lumpur compared to the popular Perhentian islands or Langkawi. From Kuala Lumpur, you have to take the bus or a taxi for 3-4 hours to the ferry port Lumut. Here a boat leaves every 45 minutes to Pangkor island.
You can visit Pangkor island all year round, but you should avoid staying during the Malay holidays since the island gets very busy. Apart from that, you will pretty much have this beautiful island to yourself since it's not on the classic tourist trail in Malaysia.
Gunung Mulu National Park
Hidden in one of the remotest parts of Borneo, Malaysia is Gunung Mulu, National Park. It is a Unesco world heritage site of exquisite natural beauty. Famous for its Mulu caves, rainforest-covered mountains, flora and fauna, magnificent limestone pinnacles, and dramatic scenery.
The majority of visitors fly to the region from either Kuching, Miri, or Kota Kinabalu and stay at the 5 star Marriott resort. However, the more adventurous can take a two-day trek along the Headhunter trail, which takes you through the jungle and into the National Park.
On a visit here you'll get a unique insight into our planet's geological formation which has developed over 60 million years. The biggest attraction is the caves. The Deer Cave has the most extensive cave passage that you can enter in the world.
Hidden inside are stunningly beautiful limestone formations and the garden of Eden. Through an opening in the cave, the garden is magical with endemic species making it one of the world's unique and memorable places to visit.
The cave is also home to millions of bats which form a spectacular display in the sky every evening as they go and hunt for food. Clearwater Cave is another favorite with visitors as it has a river that flows through the middle.
Aside from the caves, there are numerous trails that you explore through the rainforest. The easiest ones take you along wooden boardwalks, but there are more challenging hikes that you can join with the park rangers.
To see the natural beauty of the rainforests from a different perspective, make sure you don't miss the tree canopy walk. There's also a night walk that you can join if you want to see the nocturnal animals that live in this dramatic landscape.
Gunung Mulu National Park is a stunning tropical oasis with unique sites that are utterly awe-inspiring and unforgettable memories.
Sabah, Borneo
Home to ancient rainforests and spectacular wildlife, the Malaysian state of Sabah on the island of Borneo is a go-to destination for nature lovers from around the world. Best known for being home to the endangered Borneo Orangutans, Sabah forests are also inhabited by Borneo Pygmy elephants, 8 different species of hornbills, Clouded leopards, and a host of gliding animals from flying squirrels and colugos to flying frogs and gliding lizards.
The two best places to explore Sabah's beautiful nature are the Danum Valley and the Kinabatangan River. Danum Valley protects some of the oldest rainforests on earth and it is easily one of the most beautiful places in Malaysia. Spend a couple of days walking the trails through this lush rainforest cloaked in a thick blanket of mist and you'll feel like you are exploring the Jurassic jungle. You can stay either at the upmarket Borneo Rainforest Lodge or at the more rustic Danum Valley Field Centre.
Kinabatangan River is where you are most likely to have close encounters with Borneo wildlife, including the Borneo Orangutan. There are a number of ecolodges and homestay options in and around the village of Sukau, all of them offering Kinabatangan River cruises. And the best thing about the river cruises is that the wildlife is very nonchalant about the boats, so you can approach animals much closer than you would on foot on in a vehicle.
Kuala Lumpur
With a mixture of architecture, culture, and diverse cuisine, Kuala Lumpur, the capital, makes it one of the most beautiful places in Malaysia you can't miss. Modern architecture, gorgeous worship places, ethnic neighborhoods, and plenty of green spaces to relax dominates the skyline and creates a somewhat exotic and unusual vibe.
There are plenty of things to do in the capital, but your Kuala Lumpur itinerary should include strolling down the city center to admire Merdeka Square with its beautiful buildings, Chinatown to bargain on various goods or just to have a look and snack along, the tallest buildings in the world Petronas Towers, and KL Tower for breathtaking panoramic views of the skyline.
One thing that makes Kuala Lumpur a fascinating place, is its cosmopolitan environment where various ethnic groups live together, mainly consisting of Malay, Chinese, and Indians. This is particularly visible in its elegantly designed temples, shrines, and mosques. While the night markets bring out some of the best street food of each nation.
Visiting absolutely fascinating temples, churches, and mosques should be next, so make sure you have enough time to see the oldest Hindu temple Sri Maha Mariamman Temple, the oldest mosque Masjid Jamek of Kuala Lumpur, and top it off with stunning Chinese Sin Sze Si Ya Temple.
Serving as a hub for Southeast Asia, the easiest to get to Kuala Lumpur is to fly to its international airport from any part of the world. Big and small airline companies do have regular flights to Malaysia's capital.
Taman Negara National Park
If you are looking for beautiful places in Malaysia different from beaches, big cities, or picturesque towns, consider Taman Negara
National Park.
Taman Negara is a virgin forest located 240 km northeast of Kuala Lumpur. It is perfect for nature lovers or for those who are looking for a couple of days of relaxation far from the hustle and bustle of the Malaysian capital.
Taman Negara is the most primitive virgin rainforest in the world, it is much older than the Amazonian forest! According to scientists, the forest of Taman Negara could be more than 130 million years old. The nature in Taman Negara is wild, spectacular, wonderful.
The best way to reach Taman Negara is by private car and the drive usually takes 3 hours. Public transportation to Taman Negara is scarce and it takes much longer than 3 hours but hotels and resorts in Taman Negara usually offer private transportation from Kuala Lumpur to Taman Negara on a minivan.
People like Taman Negara for its hiking trails (don't miss the canopy walk!), boat trips, and other outdoor activities. Also, there are day and night excursions with an expert guide to spotting wild animals. At your arrival, go to Taman Negara's information center, where you need to buy the permits to visit the park and ask for the activities organized during your stay in Taman Negara.
Sipadan Island, Borneo
Sipadan island in Borneo, Malaysia has some of the most spectacular underwater scenery on the planet and is the best place to scuba dive in Malaysia.
The exquisite reefs were praised by renowned ocean explorer Jacques Cousteau as one of the most beautiful reefs to dive in the world. The dive at Sipadan starts in the shallow water surrounding the island dropping into the deep with a steep wall covered in hard and soft coral, strong currents flowing here results in an amazing wall dive.
This incredibly biodiverse reef is home to huge green turtles, big schools of massive bump head parrotfish, plenty of reef sharks, and enormous schools of big eye trevally.
The most famous dive site around Sipadan island is Barracuda Point, thousands of barracuda congregate hear, often forming a large 'barracuda tornado', spiraling around the divers.
Reef hooks are commonly used diving at Sipadan, a line with a handle on one end and a big, strong hook on the other. You hook it somewhere rocky on the reef, grab onto the handle, and hang in the current watching big schools of fish swim by.
The Malaysian government did a fantastic thing to protect Sipadan in 2004, they forced all resorts on Sipadan to relocate to nearby islands, protecting this unique piece of nature. Only 200 divers a day get permits to dive here and this is strictly regulated, so it is strongly recommended to book your permit well ahead.
Pin For Later:
Did you enjoy this post about the most beautiful places in Malaysia? Let us know in the comments below!