Slovenia is a really small country. Ljubljana is located in the very center of it. If you've already done all the best things to do in Ljubljana, it's time to take the day trips. You can easily travel to anywhere in Slovenia in less than 2,5h. There are many places to visit near Ljubljana that you can reach by car or public transport. You can even travel abroad to Italy, Hungary, Austria, Croatia, and Slovakia. In this post, you will find all the full list of best day trips from Ljubljana.
Here's a map of best day trips from Ljubljana that you can find in this post:
Best Domestic Day Trips From Ljubljana
Piran
Head to Piran to a taste of coastal Slovenia on your day trip from Ljubljana. Once ruled by the Venetian Republic, the town is known for its pretty piazzas and picturesque harbor. It can be easily reached by bus or car.
After climbing the tower of St George's church, head to the cafes in Piran's central Tartini Square. Relax here for a while before exploring the narrow cobbled streets that take you to the seafront. On a clear day, you can see Italy across the Bay of Trieste.
Want to join a guided tour to Piran from Ljubljana? Book it online here.
Maribor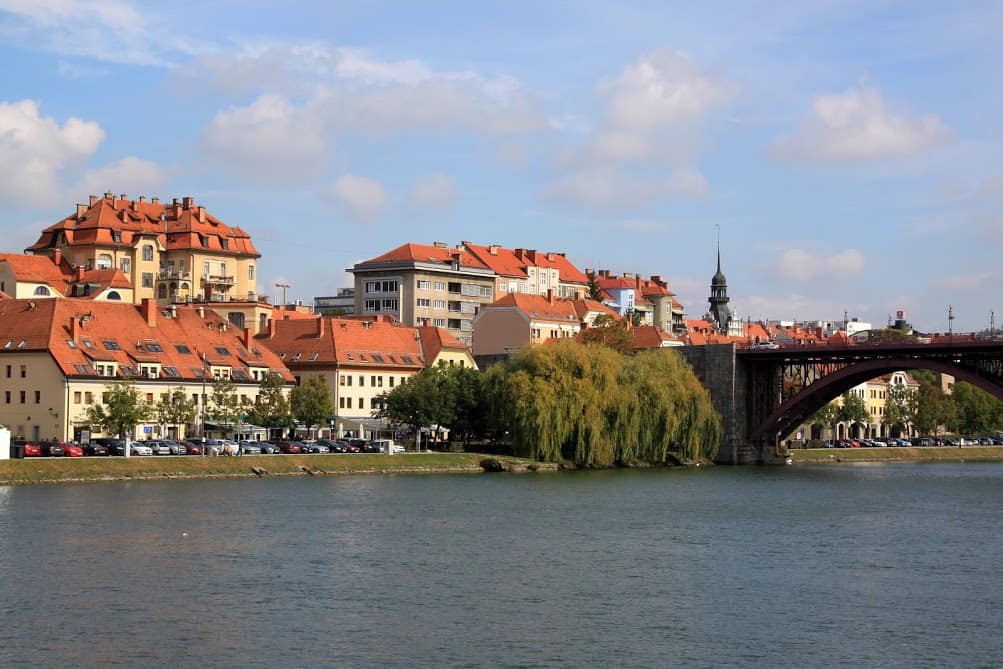 Slovenia is quite a small country and therefore it is very easy to go from A to B. Maribor, Slovenia's second-biggest city is only 1,5 hour from its capital which makes this destination one of the best day trips from Ljubljana.
Maribor is a very cute city and you can visit it in 1 to 2 hours. It has very nice coffees and restaurants. Don't miss Casino, a coffee house on Glavni Trg is Maribor's central square with traditional Yugoslav furniture. It is absolutely beautiful.
Around the corner go to see the view from down the bridge and don't miss the oldest grape in the world in front of the old wine house! If you go in winter, you might want to spend the morning skiing in the Balkans too! Maribor is 20 minutes away by bus from the city center to the ski slopes of Pohorje! Don't miss the opportunity!
While in the neighborhood, consider visiting the beautiful town called Ptuj as well.
Book your day trip to Maribor online here.

If you want to travel by yourself check out Ljubljana to Maribor train timetables here or book your bus ticket online.
Podcetrtek
Try craft beer, visit one of Europe's oldest pharmacies, and take a peaceful walk around the town. Then, have fun at Terme Olimia that is considered the best spa and water park in Slovenia.
If you are traveling with kids, visiting Podcetrtek may be one of the best day trips from Ljubljana that you could possibly take.
Bled
Lake Bled tours from Ljubljana are probably the most popular Ljubljana day trips. No wonder why!
Bled is one of the most Instagrammable places in Slovenia. The beautiful lake and the Alps, make it a perfect place to relax.
Lake Bled is located less than an hour driving from Ljubljana. You can easily get there either by car or by bus.
If you want to get the most of your visit to Bled, join a guided tour.
Bohinj
Located less than half-hour driving from Bled, Lake Bohinj is just as beautiful as its famous sister. It's a part of Triglav National Park which is one of the best places in Slovenia for hiking.
If you have enough time, take a ride up Mount Vogel to enjoy the breathtaking views of Julian Alps.
Postojna Cave +Predjama Castle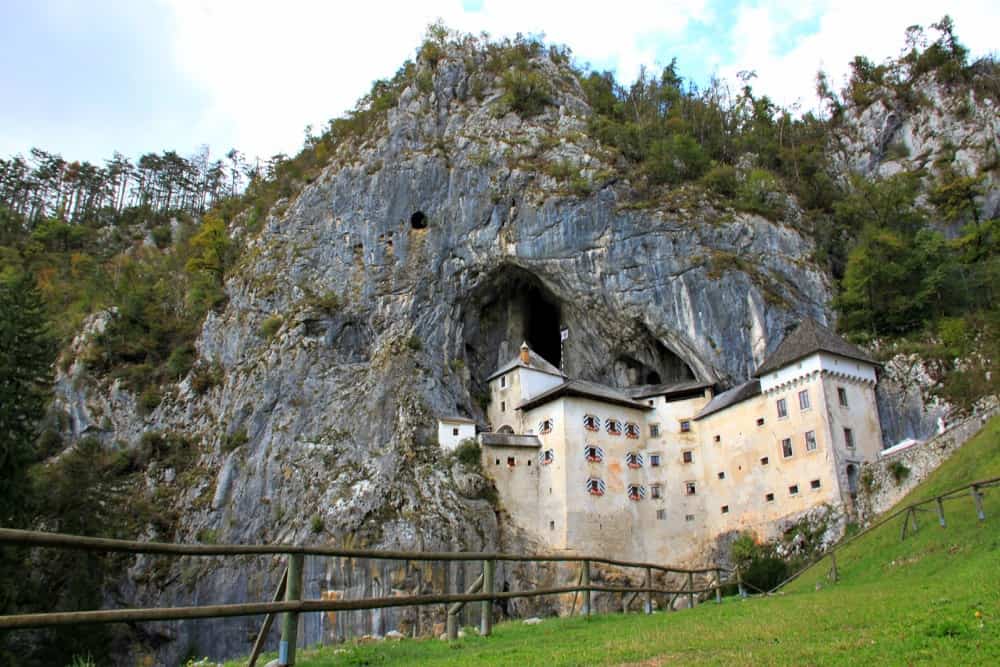 These two tourist attractions are located close to each other, and they make they are great destinations for a day trip from Ljubljana.
Predjamski Grad is unique on a global scale, as it was built in the medieval ages within the cave mouth. Just a few miles away from the castle, you will find another awesome place to visit- Predjama which is the most visited cave in Europe.
Be sure to add this Ljubljana one day trip to your Slovenia itinerary.
Bela Krajina
Located close to the border with Croatia, Bela Krajina is one of the best destinations for a day trip from Ljubljana. This beautiful region of Slovenia is peaceful, quiet and off the beaten path.
If you want to relax during your trip to Slovenia, that's your place to go.
See more recommended domestic day trips from Ljubljana here:
Day Trips From Ljubljana To Croatia
Zagreb
Zagreb is one of the best Ljubljana day trips. The capital of Croatia, Zagreb offers tourists so many things to do from a historical and cultural standpoint. There are many
cafes in Zagreb
that you can enjoy coffee or lunch at and many world-class restaurants that travelers will love checking out.
Zagreb tends to be a little forgotten about when it comes to traveling in Croatia. Too bad! Tourists who want to see a different side of the country should definitely venture to this beautiful and enjoyable city. It is a great day trip from Ljubljana.
The best way to get from Ljubljana to Zagreb is either by car or by public transport.
Zagreb Ljubljana bus
is operating on a daily basis. The travel time is about 2,5h, and the cost is less than 10 euro per person.
Split
The only way to visit Split on a day trip from Ljubljana is by driving your own car (blablacar, taxi and the like), since
by Slovenia bus
(via Zagreb or Brioni Pula) or by Slovenia train (via Zagreb), it takes way too long for a day trip. Driving will take about 5 hours, so leave early in the morning to make this day trip from Ljubljana doable.
The effort will not be in vain. Split is the main city of the Dalmatian region in Croatia and has a prominent port on the Adriatic Sea. Its most representative monument is the Diocletian's Palace. But in the historic center of Split, there are not only Roman remains, as we also find medieval buildings such as the City Hall dating from the fifteenth century, beautiful squares like the Republic's, beaches like Bacvice, a perfect promenade by the sea – aka. Riva – and wonderful Gothic and Renaissance palaces.
In 1979 Unesco declared the ancient city of Split, with its medieval streets, Roman remains and palaces, a World Heritage Site. And since then, it has been attracting tourists, who normally include it within their Croatia itinerary between the capital Zagreb and the parks of Plitvice and Krka; and before the southern part where to enjoy jewels like Dubrovnik and
Korcula Island
.
Rijeka
Visiting the Croatian coast is one of the best ideas for day trips from Ljubljana.
Head to Rijeka that is located in the north of Croatia and has been an important harbor city since the Renaissance. The city was part of the Habsburg empire and the influence can be still experienced. It's as if you were taking a stroll through Salzburg or Vienna, just with the difference that the weather is pleasantly warm, dry and you can feel the sea breeze in your face. The city is a great base to travel to all the different islands.
The best way to get there from Ljubljana is via car. You can hire car Ljubljana and take the drive down, the highways are good and traffic is normally not an issue (except maybe during peak summer season).
Day Trips From Ljubljana To Hungary
Budapest
If you want to take a day trip from Ljubljana to the capital of Hungary, you need to travel by car or leave at night by Ljubljana to Budapest bus. The journey will take 6 hours one way, so in order to make it doable, start traveling at 2-4 am.
There is no point in taking Ljubljana to Budapest train, as it leaves only once a day, and the traveling time is almost 9 hours.
Budapest is one of the most beautiful cities in Europe. It has a fairy tale castle and a beautiful old town. Read more about the capital of Hungary in my Budapest guide.
Day Trips From Ljubljana To Slovakia
Bratislava
Bratislava
is located about 4 hours from Ljubljana, and you can easily get there via the highway/autobahn that goes through Austria via Graz. You could also drive through Hungary, but it's a slightly longer route, so it's recommended to drive via Austria to Bratislava.
Bratislava is not one of the most famous capitals in Europe, but it's still beautiful, especially the old town and the castle. It's also a city where you don't have to spend several days to see most of it. The majority of sightseeing spots are located within walking distance from the central station and the old town.
Some spots that shouldn't be missed besides the castle are Michael's Tower, Devin Castle, St Martin's Cathedral and the blue church.
Day Trips From Ljubljana To Italy
Venice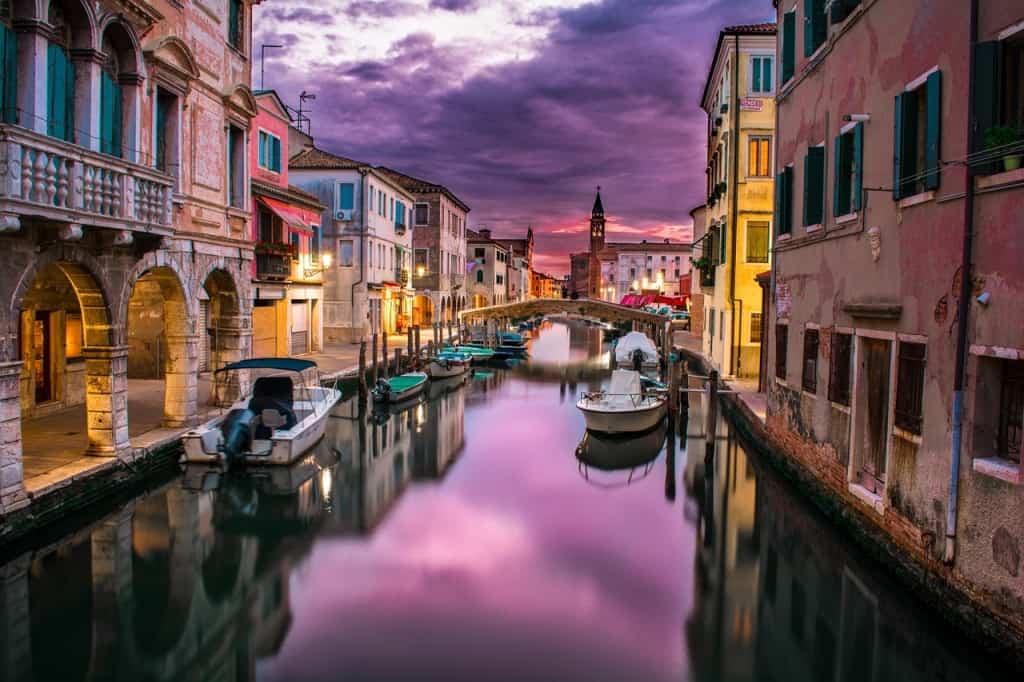 One of the most unique cities in the world, Venice, is located just 3 hours drive from Ljubljana.
You can either get there by car or by public transport. If that's your preferred way of transport,
buy online your bus tickets
for Venice to Ljubljana bus and back.
It's so much better to join the guided, fully organized tour to Venice from Ljubljana though! We've been traveling the world since 2013, and Venice is the only city we got lost… many times. It's really difficult to see everything there in just one day if you don't have a guide.
Save yourself the hassle and book your guided tour to Venice
here
.
Trieste
Europe is really small! From the capital of Slovenia, you can get to the coastal city of Trieste in Italy in just 1,5h!
If you want to see the Adriatic Sea, it's one of the best places to go. You can easily reach Trieste by bus or car.
Day Trips From Ljubljana To Austria
Vienna
Located 4 hours driving (or 5-hour
bus ride
) from Ljubljana, the capital of Austria is one of the most beautiful cities in Europe.
Graz
Graz may not be the most obvious choice for a day trip from Ljubljana, however, this historic town is just a scenic 2 hours drive from the Slovenian capital and a beautiful place to visit.
Known as Vienna's little sister, the UNESCO inscribed town of Graz is full of quaint streets, incredible architecture and historic landmarks. The best part of Graz is that it's easy to explore in a day on foot. Be sure to make the hike to the top of the Schloßberg, the hilltop park in the center of Graz for panoramic views across this beautiful UNESCO town.
Pin For Later:
Did you enjoy reading this post about best day trips from Ljubljana? Share your thoughts in comments!