Best hotel Singapore – the most luxurious hotels review
Singapore is an amazing country. It is so different than all the other places in Asia! It's neat, lucid and well-organised. We just love travelling to Singapore. It is a place where you can find an inspiration. For us, it is almost unbelievable how much this city achieved for only 51 years of its existence! It became world-class country with so many opportunities for people to grow. This only island city-state in the world is definitely worth visiting. This post is about best hotel Singapore. We have chosen 3 of them. One 5 star, one 4 star and one 3 star, so that everybody could find something for themselves. If you are traveling on a budget, see best hostels to stay in Singapore.
All three hotels are luxurious, at least for us. After traveling full-time for more than 3 years, we have been to more than 200 hotels all over the world. We really know what the place need to be called luxurious. We found these facilities in Marina Bay Sands, Concorde Hotel and Holiday Inn Express Clarke Quay. Below you can read the detailed review of these three hotels. We really hope these reviews will help you choosing the best place to stay in Singapore!
5 star best hotel Singapore
10 Bayfront Ave, 018956 Singapore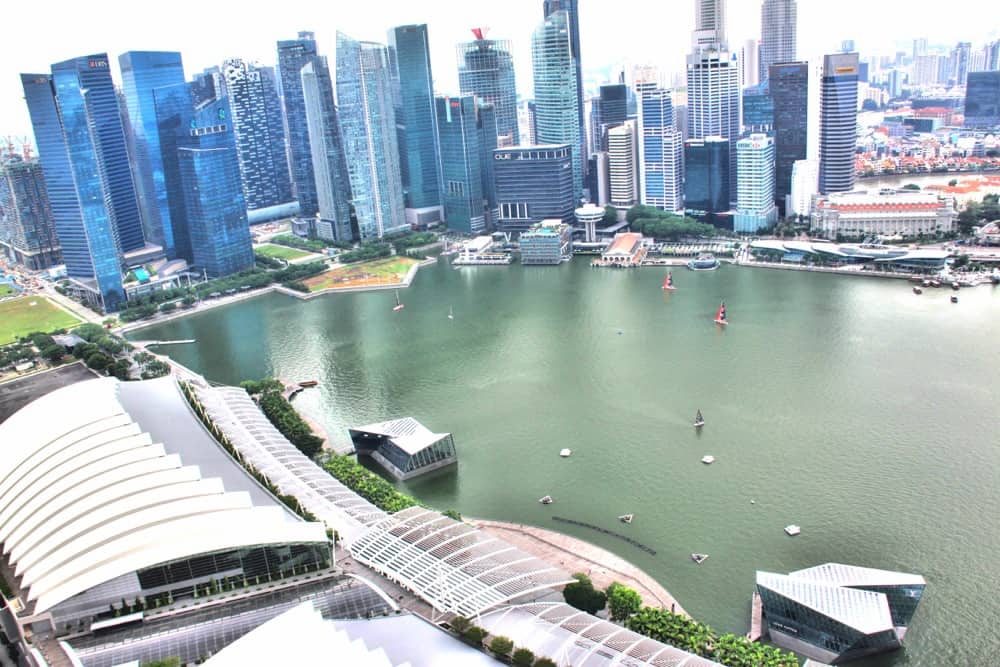 About the hotel
Marina Bay Sands is one of the most famous hotel not only in Singapore but also in Asia. Maybe even in the world. We have heard about it so many times that we were extremely excited to finally be there!
The location of Marina Bay Sands hotel is just perfect- within the walking distance to Singapore's best tourist attractions, like Gardens by the Bay, Singapore's Flyer and Art Science Museum.
The hotel itself is huge, it has more than 2500 rooms, situated in 3 towers. It is definitely one of the best places to stay in Singapore.
Pool
Marina Bay Sands has the most famous infinity pool in the world. It is amazing. It was open to the public in the past (you could buy a ticket to the pool, without necessity to stay in a hotel). Right now only guests of Marina Bay Sands have access to the swimming pool. It is still possible for everybody to visit the observation though (for SGD$23).
The view from the rooftop is absolutely breathtaking!
Rooms
As we mentioned before, Marina Bay Sands has more than 2,500 rooms!
Standard rooms and suites:
Deluxe Room
The smallest and the most basic one. It is still bigger than standard rooms in any other hotel. It has 39m2, working space, big bathroom and the TV.
Premier Room
It is bigger (47m2) than deluxe room and it's situated on 19th floor and above.
Family room
The view from the family room is not phenomenal because it is situated on 2nd or 3rd floor. It is a great place to stay though, because of the spacious interior (86m2) and the balcony.
Bay Suite
Luxury suite (13m2) with 2 bedrooms, living room, balcony and exclusive in-suite check-in service.
Marina Suite
Spacious suite (196m2) located on the uppermost floors of the hotel, with private jacuzzi spa bathtub, dedicated butler service, billiards room with pool table or private gym room.
Straits Suite
Luxury suite (330m2) with 2 bedrooms, karaoke room, powder room, study room, private gym room, living room with baby grand piano, kitchenette with pantry, microwave and fridge.
Presidential Suite
Spacious and luxurious suite (509m2) with 3 bedrooms, 2 bathrooms, 3 furnished balconies, 2 living rooms (one with piano), kitchenette with pantry, microwave and fridge, media room, gym room, study room, sauna and massage room.
Chairman Suite
One of the most luxurious accommodations on this Earth. Chairman Suite has 629m2, 4 bedrooms, 3 balconies, 4 bathrooms and jacuzzi.
Club rooms:
We love the idea of extra privileges for club guests. Everybody who is staying in club rooms has access to Club55 restaurant. They can enjoy complimentary breakfasts, afternoon tea and evening drinks and snacks there.
The Club Room
Beautifully designed and spacious room (61m2).
Grand Club Room
The room looks exactly like The Club Room but it's bigger (79m2).
Orchid Suite
Spacious (92m2) and luxury accommodations with an exclusive access to the breakfast at celebrity chef restaurant Adrift by David Myers.
Sands suite
Luxury suite (145m2) with dedicated butler service, an exclusive access to the breakfast at celebrity chef restaurant Adrift by David Myers, room with media pool table or media room and dining table for 6 people.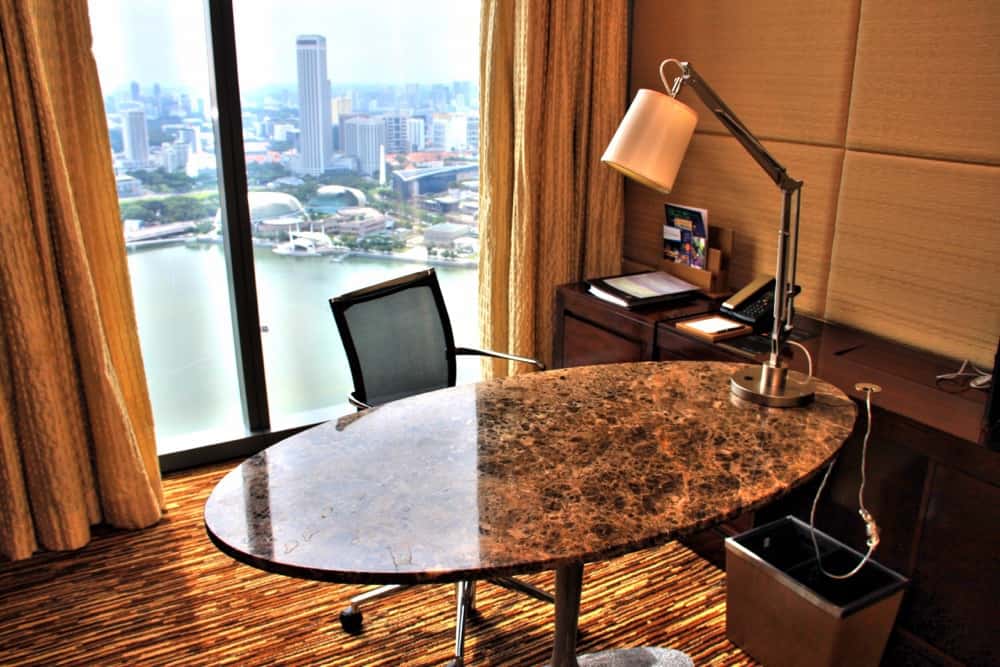 Restaurant
There are 42 restaurants and bars at Marina Bay Sands hotel! Everybody will find something for themselves there.
Check out the latest prices for Marina Bay Sands—> click here.
4 star best hotel Singapore
100 Orchard Rd, 238840 Singapore
About the hotel
We just loved Concorde. Even though it is 4 stars hotel, in our opinion, it deserved 5 stars. Everything about this place is perfect:
Design– beautiful interiors, luxurious lobby and amazing glass elevators.
Location– Concorde Hotel is situated at the famous Orchard Road, close to the Dhoby Ghaut MRT station and Plaza Singapura shopping mall.
Staff– Concorde has literally the most professional and the best staff from all the hotels we have ever visited. They are extremely helpful, respectful and always smiling.
Facilites– Every room has separate smartphone with local SIM card. You can use it for free to make calls and use the Internet throughout your stay. How awesome is that?
We loved the optional Premier privileges, we will write more about them in a Rooms section.
Pool
What we love the most about the outdoor swimming pool at Concorde Hotel is that you can actually swim in it! At the deepest point it is 2 metres deep, so it is like a standard pool to work out.
Rooms
Standard rooms:
Deluxe room
Beautifully designed, comfortable room and spacious room (31m2).
Executive room
Beautifully designed, comfortable room and spacious room (31m2) with a balcony.
Premier rooms:
This is the facility that we love the most about Concorde Hotel! For an additional payment, they offer an access to the Premier Lounge. This is truly luxurious place- you have free snacks and drinks all day long (from 7 a.m. until 11 p.m.). From 6 p.m. until 8 p.m. you can come and enjoy complimentary drinks and food during evening cocktail. You can even invite 1 guest for free!
Premier Lounge area is quiet, great to work and relax. It has separate breakfast in the morning, only for the Premier guests.
Here are other premier lounge facilities:
personalised check-in and check-out time
late check-out at 3pm, subject to availability
DVDs available for loan upon request
daily newspaper
use of meeting room for 2h per stay
shoe shine service
laundry (2 pieces of clothes a day)
complimentary mini bar and water
Premier room
Premier Club (31m2) or Premier Executive Room (36m2) are luxurious and spacious.
Premier suite
That't where we were staying. Amazing, spacious (42m2) room with separate working area.
Presidential suite
The biggest (225m2) and the most luxurious room of Concorde Hotel.
Restaurant
There are three main places to eat at Concorde Hotel:
Spices cafe and bar.
This is where the breakfast for all the guests is served in the morning. You can also eat there delicious lunch, dinner, have an afternoon tea or an evening drink.
2. The pool bar.
If you are hungry during a day (11 a.m.- 7 p.m.) you can eat or drink something simple at the pool bar. What can be better than basking in the Asian sun with an access to the delicious food and drinks?
3. Nogawa.
The best Japanese restaurant in Orchard Road. This place is not only for the sushi lovers but for everybody who loves delicious and healthy food!
Check out the latest prices for Concorde Hotel Singapore—> click here.
3 star best hotel Singapore
2 Magazine Road, 059573 Singapore
About the hotel
Even though Holiday Inn Express Clarke Quay is hotel with 3 stars, we still feel it's luxurious. It has an amazing lobby and very professional staff. The rooms are comfortable and have all the facilities you need. Including a free smartphone that you can use for calls and Internet! You can take it with you when you are sightseeing and use your favourite applications (GPS, Google, Facebook, Instagram, Twitter and more) free of charge. How awesome is that?
Holiday Inn Express Clarke Quay is currently running a great promotion called Weekend Escape. With prices starting from SGD$ 140, you will get awesome room, complimentary breakfast, parking and free WiFi.
The location of the hotel is great- within the walking distance to Chinatown MRT stop and People's Park Centre.
Pool
Holiday Inn Clarke Quay hotel has beautiful infinity pool on the rooftop. Th building itself is not super high (it has 8 floors) but still the view from the top is incredible, especially at night!
Rooms
All guests at Holiday Inn Express Clarke Quay hotel are staying at the same rooms.
They can choose their bed preferences though: there are two single beds and double bed available.
All rooms have working space (desk+ chair), coffee and tea maker, fridge, TV, bathroom with the shower and free smartphone that we were talking about before.
Restaurant
Holiday Inn Express Clarke Quay has one big dining area connected with the hotel lobby. This is were the delicious breakfast is served for all hotel guests in the morning.
At the afternoon and in the evening, you can buy there some snacks and drinks. We absolutely loved the smell of the freshly ground coffee in the hotel lobby!
Check out the latest prices for Holiday Inn Express Clark Quay Singapore—> click here.
Disclosure: We want to thank best hotel Singapore: Concorde Hotel, Marina Bay Sands and Holiday Inn Express Clarke Quay for complimentary stay. All opinions presented in this post are honest and our own.