What Are The Best Places To Visit In Romania?
When you think of Romania holidays, it's very likely that the first thing that comes to your mind is the famous Dracula Castle. Even though it's quite stunning there are many other awesome things to do in Romania that just Bran. From the beautiful beaches to breathtaking mountains, this country has lots to offer for everyone. It's the land of unspoiled nature where you can still watch people using animals on their farms. Where you can drive for half an hour and see no houses. All you can observe looking around are green hills, flowers, and trees. Here are the best places to visit in Romania– on and off the beaten path.
If you want to get the most of your stay in Romania, check out this one-week long tour around the country. The itinerary is pretty awesome!
Bran Castle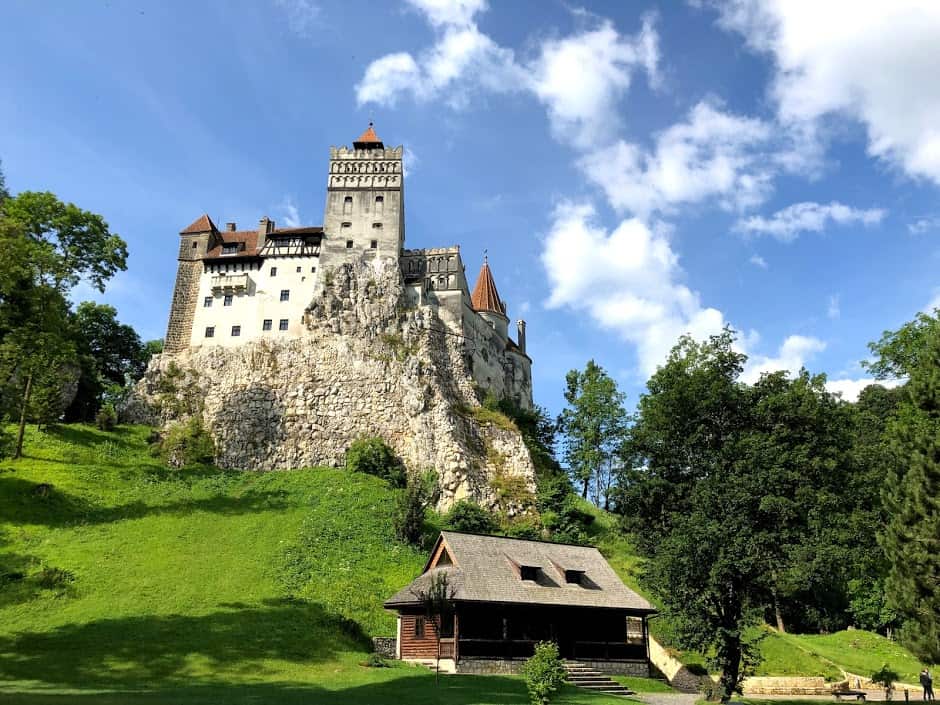 First things first- the castle in Bran is one of the Romania top attractions. According to the legend, it's where the legendary Count Dracula was living. The truth is, it's a fictional character so he couldn't live there. What's even more interesting, the author of Dracula book has never even been to Romania!
Still, the medieval castle located on the hill is quite impressive and definitely worth visiting for those traveling to Transylvania. If you are heading to Bran castle, book your fast-track tickets online to skip the lines.
Transfagarasan Road
Some call it the most beautiful road in the world. Located high in the mountains (2,042 meters/ 6,699 ft), it's a must-see for everyone doing a Romania road trip. Transfagarasan highway starts near Brasov, and it's 90 kilometers (56 miles) long. One of the best things to see on the way is the glacier lake called Balea.
Don't feel like driving all by yourself? Book a private tour through Transfagarasan road (the prices start from $80 per car).
Cluj Napoca
The capital of Transylvania is one of the best cities in Romania. There are many awesome things to do in Cluj Napoca. It is a perfect destination for those traveling to Romania with kids, solo, with a family, or as a couple. There are many things to do there, including wandering around Old Town, visiting the neighboring Turda salt mine or taking a Cheile Turzii hike.
Sapanta
Have you heard of the Merry Cemetery? It's one of the most beautiful cemeteries in the world. All the tombs are blue and they have interesting stories painted and written on. While the rest of the world is mourning, the people of Sapanta decided to not take death so seriously. If you want to do your Romania travel right, be sure to visit this unique place.
Sibiu
Sibiu is another Romania cities to visit that you can't miss! It's located in the heart of the country and it's famous for the beautiful Old Town. Sibiu was also listed by Forbes as one of the most idyllic places to live in Europe.
When you ask Romanian what are the best Romania places to visit, the answer will probably include the famous 3 cities: Sibiu, Sighisoara, and Brasov. You already know Sibiu, so let's go to the other two.
Sighisoara
This lovely town is located on top of the hill, in the pedestrian zone. It is probably the most colorful place in Romania.
Why Sighisoara is so unique? Not only it's a UNESCO World Heritage Site and birthplace of legendary Count Dracula, but also the last inhabited medieval citadel in Europe. When you wander around the narrow, cobblestone streets of Sighisoara, you feel like you were a part of a fairytale.
It's one of the best things to see in Romania. When you are in the town, be sure to join a walking tour to get the most of your visit.
Brasov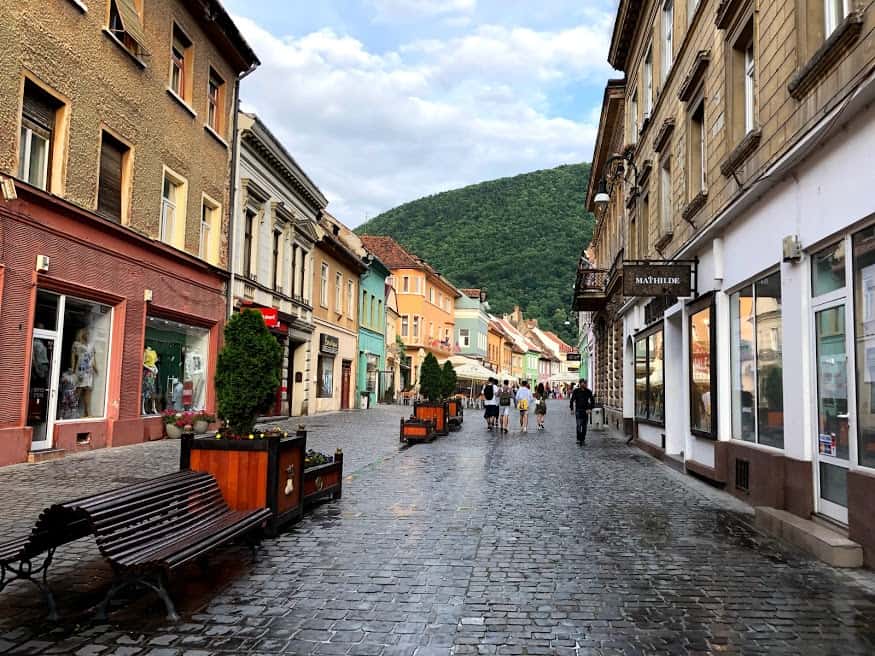 The city of Brasov is one of the most beautiful places in Romania. No wonder why- it's surrounded by the mountains and it has a beautiful Old Town. Plus, the ski slopes are located only 30 minutes driving away from the city, so there's a lot to do there even in the winter.
When you sit at one of the cafes at Brasov's Old Town and you look up, you can see the green hills and the huge 'Brasov' sign (which actually reminded me of the 'Hollywood' sign in Los Angeles). For those traveling to Romania to follow Count Dracula's trace, Brasov is a perfect base. It's located less than an hour driving from the famous Bran castle. If you are looking for a nice place to stay in the heart of Brasov's Old Town, check out Casa Balcescu.
Did I mention that there are ski slopes close to the city? This region is called Poiana Brasov and it's heartbreakingly beautiful! There are lots to do there even in the summer. Going up the Mountain Postavarul by the cable car was the highlight of our trip to Romania. We've been staying at Hotel Princess and it was the best. Totally recommend it.
One more thing- there is a restaurant in Poiana Brasov that is a true gem. We've spent one month traveling around the country and it's where we had the best Romanian food. It's called Coliba Haiducilor and for me, it's worth traveling to Poiana only to eat dinner there.
Bazna
If you are looking for a truly local place in Romania, where you can relax and unwind, there is no better place than Bazna. This village settled by Germans in the medieval ages may not have many tourist attractions but it's definitely a place where you can find peace.
The best way to experience this Romanian countryside is to stay in one of the guesthouses. We chose Bassen Pension and honestly, it was hard for us to leave. Every morning we've been served a delicious breakfast which includes fresh milk, bread, eggs, and veggies.
If you got up early you could actually see the staff picking up tomatoes and cucumbers from their own farm. They had chickens as well, so the omelet they served for breakfast was honestly one of the best I've ever had.
Bassen Pension has a huge garden with hammocks, trees, a pool, so you can actually spend a week there to truly relax. We met people from different countries in Europe there, some of them were traveling for 2 days only to spend holidays in Bazna.
The best tourist attraction in the village is Expro Spa Bazna with a pool complex and the fortified church.
You can also take a day trip to the nearby town called Medias that has a beautiful Old Town.
Timisoara
Hands down, Timisoara is one of the best cities in Romania. It's located close to the border with Hungary and Serbia, that's one of the reasons why it's the truly multicultural place.
The city has a beautiful Old Town, amazing architecture, and the street art that is pretty awesome. Check out this post about Timisoara to find out more and be sure to join a guided tour while in the city!
Fairytale Castle
Fairytale Castle is one of the most Instagrammable places in Romania.
It's great to visit not only because the building itself is interesting but because of the peaceful and tranquil atmosphere around. There is a mountain spring next to the castle, and a bar with seats made of hay. Everything is eco and natural. If you wonder what to do in Romania, it's definitely a must-visit place!
Craiova
Some call Craiova the cultural capital of the country. It's probably because the amazing Art Museum that is located there and a lovely old town with beautiful tenement houses.
Even though Craiova may not be on top of the Romanian bucket list, it's where you can go if you want to meet the friendly locals and see their everyday life. It's the 6th biggest cities in Romania, that's why it's pretty comfortable to be there. You will have lots of cafes, shopping malls, and playgrounds to spend time in which is great when you are traveling with kids.
If you are looking for a nice place to stay in Craiova, check out Hotel Splendid 1900. It's really awesome! Located in the heart of Old Town, it offers luxurious rooms with delicious breakfasts served every morning.
Constanta
Last but not least- the most famous city of Romanian Black Sea coast. With the beautiful art nouveau casino building and the history of almost 2,000 years, Constanta is one of the top Romania cities to visit.
Interested in a day tour from Bucharest to Constanta? Book this tour online to make sure you get the most of your stay.
Is Romania Worth Visiting?
Yes! This country has one of the most beautiful landscapes in Europe, the food is amazing there, and the prices are low. It's still not touristy, so hurry up before it gets too crowded!
Here are some of our insights after spending a month traveling around Romania:
Romania is a very safe country.
When it comes to nature and landscapes, it's probably one of the most beautiful countries in Europe.
The level of English fluency is surprisingly high. We have no difficulties with talking to people.
Romania is one of the cheapest counties in the European Union.
The food quality is REALLY high, you can tell that Romanians care about what they are eating. More about Romanian food here.
People of Romania embrace their culture. You can see women wearing traditional clothing all around you. It's absolutely amazing.

Romania is still not discovered by tourists. We find it very difficult to search for the places to visit, most of the websites are in Romanian, so we spend a lot of time planning our Romania itinerary.



Pin For Later: