Best Vodka In Poland
Did you know that Poles consume the most vodka per capita in the world, right after the Russians? It's not only a national drink but also a way to meet new people, celebrate successes, and welcome the guests. Polish vodka is loved by everyone including celebrities such as Hugh Laurie or Bruce Willis. This post is all about this liquor- which one is the best vodka in Poland, how to drink it to avoid hungover, and more.
How To Drink Vodka In Poland?
If you know any Pole, you have probably noticed that they can drink A LOT and feel good the following day. So what's the secret? There are some general rules that you need to follow to feel good:
1. Don't Ever Drink When You Are Hungry
No matter how good Polish vodka you choose to drink, don't try it on an empty stomach. Always eat something fat and filling before the party. It's actually scientifically proven that you will not get drunk that fast if you do so.
2. Hydrate While Drinking
The rule is simple- if you want to avoid hangover while drinking Polish vodka, you should have one glass of water after each shot of liquor. That way you will stay hydrated, and feel good the following day.
Speaking of chasers – don't choose sweet beverages to drink with vodka. The absolute best is always water.
3. Don't Mix The Alcohol.
If you started the party with vodka, end it up with vodka. Don't try to mix it up with beer, wine, or any other liquor, as it may result in puking and hangover.
Best Polish Vodka
To start with, you need to know that Poles can make vodka out of everything, including candies and milk. However, the most popular ones are made of grain, potato, or corn. Every traditional Polish vodka has 40% ABV (alcohol by volume). The flavored ones are a little bit 'lighter' with ABV ranging between 30% to 40%.
The colder vodka is, the better. You can put it in the freezer a day before the party to make sure it will be cool enough. Don't worry, it won't freeze because of the alcohol volume.
The average price per bottle of vodka in Poland is 20 PLN ($5).
Polish Grain Vodka
It's the traditional Polish vodka, with a specific sharp taste. In the beginning, all of the vodkas were made from different kinds of grains. Then, when this liquor became popular, people started to produce it from other food products, such as potatoes and corn.
Right now, the most popular grains used to produce traditional Polish vodka are:
Here is the ultimate list of Polish vodkas made of grain:
Krupnik
Available all over the country, in my opinion, it's the best vodka in Poland. Krupnik is cheap and really good. The most popular, of course, is the plain white one. However, there are many flavors available as well, including:
grapefruit
cherry
lemon
plum (so good!)
gean
blueberry
red currant
blackberries
quince
honey
salty caramel (so good!)
advokat
hazelnut
raspberry
Biała Dama
As a local patriot, it's my favorite Polish vodka, as it's produced in my hometown. It was named after the White Lady, a ghost that is supposed to haunt the castle in Lancut. My mom has been working in Polmos vodka factory for many years and one thing I can tell for sure- the quality of Biala Dama is really high. They use their own water and they care about the distillery process.
Zubrowka
(Bison Vodka / Bison Grass Vodka)
It's probably the most famous vodka from Poland in the world. Żubrówka is made of rye, it's cheap and tasty. You can either buy a traditional white one or the upgraded version with bison grass blade.
If you go for the second option, be sure to try it with apple juice and ice. It's one of the best Polish drinks!
Sobieski
Named after the Polish king, Jan III Sobieski, this liquor is the most expensive from this list of Polish vodkas so far (still it's relatively cheap, about $7 per bottle). When it comes to taste or quality, it's pretty similar to others.
Sobieski Polish vodka is high-end yet affordable.
Soplica
It's one of the oldest vodkas in Poland. Even though it can be purchased in the plain, white version, Soplica is the most popular Polish flavoured vodka.
Here are some of the flavors available:
walnut
hazelnut
lemon
blueberry
strawberry
black currant
raspberry
plum
quince
cherry
seasonal, such as lemon-mint in the summer or lemon-honey in the winter
Absolwent
It's the most popular Polish vodka made of grain. You can buy a standard or a flavored one. Right now there are the following flavors of Absolwent Polish vodka available:
lemon
grapefruit
wild strawberry
mandarin
cherry
lime
cranberry
blackberry
plum
Dębowa Polska (Polish oak vodka)
It's a high-end Polish vodka that has a specific oak-herbal taste. It usually comes with a stylish bottle or even a small wooden barrel.
Polish oak vodka is perfect for the gift. You can try a shot or two, however, I wouldn't recommend drinking more – it's simply too heavy.
Żołądkowa Gorzka
Even though you can buy the standard white version called Żołądkowa Gorzka De Luxe, the traditional one was made to help with digestive problems.
It's sweet with a herbal taste.
Wyborowa
Made of rye, it's one of the most famous Polish vodkas abroad. Wyborowa is a classic that will never disappoint. There are many unique flavors available including:
watermelon
apple
lime
maracuja
mango
pomegranate
pear
Easy to notice, Wyborowa is more focused on the foreign market, as most of these fruits are not typical to Poland.
Pan Tadeusz
One of the newest vodka made in Poland. It's popular among middle-aged people. The taste of Pan Tadeusz vodka is pretty unique as it was made of the wheat and rye.
There are many jokes in Poland associated with this wódka, as its name literally means "Mr. Ted". When Poles say that they were spending time with Pan Tadeusz, it probably means they were getting drunk.
Lubelska
The last one on our grain Polish vodka brands list is Lubelska. It's a cheap vodka that is mostly famous because of the variety of tastes it offers. Here are some of them:
mint
blackcurrant
lemon (it's actually the most famous Polish lemon vodka)
cherry
cranberry
honey
three grains
grapefruit
pineapple
orange
and more
Polish Potato Vodka
Potato vodka brands in Poland are less popular than the grain ones, which make them a bit more expensive. The selection is smaller, however, Polish potato vodka market is growing every year, so the new brands may appear soon.
When it comes to taste, they are a bit sweeter and more delicate than the wheat ones.
Here is the ultimate list of Polish vodkas made of potatoes:
Luksusowa
One of the oldest and most famous of all Polish potato vodka brands. It's affordable for everyone, the bottle cost about 30 PLN ($7.50)
So far, there are five main flavors of Luksusowa:
the basic, white one
cinnamon
cherry
cranberry
gorzka (the bitter one with a fruity-herbal taste)
Chopin
Named after the most famous Polish musician, Fryderyk Szopen, this Polish potato vodka is quite popular abroad. Experts say that it has the specific apple flavor which makes it easy to drink.
J.A. Baczewski
My favorite Polish potato vodka. I first tried it in Lviv, Ukraine, in Baczewski restaurant and I fell in love instantly. The history of this vodka is quite turbulent and it dates back to the 18th century. During that time Lviv still belonged to Poland. Later, because of the wars and border changes, vodka was not available in the country. Thankfully, it is today.
Here are the flavors available:
apricot
blackberry
wormwood
cherry (egg flavor)
ovovit
Honestly, if you want to try Polish flavoured vodka, that the best one.
Belvedere
It's arguably the best Polish vodka in the world. Surprisingly, it's way more popular abroad than in the country. The quality of Belvedere vodka Poland really is outstanding. Why?
First of all, it was made of a different kind of ingredients, including potatoes and grains. Secondly, it was distilled four times which is more than the others (usually it's 2-3 times). The rule is simple: the more distillation processes, the purer is the vodka. Of course, the price of Belvedere vodka Poland is much higher than others but at least you know what you pay for.
The Dark Side Of Polish Vodka
You need to know that Polish vodka is not only the bed of roses. It has been causing problems for the Poles throughout the ages. The traditional model of the family where father is coming back from work, getting drunk and then goes to sleep or cause fights is still very popular in the country.
Being a native Pole, I personally know many families that have been destroyed by the alcohol. As with any strong substance, you need to use it wisely.
The truth is, Polish people drink A LOT. A party without vodka is not really a party. Did you know how many bottles of vodka have we bought for our wedding? 150 bottles because that's how many guests were invited. That's how you count it in Poland- one bottle per guest. Some of them drank more, some of them less but on average, that's how much you will need. Men usually drink more than women.
My Personal Vodka Story
My great grandfather was a drunk. He was addicted and abusive, my grandpa told me many stories about his difficult childhood. I am not going to tell you how many times did he feel ashamed or scared. I will tell you something funny instead.
Thanks to Polish vodka, I am writing this text. My great grandfather would probably have died in the Warsaw Uprising if he hasn't got drunk and fall asleep. He and his friends were too late to help in fighting, so he just came back home.
Best Vodka Tours in Poland
If you are already in Poland, be sure to join one of the vodka tours to try different flavors and get to know more about this famous alcohol! Check out the recommended tours below:
So Which One Is The Best Vodka In Poland?
If you are looking for the cheap Polish vodka brands, choose Krupnik.
Those who care about quality should buy Belvedere.
If you want to try different flavors, such as Polish cherry vodka or Polish lemon vodka, go for Soplica or J.A.Baczewski if you want higher quality.
Have a question? Join our Poland Travel Support Facebook group, we will be happy to help you!
Pin For Later: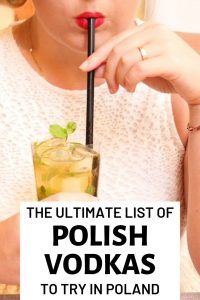 Let us know what you think! Which one of the list is the best vodka in Poland?