Best Stories From Thailand After 6+ Months Of Traveling Around
No matter how many countries I will travel to (40+ so far!), Thailand will always have a special place in my heart. It was our first overseas destination, we keep coming back there every few years. I can't really count how many Thai stamps there are in my passport but it's definitely a lot! Even though I have hundreds of interesting, scary, and crazy Thailand stories, here are the best of them.
The Frightened Old Woman On A Plane
This is a short story from Thailand that I keep telling everyone who is asking me about the unforgettable travel experience. I will never forget the frightened, old Thai lady that we met on the flight from Phuket to Bangkok. As we've been traveling on a budget we thought it was a good idea to spend a night at the airport before catching our early morning flight. When we finally boarded, all I was dreaming about was a nap. At that time, I didn't know that it will never be going to happen. I was about to spend this short flight with the most annoying, yet cute co-passenger that I will never forget.
When I finally found my seat and was ready to start my awaited nap, SHE sat next to me. Imagine the lovely 60-70ish Thai woman who is giving you a massage in Thailand. This is how she looked like. She wasn't smiling though. Her entire body was shaking, she was TERRIFIED of the upcoming flight. She couldn't speak English but it was clear that she's never been on a plane before. Even though she was talking all the time, I didn't understand the word.
She was hugging me, scratching me, and nestling into my scarf for the ENTIRE FLIGHT. I felt sorry for her but on the other hand, she was violating my personal space. Her behavior was way out of my comfort zone.
She didn't even know how to fasten her seatbelt, so I did it for her. Then, I tried to explain to her (using body language and some basic words) that everything is going to be ok.
Finally, when this nightmarish flight was coming to an end and the plane landed, a Western guy approached me. He said 'thank you for taking care of my future mother-in-law'. I was shocked and all I could think about was: 'WTF?"
The plane was NOT full and I am pretty sure he sat on the other side of it only to get rid of his girlfriend's annoying mom…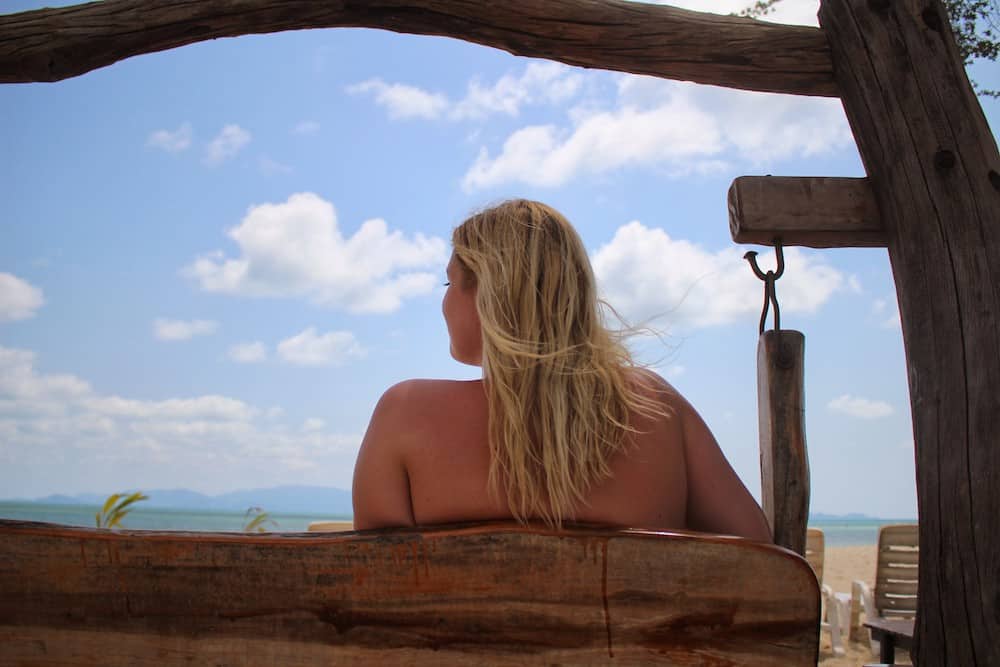 Travel Angel in Bangkok
Our trip to Bangkok from Europe was extremely long. It took us more than 30 hours to get there. We were very tired and we all we were dreaming about was taking a shower and go to sleep.
When we finally picked up our luggage and went through the customs, we caught the taxi. As usual, we showed the hotel address to the driver, he nodded his head and started driving. When we got to the city center, he seemed lost. He didn't say a word though. After half an hour, he finally told us that he had no idea where our hotel is. He asked us to leave the car and find our accommodation by ourselves because it's 'somewhere close'. It was dark, late, there was nobody on the street.
We were terrified. It was our first trip overseas EVER. It was supposed to be great and it wasn't really a good start. We were traveling back in 2014 when the Internet still wasn't available everywhere, we didn't have a Thai sim card, so forget about Google Maps.
We've been all by ourselves. We had no idea what to do or where to go, our backpacks were heavy and we were exhausted. And then… we saw HIM. Our travel angel.
He was a tall, muscular, bold white guy, wearing a white t-shirt and pretty casual jeans. He asked us whether we needed help. Both of us screamed: 'YES!' before he even finished his question. He took the address, call somewhere, and after 10 minutes, he walked us straight to our hotel. It turned out it was literally just around the corner.
We don't even know this guy's name but we will always be grateful for his help. It's one of the Thailand stories that makes us keep coming back to this country and travel the world. We know we will meet helpful people everywhere and it's safe to travel.
Nervous Polish Couple
When we were waiting for a ferry from Koh Phagan to Phuket, we saw an adorable couple with two little girls. They looked so cute with big backpacks on their back, pushing the strollers, exploring the new country.
'Family goals' – that's what I thought. I wanted to talk to them and ask whether it is easy to travel with kids. That time, we were still a couple but we knew we will probably be parents someday. We didn't want children to ruin our nomadic lifestyle. So when I was looking at this idyllic picture of a lovely family of 4 traveling around Thailand, the woman started yelling at the man… in Polish! Our mother tongue. The spell was broken. She was really pissed off that he didn't plan this trip correctly. And that he always disappoints her, blah, blah, blah.
We started to giggle because it's not easy to find other Poles in Asia. Especially on a not-so-popular island like Koh Phangan.
After their fight ended up, we started to talk to them. It turned out that their older daughter, who was 4 years old, has already been on all continents. When she has only 7 months they went camping in Australia. The younger girl was 2 years old and she has already visited Asia, America, and Europe.
The couple said that they have always been traveling and they couldn't stop when the children were born. So they always take their girls with them. They said that traveling with kids is a little bit more challenging but doable.
Now, when we are traveling with a toddler, I can tell they were right.
Bus Driver's Scam On The Way To Phuket
It's one of these stories from Thailand that are not that positive. It shows a dark side of this country, where scams are still surprisingly common.
I would call it a petty crime, as you will just pay a little bit more than you should. The taxi driver will try to take advantage of you by going a long way. Or he simply 'forget' to turn on a taximeter and then give you a high price after the ride is finished.
This Thailand story is about a fraudulent bus driver. We didn't like him from the moment we saw him. He was very nervous and weird.
Our budget was really tight on that trip, so I made sure we won't spend much on our travel from Koh Phangan to Phuket. I booked a transfer online and found a hotel right next to the bus station to make sure we won't need to pay for a taxi in Phuket.
Everything went smoothly, until the end of our journey. The bus driver pulled off 5 miles before Phuket and said that each of us has to pay him 100 THB ($3) to be taken to the hotel. Most of the travelers were ok with that, as their hotels were in different places all over the island. It was different from us- I booked a hotel with a map to make sure we will easily walk there. I tried to explain it to him but he didn't listen.
It was dark and late and we didn't have any choice. All of the passengers needed to pay him, and so did we.
He took the money and seemed very proud of himself.
Emotional Hotel Employee On Koh Phangan Island
Talking with this hotel employee may not seem like one of the best Thailand travel stories. Still, it taught us a lot, that's why I think it's worth telling.
Thanks to this guy we understood Thai people and Thai culture. Before that, we couldn't really get why everybody is so crazy about the king. They loved him that much that you couldn't say a single negative word about him.
The hotel boy gave us a short speech about the history of Thailand. He told us that the Thai king developed the country. Thanks to him, people are richer, they have food, jobs, homes. He made Thailand the biggest exporter of rice in the world and one of the most popular tourist destinations in Asia.
There are no wars because he was always solving the problems peacefully.
He was firm but gentle. Thai people are extremely grateful for what he did.
When this hotel boy was talking with us about the King, his eyes were shining. He was calling the leader: 'My King'. When we asked what will happen when he dies (he was more than 80 years old during that time), he literally started to cry, saying that he has no idea and he can't even think about it.
That conversation taught us a lot. We understood that every big country, company or organization needs a charismatic leader to succeed. People need someone to follow.
King Rama IX has died in 2016, at the age of 88. Thailand was mourning for over a year. The current king of the country is his son, Rama X. He is definitely different than his dad, being divorced twice, currently having 2 wives in a polygamous marriage.
Pin For Later:
Did you enjoy reading this post? Share your crazy Thailand stories in the comments!