Israel is one of the hottest destinations on the planet for its many places of religious and historical significance. It gathers the highest number of holy places of Christianity in the world. Visiting biblical sites that are so important to millions of people across the globe can definitely make a trip of a lifetime. It truly feels inspiring to stand in the spot where many of the most timeless tales told in the Bible, the Torah, and the Quran took place.
If you've thought about visiting Israel, then you may be interested to read about some of the best Biblical places in Israel and their meanings. Whether you adhere to the teachings of Christianity, Judaism, or Islam, this is a significant place for your religion.
All Israel biblical sites that are listed below have a small number² that you can click on. You will then see the corresponding Bible quote associated with this place.
Here's a map of all the biblical places in Israel that you can find in this post:
Looking for the best Israel tour package? Search for the best one here!
Biblical Places in Jerusalem
Looking for a trip to Jerusalem package? Search for the cheapest options here.
Although you can visit all of these places by yourself, it's so much better to join one of the Jerusalem tours. For a little money, you will not only be taken to all the biblical locations but also get to know the incredible history of each place. You will be sure you won't miss anything and make the most of your trip to Jerusalem.
Skip the lines and book your tour Jerusalem here.
Looking for the best Jerusalem tours from Tel Aviv? Book the recommended one here.
The Temple Mount 1
The Temple Mount is the site where King Solomon's temple is thought to have once stood. It has a great religious significance to millions around the globe and it's probably the holiest place on this Earth. Here are the top Israel Biblical sites that are worth seeing at the Temple Mount:
Dome of the Rock
This Islamic shrine is a really important religious site to all the three world's biggest religions.
It is believed that today's Dome of the Rock is a place where God created Adam, the first human. 2
It's also believed that it's where Abraham wanted to sacrifice his son, Isaac, for God. 3
Last but not least- it's believed that the legendary Ark of the Covenant is hidden under the Well of Souls located under the Dome of the Rock. 4
Western Wall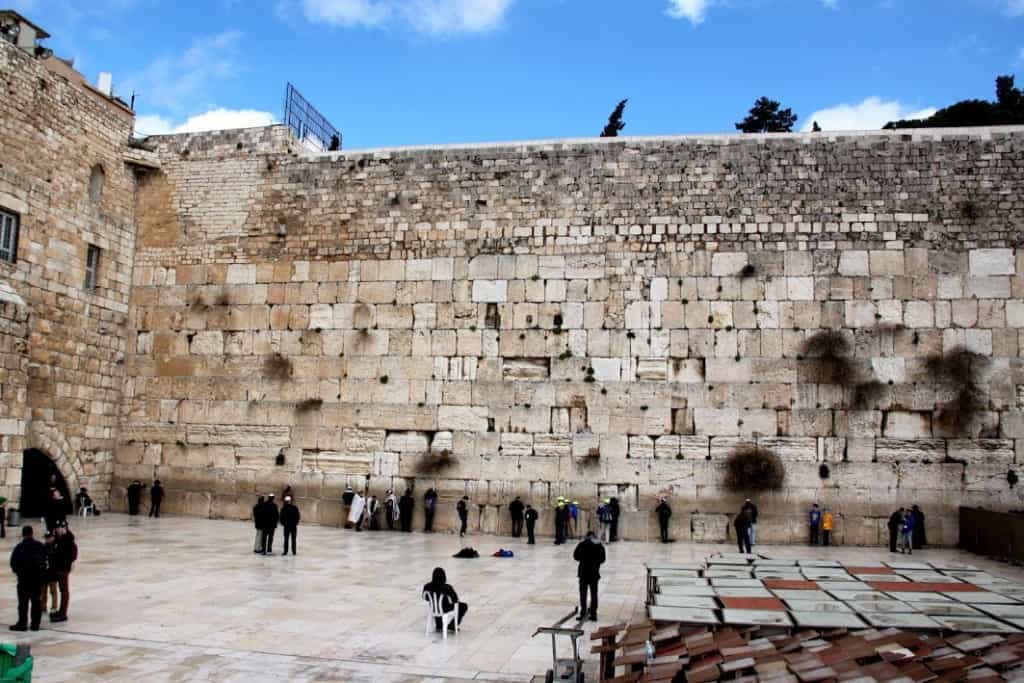 The most important place for Jews is what's left from the Temple in Jerusalem. Jesus has been visited it many times throughout his life. When he was 12 years old that's where his parents found him 5. It's also where he got angry about making a market out of his Father's home 6. Finally, it's where he had been teaching 7.
Men and women are not allowed to get to the Wall together. There is a separate section for each sex.
Via Dolorosa 8
Your Jerusalem pilgrimage won't be complete without walking through the Via Dolorosa. It was where Jesus was carrying the cross on his way to Golgotha.
If you are looking for a peaceful place where you can meditate on Jesus's suffering, you may be quite disappointed. The Way of Sorrow is stuffed with shops, restaurants, and hordes of people. Nine stations are located on the narrow streets of Jerusalem, the final five are inside the Holy Sepulchre church.
Church of the Holy Sepulchre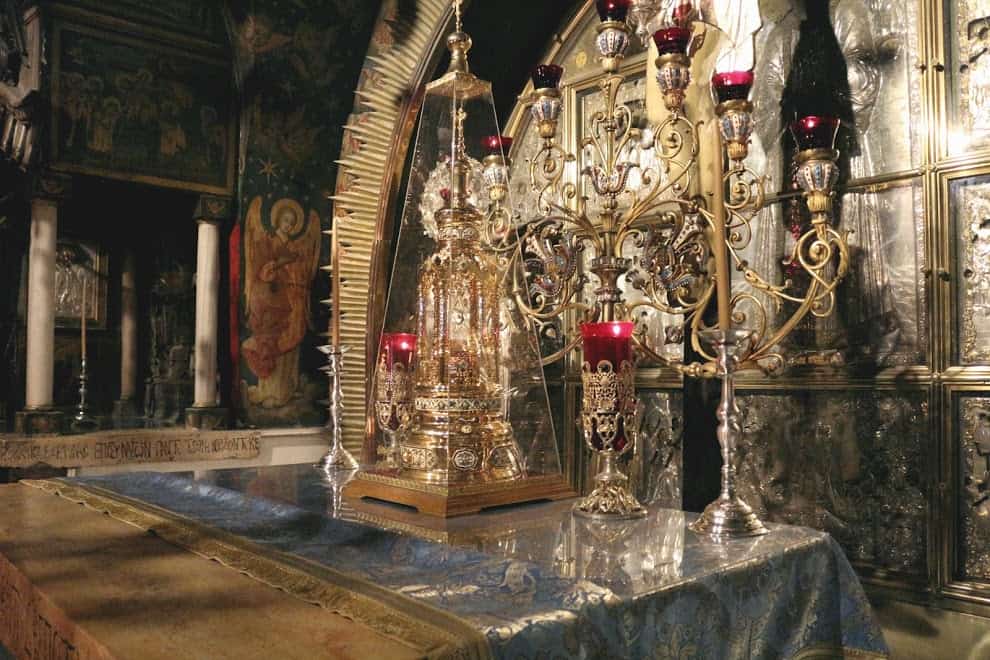 Golgotha / Calvary 9
Calvary is where Jesus died on the cross. Historians don't know the exact place of Golgotha, but it's believed to be located inside the Church of the Holy Sepulchre. There is a Calvary chapel inside a church where you can pray for a while.
For all of you who decided to walk along the Via Dolorosa, stations 10th, 11th, 12th, and 13th are located at Calvary.
Jesus's Tomb 10
After Jesus died on Golgotha Mount, he was placed in the tomb and resurrected 3 days later. No matter what Catholic Holy Land tours you are going to attend, you will probably need to wait in a long line to get inside the tomb. I've been in Israel twice, on September and February, and each time it took us about an hour waiting to see the tomb. Was it worth it? Not really. You have about 5 seconds inside the tomb, as the other tourists are waiting to get inside too. You won't have time to pray, or even take a photo.
Jesus's Tomb is the last, 14th Station of the Cross.
Chapel of Adam
Right below the Golgotha, there is a final resting place of Adam, the very first human. It has a great allegorical meaning. A man (Adam) has brought the death into this world 11, and the man (Jesus) has conquered it many years later 12.
Stone of Anointing
It's believed that the Stone of Unction is a place where the body of Jesus was placed before the burial.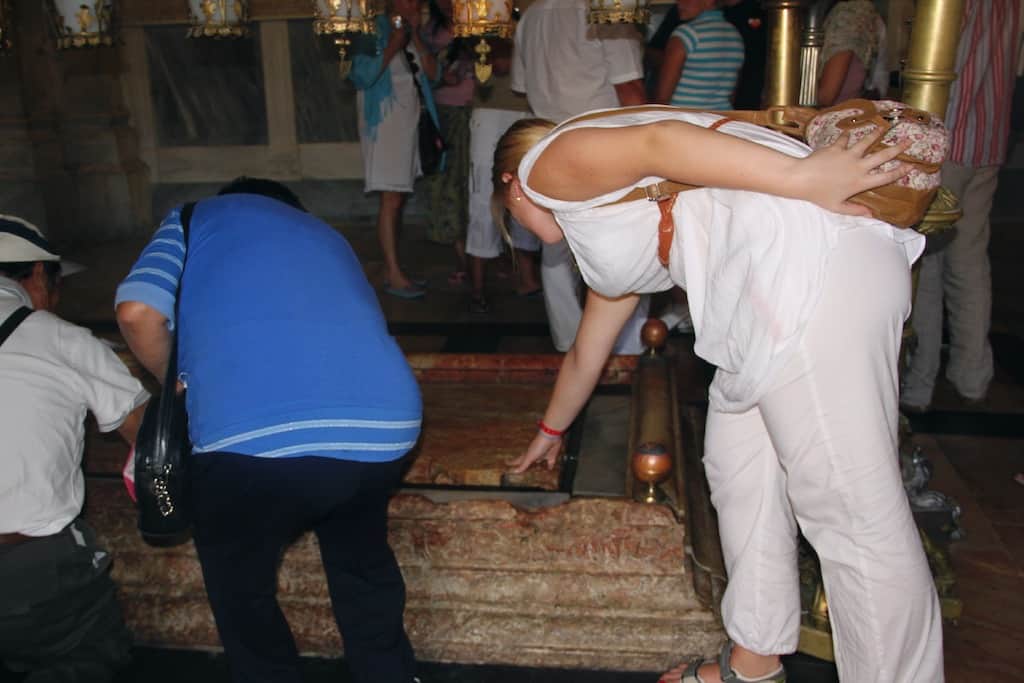 The Franciscan Chapel of St. Mary Magdalene
It's believed that it's where Jesus met Saint Mary Magdalene after he has raised from the dead 13.
Syriac Chapel
It's the final resting place of St Joseph of Arimathea, the man who took care of Jesus's body after the crucifixion 14.
Prison of Christ
The chapel is a part of Ambulatory. It's believed it's where Jesus was imprisoned before the crucifixion.
Mount Zion
It's important to distinguish Mount Zion and Mount Sinai. The first is located in the heart of Jerusalem, whereas the second in Egypt. Moses received Ten Commandments from God on the peak Mount Sinai.
Dormition Abbey
It's believed that both the Last Supper 15, and the assumption of Mary, Jesus's Mother, into Heaven took place somewhere around today's Abbey of the Dormition. The Cenacle is open to the public, and it's located on the upper floor of King David's Tomb.
Church of Saint Peter in Gallicantu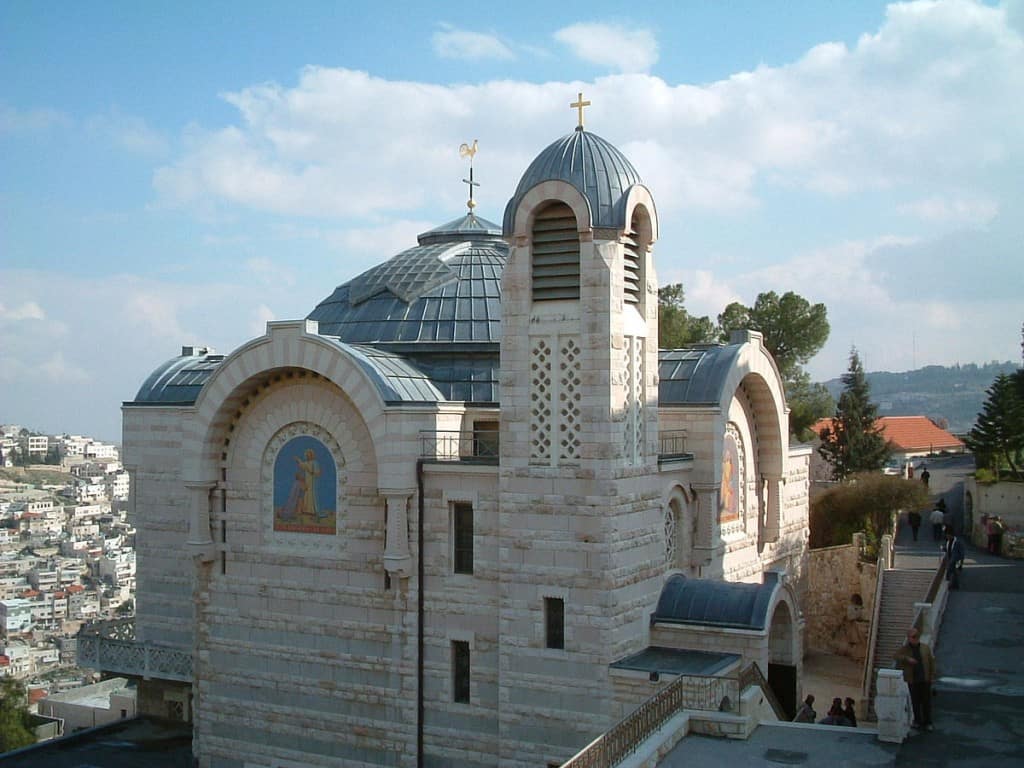 The church was built in a place where Peter denies Jesus three times 16.
BONUS INFO: It's usually not a part of Catholic pilgrimages to Israel but there is one specific spot on Mount Zion that's worth visiting. The final resting place of Oskar Schindler, German who saved 1,200 Jews during World War II, is located there.
Mount of Olives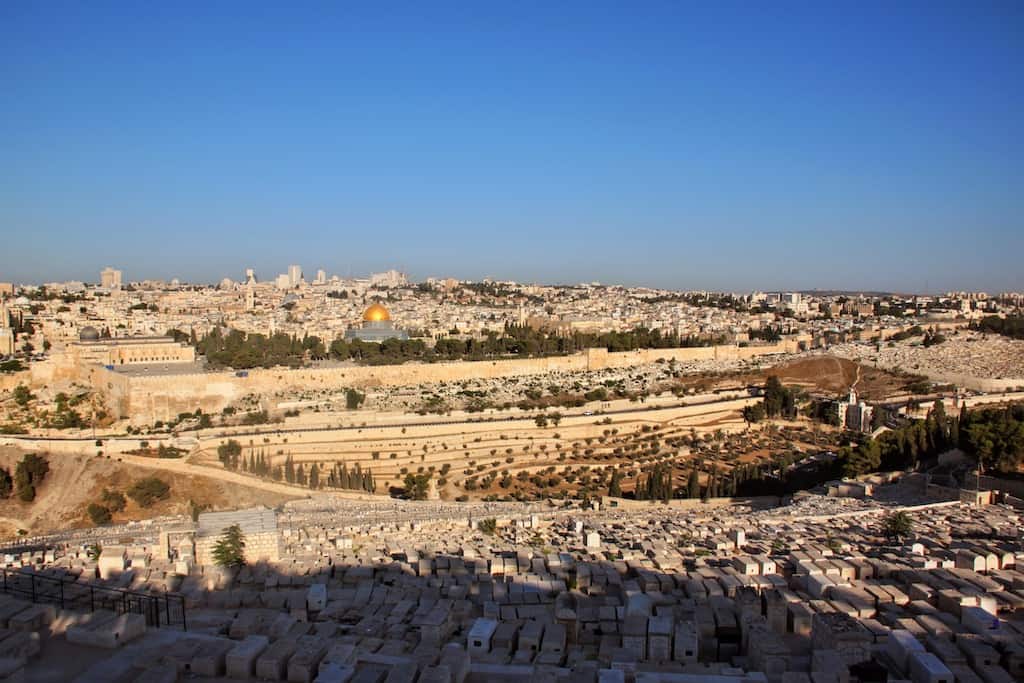 Mount of Olives is mentioned both in the Old 17, and the New Testament 18. It's believed that Jesus spent there his last moments before being arrested and crucified.
Where To Stay in Jerusalem & Recommended tours in Jerusalem
Best Hotel Jerusalem Old City
When it comes to accommodation, we chose Abraham Hostel. More info about this amazing place later on in this paragraph.
If you prefer to stay at home-like places, check out Check In Jerusalem. It's a fully equipped apartment, located in the heart of the Holy City.
Book your stay at Check In Jerusalem online here.
For those of you who are looking for a good hotel Jerusalem Old City, check out Gloria Hotel. It has all you need to make your trip to Jerusalem perfect- excellent location, comfy rooms, yummy food, and even free parking.
Book your stay at Gloria Hotel online here.
As I mentioned above, we've been staying at Abraham Hostel and it was absolutely amazing! If you are looking for the best Jerusalem accommodation, that should be your place to go. Even though it's officially a hostel, it's so much more than that. We had a private room with a private bedroom, so it felt more like a hotel than a hostel. There is a lot going on at Abraham Hostel. It's located within the walking distance from all the important sites of the Holy City.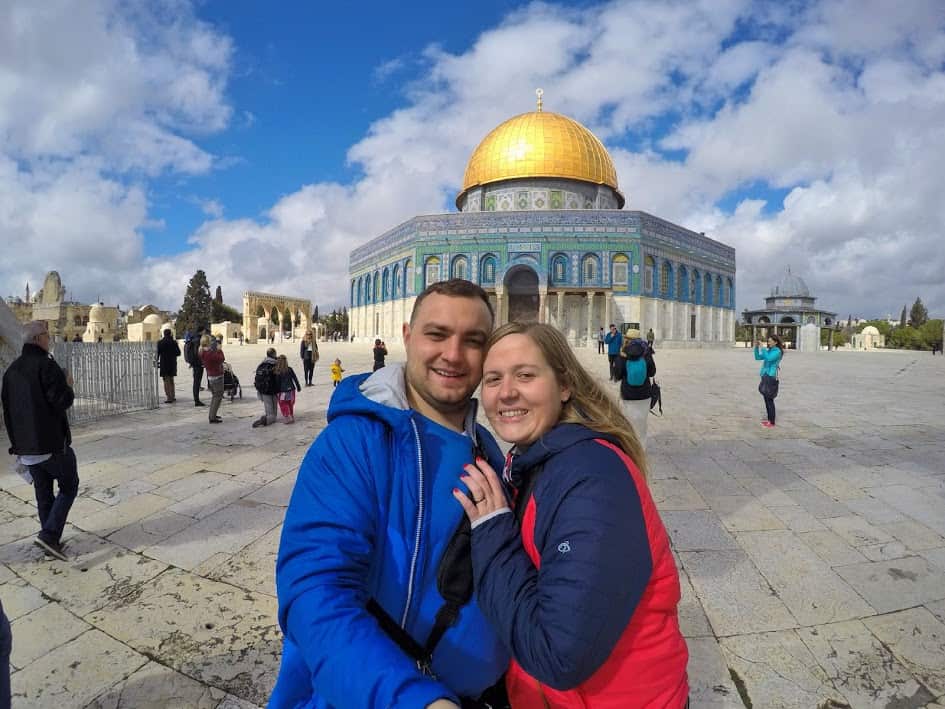 Abraham owns a travel company as well, that's why you can book with them many Jerusalem day tours, including:
Jerusalem Old City Tour
We have been attending this tour and it was AWESOME! Our Jerusalem tour guide was very informative and took us to the places we wouldn't be able to find by ourselves.
Book Jerusalem Old City Tour online here.
Jerusalem to Petra Tour
My, oh my, visiting Petra was a highlight of our trip to the Middle East. Seeing the Lost City of Stone, going to Wadi Rum, staying at Bedouin's Camp and stargazing was an unforgettable experience. If you are looking for best tours from Jerusalem to Petra, you won't be able to find anything better. Crossing the border takes a lot of time that's why a day trip to Petra from Jerusalem is not available. You need to stay in Jordan for at least one night.
Book Jerusalem to Petra tour online here.
Bethlehem tour from Jerusalem
We took West Bank Tour that include more places in Palestine than just Bethlehem. We got to know more about the conflict, and had the chance to listen both the Israeli' and Palestinian's point of view. Our Israel tour guide was very informative.
Book your Jordan River, Bethlehem and Jericho tour online here.
Jerusalem day trip to Masada Dead Sea and Ein Gedi
Reaching the top of Masada early in the morning is one of the best hikes in Israel. It's good to combine Masada tour with traveling to the Dead Sea. After getting tired, you will be able to jump into the saltiest water in the world. No matter what month you are visiting Israel- it's always warm there. The photo that you can see below was taken on February.
It's really worth to go there, as the sea is shrinking every year. Scientists predict that it may completely disappear in the future. Dead Sea cosmetics are one of the best Israel souvenirs that you can bring back home, so it's a pretty good place for shopping as well.
Book your Masada and Dead Sea tour from Jerusalem online here.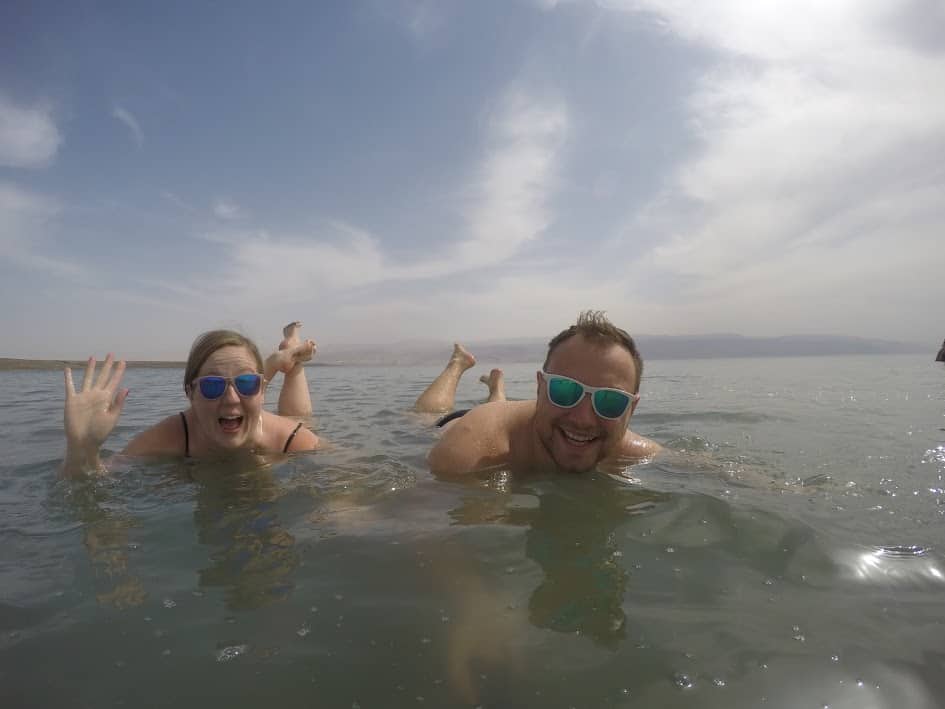 The other recommended Jerusalem day trips are Dessert Jeep tour to Mar Saba Monastery and Hummus Cooking Workshop.
Tel Aviv
Tel Aviv city is relatively new, so you can't find there many Catholic pilgrimage sites. There is one place worth visiting tough – Jaffa. This one of the oldest Mediterranean ports is mentioned many times in the Bible. It's where St Peter resurrected Dorkas 19. St. Peter's Church in Jaffa was built in the memory of this miracle.
Skip the lines and book one of Jaffa Tel Aviv tours online here.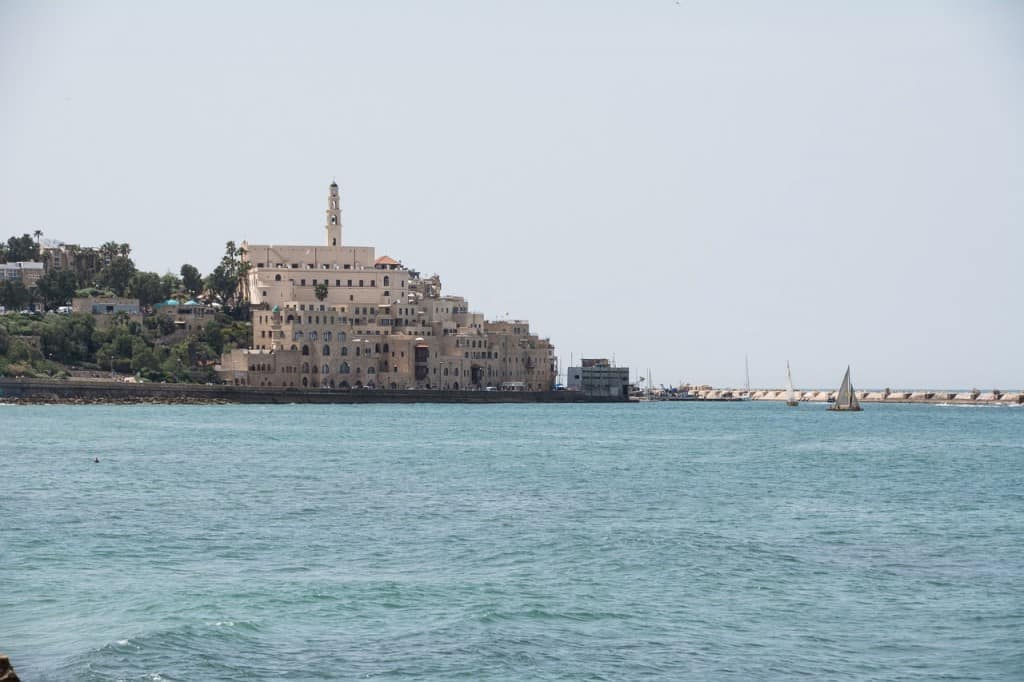 Bethlehem
Bethlehem is said to be the birthplace of Jesus Christ. It's located in today's Palestine territories and it's a part of all the Catholic pilgrimage tours.
Church of the Nativity
All the Holyland tours have Church of the Nativity in the itinerary. No wonder why- it's where Jesus was born 20. There is a silver star inside the church that marks the exact place of the stable and the hay crib.
It is believed that many important people of Christianity have been buried under today's Nativity Church, including Saint Jerome.
Chapel of the Milk Grotto
Many people believe it's where baby Jesus, Virgin Mary, and St Joseph found the shelter when they were hiding away from King Herod. According to the Bible, he ordered to kill all the boys younger than 2 years old. Herod was too afraid that the newborn Jewish king will take away his power. 21
Recommended hotels in Bethlehem Palestine
Don't know how to get to Bethlehem from Jerusalem? See your options here.
If you are looking for a cozy place to stay, and want to have all the important Biblical Land places at your fingertips, choose Dar Sitti Aziza. It's one of the top rated Bethlehem Palestine hotels. Located in the heart of the city, it has all the facilities to make your stay in the Holy Land comfortable. Check out the latest prices for Dar Sitti Aziza here.
All the travelers who prefer home-like experience will enjoy staying at Canawati Apartment. It's located within the walking distance to the Nativity Church and has a fully equipped kitchen. Check out the latest prices for Canawati Apartment here.
If you are traveling on a budget Habibi Hostel should be your choice. The breakfast is included in the room rate, the rooms are cozy, and the shared bathroom is clean. Check out the latest prices for Habibi Hostel here.
Mount Sinai
Next place on our list is Mount Sinai. This is the mountain where Moses had been given the ten commandments by God. 22 Historians are not sure where the biblical Mount Sinai is located. Most of them believe it's in today's Egypt. There is a group of scientists though that point Mount Karkom as the real Mount Sinai.
Jezreel Valley (Armageddon)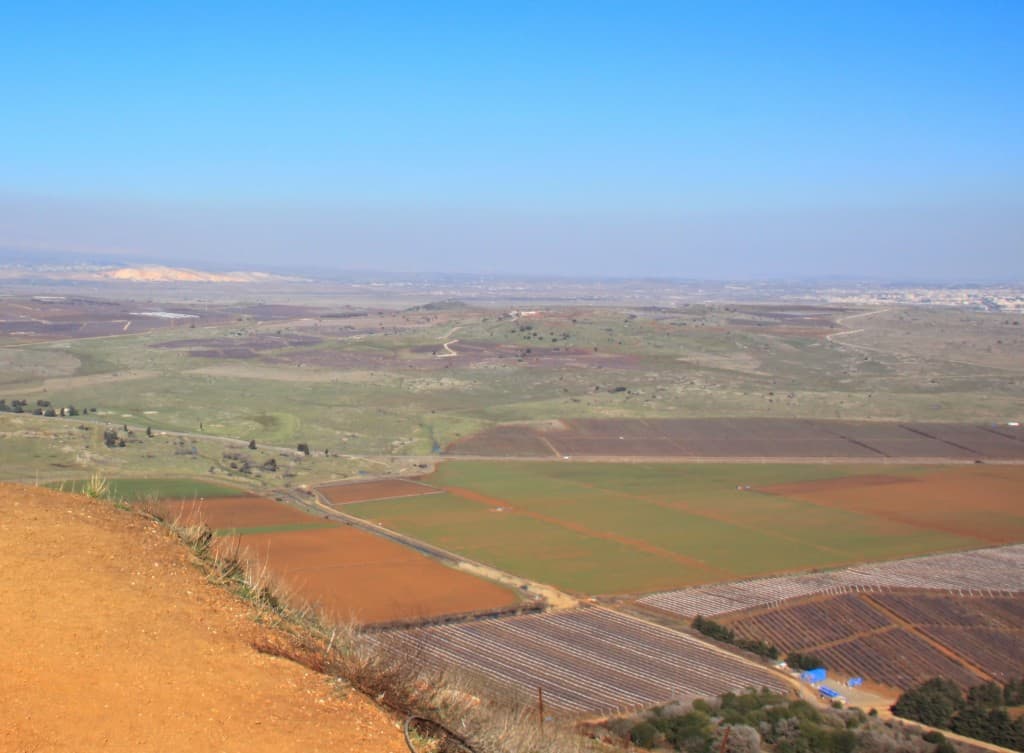 Jezreel Valley is significant to religious people for many reasons. A lot of historical battles took place near this area but many people visit the site because of prophecies depicting it as being an important region for the end times. The land called Megiddo in the Bible is said to be a place where a climactic battle between the forces of good and evil will take place. 23. Pilgrims visit this site and reflect upon the prophecies of the end times.
Many people put a lot of thought into the prophecies of the book of Revelations. Visiting Jezreel Valley (Armageddon), one of the sites that are mentioned in the book can be quite a profound experience. It remains a popular destination for many Christians who are visiting Israel.
Nazareth
If you are attending one of the Catholic pilgrimages to the Holy Land, you need to visit Nazareth. This is where Christ spent a large chunk of his life 24. Here are the top biblical locations in Nazareth:
St. Joseph Church
According to the tradition, it's where St. Joseph, Virgin Mary's husband, had his workshop.
The Church of the Annunciation
The Basilica was built in a place where the home of the Virgin Mary once stood. It's where she found out that she will become the mother of God 25.
Mensa Christi Church
According to the tradition, it's a place where Jesus come to his disciples after the Resurrection 26.
Mount Precipice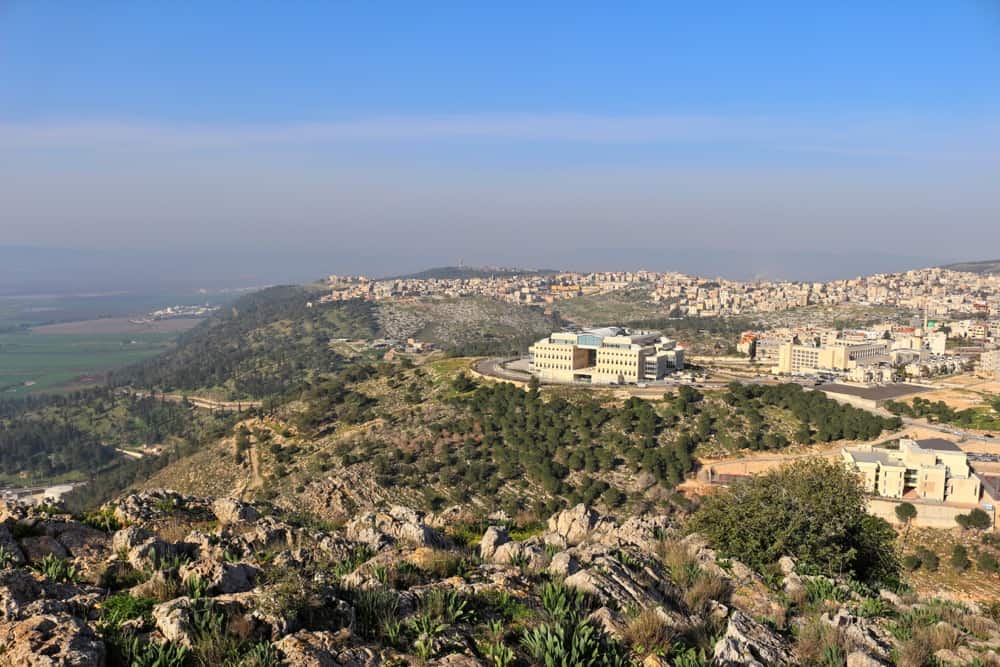 An angry mob once attacked Christ at this site after he made some proclamations in the Nazareth synagogue. They attempted to throw him off of the mountain 27. People come to this site with that story in mind quite frequently. It's a popular tourist destination because there is a clear Biblical record of Jesus having been at the location.
Recommended hotels in Nazareth Israel
We've been staying at Fauzi Azar and it was absolutely perfect! This hotel Nazareth is located in the old Arab house, in the heart of Nazareth, close to the most important tourist attractions. We really can't think of anything that we didn't like about this place.
Check out the latest prices for Fauzi Azar –> here.
If you prefer a home-like experience while traveling, and you are looking for the best Nazaret apartments, check out Airbnb or Apartment of Aamer in the old city. It's also a great choice for all of you who travel on a budget.
If you are looking for more luxurious Nazareth accommodation, check out Ramada Nazareth hotel. It's arguably the best place to stay in the town.
Capernaum
A large number of Jesus's disciples lived in Capernaum Israel, including Peter, John, Andrew, and James. It's also where Jesus was teaching 28. Visiting a town of such significance is very interesting and it is a site where Jesus was teaching people.
Sea of Galilee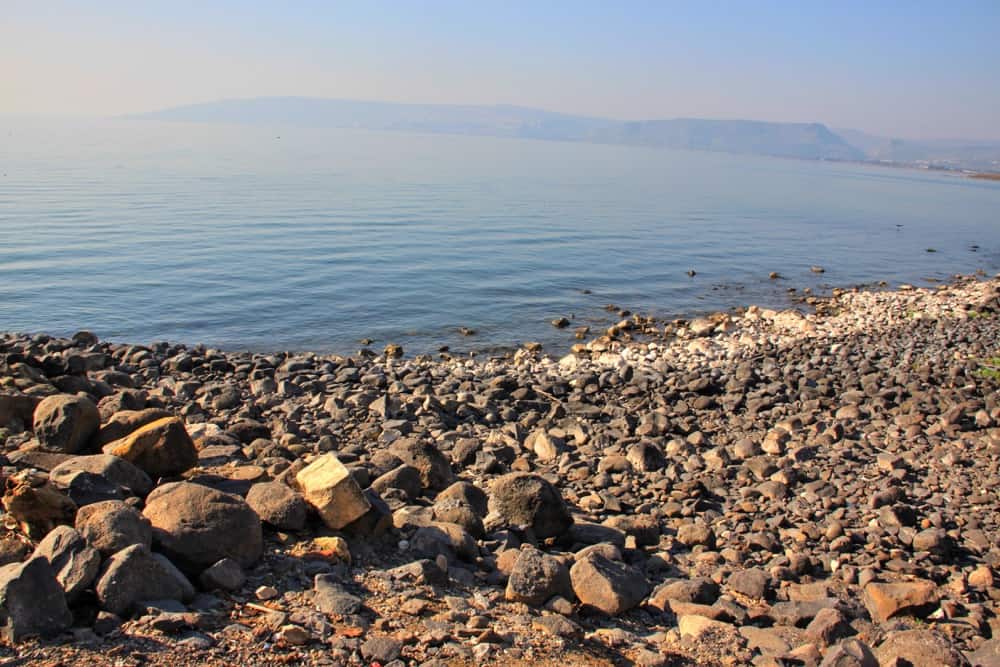 Another very important site for Christianity is the Sea of Galilee, also known as the Lake of Gennesaret. This is the body of water that Christ performed one of his most spectacular miracles on. He walked on water and showed his disciples that anything was possible when you have enough faith 29.
Skip the lines and book your Sea of Galilee tour online: from Jerusalem or from Tel Aviv.
Caesarea
Only ancient ruins remain of Caesarea today but it's still a place that people like to see with their own eyes. Caesarea is mentioned many times in the New Testament. It's the place where the occupying forces of Rome gathered 30.
It's also where Herod the Great ordered the census that caused Mary and Joseph to flee 31. Stepping foot near the area where Herod ordered the execution of newborn children is quite surreal.
Save your time and book your Caesarea tour online here.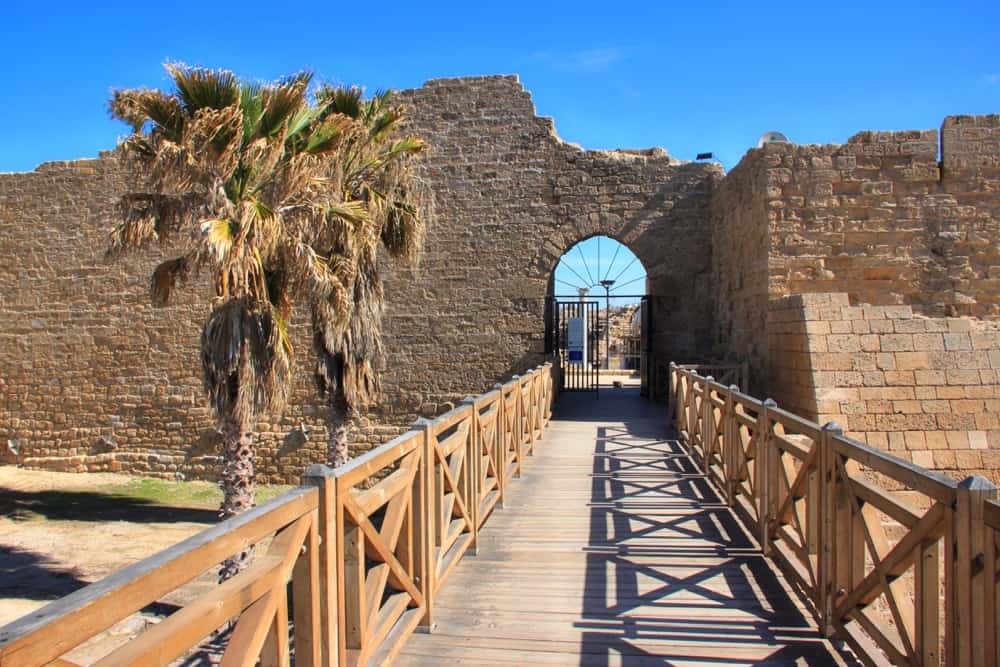 Recommended Caesarea hotels
Surprisingly, there are not so many Caesarea hotels worth recommending. Most tourists decide to go there on a day trip, without staying overnight. Anyway, if you are looking for good accommodation in Caesarea, check out Alma or Eldad Place-caesarea.
Golan Heights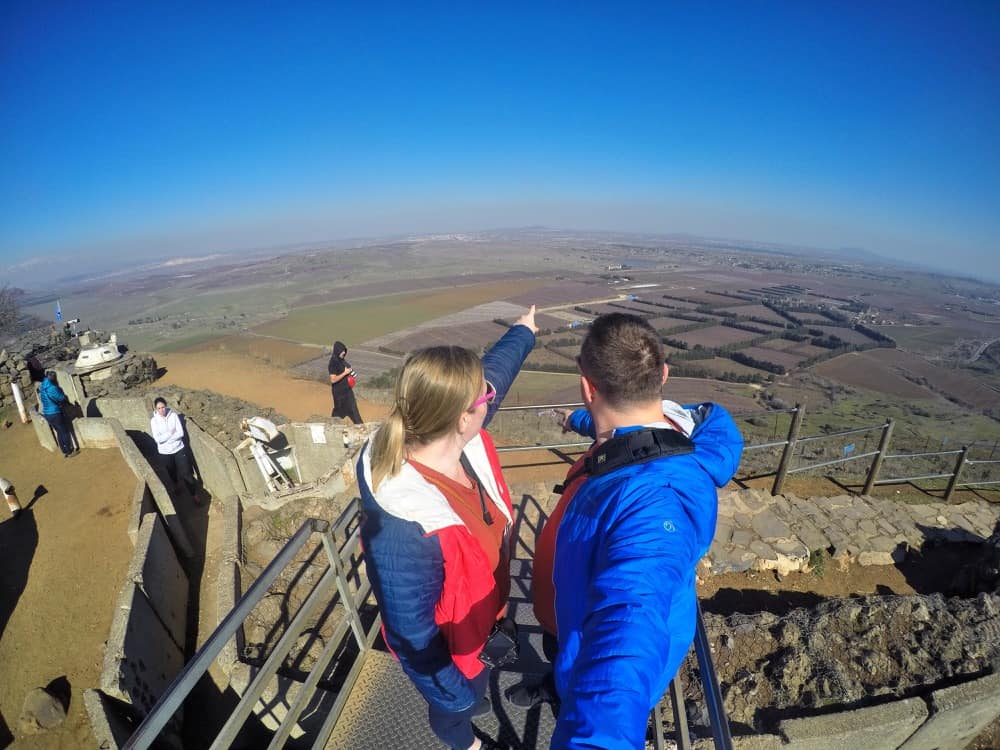 This is another site that was mentioned in the Bible more than once 32. Golan Heights are a part of many Israel guided tours. Even though nothing spectacular happened there, it's still a place worth visiting, as it's one of the Israel biblical sites.
Save your time and book the Golan Heights tour online here.
Kafr Kanna
This is the village where Jesus Christ famously turned water into wine. 33 Miracles are certainly something that attracts many tourists to particular locations. The water-into-wine miracle is one of the most famous acts that Christ performed during his time on the earth. Being able to visit the actual place where this astonishing act happened is awe-inspiring. Kafr Kanna should definitely be a part of your Holy Land pilgrimage catholic itinerary.
Jordan River
So many different stories from the Bible took place on the Jordan River. The most important one was the baptism of Jesus 34. It's one of the places to visit in Holy Land you simply cannot miss.
Mount Azazel
Visiting Mount Azazel can be interesting because it is thought to be the spot of the scapegoat ceremony depicted in the book of Leviticus 35. It isn't a populated area now but some desert tours will take you through the site.
Book your Israel private tour to Mount Azazel online here.
Jericho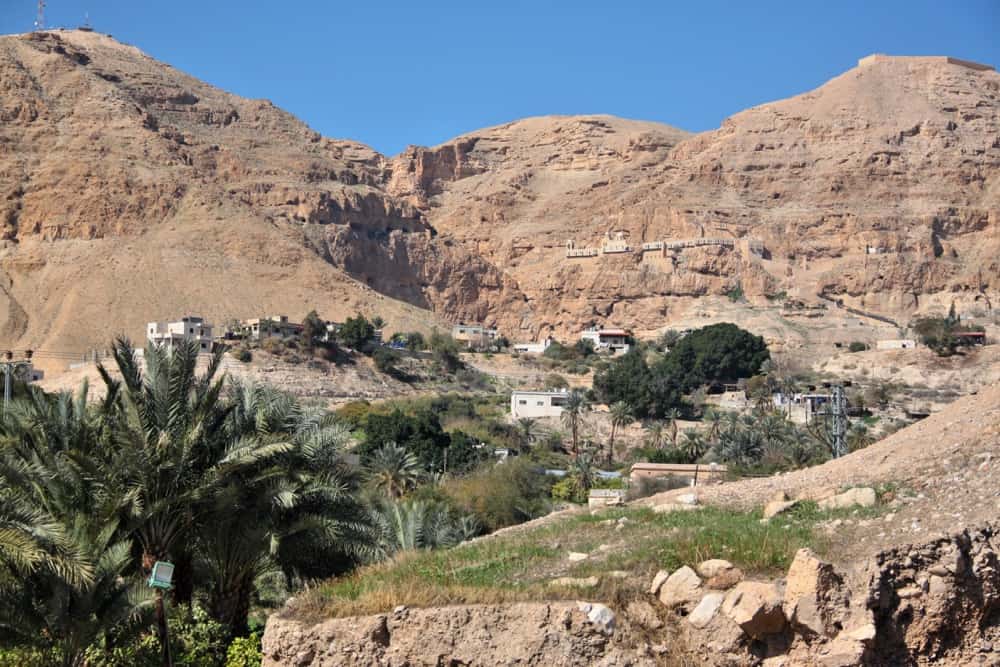 Most believers know the story of the walls of Jericho. The Israelites marched around the walls for days and eventually sounded their horns. The mighty walls of Jericho came crashing down, allowing the Israeli forces to win victory in battle 36. It's an astonishing tale and you can visit the site where ancient Jericho stood all those years ago.
Save your time and book your Bethlehem and Walls of Jericho tour online here.
Mount Carmel
Mount Carmel was once a place where the false god Baal was worshiped. It is at this place where the prophet Elijah challenged 450 prophets of this deity to a contest at this site. The contest was to determine the fate of Israel and which god was in charge of the land 37. Of course, Elijah won the day and the rest is history.
Dead Sea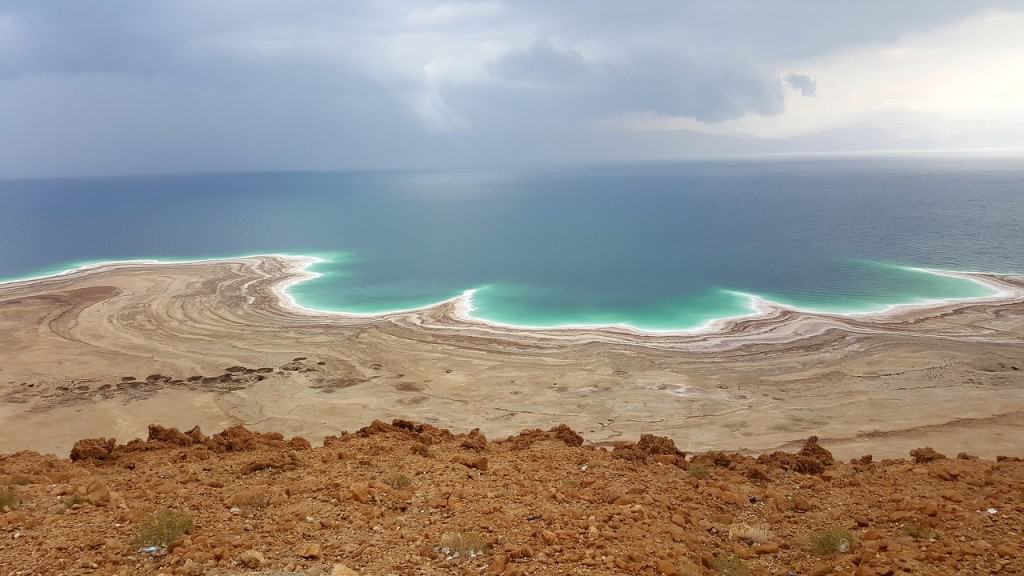 The Dead Sea has its own religious significance but many also like to seek out the sites where Sodom and Gomorrah 38 once stood. Of course, you'll remember that one of these towns, in particular, was said to be reduced to a pillar of salt. Dead Sea vacation is a popular choice among the travelers visiting Isreal but most of them are not aware that this place also has a religious significance.
Book your Dead Sea tour online here.
Mount Tabor
This is the site also known as the Mount of Transfiguration. Jesus had a profound experience in this area that caused his face to shine like the sun. That's where he met Elijah and Moses, and his disciples heard the voice of God 39.
Mount of Beatitudes
This is a site where Christ recounted eight blessings, one of the most famous of his teachings 40. Today the beautiful Catholic chapel stands at the top of the mountain. It was built in memory of Jesus's famous speech.
Travel Tips for Israel
Looking for the best Holy Land tour package? Search for the best one here!
| | |
| --- | --- |
| Why visit Israel? | Sightseeing + relax, the weather is always good in Israel. |
| What to pack for Israel? | Comfortable shoes, light clothes, Multicurrency Card. |
| What to wear in Israel? | Modest clothes, you need to have your knees and arms covered at Israel historical places. |
| Where to stay in Israel? | Search for the best accommodation on Booking.com |
| Israel best time to visit | March-June / September- November |
| How many days in Israel? | At least 5 days. 2 weeks will be enough to see everything. |
| What to buy in Israel? | Dead Sea cosmetics, Olive Oil, Hummus, shemagh. |
| Money exchange Israel | At the airport or anywhere in the city. Use Multicurrency Card to reduce the fees. |
| Travel insurance Israel | The best one is by World Nomads. |
| Israel Taxi | Uber (click to get the first ride for free) |
| Hire car Israel | Search for the best cars here. |
| VPN Israel | Buy online here |
Recommended guided tours Israel:
Pin For Later: