Big Island Hawaii Travel Blog Guide
The Big Island – the name says it all! The largest of the eight Hawaiian islands, Hawai'i (nicknamed the Big Island by locals) is a treasure trove of nearly-untouched nature, idyllic stretches of sandy beaches, and a thriving local culture. Taking a trip there is like vacationing in paradise. There is such a variety of choices on the island that it can be overwhelming trying to decide every aspect of your trip. That's why we've created this guide for you, spelling out the best Big Island Hawaii things to do, how to get around (e.g. by Big Island taxi), what to eat, and lovely hotels where to stay Big Island.
The best time to visit Big Island Hawaii depends more on the crowds than on the weather. The climate is warm and beach-perfect year-round. It is more humid during the summer, and more rainy during late spring and early fall. The 'winter' months tend to be the driest, depending on what part of the island you're on. Clear skies prevail from around November to March, perfect for stargazing. Tourists flock to the island in the humid summer months and drier winter months. If you want to avoid the intense crowds (and skyrocketing prices), visit during the late spring or mid-to-late fall seasons.
Where to stay on Hawaii?
As the largest of the Hawaiian islands (of all the US islands, in fact), there's no shortage of beautiful places to stay during your vacation to the Big Island. Hawai'i has several different regions, each with its own charm and draw, depending on what you are looking for. Here are some great ideas for where to stay Big Island:
[thrive_leads id='17883′]
Hilo
Hilo is one of the two most populated areas of the Big Island and also hosts one of the island's major airports. Here, you'll find a good variety of shops and markets and good proximity to sights such as Hawaii National Volcanoes Park, Hamakua, and Mauna Kea. However, there are no swimmable beaches here. Two of the best hotel resorts in Hilo are the Grand Naniloa Hotel Hilo and Dolphin Bay Hotel Hilo.
Check out latest prices for—-> Grand Naniloa Hotel Hilo
Check out latest prices for—-> Dolphin Bay Hotel Hilo
Kailua-Kona
Similar to Hilo, Kailua-Kona is the other most populated area of Hawai'i and also boasts its other major airport. Here, you'll find plenty of shops, restaurants, and historic sites, a good variety of beaches, and many attractions nearby. The only drawback is that this area is very touristy and can be quite crowded depending on the time of year. From mid-afternoon to early evening during the week, traffic can also back up. Luxurious resorts to consider in Kailua-Kona include the Royal Kona Resort and the Sheraton Kona Resort and Spa.
Check out latest prices for—-> Royal Kona Resort
Check out latest prices for—-> Sheraton Kona Resort and Spa
Kohala Gold Coast
The Kohala Gold Coast, which includes Waikaloa and Kohala, offers an excellent selection of upscale shops and restaurants and a wide variety of beautiful beaches to explore along the coastline. Keep in mind, though, that a lava field makes up much of the inland area, so you'll have to go to another region if you want to see some scenic greenery. There are a good number of resorts here, including Kohala Suites by Hilton Grand Vacations and the King's Land by Hilton Grand Vacations Club.
Check out latest prices for—-> Kohala Suites by Hilton Grand Vacations
Check out latest prices for—-> King's Land by Hilton Grand Vacations Club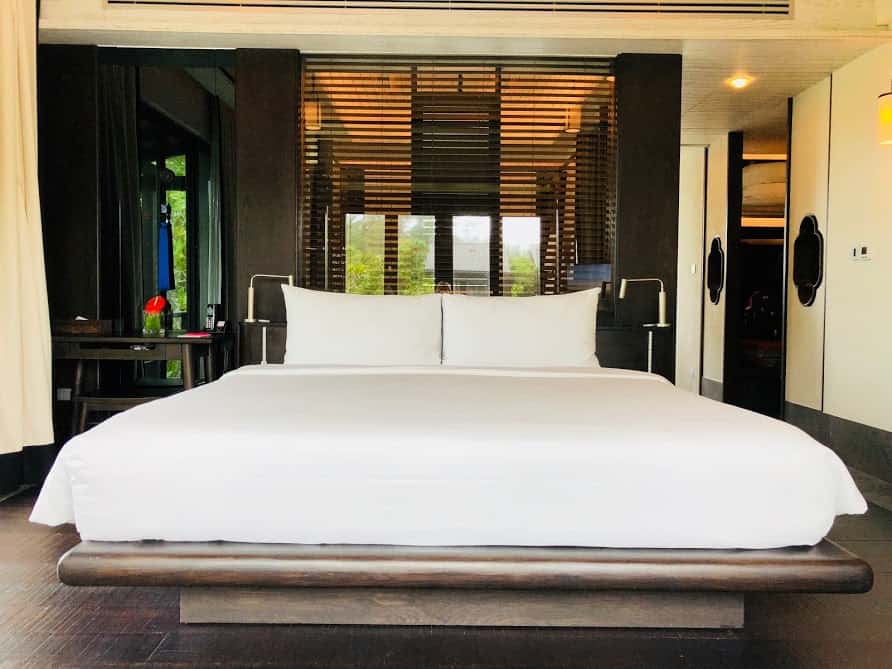 Check out other hotels on Big Island here:
What to eat on the Big Island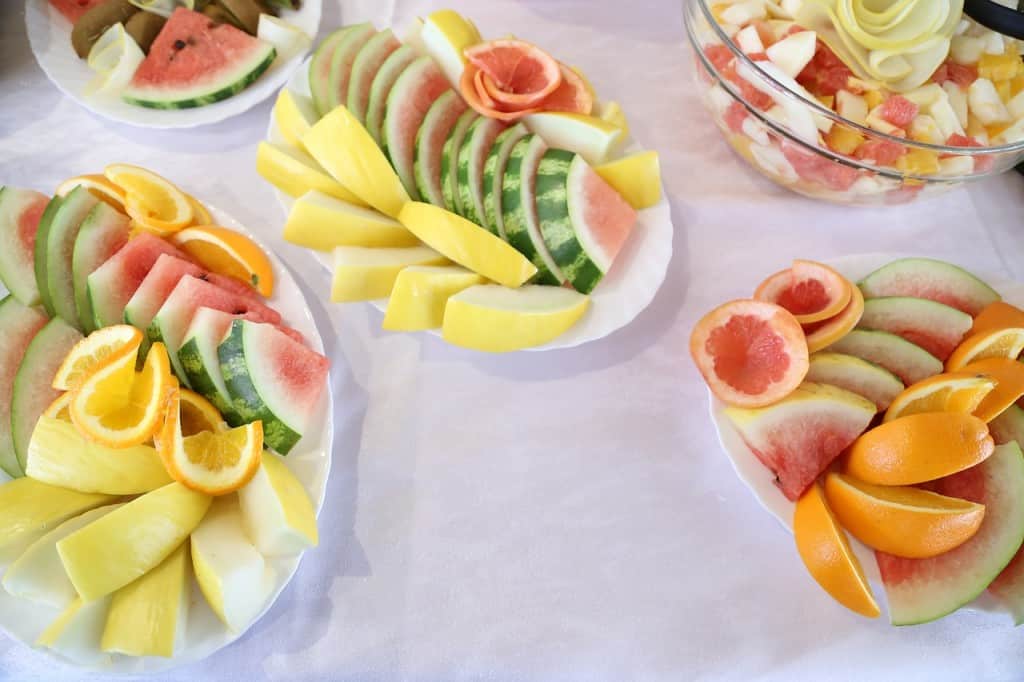 Authentic local Hawaiian food is both delicious and varied, and you can't miss trying as much of it as you can while visiting Hawai'i. Some of the best Big Island food and snacks to keep in mind include Kālua pig, poi, poke bowls, manapua, spam musubi, saimin, loco moco, and all the seafood you can get your hands on (especially shrimp plates and mahi mahi!).
If you're looking to start your day on the Big Island with a bang, head to the Big Island Breakfast cafe at the Hilton Waikoloa Village. It offers a buffet assortment of fresh fruits, omelettes, and more, with a lovely waterfront view. Other great breakfast places include the 808 Grindz Cafe in Kailua-Kona, Ken's House of Pancakes in Hilo, and the Hawaiian Style Cafe in Waimea.
For lunch and dinner affairs, some of the best places to eat Big Island food are Da Poke Shack for a fresh, delicious poke bowl, the 'Ulu Ocean Grill (which is the perfect romantic dining spot for a Big Island honeymoon), and Kaaloa's Super J's for authentic Hawaiian fare. Jackie Rey's Ohana Grill is one of the best local-food restaurants Big Island has to offer, popular with locals and tourists alike.
Best Hawaii tours & things to do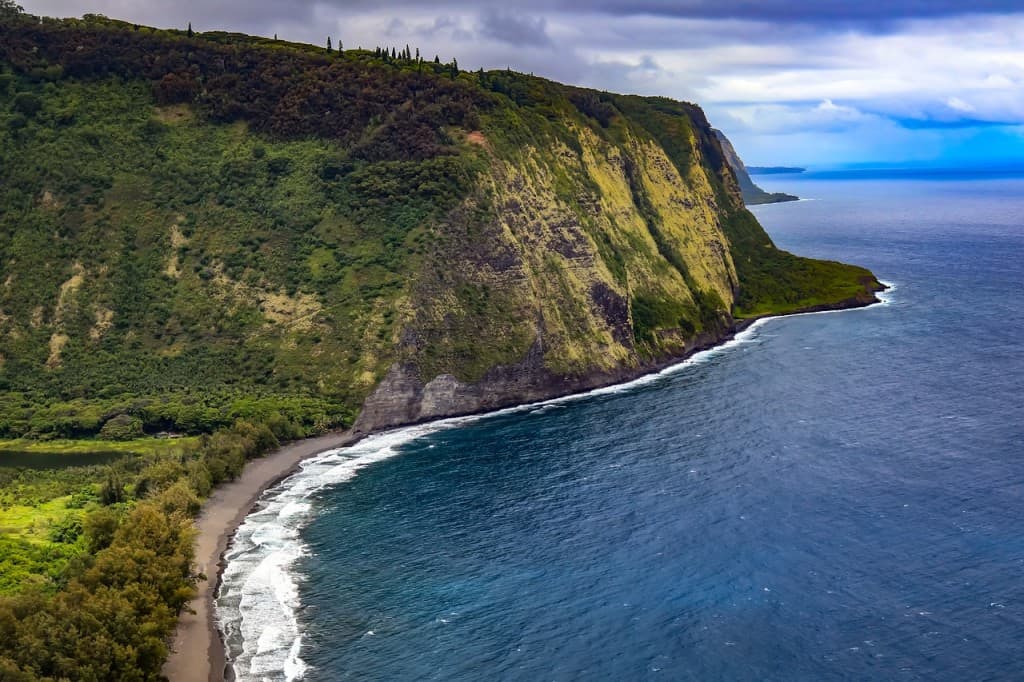 There is so much to do while you're in Hawai'i that it can be easy to miss a few experiences by accident. There's swimming, snorkeling, and scuba-diving along the endless coast. There's hiking, biking, ATV tours, and more. Things to do on Kona include visiting the Mauna Kea summit and observatory, hiking around the Hualalai volcano, and glimpsing local wildlife at the Kaloko-Honokōhau National Historical Park. Near Hilo, you can swim in the beautiful Rainbow Falls, stroll through the Liliʻuokalani Park and Gardens, and spend some time on the nearby Coconut Island. Visit farmers markets, enjoy a drink at a sea-side cafe, and fall into the slow rhythm of local life.
If you're feeling overwhelmed, this is where local Big Island tours come in: they can tailor your vacation days so that you see don't miss a thing during your time on Hawai'i. For a thrilling experience, take a Big Island bike tour around the Hawaii Volcanoes National Park. A truly unique tour offered here is the manta ray snorkeling or diving night tour off the Kona Coast, where you'll get to see the graceful creatures feast on plankton right in front of your eyes.
You can explore the island from a new vantage point with a helicopter tour, or stay close to the ground with one of many hiking tours. Some of the most popular include the Kilauea Lava Hike and a rainforest/dryforest bird-watching tour. View the beautiful stars on a clear Hawaiian night with a Mauna Kea stargazing tour and learn the historical significance of the world's largest mountain to the native Hawaiians. Kona coffee is often considered the world's best coffee, and you can take a tour of the Kona coffee farms to see the process first-hand and try the freshest cup you'll ever find.
After your long day taking tours in Big Island, treat yourself to a massage Big Island -style at your resort or at a spa such as Ohana Bali Spa & Massage to help your body recover from all the fun. If you're vacationing with your sweetheart, get in touch with a flower delivery Big Island Hawaii company and send a beautiful arrangement to your hotel room while away for a thoughtful evening surprise.
Check out recommended tours on the Big Island:
How to get around the Big Island
Just like its nickname suggests, Hawai'i is bigger than you might think when glancing at it on a map, covering over 4,000 square miles. Often, tours in Big Island will include transportation, but you will need to figure out how to find your way around during your downtime. Luckily, you have several different options for getting around during your vacation:
Rent a car
To get the most out of your vacation, checking out a car rental Big Island company may be worth your while. Local attractions can be quite far from each other, and taking public transport might be either too slow or too expensive at times. You can find plenty of local car rental agencies when you fly into either the Kona or Hilo airports as well as at the island's cruise ports.
Take a Big Island taxi
There are plenty of local taxi companies here, and you can easily catch one in populated areas like Kona or Hilo. One of the most popular taxi companies is Kona Taxicab, which can arrange transportation to and from the airport for you and even take you on a tour of South Kona. Taxis can be expensive, however, so if you're looking to cut down on costs, take a Big Island Uber ride instead. If you're just looking for a way to get to and from the airport, many hotels offer a Big Island airport shuttle service for their guests.
Use public transport
The local public bus system (called Hele-on) is the most inexpensive way to get around the island besides using your own two feet. Although you won't be getting anywhere especially fast, the bus service will take you to most places around Hawai'i. Just be aware that time in between transits can be long and it can be hard to find a connection to certain places.
Pin For Later: