BYD Lofts Boutique Hotel & Serviced Apartments Review
5/28 Haad Patong, Patong, Kathu, Phuket 83150
There's nothing quite like the feeling that you get when you are able to stay somewhere special. There's just something about the synergy of the right place at the right time that can translate into some of the most amazing moments in your life. One without the other just doesn't quite do it. A great hotel in a bad area? You're left with a lovely room, perhaps, but nowhere to go and nothing to do. A fantastic travel destination spent in a dank matchbox of a motel? You may think that you're getting a bargain when you sacrifice comfort for price, but your holidays won't be good enough when you are spending them in the bad hotel.
We were lucky enough to choose great places to stay while being in Thailand. One of them was BYD Lofts Boutique Hotel & Serviced Apartments that honestly felt like home. Keep on reading to get to know why it's one of the best hotels in Phuket.
About the Hotel
You are landing on the paradise beach after a long flight, you are tired and want to get to your hotel as soon as possible. BYD Lofts have got you covered. If you book a room directly on their website for at least 4 nights, you will get a free airport transfer in a luxury Mercedes Benz E class. Sitting in a comfortable car, getting a cold, wet towel and something to drink after a long journey really is a dream come true!
BYD Lofts Boutique Hotel offers a lovely modern experience for tourists. It's one of the most luxurious in the area, with spacious suites and an outdoor culture that can't be beat.
It's located at the Patong beach that is our personal favorite destination in Phuket. Why? Because it's vibrant and there's a lot to do in there. Just 10-15 minutes walking from the hotel there is Jungceylon, the biggest shopping mall on the island. If you love 'Western' places like Starbucks, McDonald's or the cinema, you will find them all in there.
Pool & Sea Access

The pool at BYD Lofts Boutique Hotel is beyond compare. It has all you can possibly wish for, constructed so as to complement what is already a lovely luxurious exterior décor.
It's the rooftop pool, so you can enjoy the view on Phuket from above, while sunbathing. If you get hungry or thirsty, you can order the food that the waiter will bring straight to your sunbed.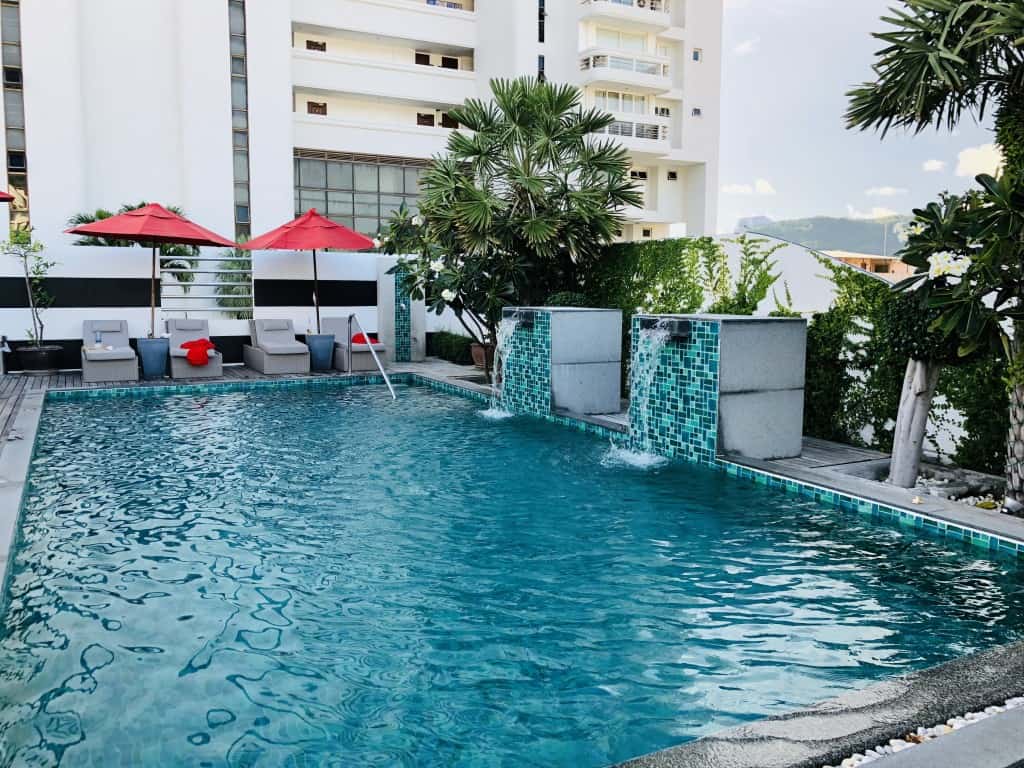 The Andaman Sea is just 5 minutes walking away from BYD lofts. Patong beach is clean, wide has a white sand. There are many sunbeds available to rent in there. Not to mention dozens of shops, restaurants and cafes where you can have a drink or simply cool off when it's boiling hot outside.
Rooms
Nothing is more important to the process of helping you choose a fantastic hotel than first choosing a room in which you can enjoy a luxurious stay. The best hotels in Phuket come equipped with fabulously decorated rooms, and BYD Lofts is no exception. There is something special about this hotel. We really felt like home there. After traveling full time for more than 5 years, we have VERY high expectations.
There is one particular thing about BYD Lofts that stole our hearts. It's a BED. It honestly was the most comfortable bed we have ever slept in. Right after we checked in, Mia was hungry and I sat on the bed to feed her. When we felt those comfy pillows and high-quality bedding, both me and her felt asleep. And trust me, it doesn't happen often. I usually don't sleep during the day but it was different at BYD Lotfs. It's all because of this amazing bed, that made me so relaxed that I didn't want to do anything else but just lie down there.
Me and Patryk were even talking about buying this bedding and take it back home. We didn't do it only because it would be difficult to pack it and transfer to Poland.
Here are some other amazing things that you can find in every loft:
A spacious terrace area with outdoor furnishings
Espresso coffee machine
Fitted European Kitchen for the suites, which are fully equipped with Tekka & Franke Appliances
Safety box
A gleaming marble bathroom with a lovely walk-in shower
Free High-Speed Wi-Fi
A state-of-the-art 42-Inch LCD TV
Surround Sound System
You can also ask for baby cot if you are traveling with a child. We did so, and it was great.
Restaurants
Of course, lovely rooms and poolside fun are still just part of the equation. When you are on holiday, you want to eat well. Whether you're looking for a finely-prepared meal, a lovely cup of tea, or anything in between, this hotel have you covered.
The breakfasts at BYD Lofts are amazing! You will find there everything that you can possibly wish for. Thai or international food, delicious coffee and more.
Take a look at the video below to check out what else you can find there.
Enjoy a better kind of vacation experience with the best hotel in the area.
Disclosure: We want to thank BYD Lofts Boutique Hotel & Serviced Apartments for a complimentary stay. All opinions presented in this post are honest and our own.