How To Get From Chiang Mai To Pai?
Have you ever seen an elephant, walking freely on a street? Without any chains, simply going home with his owner? Imagine a place with juicy green trees, heartbreakingly beautiful landscapes, and like-minded people who came there looking for peace, just like you. This is Pai. A truly unique town in Nothern Thailand that is still not so popular among tourists. In this post, you will find information on how to get from Chiang Mai to Pai (on a scooter, by bus, by car, or plane) and what are the best things to do in Pai.
Basic Information About Pai
The distance from Chiang Mai to Pai is quite short: 123 km (14 miles).
It has a population of fewer than 2,500 inhabitants.
There is a river in Pai that is called exactly the same as the town (Pai River).
How To Get To Pai Thailand?
Chiang Mai To Pai Scooter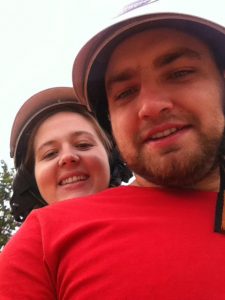 See these chubby faces? This is us. We were driving from Chiang Mai to Pai and back by motorbike.
To be honest, we were quite scared to do so, as we've been reading on the Internet that the road is difficult, you need to have the experience to get there, blah, blah, blah. We decided to give it a try, and you know what? It was totally worth it! In fact, driving from Chiang Mai to Pai on a scooter was one of the best things we did in Thailand.
It's doable, the only problem that you may encounter is that your bum may hurt after sitting on a motorbike for so many hours! As you can see, we are both chubby. Still, we were driving on one scooter and we were perfectly fine.
Chiang Mai to Pai Motorbike Rental Tips
The first thing you need to know is that most motorbike rental companies in Chiang Mai will not allow you to leave the city with their vehicle. Technically, you can't drive from Chiang Mai to Pai on the rented scooter. How does it work in practice? Well… It doesn't.
The truth is that most tourists are traveling from Chiang Mai to Pai on a scooter that is rented. It's breaking the rules in the contract for sure. However, we did so as well and we don't regret it.
The only thing that rental companies will check will be the scratches and damages on the motorbike. That's why you need to take photos of every detail of the scooter that you are renting (to avoid scams).
So far, there is only one motorbike rental company in Chiang Mai that allows taking a vehicle to Pai. You can even leave it there. It's called AYA service. We have not tried them personally and they have many negative opinions online, that's why it's up to you whether you decide to rent from them or not. The daily fee for renting a motorbike is about 200-300 THB ($6.5-$10),
What About The Gasoline For Your Travel By Motorbike Chiang Mai to Pai?
Don't worry about that.
There are plenty of small automatic gas stations on the way. It's quite easy to notice them, just search for the red machine with the big 'Singer' sign. They are very easy to use- you just need to put in the money (coins or 20, 50, 100 THB) and fuel your motorbike up.
Be sure to have enough cash, as most of the machines don't accept credit card payments.
You don't want to be stuck somewhere in the wild with no gasoline and no cash.
If you have a full tank in Chiang Mai, you should get to Pai without fueling up on the way. Remember that there are no gas machines for about 50 km before Pai.
How Long Will It Take To Get From Chiang Mai To Pai On Motorbike?
The road from Chiang Mai to Pai takes at least 3 hours. We were driving about 5-6 hours because we took about 10 short breaks.
My advice to you is to do the same. You won't be exhausted and you will be able to enjoy the beautiful views!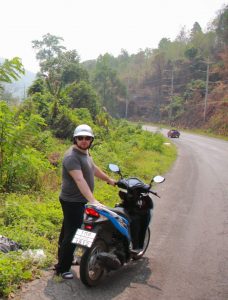 What's The Best Time To Start Your Travel From Chiang Mai To Pai On A Scooter?
The absolute best time is to leave early in the morning (preferably at 6:30 AM, when the sun rises).
Why?
it's not that hot in the morning
the views are incredible (you can watch the everyday life of the people, and you will have a chance to spot some animals as well)
you will have a lot of time if something bad happens (flat tire etc.)
you will avoid traffic jams
Is It Difficult To Drive From Chiang Mai To Pai On Motorbike?
Not really. I don't think the road it's difficult. It's true that it's a little curvy but all the stories about the extremely winding road that you can read on various blogs are a bit exaggerated.
The most difficult part of the trip is… the painful butt. Sitting on the scooter for a very long time is not comfortable at all.
What Should I Wear When Driving From Chiang Mai To Pai On Scooter?
It may be a bit chilly on a motorbike, so the best is to wear long pants, t-shirts, and bring on a hoodie/ jacket as well.
Take sunglasses and helmet. They will protect you from the sun and wind.
Is A Day Trip From Chiang Mai to Pai On Motorbike Doable?
Technically, yes. But I personally think it's a terrible idea. If you leave early in the morning and drive fast, you will get to Pai before noon. You will have about 2 hours to see the town and then you need to drive back to Chiang Mai before it gets dark (you don't want to be on a scooter on the winding road in Thailand at night).
It doesn't really make sense to drive from Chiang Mai to Pai on scooter to be there for just a few hours. You won't have enough time to see everything. However, 2 days will be perfectly enough. Stay in Pai for one night and go back to Chiang Mai the following day.
Chiang Mai To Pai Car
Traveling from Chiang Mai to Pai is arguably the best options for those traveling in a group or with kids. The prices for car rental in Chiang Mai starts from $35 a day. Check out the latest fares and available cars here.
Sadly, it's not possible to leave the car in Pai. You need to drop it off in Chiang Mai.
If you are looking for information about gasoline, driving, etc. check out the section above. The tips are exactly the same for riding a motorbike and driving a car.
Chiang Mai To Pai Flight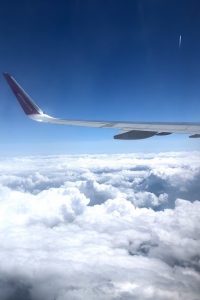 Most of the information that you can find online are outdated. Kan Airlines that everyone is recommending are no longer operating.
The only airlines that are currently flying from Chiang Mai to Pai are Wisdom Airways. However, a few days ago (July 2019) there was an accident on Pai Airport involving this airline which resulted in closing up the entire airport. I am not updating this post every few days, that's why I encourage you to check out the latest info on Wisdom Airways website.
I think flying from Chiang Mai to Pai is not a good option. Even if the Wisdom Airways are operating right now, you need to book a flight at least a week in advance, the prices start from $50 per person, so it's so much better to rent a car or take a bus.
Even though the flight takes only half an hour, you need to go get to the airport, go through the security control, then wait for the luggage when you arrive. In total, it would take you 2-3 hours to get to Pai by plane, so it's almost the same as with car or bus.
In fact, I totally understand that every airline that opens the flights from Chiang Mai to Pai is failing- it's because the distance between these two places is too short. It's just not worth it to take a plane when you can drive or take a bus (that is really comfortable).
Chiang Mai To Pai Taxi
You can hire a private transfer from Chiang Mai to Pai. It will take you to the town and back, so it's definitely the best option when your time is limited. This customized day trip from Chiang Mai to Pai costs about $120. You can book it here.
If you want, you can stay in Pai for up to 4 days, with your private driver. More info here.
Chiang Mai To Pai Bus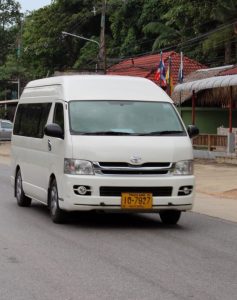 Taking a bus is one of the best ways of getting from Chiang Mai to Pai. It's comfortable, fast, and also pretty cheap.
The prices for Chiang Mai to Pai bus start from $6, one way. It will take about 3 hours to get there.
Click here for Pai bus online booking.
If you wonder if there are any other options on how to get to Pai from Chiang Mai, you can also consider biking or hitchhiking. There are no trains available on this route.
Be Sure To Visit Mork Fa Waterfall
No matter which way of getting from Chiang Mai to Pai you will choose, be sure to stop by at Mork Fa waterfall. It's located 40 km (20 miles) from Chiang Mai and 90 km (55 miles) from Pai.
It's heartbreakingly beautiful! The water is cold and crystal clear. You will have a great chance to be there completely alone, as not many tourists stop by there. Admission for foreigners is 100 THB ($3). Parking for motorbike is 20 THB (50 cents).
Mork Fa Waterfall is 60-metres (65 yards) high. It's allowed to swim there, so bring on your swimming suit and a towel. If you want, you can also visit the Bat Cave, which is right next to the waterfall.
What To Do In Pai Thailand?
There are plenty of things to do in Pai! Even though the town is small, it is surrounded by beautiful nature, so you won't get bored there.
Here are the best places to visit in Pai:
Pai Canyon
It's one of the best places for hiking in Pai.
Pai Hot Springs
Hot springs in Thailand? It may sound ridiculous because the only thing most of us dream about in the tropical climate is too cool off. Pai Hot Springs are pretty unusual yet worth visiting. Why? Because they are simply beautiful! They are like a combination of waterfalls and thermal pools.
The admission is 300 THB ($10) for a day, that's why it's worth to go there in the morning. You can easily spend the entire day there.
There is a toilet, shower, and restaurant inside the complex, so you don't need to worry about hygiene, drinks or snacks.
Be sure to take the water shoes, as the stones inside the hot springs are quite slippery.
Pai Walking Street
The night market in Pai is pretty awesome. You can try local food there and buy some souvenirs.
Thom's Elephant Camp Pai
Even though Thom's Elephant Camp in Pai is not on the official list of ethical elephant sanctuaries, you can tell that the animals are happy there. They are not chained, and the owners take care of them. You can hand-feed them or go trekking with the elephants.
It's an incredible experience! In compare to other elephant camps we've seen in Pai, Thom's is the only one worth visiting.
Waterfalls
There are at least 4 waterfalls in Pai, each of them is worth visiting, especially when it's boiling hot outside and you are looking for the place to cool off.
The White Buddha Hill
Looking for the best viewpoint in Pai? The hill of White Buddha is your place to go!
Where To Stay In Pai?
Check out the map below to search for the best places to stay in Pai:

Pin For Later: