Cooking class Chiang Mai
Today we were attending in cooking class Chiang Mai.
Thailand is famous from an amazing food. Thai people and foreginers just can't resist delicious dishes like Tom Yum, Pad Thai or Mango Sticky Rice. That's why we decided to learn how to cook traditional Thai food to be able to make them when we'll be back home.


It was so much fun! One of the best experience we had so far while being in Thailand.
We picked Siam Rice Thai Cookery School because they had one of the highest review score on Tripadvisor. Now we know why. This school is absolutely amazing! Teachers are nice and funny, they pay attention to every single student. The group is small, maximum 10 people so you really can feel special during the whole day.
We chose all-day class for 900 bahts.
There isn't a big difference between half and full day. You just cook a little bit more when you pick the second option.
The class begins in the morning. They were supposed to pick us up from the hotel at 8.45 but… It's Thailand, everybody is ALWAYS late. They came for us 20 minutes late.

The car was already full of positive, smiling people from all over the world. 'Farangs' (foreigners) of course!
First we went to the food market to learn how to pick the right ingredients for the dishes.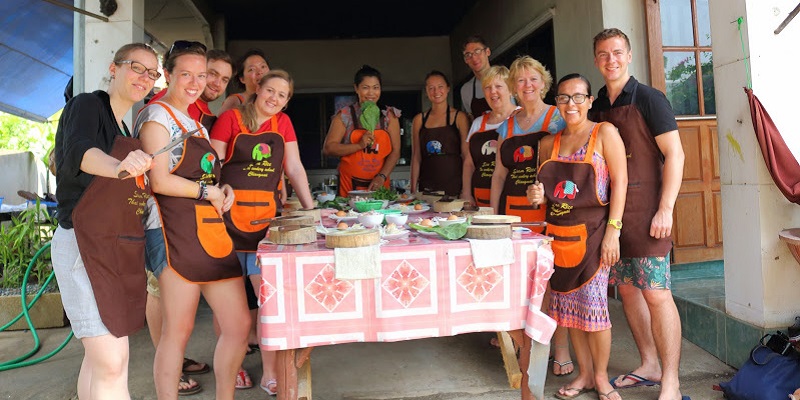 Then we were driven to the suburbs of Chiang Mai to make some delicious Thai food!
We had the possibility to choose 6 dishes to cook (dinner, soup, appetizer, curry, dessert, vegetables). We also learned how to make home made curry!
We had so much fun. Our teacher was really amazing person, telling jokes all the time.
7 dishes are A LOT so if you can't eat everything, you can take it home. We did so and they even gave us free rice :).
We were surprised how wonderful Siam Rice Thai Cookery School stuff is. We just had a call from the reception of our hotel that we forgot to take something from the car and the Cookery School driver brought it back to us.

We didn't even have time to realize that we forgot something. And it's already back in our room!
After the whole day of cooking we got certificates and book with recipes.
It has been an amazing experience and cooking class is definately must-do for everybody visiting Chiang Mai.
Have you ever attended in cooking class? Did you like it?