Copernicus Science Center in Warsaw
Copernicus Science Center in Warsaw is one of the best museums in Poland. It's new, multimedia and modern.
It's so popular that sometimes you need to book ticket in advanced (which is really rare in Poland).
The name of the museum is after Nicolaus Copernicus, famous Pole who discovered that the Sun is in the center of Universe (until XVI century people thought that the Eart is in the center).
He was outstanding mathematician, astronomer and physician. More about Mikolaj Kopernik you can read here.
How to get there?
Copernicus Science Center is situated at 20 Wybrzeże Kościuszkowskie st. in Warsaw. If you are still confused how to get there, our tips about how to travel through Poland may be helpful to you. The easiest way is to book Warsaw taxi or use public transport.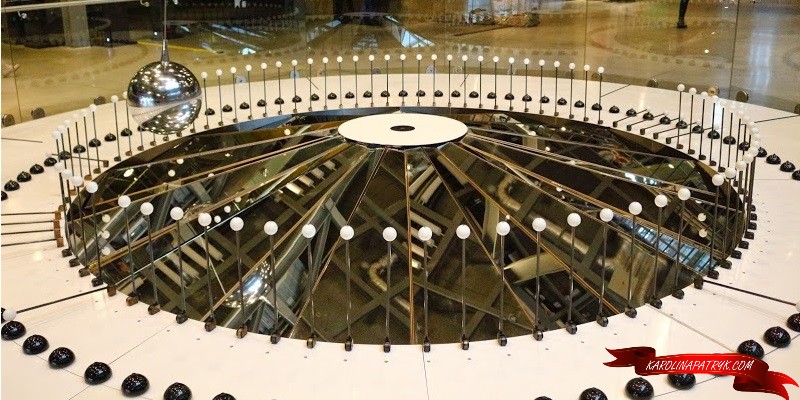 Tickets.
If you are planning to visit Copernicus Science Center during autumn, winter or spring- you don't need to worry about not getting in.
If you are going there during summer, it's good to book tickets in advanced.
Here you can read more about prices and tickets.
What to do?
There are 3 sections in Copernicus Science Center- for everybody, for people above 14 years old and Copernicus Planetarium.
It's so much to see there! It will take at least 3 hours to go everywhere.
Copernicus Science Center is not boring though- you can touch everything, do excercises and learn a lot about the world.

We loved that we could practice and work together- f.e. we fought mind battle about who will push the ball by willpower.
We saw how we will look when we are old and checked how well we know each other.
It was so much fun!
At the entrance to Copernicus Science Center you get card which allows you to use all the machines. Your results are stored and you can check them later online.
It's just awesome! You can see how strong you are, what are the lowest and highest frequencies you hear and check what it's like to be disabled person.
You really can learn a lot about yourself, society and the world in Copernicus Science Center. It's definately a must-visit in Poland for everyone :). 
Disclosure: Yay for transparency! Some of the links in the article are affiliate, which means that if you book something by clicking on them, we will get a small commission with no extra cost to you. Your support helps this blog going.