What's The Best Bangkok Pattaya Tour?
There's so much to see and do in Thailand that you could easily spend weeks there discovering beaches, temples, museums, and palaces. But if you have just a few days and want to take in as much of the country as you can, you'll be picky about what you visit. Spending a few days in Bangkok is a must because it's where you'll enter this amazing country. From here you can visit a number of cities, Chiang Mai, Chiang Rai, Ayutthaya, Phuket, Koh Phi Phi, Pattaya, Koh Larn, Koh Chang and many more. Of these, a day trip from Bangkok to Pattaya is a must-do!
Day Tour In Pattaya itinerary
A famous resort town now, Pattaya was a small fishing village. In 1960s it became an alternative to visiting Bangkok. The city got its name from the march of King Taksin or Phraya Tak in 1767. When he got there, he confronted a local leader Nai Klom who surrendered to him without a fight. The place they fought was called Thap Phraya that later changed to Pattaya.
Now when you Google things to do in Pattaya in one day, you'll find a lot of cabarets, ladyboy shows, and party streets. But there's a lot more to this amazing city, and a lot more to do on a one day trip in Pattaya; from visiting temples to getting some sun at beautiful beaches.
Step 1: Drive down to Pattaya
The distance from Bangkok to Pattaya is 150 km. So it's a 2-hour drive from Bangkok to Pattaya if you opt for a taxi or minivan, and about 2.5 hours if you take the bus.
The operators pick you up anywhere from 6 am to 8 am depending on the tour. But if you want to take a Pattaya day trip from Bangkok on your own terms, you also have the option of booking a private guide or doing a self-drive Bangkok Pattaya trip. Here's what we think is the best Pattaya one day itinerary!
Step 2: Visit Nong Nooch Garden
The first stop of your sightseeing in Pattaya Bangkok will be Nong Nooch Gardens. Covering an area of over 600 acres or 2.4 square kilometers, it's one of the most beautiful in the world and a must visit on your Pattaya day tour from Bangkok.
The gardens were started by Mr. Pisit and Mrs. Nongnooch Tansacha in 1954 and were opened to the public in 1980. Apart from the magnificent array of flowers, the garden has a swimming pool, dinosaur garden, elephant shows, culture shows, boat rides, and a hotel as well. So it's easy to spend the entirety of your one day tour in Pattaya here.
But since we have just a few hours, just relax for a bit in the garden and see the culture shows before moving on to the next stop of your Pattaya 1 day trip.
Skip the lines and book your ticket to Nong Nooch Tropical Garden online.
Step 3: See the Buddha Engraving at Khao Chi Chan
When looking for what to see in Pattaya in one day that doesn't take too much tie, Khao Chi Chan is a good option. Popularly known as Buddha Mountain, Khao Chi Chan is a giant 109 m tall golden Buddha that was carved into the mountain using gold leaf in 1995.
There is no entrance fee but there are donation boxes for offerings. A few Thai temples are present at the base of the mountain as well as a small lake with lilies and lotus. Vendors nearby also sell food and drink to hungry travelers but don't buy too much because at the next you'll find so much more.
Step 4: Visit the Pattaya Floating Market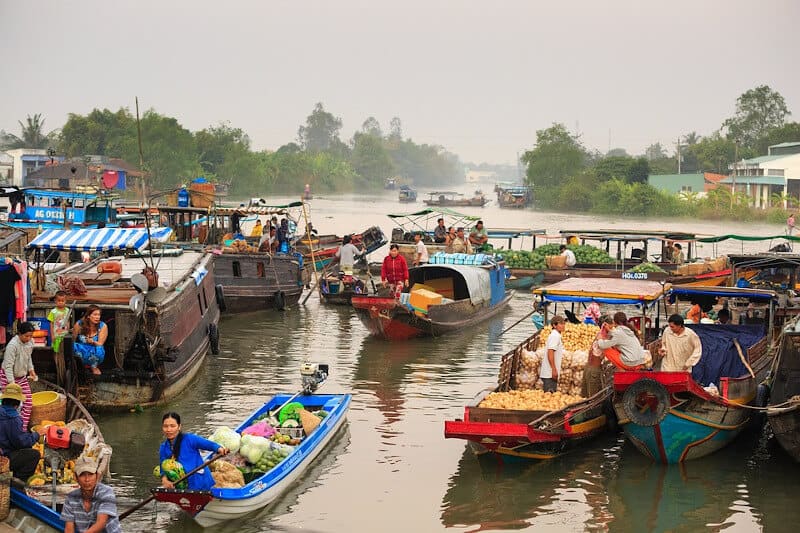 An important stop on your Bangkok to Pattaya one day trip is the Pattaya Floating Market. The entrance fees here are around 200 THB but the tour operator might already include it in their cost (more info here).
Vendors in boats sell everything from fruits and veggies to street food and spices, from clothes and knickknacks to souvenirs and keepsakes. You can try a lot of local delicacies that will turn into quite a large lunch, buy a lot of items you didn't want, and definitely not leave here empty-handed.
You can also hire a boat to take you around the market and sample the delicacies or simply shop. Try to choose a Pattaya day trip from Bangkok that already includes the boat in the cost. Although the market is open the entire day, you can complete this part of the Bangkok Pattaya tour package in 2 to 3 hours.
Step 5: Visit Jom Tiem Beach or Koh Larn Island
Check out day tour from Bangkok to Pattaya and Coral Island–> here.
Once you've had your fill of shopping, we suggest you get some rest and relaxation in the sun. Pattaya Beach might sound like the ideal choice for this, but it isn't! This long 2.7 km stretch of beach is quite crowded and sometimes dirty. So it can easily be dropped from your Pattaya full day tour.
Taking a Pattaya day trip from Bangkok to Pattaya beach might leave you feeling somewhat dissatisfied. But there is hope. About 5 km from the Pattaya floating market is Jomtien Beach where you can go swimming.
Although resorts and lodgings have started blossoming here, this tranquil 10 km stretch of shoreline is a good escape from the touristy Pattaya Beach. You'll find less tourists and more Thai people here. Many Thai people do a beach day trip from Bangkok to Jom Tiem on weekends too!
You'll find the food at Jom Tiem beach is also more flavorful being made to suit Thai tastebuds and not watered down to attract foreigners.
Now if you spent less time in the floating market earlier on, there's another option to add to your Pattaya itinerary 1 day. The Koh Larn island is about 7 km from Pattaya and can be reached in 15 minutes by speedboat for 400 Baht and 45 minutes by ferry for 30 Baht.
Surrounded by corals and clear blue waters, the island is a great place for swimming, scuba diving, snorkeling and water sports. You could also go parasailing here or indulge in some delicious seafood delicacies.
If you travel as we do, we suggest spending the rest of your 1 day in Pattaya here. If you want to cram a bit more into your day trips from Bangkok to Pattaya, let's move on!
More info about Koh Larn island here.
Step 6: Watch a Cabaret Show
Song and dance and beautiful ladies singing the classic Western hits will leave you amazed. You'll find that all the gorgeous actors and singers in the cabaret are actually ladyboys who you can interact with after the show. Be warned though, if they pose with you for a photograph, you're expected to tip them! There are a few famous choices of cabarets to make a part of your Bangkok and Pattaya itinerary. The famous cabarets that you shouldn't miss on your Pattaya city tour from Bangkok are the Alcazar Cabaret Show, the Colosseum Show Pattaya or the Tiffany's Show Pattaya.
Sometimes we wish there were more hours in a day because when you consider what to do in Pattaya in one day, there are so many things we had to skip, like the Sanctuary of Truth, Mini Siam, Pattaya Art in Paradise, Wat Phra Yai, and even discovering the clubs, pubs, and discos at Walking Street. Feel free to swap out any you want from this list. If you can manage to add a few more days to your Bangkok Pattaya itinerary, you'll love it! If not, these were our top choices for the Pattaya one day tour itinerary.
What Is The Bangkok Pattaya Tour Package Price?
The cost of a Pattaya one day tour from Bangkok varies from operator to operator. Some will charge you USD 70 for a Pattaya trip package, while some will go all the way up to USD 250. It depends on the inclusions in the day trip to Pattaya. Here are some top Bangkok Pattaya trip package prices for you!
Bangkok Pattaya Tour Compare Chart:
All tours are by minivan except for the private one (depending on the number of people attending it may be a car or minivan as well)
| Itinerary | Additional Costs | Price | Booking |
| --- | --- | --- | --- |
| Khao Kheow Zoo + Pattaya Floating Market + Colosseum Cabaret Show | Lunch | $59 | Book now |
| Chinese temple+shopping at Central Festival + Buddha Mountain + Silverlake vineyard | Lunch+wine tasting (optional) | $31 | Book now |
| Floating Market + Buddha Mountain + Wat Phra Yai | Lunch | $71 | Book now |
| Koh Larn island beach + watersports | Water sports (parasailing, jet ski, etc.) | $49+ | Book now |
| Floating Market + Pattaya Beach + Colosseum Show + Art in Paradise | Private Tour | $265+ | Book now |
Want to travel by yourself? Check out my post about the best ways to get from Bangkok to Pattaya.
Pin For Later: