Doi suthep temple from Chiang Mai
Locals say that you will never truly visit Chiang Mai, if you don't go to Wat Phra That Doi Suthep.
This famous temple is located on the top of the mountain that you can see from almost every place in Chiang Mai.
It's really beautiful and it's true that Doi Suthep is definately must-visit in Chiang Mai.
How to get there?
1. By the taxi.
It's the most popular way to get to the temple.
If you don't want to overpay, go to Chang Pauk Gate. Right after passing the gate you will see many songthaews (red trucks) waiting for the tourists.
The ride costss 50 baths ($1.3) per person, one way. It's good to buy return ticket though. The driver will wait for you for 1.5 hour and take you back to Chiang Mai.

2. By scooter.
In contrast to what you can read on the Internet, it's not difficult to drive to the temple.
In fact, if we could turn back time, we would go by scooter to the temple.
The road is paved, decent and a little winding. Pretty similar to the way to Pai.

3. By private transfer.
You will be offered private transfer from taxi drivers.
You can use it, but be aware that you are overpaying. 400-500 baths is just too much for this short trip.

Tips
1. Dress properly.
You won't be allowed to get inside the temple if you are wearing shorts or sleeveless shirt.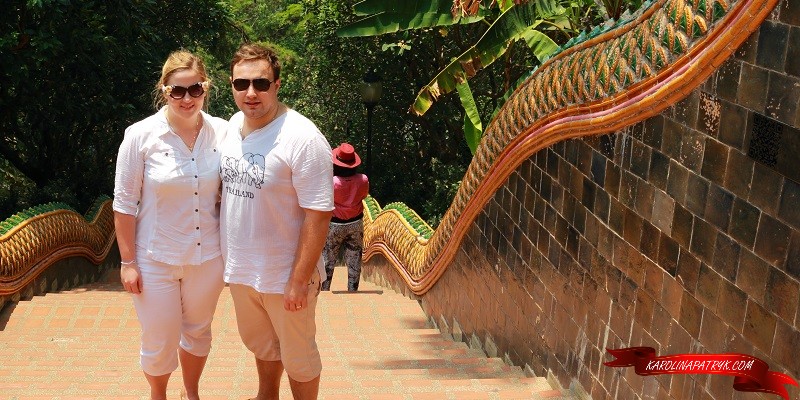 2. Take socks!
Inside the temple, you have to remove your shoes. The floor is super hot, so take socks to avoid burning your feet.

3. Visit the temple in the morning.
You will avoid crowds and the heat.
4. Be aware that you will get a little tired.
There are more than 300 steps to reach!
5. Choose the right day.
From the top of Doi Suthep mountain you will see the best view on Chiang Mai.
It's worth to choose a nice and cloudless day to enjoy it.
6.  Visit the zoo.
It's a good idea to combine a trip to Doi Suthep with visiting the Chiang Mai ZOO, which is situated in the foothills on Doi Suthep mountain.
Disclosure: Please note that some of the links on this website are affiliate links, and at no additional cost to you, We earn a commission if you make a purchase.