Doi Suthep Temple Chiang Mai
If you are already in Chiang Mai, you may wonder how to get to Doi Suthep. Locals say that your stay in the city won't be complete without visiting Wat Phra That Doi Suthep. This famous temple is the main attraction of Doi Suthep National Park. It is located on the top of the mountain that you can see from almost every place in Chiang Mai.
We've spent a month in Chiang Mai. Visiting this mountain temple was one of the most memorable experiences we have from our stay in Northern Thailand. Maybe it's because it's located on the outskirts of the city and it took us some time to get there. Maybe because of the winding road that is leading there. But the main reason is that Doi Suthep is simply beautiful.
After reading this post you will know how to get to Wat Phra That Doi Suthep, what is the Wat Phra That Doi Suthep entrance fee and what are the opening hours of this Chiang Mai temple on hill.
How to get to Doi Suthep?
There are many ways on how to go to Doi Suthep from Chiang Mai. Below you will see the most popular and the easiest options.
1. Use Chiang Mai Transportation (songthaews).
Taking a taxi to Doi Suthep is the most popular way to see the temple.
If you are traveling on a budget, choose one of the shared taxies. They are leaving from the Chang Pauk Gate. Right after passing the gate you will see many songthaews to Doi Suthep (red trucks) waiting for the tourists.
The ride costs 60 Bahts/$1.5 per person (as for in 2020), one way. It's good to buy a return ticket though. The driver will wait for you for 1.5 hour and take you back to Chiang Mai.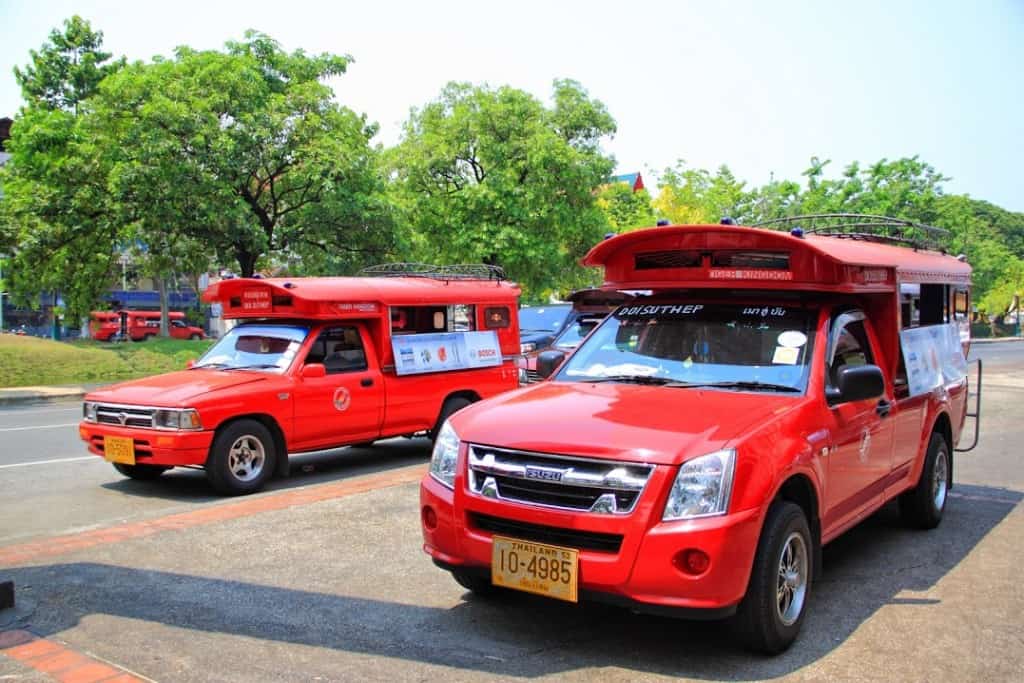 2. Rent a motorbike.
We wanted to get to the temple by a motorbike. After doing a quick research on Google, we gave up on this idea. So many people were saying that it's very difficult to get there that we decided to take a taxi. Now we regret it.
The road is not that difficult. We could easily rent a motorbike to reach this Chiang Mai mountain and see Doi Suthep temple.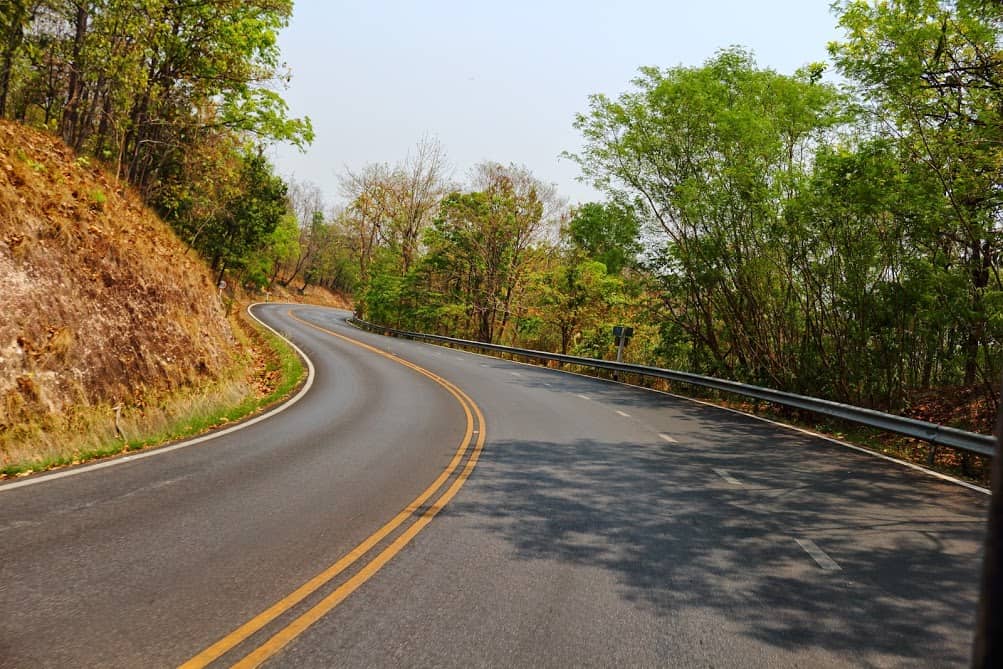 3. Choose Doi Suthep Tour.
If you decide on the private transfer, you can set up the fare price with one of the local taxi drivers. If you want to avoid the hassle of negotiating, book your private tour online. There are many options out there for Doi Suthep Temple tour Chiang Mai.
Check out this tour if you want to see Don Suthep along with other important temples of Chiang Mai.
This tour is a great choice if you want to see Doi Suthep and Sticky Waterfall and once.
4. Hike to Doi Suthep Temple.
If you are fit enough and have 3-6 hours of free time, you may hike up to Doi Suthep temple. The route is called the Monk's Trail and you can read all about it here.
Check out best Wat Phra That Doi Suthep tour:
What are Doi Suthep Temple Entrance Fee & Opening Hours?
The temple is open during a day, every day, from 6:30 am till 6:30 pm. It's easy to remember because Wat Phra That Doi Suthep hours are almost the same as the sunrise and sunset in Thailand.
Doi Suthep Temple entrance fee is really low, 30 Baht ($1).
Tips For Visiting Wat Doi Suthep Chiang Mai:
1. Dress Properly.
There is a specific Doi Suthep Temple dress code. You won't be allowed to get inside the temple if you are wearing shorts or a sleeveless shirt.
Like everywhere in Thailand, wearing the right clothes is showing respect while in the sacred place. We haven't had long sleeves or pants (as you can see on the photo below) but our knees and arms were covered up.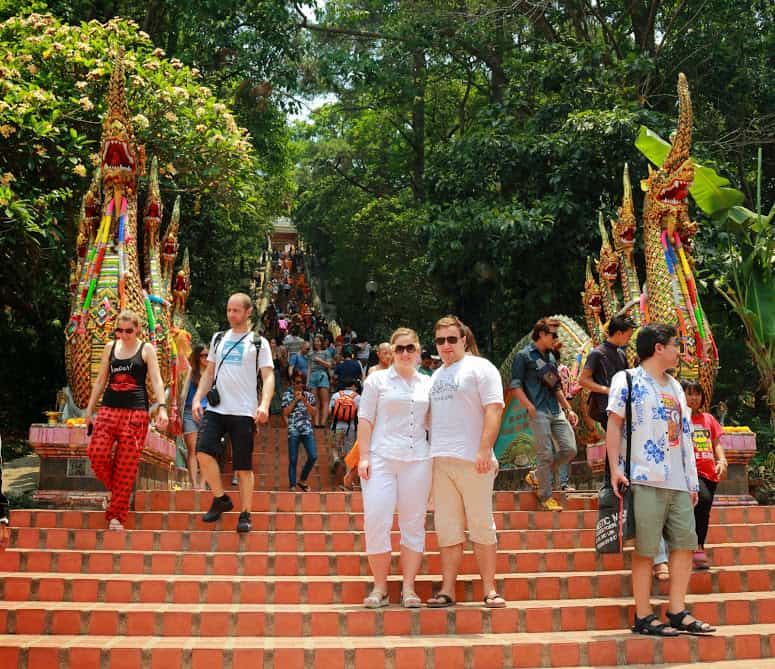 Mind the Doi Suthep temple dress code. You can't wear shorts while visiting Doi Suthep Temple Chiang Mai.
2. Bring Socks!
You have to remove your shoes inside the temple. The floor is super hot, so bring socks if you don't want to burn your feet.
3. Visit The Temple In The Morning.
Mornings are the best time to visit the temple, you will avoid crowds and the heat.
Check out this Doi Suthep Sunrise Tour if you want to see the sun goes up from the top of the temple hill. They say it's the best Chiang Mai view you can possibly get.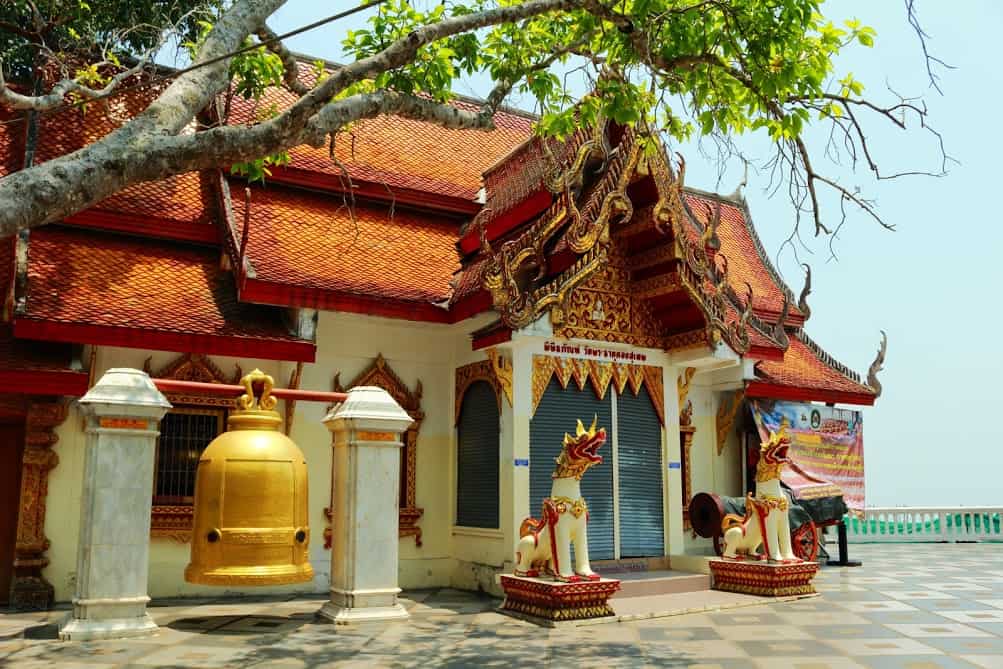 4. Be Ready To Get A Bit Tired Or Take The Cable Car.
Hiking Doi Suthep may be quite a challenge for those who are not fit enough. You need to reach more than 300 steps to get to the top!
If it's too much, the best way to get to Doi Suthep for you would be to take a funicular ride up.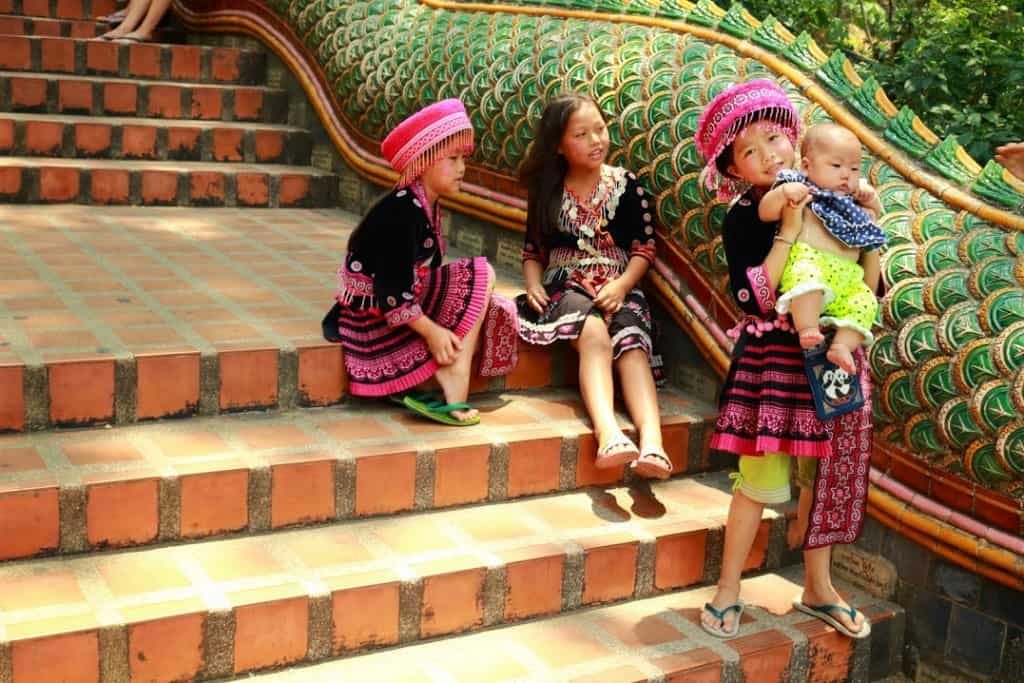 5. Choose The Right Day.
The best Chiang Mai viewpoint is located on the top of Doi Suthep hill.
It's worth to choose a nice and cloudless day to enjoy the amazing Chiang Mai view.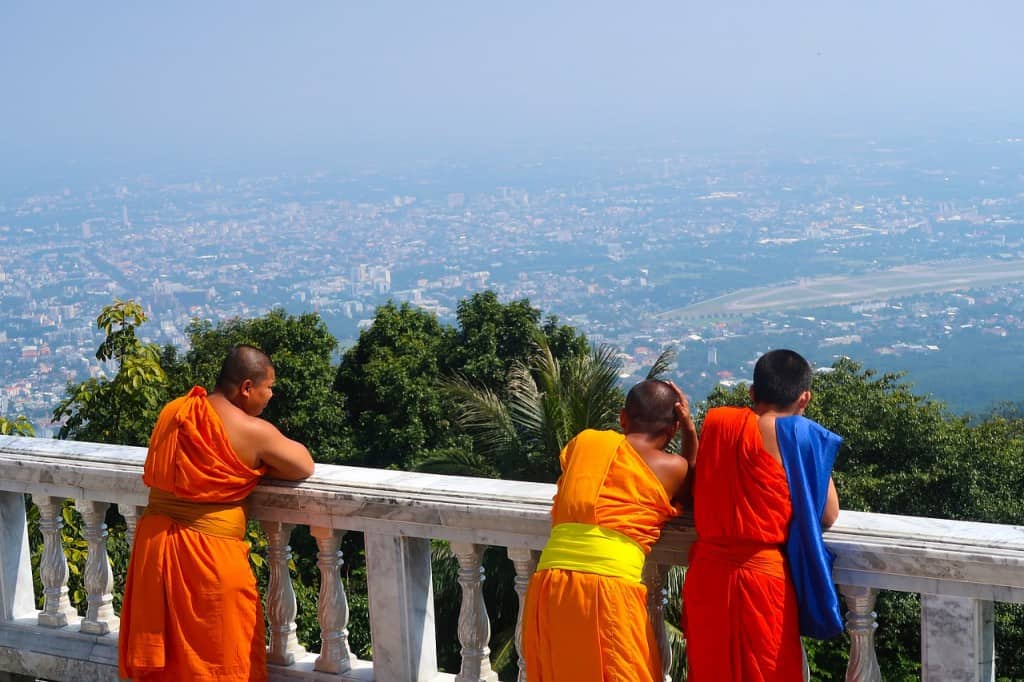 6. Visit The Zoo Afterwards.
Chiang Mai ZOO is located down the Doi Suthep hill. If you are already there, be sure to visit the zoo and see pandas, elephants, giraffes and many more.
Save the time and buy your ticket to Chiang Mai zoo here.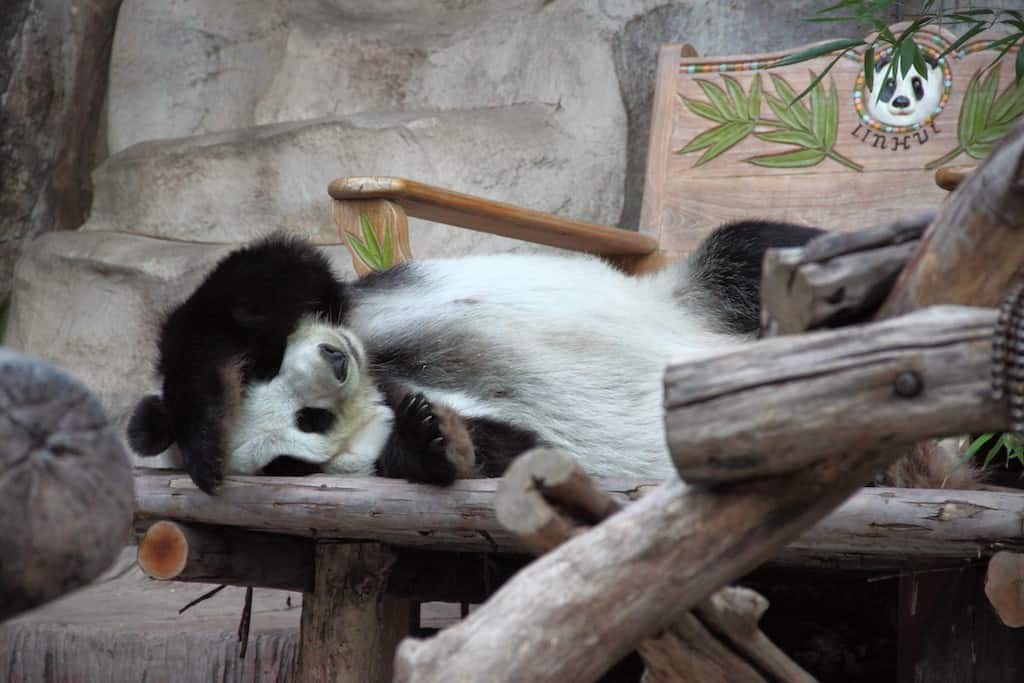 Where To Stay in Chiang Mai To Visit Doi Suthep Temple?
There are many hotels within the walking distance to Chang Pauk Gate where you can find Night Market. The shared taxi to Doi Suthep Temple is leaving from there. If you choose a private tour to Doi Suthep Temple they will pick you up from any hotel in Chiang Mai.
Check Chaing Mai hotels map to choose the best one for you:

Check out recommended Temple & Doi Suthep National Park Tours:
Pin For Later:
Was this post helpful? Remember, sharing is caring! Share your thoughts in comments.