Christmas is a time for family, for celebrating with the people you love. It's also a time for twinkling lights, decorations, gifts and, of course, great food.
But the build-up to Christmas can be just as exciting as the day itself. With children off school, it is the perfect time to plan some exciting day trips as a family and get into the festive spirit.
From jolly days out in the city to festive theme parks and visiting Santa's grotto, there are so many wonderful events taking place at this time of year. It's just about choosing the perfect activities for you and your family.
But if you're unsure where to start, we can help. We've pulled together a list of seven family-friendly trips you should consider this Christmas.
Check them out below.
A day out in the big city
Spending a day out in the big city is always exciting, particularly if you live in a more rural area. However, at Christmas time, these cities really come to life. Whether you want to catch a festive show or panto in London, check out Birmingham's famous Christmas market or get lost in Edinburgh's Christmas Tree Maze, there is always something going on.
And if you want to take it one step further, you could even organise a weekend city break somewhere like Belgium, Germany, Switzerland or further afield! There are so many cities around the world that become flooded with Christmas pop-ups, carollers and incredible lighting displays at this time of year.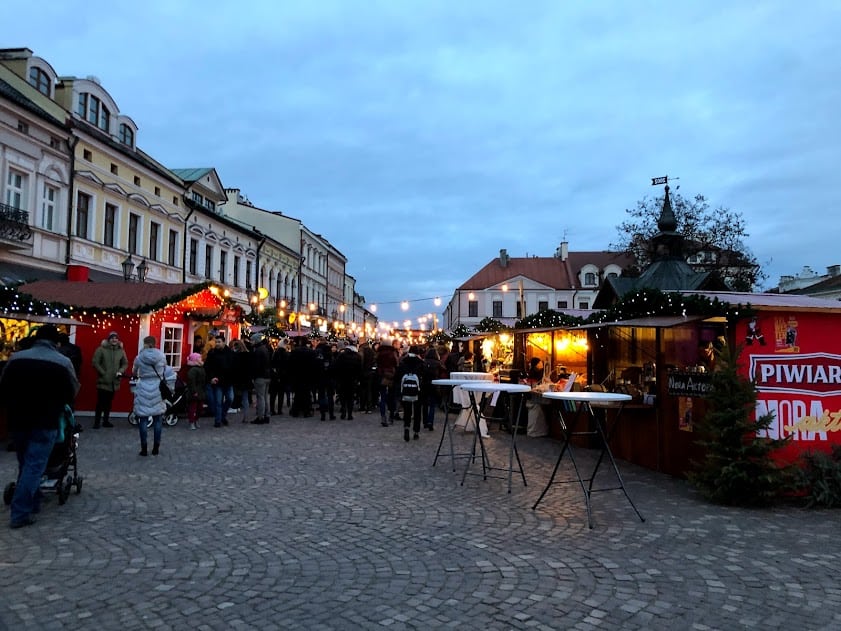 A ride on the rails
Have you ever watched The Polar Express and dreamt of taking a magical train ride to the North Pole? Well, this year, why not make your dreams a reality?
OK, so you can't necessarily go to the North Pole, but there are plenty of festive train experiences across the UK that will bring the magic to life for you and your family.
Some of the best rail experiences this year include Dartmouth Steam Railway Train of Lights, North York Moors Railway Santa Special, and South Devon Railways Polar Express. Of course, you can keep a lookout for Christmas train experiences in your area, but if you want to plan a festive getaway at the same time, then why not set this around a magical railway ride?
A trip to a theme park
Going to the theme park with the family is fun any time of year, but at Christmas, it's an even more magical experience. Each year, theme parks across the country go all out to decorate with lights and trees and put on special festive events to entertain their guests.
Some of the highlights include Chessington World of Adventures, where you can enjoy the Winter's Tail Event at the zoo and Sea Life Centre. Then there's LEGOLAND, where the park is transformed into a winter wonderland, packed with twinkling lights, snow-dusted trees and that special LEGO magic. You can even enjoy a sleepover with Santa during your visit.
Another example is Alton Towers, where you can spend a day or even a weekend enjoying selected family-friendly rides, exploring the park and shopping at the impressive Towers Street Christmas Market, with over 60 fabulous market stalls.
Getting lost under the lights
One of the best things about the winter months, and Christmas in particular, is that it gets dark earlier, so everywhere is adorned with warming twinkly lights.
However, there are some places that like to make this even more special over the festive period, putting on illuminations and light trails in some of the country's best locations.
There are so many to choose from, and if you wrap up warm, this can be the perfect family evening out. Some of the best light displays include Stockwood Illuminated, a light trail through the old trees at Stockwood Discovery Centre, as well as Neverland Illuminova at Wellington Country Park.
You could also follow the light Trail at the Kew Gardens Christmas event or explore Eden Project at night, complete with immersive music and light experience.
And for the animal lovers in your family, the Cotswold Farm Park Enchanted Light Trail lets you into the farm park after hours. There, you can stroll through the light displays and even feed the animals their last snacks before they cosy up for bedtime. It's perfect for the little ones.
Explore the Christmas markets
What festive season is complete without a Christmas market? And there are so many across the country that you really don't have to go far for a wonderful family day out. Christmas markets are perfect if you love Christmas shopping, crafts, handmade gifts, good food, and wrapping up warm as you sip hot chocolate (or mulled wine) and browse the stalls.
Nothing gets you in the mood for the festive season quite like a Christmas market, and some of the best include Birmingham, Cardiff, Bath, and Chester. But no matter where you go, you'll have the opportunity to enjoy carolers, delicious seasonal treats, and possibly even some fairground rides too.
Stop by and see Santa
What is the most exciting part about Christmas for children? It's Santa, of course! So why not take your kids to visit the real Santa this year? Although he's a busy man, he'll be making plenty of appearances at various locations around the UK. In fact, he will be bringing Lapland to Berkshire, and you can visit for a Christmas experience like no other.
Alternatively, Christmasland in Bluestone, Wales, transforms into an immersive experience for families every year. This includes a light show, snow flurries, a reindeer village, and Santa's workshop. That, or pop by Santa's grotto at Hyde Park Winter Wonderland (more on that next).
Visit a winter wonderland
Finally, all over the country and the world, winter wonderlands begin to pop up around November time. These experiences offer festive days out that includes all manner of Christmas-related fun. You'll be able to enjoy Christmas markets, seasonal food, funfairs, and other winter or Christmas-based activities.
We've already mentioned Winter Wonderland in Hyde Park, but some others include Waterside Winter Wonderland and Winter Funland in both Birmingham and Manchester.