First impressions from Chiang Mai
We made it! We officialy moved to Thailand. Our first impressions from Chiang Mai are awesome.
Moving to Thailand was really big decision for us- leaving our family, friends, home, car and go to the place we have never been before.
So far we think it was the best thing we could do.
We flew from Warsaw to Bangkok and then from Bangkok to Chiang Mai by Thai Airways. We absolutely LOVED Thai Airways– the plane was huge, comfortable and we even got a free meal.
Nobody checked our luggage weight or dimensions. Everything was easy, fast and pleasant. We will definately fly with Thai Airways again.
Flying is the fastest way to get from Bangkok to Chiang Mai. But it's also possible to take a train.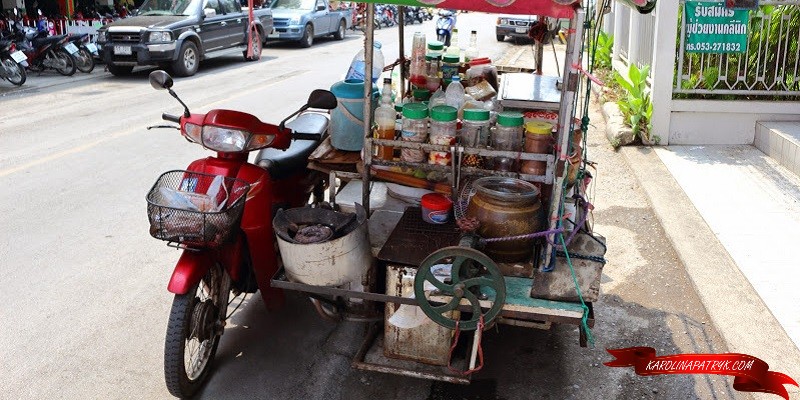 Chiang Mai is different from southern Thailand. You can feel the influence of Laos and Myanmar in here. This applies especially to food, prices and the appearance of the natives.
First impressions from Chiang Mai and things that we loved at first sight:
1. Prices
It's true that this city is cheaper than Bangkok or Thai islands. While in other parts of Thailand you need to spend some time to find cheap restaurant (40-50 bahts per dinner), in Chiang Mai these prices are normal.
Yesterday we even had a meal for 30 bahts per person which is just crazy! It's less than $1 for a dinner! This definately makes us first impressions from Chiang Mai better 🙂
2. Food
Yummy, yummy, yummy!
We can't describe how much we love Thai food! It's fresh, healthy and so DELICIOUS :).
3. Our apartment
We are staying in Smith Residence. We booked it online so we were afraid that will be cheated.
It turned out that we were worried unnecessarily. Our apartment is clean and big. WiFi is fast, bed is comfortable and A.C. is working very well.
We pay for it 10300 bahts ($315) per month. We have swimming pool and gym on the roof. Eveyrything is really good.
When we arrived, we didn't have money for deposit. It wasn't a problem, the hotel staff has allowed us to bring the money later.
Sadly, at the end of our stay they overcharged us for electricity and hot water. We felt cheated and we wouldn't come back there.

4. Markets
There many markets in our neighbourhood. We have day market just accross the street (open from the morning to midday) and night market 10 minutes walk from our apartment (open from the dusk to midnight).
We will write seperate post about Chiang Mai markets, so stay tuned!
5. Fruit shakes
So good! Shakes are basically fruits mixed with ice.
They are extremly healthy, tasty and cheap. One glass cost 25-40 bahts, which is less than $1! 
6. The weather
Oh, how we love tropical weather! In Poland it's cold spring while in Thailand it's very hot.
We don't need to worry about wearing a jacket or boots. All we need are flip-flops, shorts and T-shirts 🙂.
 What do you think about Chiang Mai? Would you like to know something more? Share your thoughts in comments!