Whether Australia is next on your travel bucket list or you simply wish to acquaint yourself with fun facts about Australia, you're at the right place. We have compiled some amazing Australia facts that will definitely make you want to plan your next trip there.
Whether it be the geographic details or funny Australian facts, the country has a lot to offer. With remarkable, picturesque natural beauty and beaches all over, this island country gives you experiences like none other.
Australia Was Originally Used By The British To Send Off Their Convicts!
Could you have imagined that the British originally kept aside such a beautiful place just to keep convicted prisoners? It startled us as well. Among all the facts for Australia, we found this one to be the most shocking, or rather unexpected. It turns out the British government used to transport convicts to various penal colonies in Australia.
Between 1788 and 1868, they transported around 162,000 convicts. Many convicts were transported for petty crimes, as more serious crimes, such as rape and murder, resulted in a death sentence.
Australia facts #2
Canberra Was Specially Built To Be Made The Capital
Australia's capital city has a story behind it. Sydney was Australia's first and largest city, so it wanted to be the capital. However, it got ruled out due to its convicted stigma, due to which it is also called the Sin city. The next in race was Melbourne. Melbourne, which had the largest establishment, claimed it was built by a non-convict and hence considered itself as more appropriate to be made the capital.
While it became difficult to grant either of these cities the opportunity to be the capital, it was decided that a new capital be built in the middle of them both, which was then called as Canberra.
Modern-day Canberra is a place that offers a complete package to its visitors. From modern infrastructure and award-winning urban developments to the Tidbinbilla Nature Reserve, and the uber cool Hotel hotel in New Acton to the Namadgi national park, this capital city of Australia has it all. There's this amazing place that you can check out right here.
It also has a lot to cater to the foodie in us. There's the annual Truffle festival, where one can get mouth-watering truffles. Talking of truffles, did you know that you could get snacks from round the world right at your doorstep from this awesome site?
Coming back to Canberra, there's also a Farmer's market on Saturday mornings which provides abundant fresh produce straight from the farms. At the end of the day, when you want to relax over dinner, there are amazing fine dining restaurants such as Aubergine, Ottoman cuisine, Italian and sons, and Temporada.
Fun facts about Australia #3
Australia Is The Second Country In The World To Allow Women To Vote
Australia was the second country in the World to allow women to vote (New Zealand being the first). Other Australian facts aside, but we had to mention this one as it was a benchmark event in the World political history as well as a benchmark event for women empowerment.
Not only that, but Australia also became the first country to allow women to stand for Parliament.
In addition to that, Australia was one of the founding members of the United Nations in 1945. It has been actively participating in the organisation since then, consistently supporting UN's role in World affairs. Such Australia facts also aid in brushing up your World History knowledge, don't they?
Well, these were just some facts for Australia. There's a whole lot more to follow.
Australia facts #4
The Great Barrier Reef Is The World's Largest Coral Reef
When speaking of fun facts about Australia, there's no way we could leave this one out. The Great Barrier reef is one of the seven wonders of the natural world. If you saw it from space, you won't require an explanation as to why. It is the only living thing on Earth visible from space.
Surprisingly, the reef is larger than the Great Wall of China. It accommodates a plethora of marine life and includes more than 3000 individual reef systems and coral cays. It is termed as the largest living body on the Earth at the moment. Interestingly, it has its own mailbox!
If you ever visit Australia, you should definitely plan a trip to the Great Barrier reef and make it a point to try snorkeling or scuba diving there. The experience would be unimaginably breath-taking!
Fun facts about Australia #5
Australia Houses The Longest Fence In The World
Australia is also home to the longest fence in the World, namely the Dingo fence or the Dog fence. It stretches 5614 kms (3488 miles) from Jimbour on the Darling Downs near Dalby through thousands of kilometres of arid land ending west of Eyre peninsula on the cliffs of the Nullarbor Plain.
The government worked on building it during the 1880s to keep dingoes or wild dogs out of the relatively fertile southeast part of the continent and protect the sheep and cattle flocks of Southern Queensland. The respective states and councils manage the fence till today, at an approximate cost of 10 million dollars per year. Were you aware of this fact about Australia?
Australia facts #6
The World's Oldest Rain-forest Is Located In Australia
Daintree rainforest, located on the northeast coast of Queensland, is the oldest continuously surviving tropical rainforest in the world. This is another one of interesting Australia facts to take note of. It is around 165-180 million years old.
George Dalrymple named the Daintree after the 19th century Australian geologist and photographer, Richard Daintree. This World Heritage listed area of the Australian geographic region covers approximately 1200 square kilometres. It contains the highest number of plant and animal species that are rare, or threatened with extinction, anywhere in the World.
For travelers, this unique part of the Earth offers an enchanting outdoor holiday like no other. Daintree gives you the chance to explore hiking trails, scenic lookouts, camping sites, picnic tables and swimming holes. In addition, tourists get an opportunity to stay in eco-friendly accommodation and eat at cafes and restaurants that specialise in local cuisine. Although, you should be careful with the animals in the wild.
If you're someone who is fascinated by forests and wildlife, there's another country that we'd recommend you to visit. You can find out why by checking out this fun article on Germany.
Australia facts #7
Aboriginals Has Been Living In Australia For About 9,000 Years
This is one among the important Australian aboriginal facts that the traditional indigenous owners of land at the Daintree rain-forest are the Kuku Yalanji Tribe. The Kuku Yalanji people, one of the thousands of Australian Aboriginal tribes in the countries in Australia continent, have been living here for an estimated 9,000 years!
The Kuku Yalanji culture is very distinct and uniquely adapted to the Daintree Rain-forest environment.
Fun facts about Australia #8
Medical Assistance Flies To Australians Since 1928
Imagine someone is facing a medical emergency and they have no access to ambulances. They are in a place that isn't well connected to proper medical facilities, what would they do? In today's times, it might not seem like a task, but what about 90 years ago? Well, Australia had come up with a solution to it even back then.
They realized that the population in the rural and remote areas had to often travel long distances to access health services. Thus, Reverend John Flynn founded the Royal Flying Doctor Service to provide a "mantle of safety" to the people of the Bush.
Even today, it continues to provide emergency medical and primary healthcare services to anyone who lives, works or travels in remote Australia, utilizing the latest in aviation, medical and communications technology. That's yet another one of interesting facts in Australia that gives the Australian's a sense of pride. Getting to know such interesting Australian facts can also add to your general knowledge.
Australia facts #9
A Former Prime Minister Holds A Beer-drinking Record!
Yes, you read that right. A former Prime Minister holds a Beer drinking world record! The 23rd Prime Minister of Australia, Bob Hawke secured a place for himself in the Guinness Book of World Records in 1954 for sculling 2.5 pints of beer in 11 seconds. Now this is an interesting, but one of rather funny Australian facts.
Hawke later mentioned that this was the reason for his great political success. Rather strange, isn't it?
Fun facts about Australia #10
Beer-battered Fish And Chips Is Aussies' Favourite Fast Food
Owing to its large coastline, Australia is home to numerous aquatic species. Consequently, it is needless to say that seafood is a predominant Australian food choice. The country has around 600 varieties of fish, both ocean and freshwater.
Although there is a myriad of ways in which the Australians incorporate fish in their cuisine, beer-battered fish and chips is a favourite fast food. Your trip would be incomplete if you do not try these delicacies when you visit.
All of the important towns and cities of Australia have a plethora of restaurants to visit. Sydney, Brisbane, Perth, Melbourne and many other cities offer a huge list of cuisines, from Asian varieties to European delicacies.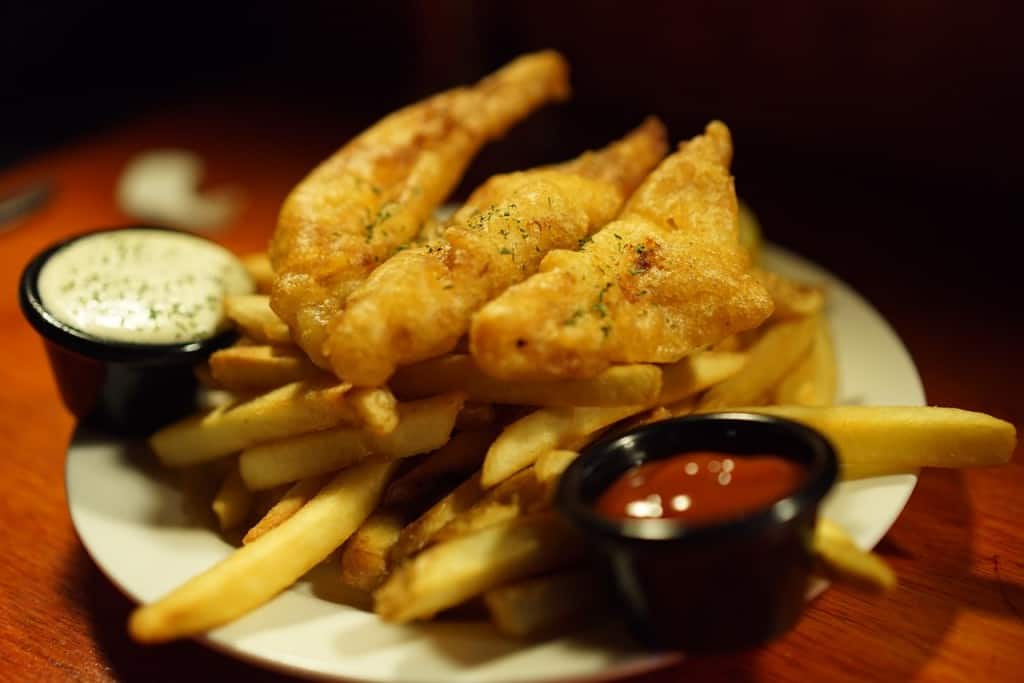 Australian facts #11
Australian Demographic Is Quite Diversified
Almost 30% of Australian residents have been born overseas. Even though the Australian visa application is easy, it may be quite challenging to become a resident of this country.
What's interesting, most of the Australians residents born abroad are from England, China, India, and New Zealand. More about it here.
More Than 80% Of Australia's Plant And Animal Species Are Unique To Australia
Facts for Australia involving nature and Wildlife have always been intriguing to us. We thought we should share some with you too. Australia has more than 378 mammal species. 828 bird species, 4000 fish species and 300 types of lizards. In addition to that, it has 140 snake species, 2 crocodile species and 50 types of marine mammals.
More than 80% of Australia's plant and animal species are unique to Australia, which we won't find anywhere else. If you want to specifically see the native species, you could visit places like the Rainforest Habitat in Port Douglas, Taroonga Zoo in Sydney, Victoria's Healesville sanctuary, South Australia's Cleland Wildlife Park and Queensland's Australia Zoo.
Australia facts #13
Australia's Lyrebird Is A Great Imitator Of Sounds
Have you seen a bird that can mimic other birds' sounds, or maybe even other sounds? Well, Australia's lyrebird does exactly that. Considered as one of Australia's best-known birds, the lyrebirds are capable of accurately mimicking the sound of the forests they inhabit.
Mostly, their mimicry is of other avian species: calls, songs, wing beats, and beak claps. There's even a very popular video on the internet that has a lyrebird make sounds of all kinds.
Some more interesting Australian facts that caught our attention:
Australia's richest woman earns $1 million every half an hour! The lady's name is Gina Rinehart and she's a mining magnate.
Yet another Australian geographic fact. Scientists found the world's oldest fossil fuel in Australia!
Over 80% of Australian adults participate in gambling of some form, which is the highest percentage in the world.
Let's end the list with some truly funny Australian facts.
In 2005, the government banned the usage of the word 'mate' in the Parliament House, then immediately overturned it in 24 hours.
While interesting facts about Australia can be endless, we've tried to sum up the best ones for you. We provided you with this information about Australia so when you plan your visit, it's slightly easier for you.