Interesting facts about Romania That Will Blow Your Mind
Transylvania and Count Dracula! That's the first thing that comes to mind when thinking of Romania. But if you know Romania interesting facts, you'll find that there is much more to Romania to discover.
Bucharest was the first city in the world to use oil lamps for street lighting in 1895. The world's first oil refinery was opened in Romania in 1857. The first curved bridge in Europe, the Podul Bisetz was built in Romania in 1905. Grand architecture, beautiful museums, great food, and amazing culture are just some of the most interesting facts of Romania.
If you plan on visiting Romania tourist places, you will fall in love with the country. The lovely River Danube that starts in Germany empties itself in Romania's Danube Delta. The Carpathian mountains have Europe's largest virgin forests. The Romanian Athenaeum shows neoclassical architecture with a romantic flare. The Herastrau Park and the Cotroceni Palace in Bucharest are on the top Romania travel tips list.
Romania is a country bordered by the Black Sea and has a temperate climate. The best time to visit Romania is in spring or early summer from March to July when the weather is good and the costs are affordable. You can either organize a trip on your own or choose an accessible tour with the scheduled itinerary. No matter which option do you choose, read those fun facts about Romania that will encourage your decision to visit.
Interesting facts of Romania #1
Romania has one of the most beautiful waterfalls in the world
Water flying off cliffs and pounding the rocks below, the gushing pounding waves thundering in applause of nature and its beauty – waterfalls hold a special place among nature's attractions. There are many lists of the best waterfalls on the planet, and right up there on that list with the Niagara Falls, Plitvice Falls, Dettifoss, and more are the Bigar Cascade Falls in Caras-Severin. This beautiful liquid veil is called the "miracle from the Minis Canyon" by locals. A must add to your list of Romania tourist spots!
Interesting facts about Romania #2
Romanian is a romance language
90% of Romanians speak a romance language. Did you know that? An interesting facts about Romania is that the first language which is 1700 years old is part of the Eastern branch of romance languages along with Aromanian, Istro-Romanian and Megleno-Romanian. The Western branch includes French, Italian, Spanish, Catalan and Portuguese. So next time you hear someone talking in Romanian, remember they're speaking in the language of love.
Interesting facts about Romania #3
Romanians "steal the bride" at weddings
Romanian wedding customs include stealing the bride at weddings. One of the fun facts about Romania is that in Romanian culture, marriage celebrations include kidnapping the bride during the wedding ceremony. Romanian traditions dictate that a few of the guests steal the bride for a ransom of candy or booze or small things. Most guests end up taking the bride to a popular club or pub to dance for a short while.
Interesting facts of Romania #4
Sarmale is thought of as the National Dish of Romania
The cuisine in Romania is rich and varied. Sarmale or sarmalute is considered the Romania national dish. It is one of the traditional Romanian dishes made from cabbage rolls stuffed with spicy pork and rice. Other famous dishes are the mici, tochitură and mămăligă. Romanian Christmas food include sarmale – the cabbage rolls, ciorba de perisoare – roast gammon and pork chops, and cozonac – rich fruit bread.
Famous Romanian sweets include the papanaşi, gogosi and covrigi. Ţuică is a local plum brandy that is will always be famous than wine and beer.
Interesting facts about Romania #5
Romania has an extensive rail network
The system for transport in Romania is amazing. Romania's rail network is 22,298km long. That's the 15th largest on the planet. Isn't that a fun facts about Romania, which is only the 81st largest country in the world?
Interesting facts of Romania #6
The hand painted Voronet Monastery is a World Heritage Site
Any Romania tour guide will tell you this; Romania has 7 World Heritage sites. And the churches are some of the best Romania tourist attractions. One of these is the Voronet Monastery, a medieval monastery in Gura Humorului that has been hand-painted. It has beautiful blue frescoes that are known is in Romania as Voronet blue. You can't miss visiting these famous places in Romania.
Interesting facts about Romania #7
Romania has an answer to Mount Rushmore
The rock sculpture of Decebalus, the last king of Dacia is cut into the rock of the Danube's Iron Gates. It was made between 1994 and 2004 and looks like Romania's answer to Mount Rushmore. Brasov and Rasnov also have signs that look just like the famous Hollywood one.
Interesting facts of Romania #8
Romania has the world's heaviest building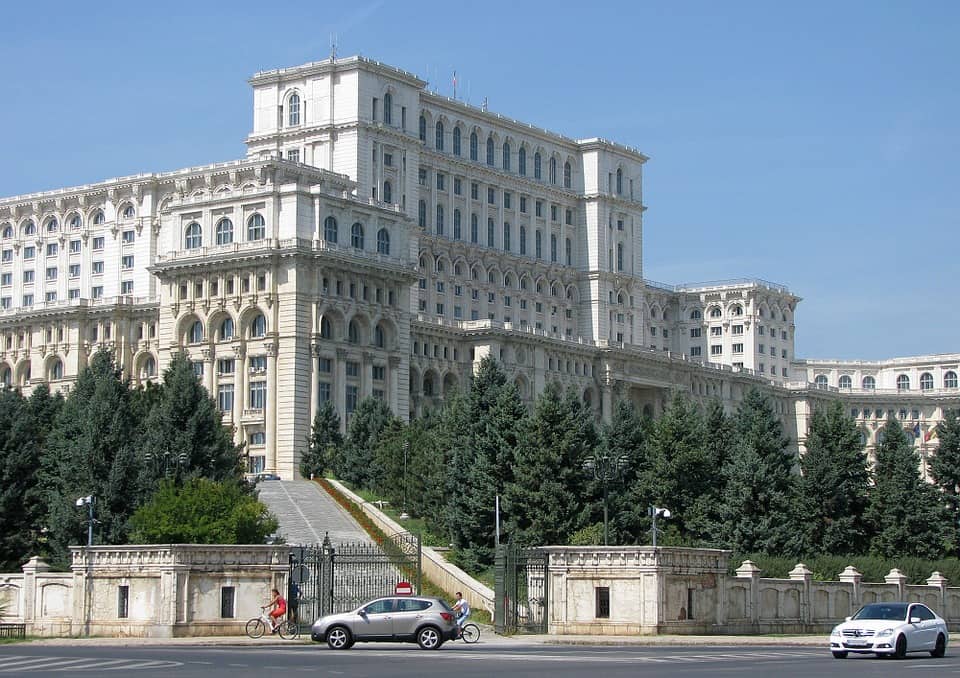 One of the best cities in Romania to visit is the capital, Bucharest. And an interesting facts of Romania here is that the Palace of the Parliament is the heaviest building in the world. Completed in 1997 and costing 3 billion Euros, the building is second in size, only to the Pentagon in the US. The volume of the building is more than the Great Pyramid of Giza, at 2.55 million square metres. The decadent interiors make it one of the most beautiful places in Romania.
Interesting facts about Romania #9
Romania has one of the happiest cemeteries in the world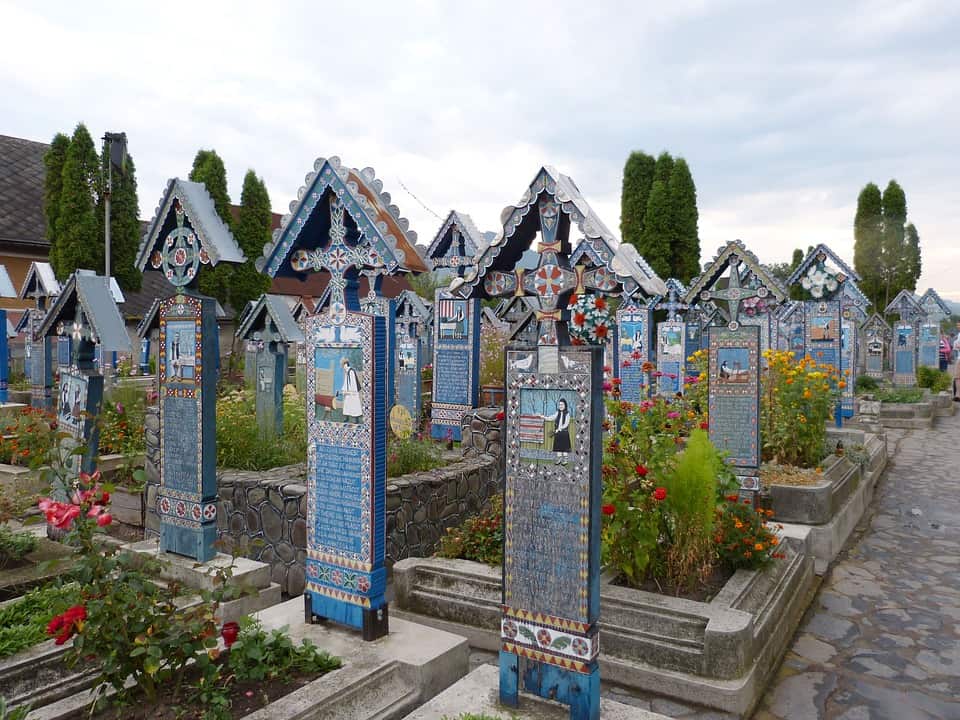 This absolutely has to go on the Romania interesting facts list! In a little village of Sapanta in Maramures, Romania there is a cemetery that's turned into a tourist attraction for many. It's the Cimitirul Vesel or Merry Cemetery. The beautiful Voronet blue cemetery was designed in 1940 by a local woodcarver named Stan Ioan Pătraș. The wooden crosses on the tombstones are painted with scenes from the deceased individual's life and have witty epitaphs to go with them.
Interesting facts about Romania #10
Romania is a perfect destination to relax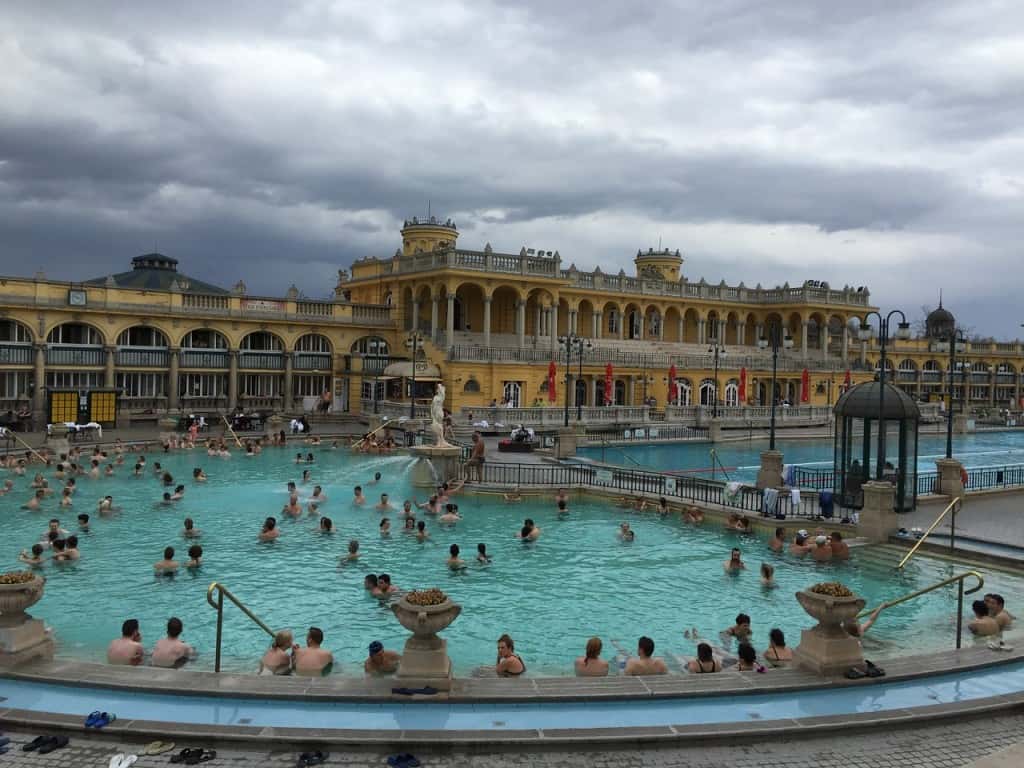 Romania has one of the most remarkable networks of spa resorts in all Europe. One-third of the continent's thermal and mineral waters are located there!
Here are other interesting facts about Romania. You can stay in castles for very affordable rates. We've found a few of the best ones for you.
Looking like it's right out of a movie, the Hunter Prince Castle & Dracula Hotel in Turda provides stylish accommodation and air-conditioned rooms. To find out more about this great place to stay, click here. -> Hunter Prince Castle & Dracula Hotel
With easy access to Humor Monastery, the Castle Apartment Manastirea Humorului is the perfect getaway. It has a kitchen and dining room, so it's especially good if you want to cook your own food. It's also within driving distance of Frasin and Gura Humorului. To find out more about this apartment, click here. -> Castle Apartment Manastirea Humorului
Okay, this is not a real castle, but it's built to resemble Dracula's Castle. To find out more about it, click here. Hotel Castle Dracula
Another pretend castle is the Acasa La Dracula or House of Dracula in Brasov. This rural hotel is quite close to Rasnov Citadel, Catherine's Gate and Biserica Neagra. ->
House of Dracula Hotel
Here are some Romania facts for kids and adults alike.
• Romania is derived from the Latin word 'Romanus' meaning 'Citizen of the Roman empire'.
• Romanian mentality is to complain about politics and work, but they still love their country.
• The first road built in Romania used to be called The Wooden Road because it was paved with three trunks.
• Timisoara in Romania was the first city to have electric street lights in 1889.
• Sighisoara is the only medieval fortress in South-Eastern Europe that's still lived in.
• Here's an interesting fact of Romania that you won't forget. Romania has the richest resources of gold in Europe.
• Romania has Europe's largest population of brown bears.
• Insulin was discovered by a Romanian named Nicolae Paulescu.
• It is also home to Europe's largest mammal, the European bison.
• Bucharest is known as 'Little Paris'. It has an Arcul de Triumf resembling the Arc de Triomph in Paris.
• The tallest wooden church in the world called Peri Monastery is in Romania.
• The first Tarzan actor ever, Johnny Weismuller, that yummy guy, was Romanian. Did you know that?
We hope you liked this list of interesting facts about Romania? What other Romania interesting facts should be on here? Comment and let us know!