[Total: 2 Average: 4.5/5]
Glasgow sightseeing
Glasgow is the largest city in Scotland. We were surprised that it's hilly! Most of the European cities are flat. But not Glasgow :). Glasgow sightseeing was different because of the land.
1. Gallery of Modern Art.
When we first saw the statue of the man on the horse with traffic cone on his head, we thought that it was a prank. Someone drunk must have put it on the statue at night.
But it wasn't a joke! It was art :).
GoMA is not only for art freaks. Even if you are not that into art, you will find there someting you like.
2. Glasgow cathedral.
It's huge and cold. Different from the churches in Poland or Italy.
When we were there, the front side of the cathedral was closed due to funeral service.
We went downstairs though. There you can find the tomb of Saint Mungo, who is the patron of Glasgow.
3. Glasgow Necropolis.
It's right next to the Glasgow Cathedral. It's often described as the city of dead and one of the most beautiful Victorian cemetery on the world.
Glasgow Necropolis is huge- it contains 3500 monuments and fifty thousand individuals have been buried there. 
4. St Mungo Museum of Religious Life and Art.
It's situated next to the Glasgow Cathedral and Necropolis.
You can learn a lot about different religions in St Mungo Museum. We especially like the movie, where people from all over the world told about they beliefs.
As usual in Scotland, you choose how much you want to pay for admission.
5. Argyle Street and City Center.
Argyle Street is main street in Glasgow city center.  Many festivales take place there, e.g. Christmas Market.
Read about Christmas Market in Glasgow here.
Glasgow city center is really charming. It's great place to walk, watch locals and listen to the sound of the Scottish Pipes :).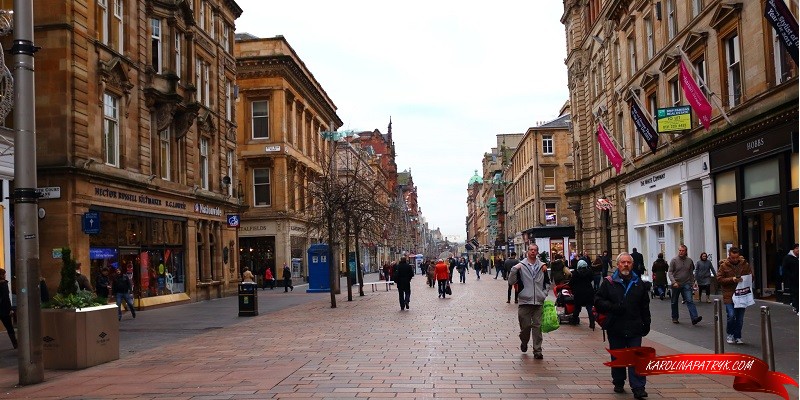 See also: 25 things to do in Glasgow
Have you ever been in Glasgow? Would you like to go there in the future?