What to Do in Ha Giang, Cao Bang, Ba Be National Park and Other Northern Vietnam Tourist Spots
The best time to visit Northern Vietnam will soon be here – November to April – when the weather in Northern Vietnam is cool and dry, and the temperature drops to 15 to 20 degree Celsius. When you're looking at Northern Vietnam tours and Vietnam tourist spots to add to your list, don't miss the Cat Ba National Park. For that matter, don't forget Cao Bang, Ha Giang or Ba Be National Park either.
Wondering about the other off the beaten path locations to add to your Northern Vietnam itinerary? We're here to help. Here is a list of must visit Vietnam tourist spots. 
Vietnam Tourist Spots #1
Ha Giang Province, near the Chinese Border
Ha Giang is one of the remotest provinces in Vietnam and home to many ethnic minorities. The Dong Van Karst Global Geopark in Ha Giang shares a border with China and is one of the best places to visit in northern vietnam. The stunning views of limestone hills are only broken by the beautiful tree cover. Rich in conifers and plant life, the Park is home to many species of bird, the Southern serow (a mountain goat), the Asian black bear and the endangered Tonkin snub nosed monkey. Also visit the Vuong Palace and Old Quarter before walking from the old market to square to the top of the Karst peak to see the ruins of a French Fort.
Scenes and landscapes appear as if from a movie as you drive through the different provinces of Dong Van, Meo Vac, Yen Minh and Quan Ba; but the views from Mai Pi Leng Pass top them all. The Dong Van market is great for shopping for a bargain, and the Lung Cam cultural village are perfect for getting insight into ethnic culture and seeing a century old opium emporium.
Vietnam Tourist Spots #2
Sa Pa, the Final Frontier!
Remember Captain Kirk saying,
'Sa Pa, the final frontier!'
Okay. Maybe he just said 'Space, the final frontier!' in Star Trek.
But being another town that is close to the Chinese border, Sa Pa is nicknamed the Final Frontier. Located at 1600 metres above sea level in the mountainous Lao Cao province, this town appears almost European as you enter it. Rows of red-roofed villas peep out from behind thick pine forests and pomu trees. You'll fall in love with Vietnam here!
Hikers and climbers that intend to climb Vietnam's highest mountain – the 3143 metre high Fanispan Mountain – make their base here in Sa Pa. If you're not in good enough shape to hike, take the cable car to the summit. The views are worth it!
Sa Pa's attractions include the Rattan Bridge, Sa Pa Stone Church, Silver Waterfall, and Ta Phin Cave. Drink iced coffee or eat smoked buffalo at local restaurants in the main square. And finally, buy textiles that are handmade by the women of the hill tribes. There are truly the best souvenirs of your trip here.
Sa Pa, Northern Vietnam can also be a good base for you for visiting the nearby Bamboo Forest, Hoang A Tuong residence, Bac Ha Flower valley, and the tribal village of Cat Cat that is nearby.
Vietnam Tourist Spots #3
Cao Bang, of Ho Chi Minh Fame
Another town on the Chinese border, Cao Bang lies to the East of the map of Northern Vietnam. Although accessible the rest of the year, one of the best time to visit Northern Vietnam Cao Bang is right before winter. Summer can be too hot, while winter is chilly. Cao Bang is popular with hikers because of its hilly midlands.
The province of Cao Bang is historically important since it was damaged in the 1979 war with China. The Pac Bo Historical site in Cao Bang is also the place where Ho Chi Minh started the 1941 revolution. The Pac Bo Historical Site is now a famous tourist attraction and include the memorial of the Ho Chi Minh president, the Cac Mac mountain, Na Chang, Coc Bo cave, Nguom Vai, Lung Lan, Le Nin spring, and more.
Thang Hen Mountainous Lake in Tra Linh is another sight to behold. The waves on this lake move like the ocean's tide. Vietnam's most beautiful waterfall, the Ban Gioc is 80 km North of Cao Bang. Ride a bamboo raft here and then head on to explore the nearby Nguom Ngao Cave system and the Tongling Gorge Canyon. The stalactite formations in the Nguom Ngao caves are spectacularly unique in form.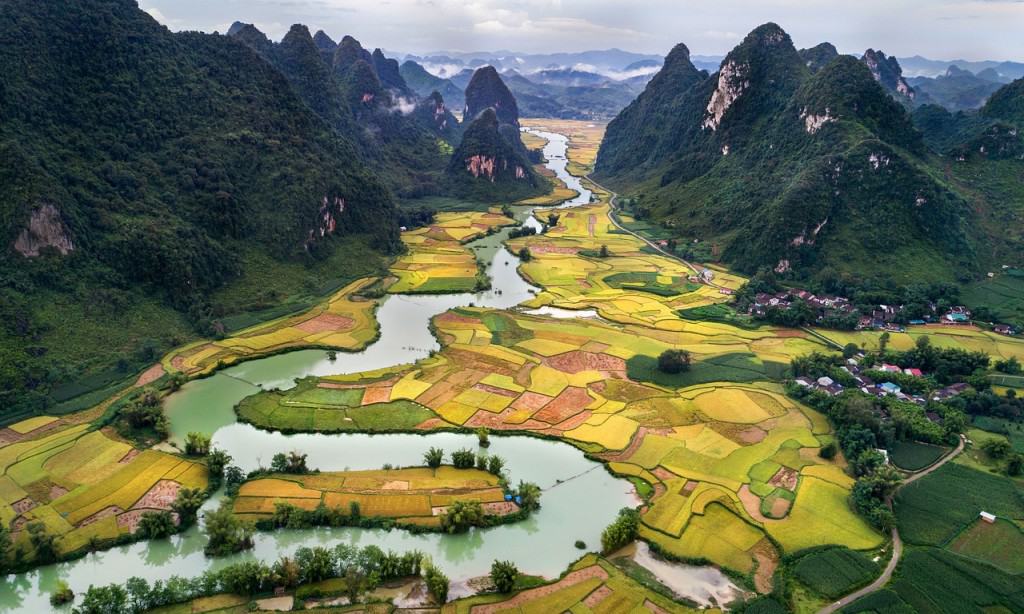 Vietnam Tourist Spots #4
Ba Be National Park
Nearby Cao Bang is the Ba Be National Park, recognized as an ASEAN heritage site since 2004; and providing ample opportunity to connect with nature. In the village of Pac Ngoi next to the Be Ba Lake, there are 30 old Tay ethnic stilt buildings where you can stay for a while to interact with the locals or just observe their customs and culture. You can also hire boats on the lake or guides to help you explore the Ba Be National Park area.
Other Northern Vietnam attractions in the Bac Kan province include the nearby Dau Dang waterfalls and the Puong Cave. A boat ride in the Puong Cave will show you hundreds of years of stalactite formations at the base of the Lung Nham Mountains. Isn't this one of the best reasons to do Northern Vietnam travel?
Vietnam Tourist Spots #5
Hanoi, the capital of Vietnam
Situated right on the banks on the Red River, Hanoi, the political centre of Vietnam from 1010 to 1802 is still the country's capital and 2nd largest city. Nicknamed the 'Paris of the East' because of the French colonial buildings, lakes and tree lined boulevards; Hanoi is a must on your Northern Vietnam tours list. Visit the Old Quarters; Ba Dinh for the Ho Chih Minh Mausoleum and the One Pillar pagoda; and visit Hoan Kiem for St. Josephs Cathedral and to lose yourself the National Museum of Vietnamese History.
Hanoi is also where you can taste most of the Northern Vietnamese cuisine. Taste the chả cá, phở, cốm and bánh cuốn at the street stalls and restaurants. If you're brave, visit the restaurants that serve ant-dishes, insect dishes or snake gourmet.
If you want to get a box of treats from across the world including Northern Vietnamese food delivered right to your door, click here.
Vietnam Tourist Spots #6
Cat Ba National Park
Cat Ba National Park is a major part of the Cat Ba Island in Halong Bay. And while Halong Bay offers a number of other Northern Vietnam beaches, Cat Ba National Park is the reason you must pick Cat Ba Island above the other Vietnamese Northern beaches destinations.
Home to the golden headed langur, civets, squirrel and macaques, this park is a hiker's paradise. Caves and beaches just waiting to be explored. Caves include the Thien Long and Trung Trang. The Trung Trang caves lead you to a hidden natural bamboo forest, and are locally called the 'princess' treasure" or "gold treasure'. Lan Ha bay is perfect for kayaking. And the beaches of Ben Beo, Co Tien and Cat Co are pure crystal clear water where you can swim and have a good time.

Would you prefer to stay in luxury in Vietnam while having access to the local culture and lifestyle?
Here are a few hotels that afford you the luxury you prefer.
The Victoria Sapa Resort and Spa features views of the forest and Fanispan Mountain. It's a 10 minute walk from Sa Pa Cathedral and many nearby local eateries. Check it out by clicking here.
A short walk away from West Lake, the Intercontinental Hanoi West Lake offers you everything you want, right in the heart of Hanoi. Click here to read more about this property.
If you want a clean yet affordable Bed and Breakfast, Kikis House is the place for you. Close to Ha Giang water park, this small yet economical B & B has a 24-hour reception, bicycle rental and a coffee bar. Click here to check it out!
If you're looking for a mix of modern and local, there are a few rentals in the heart of Cat Ba National Park. Offering a variety of options from stilt houses to lake views, you'll need to decide for yourself which one you prefer. -> Rentals in Cat Ba
Keep in mind…
While picking your Northern Vietnam tours or deciding to travel by yourself or with your partner, keep in mind the best time to visit Northern Vietnam. It's also important to check the Northern Vietnam weather before traveling there, to be sure to make the right choices.
You can organise the trip by yourself or choose Vietnam travel agency to have everything done for you. (<– the link directs to The Terrible Tour Guide company which is reliable and we can honestly recommend traveling with them).
Have an amazing stay in Northern Vietnam. Don't forget to tell us what Vietnam tourist spots you're planning on visiting and how your trip went. Comment below!
Disclosure: Yay for transparency! Some of the links in the article are affiliate, which means that if you book something by clicking on them, we will get a small commission with no extra cost to you. Your support helps this blog going.