Thai people love street food and we love it too. No matter where you are in Thailand, in busy Bangkok or in the countryside, you can find the food everywhere you look. You can't possibly get hungry in The Land Of Smiles! While Pad Thai and Tom Yum are tasty, Thai food is much more than that. This post is all about eating bugs in Thailand, including fried scorpion, fried crickets, fried grasshoppers, and more.
Surprisingly, it's not that easy to buy edible bugs in Thailand. In fact, we spent a few weeks looking for them and we finally got lucky on the Chiang Mai night market. Later in this article, I will give you the list of specific locations of where to buy insects in Thailand.
Types Of Thailand Insects To Eat
Bamboo Worm
The first of fried insects Thailand is a bamboo worm. It's a small whitish bug, pretty similar to this that has been eaten by Timon and Pumbaa in the 'Lion King' movie.
It's a really healthy snack- a bamboo worm meat contains 30% of protein (just to compare, the chicken has only 24%). How does a bamboo worm taste like? It's hard to describe it but I'd say like a bit crispy grilled cheese.
Deep Fried Scorpion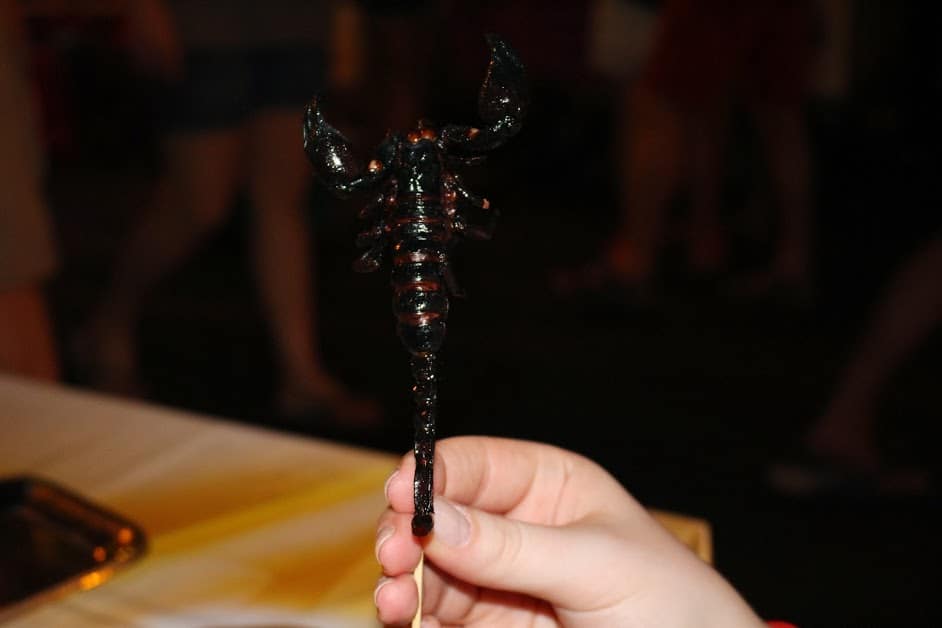 That's probably the most exotic food in Thailand. Scorpion on a stick looks quite scary but it's surprisingly tasty!
If you wonder what do scorpions taste like, just think about the crispy french fries. The taste is very similar, however edible scorpion is much healthier.
There are many benefits of eating scorpions, the most important one is supplying the body with nutrients. Scorpion meat consists of over 50% protein!
Some people say that eating scorpions and other bugs may be one of the solutions to the world hunger problem.
Silkworm
In contrary to the other Thailand street food bugs, the silkworm is quite soft.
It tastes similar to the puffed rice and can be easily eaten as a snack.
In fact, it's one of the best Thailand bugs (at least in my opinion). If you want to try eating insects in Thailand, silkworms are one of the best bugs to start with.
Giant Water Bug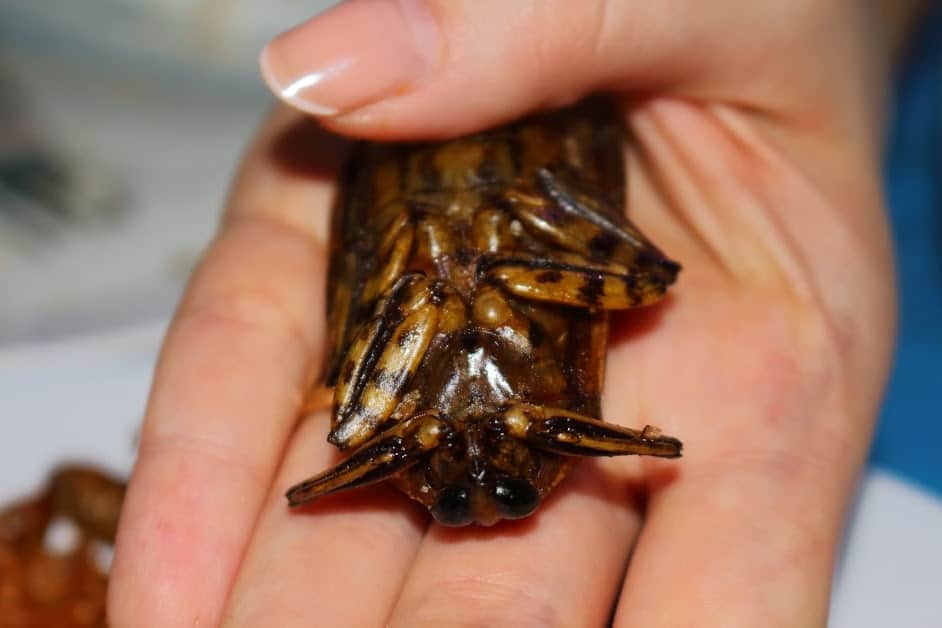 This one is the largest of all Thailand edible bugs. It's also one of the tastiest!
Imagine a combination of french fries and cucumber– that's how the giant water bud taste like.
You can eat it all but it's advised to remove the outer wings.
Cricket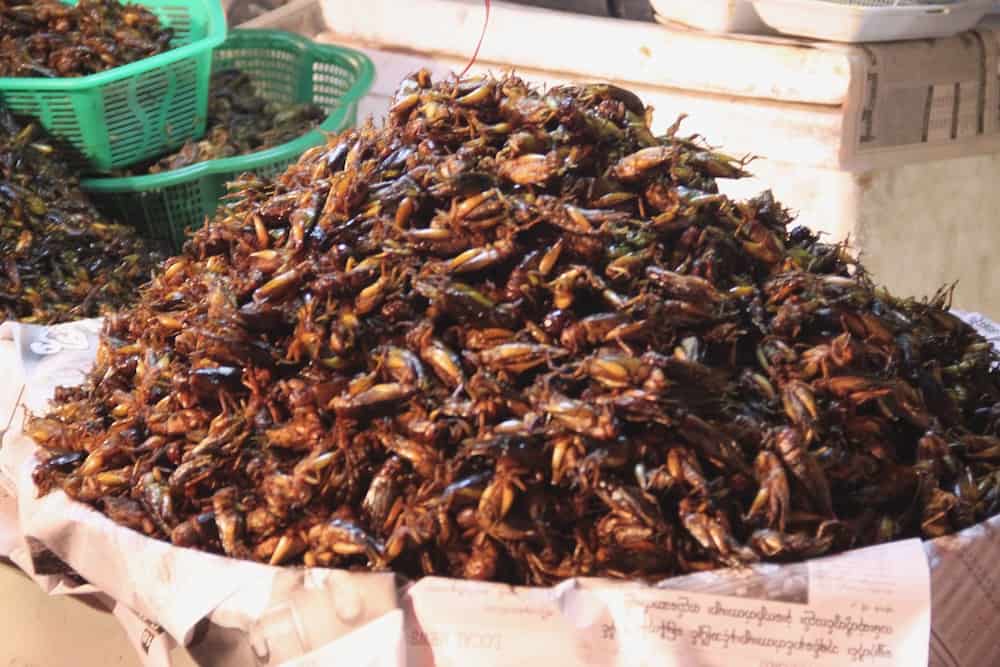 Edible crickets are one of the most popular snacks from Thailand.
They are crispy from the outside and soft inside. You can eat them all, however, it's better if you close your eyes. Fried crickets in Thailand are big, so it's quite difficult to actually eat them. They are just scary!
When it comes to taste, you can feel that you are eating meat (shrimp or chicken). Edible crickets have a nutty flavor and they are usually salty.
Grasshopper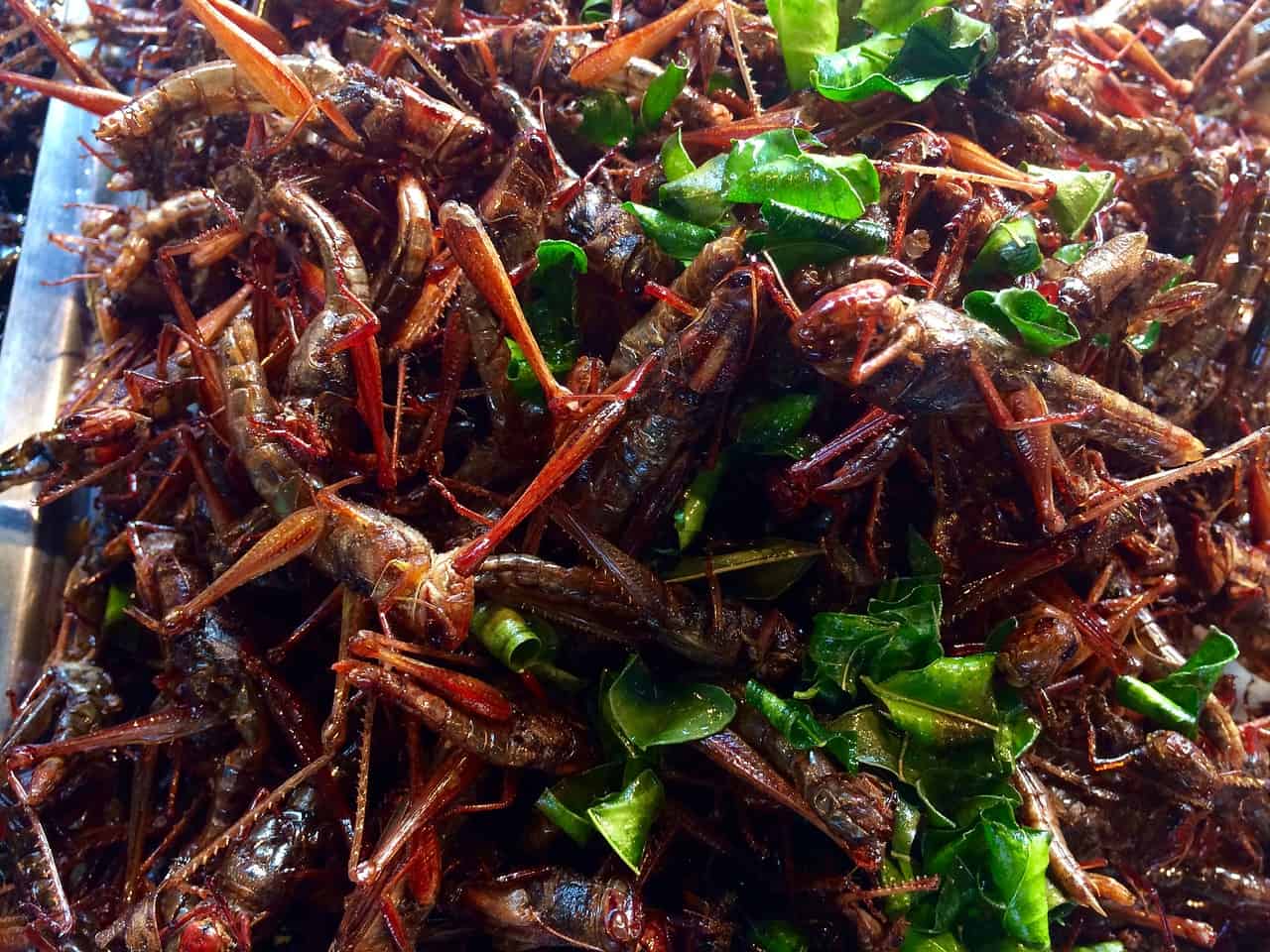 No need to explain how the grasshoppers look like- they are long and thin.
They are really tasty, too! Actually, these Thailand street food bugs taste like cheese-flavored chips. They are crispy and salty as well.
If you want to try exotic food in Thailand, you can choose grasshoppers. You won't be disappointed.
Beetle
Edible beetles in Thailand are quite popular, however, they are not tasty. At least in my opinion. Imagine eating a fish that smells like dog food. That's how fried beetles taste like.
They are quite similar to crickets. You can eat the entire beetle without removing its legs or wings.
Dried Baby Shrimps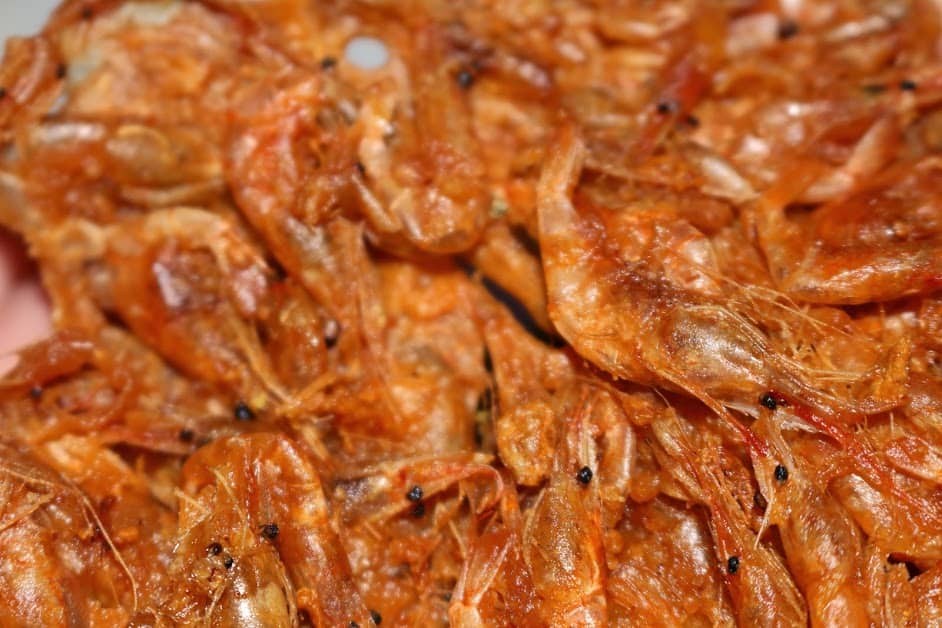 Still looking for the exotic food Thailand? You may choose something that is pretty unique but still not that scary!
Dried baby shrimps are definitely the most popular snacks from the list. They are crispy and taste like french fries. The shrimps are really tiny, so they are usually stuck together into a larger piece.
Where To Find Edible Bugs In Thailand?
It's definitely easier to find Thai insect food in the Northern part of the country (Chiang Mai, Chiang Rai, and even Bangkok). However, as eating bugs in Thailand has become a tourist attraction, they are available everywhere in the country. Here are some popular places where you can buy them.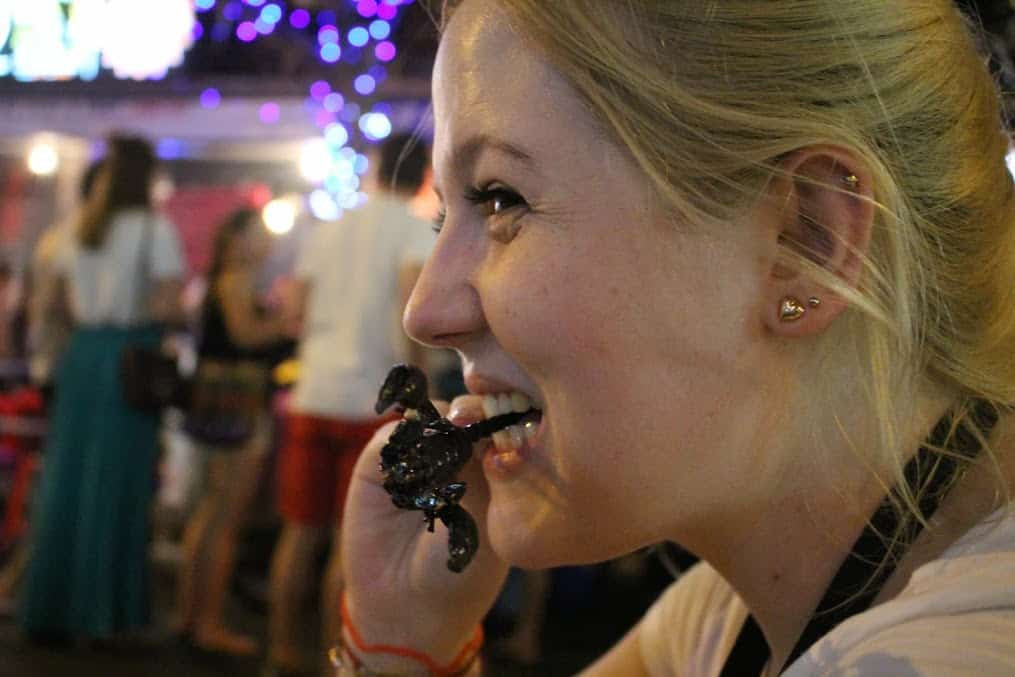 Chiang Mai
Thailand insect food is available to buy at Chiang Mai Saturday Night Market. It's open every week near the Chiang Mai Gate.
Go to the middle of the market to find Thai insect food. It's really close to the place where you can sit down to eat something.
Bangkok
There is one place in Bangkok where you can buy anything that is weird– the famous Khao San Road! You won't really need to search for the insects, as you will probably be approached by someone offering you to buy scorpion on a stick or other deep-fried insects.
You can also head to Bangkok China Town to get fried bugs.
Phuket
Bangla Road for Phuket is what Khaosan is for Bangkok. If you are on the biggest island of Thailand, head to Patong's Bangla Road to find out what do insects taste like.
Koh Samui
If you want to try Thailand bug food while in Koh Chang island, head to the Fisherman's Village's Walking Street. It's located in Bophut.
Pattaya
You can buy edible insects at Pattaya Walking Street.
It's easy to notice that if you are looking for the exotic food in Thailand, just head to the night market in the neighborhood. You will have a chance to find there deep fried scorpion food, edible crickets, and many other insect snacks.
Here is a video of us trying bugs for the first time many years ago. The quality is really low though. It's funny how bad was our English back then. If you have time, watch it, if not, skip it with no regrets!
If you are already in Thailand, check out these awesome Bangkok food tours:
Pin For Later: