We have travelled to more than 30 countries on the world, trying local cuisine at each of them. We haven't been to India yet but we've tried Indian food in many countries, like the UK, Malaysia, USA or Poland. The food was always good. We didn't expect though that Indian food may be outstanding… Not until we visited Bangkok Maya restaurant. We were surprised that we found restaurant with best Indian food in Bangkok .
This place is incredible! They have the best food on the world, excellent and professional staff. Bangkok Maya restaurant is must-visit for everyone visiting Bangkok.
Indian food in Bangkok  – how to get to Maya restaurant?
The restaurant's location is probably the best in Bangkok. Close to BTS (Phrom Phong) and luxurious Emporium Shopping Mall. You can either use a public transport or book Bangkok taxi to get there.
The restaurant is situated inside the Holiday Inn Sukhumvit hotel, on the 29th floor. The views from the top are amazing! You can enjoy the view of Bangkok's most popular street- Sukhumvit and amazing skyscrapers.
We especially recommend you to go there in the late afternoon at 6 p.m. You will see the beautiful sunset (in Thailand sun goes down at about 6:45 p.m.)
What to eat? Indian food in Bangkok.
It's all about the food, right? 😉
We had degustation menu in Bangkok Maya restaurant, so we tried most dishes they are offering. Everything was delicious, so it was quite difficult to choose what we liked the most. We've managed to pick our favourites though.
Here they are!
Starter
Barra Chaamp
This food was amazing! Tender and juicy Australian lamb chops char-grilled in Peshawari spice, cinnamon powder and malt vinegar.
It was the best lamb we have ever eaten. Usually we avoid eating lambs because they smell too weird for us. This time it was different- the smell and the taste were incredible and we'd love to eat this starter again the future.
Sarson salmon tikka
One of the best fish we have ever tried. Soft and aromatic Norwegian salmon with bishop seed, kasundi and yellow chilli. It was served with spicy prawn pickle.
It was delicious. We've never tried salmon in Indian spices before. We were surprised how good it tastes!
Duet of Peshwari and Zafrani Paneer Tikka
Wow! What a food. We are not big fans of cheese served on dinner. Cheese is good for breakfast and that's it.
We were surprised that Malai Paneer Tika tastes so good! Paneer is Indian cottage cheese. It was marined with yoghurt and Peshwari spices. Paneer Tika is light and nutritious food. We loved it.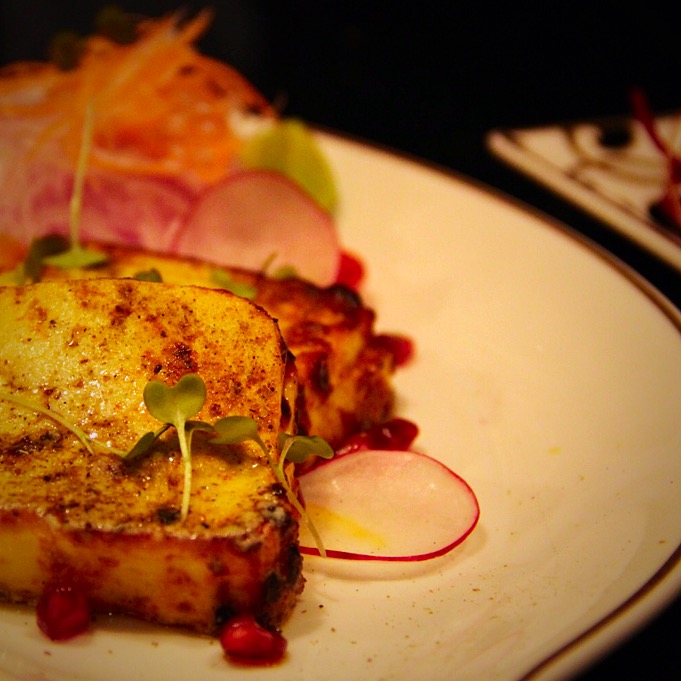 Main course
Dal Maya
It was literally the BEST vegan food we have EVER eaten.  Creamy, aromatic and delicious lentil stew.
Lentils had been simmered overnight with tomatoes and garlic, finished with churned butter. The temperature of cooking must be carefully adjusted, to make the stew perfect. If it's too high- it will get burn, if it's too low- it won't have creamy consistency.
Dal Maya is everything you've ever wanted from the food- it's tasty, healthy and satiating.
 Chicken Chettinad
Very exotic taste, something we would never tried in Europe! A pepper chicken curry braised in roasted spices and fresh coconut.
Yummy!
Saffron pulao
We needed an accompaniment to Chicken Chettinad and Dal Maya, so we ordered traditional Indian saffron pulao.
It is delicious rice served with one of the most expensive spices in the world- saffron.
Dessert
Gulab Jamun cheesecake
Dessert is always our favourite part of a dinner! We were full after tasting so many delicious meals but we couldn't resist Gulab Jamun cheesecake.
Gulab Jamun is a traditional Indian dessert made of milk. It's very sweet and has a thick consistency. It is usually shaped into small balls.
The dessert we tried in Maya restaurant was a traditional cheesecake with Gulab Jamun inside of it.
It tasted amazing!
The impressions of visiting Maya restaurant and trying Indian food in Bangkok
We are very happy to be travel bloggers. Thanks to this we got a private mini-tour around the kitchen. Our guide was chef Hardip Bhatia.
He showed us how the food was made. We even make a video of him showing us how to make a traditional Indian bread!
Chef Hardip told us that they use about hundred spices in the kitchen. Wow! We are not sure if we could even name more than 20 spices.
It was a great experience to see how such a big kitchen look inside. Chef was very helpful and friendly, he patiently answered to all our questions. And we had plenty of them! We don't visit kitchens of luxury restaurants everyday 🙂
Another surprise for us was that the manager of the restaurant, Christian, spoke Polish! One of his parents was born in Poland. It was awesome to speak with someone in our native language while trying Indian food in Bangkok.
Chrisitan was extremly professional and friendly. Thanks to him our visit at Maya restaurant was even more pleasant.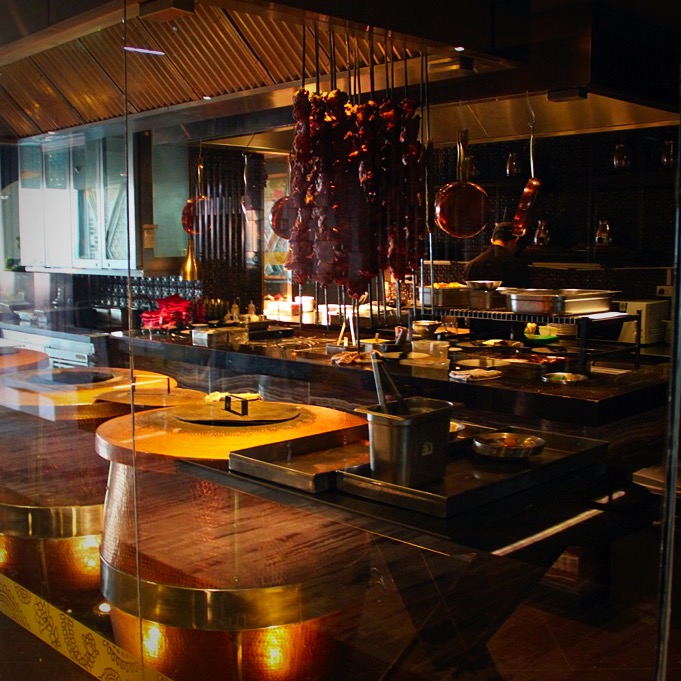 We had a really great time at Maya restaurant. The food was delicious and Maya's staff was beyond exceptional. Trying authentic Indian food in Bangkok was an amazing experience for us. We can't wait to visit Maya restaurant again.
Disclosure: We want to thank Maya Restaurant a complimentary dinner. All opinions presented in this post are honest and our own.

Disclosure: Yay for transparency! Some of the links in the article are affiliate, which means that if you book something by clicking on them, we will get a small commission with no extra cost to you. Your support helps this blog going.