Jordan is an Arab nation located in the Middle East on the east bank of the Jordan River. The country is defined by nature reserves, ancient and iconic monuments, and seaside-type resorts. Home to the famous archaeological site of Petra, Jordan has a young population with a median age of 22 years old. In this post, we have gathered some of the Jordan interesting facts that will inspire you to visit this beautiful country!
First The Basic Details
The country's capital is Amman and the kingdom is ruled by Abdullah II of Jordan. The official language is Arabic. However, upper-income Jordanians speak English as well.
When visiting the country, you will find that its Bedouin culture greets you wherever you go in the form of hello and welcome, translated as Ahlan wa Sahlan in Arabic. When visiting the country, it is best not to establish a set itinerary as you might just get a spontaneous invitation to relax and sip tea with the locals.
A Popular Cinematic Landscape
When you read up on the interesting facts about Jordan, much of the information takes you back in time, especially cinematically. That is because the kingdom has graced the silver screen in many classic movies. For example, Petra's Al-Khazneh monument was used as the home of the Holy Grail in the movie Indiana Jones and the Last Crusade.
Also, the elevated cliffs and soft pink sands of Wadi Rum were featured in the famous movie Lawrence of Arabia. This movie from 1962 made filmstar Peter O'Toole famous for his award-winning portrayal of Lt. Col. Thomas Edward Lawrence.
While the approximately 89,500 square kilometers of Jordan may be considered relatively small, the vistas in the country are terrains from which classic movies are made.
Ancient Ruins Are Everywhere!
While traveling through Jordan's open spaces, you won't feel the crush of traffic or hear the constant cacophony of beeping horns as do you in other places. You'll be able to enjoy and explore the countryside, an area that is marked by ruins everywhere.
A number of ancient cultures have left their imprints on the Jordanian landscape over thousands of years; including the Greeks and Romans, as well as Byzantine and Arab influences.
Jerash is a Greco-Roman town that has been well preserved and you'll get the chance to see Hadrian's Arch and the Corinthian columns of Artemis Temple.
Al-Karak was a popular Byzantine town before the crusaders took over. The Nabatean temple of Al Khazneh is an ancient site.
The Amman Citadel has pottery from as far back as the Neolithic period. And there are a lot more interesting facts about Jordan!
It's A Surreal Experience Even In The Capital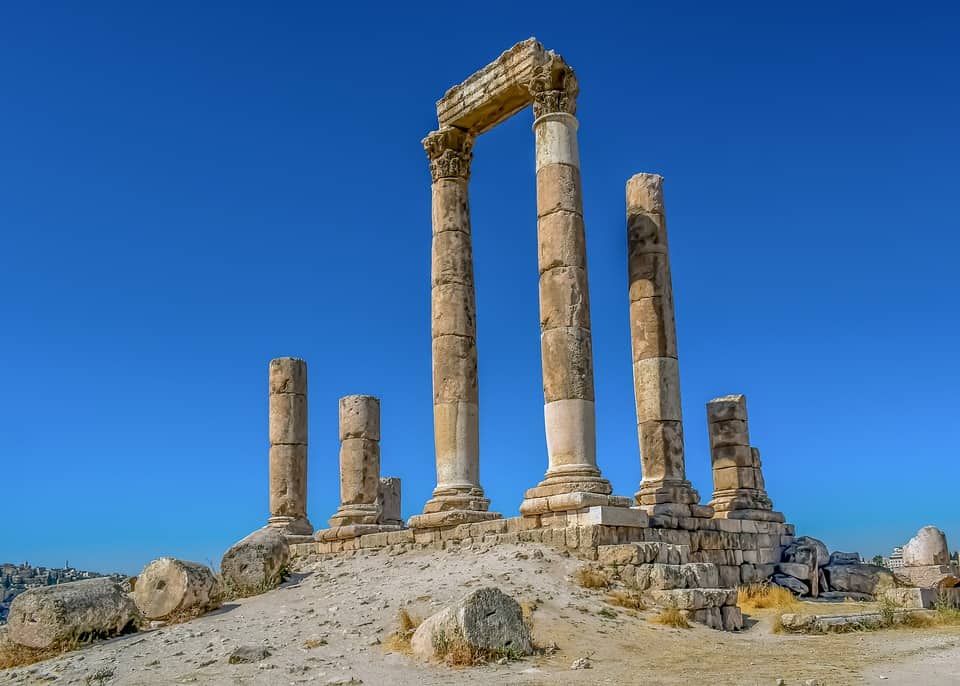 Ancient archaeological sites can also be found in the middle of the country's capital. For instance, the Temple of Hercules, which is an ancient Roman religious site, lies at the top of a hill in Amman (Jabal al-Qal'a). The site seems surreal, especially at sunset when church bells issue a call to prayer and sound out from the minarets below.
The Official Name Of Jordan Is More Than Just "Jordan"
One of the fun facts about Jordan has to do with its official name. Jordan's formal name is the Hashemite Kingdom of Jordan. So you might say that "Jordan" is a shortened version of the official moniker.
However, the country was also known as Transjordan in 1922 after the World War I division of the Middle East made by France and Britain. The country was formally designated by the UN as an independent and sovereign kingdom 24 years later in 1946.
Jordan Is Not Oil-Rich Like The Other Arab States
Unlike the other states in the Arab world, Jordan does not source its own oil. This is one of the interesting Jordan facts because Jordan has 26 deposits of shale oil. However, these deposits don't show enough promise to be exploited.
Jordan Is Home To A Number Of Biblical Sites
You can find a number of Biblical sites in Jordan; the main ones being the Jordan River where Jesus was baptized and Mount Nebo where Moses died. The sinful sites of Sodom and Gomorrah are also located in the country.
There are many Jordan tour packages that are worth checking out. We chose to travel with Abraham Tours and they were awesome!
The Dead Sea Keeps Bathers Afloat
The shore of the Dead Sea in Jordan is considered the lowest point on the Earth in terms of dry land. It lies 420 meters or 1,378 feet beneath sea level. The waters of the sea, which is rich in salt, keep bathers easily buoyant. The sea is almost 10 times saltier than the ocean.
The Dead Sea lies in 3 countries: Jordan, Israel, and Palestine.
The Capital Of Amman Was Once Named Philadelphia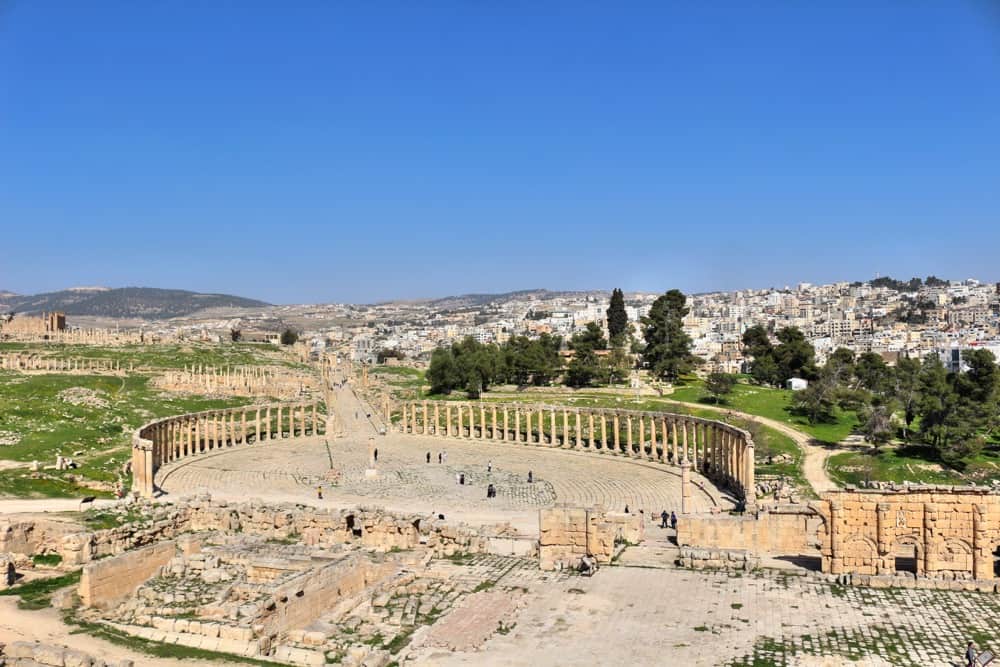 In ancient times, Amman, the capital, was called Philadelphia. The name commemorated Ptolemy Philadelphus (283-246 BC), the Macedonian ruler who took over the city and rebuilt it.
In the 13th century, the Ammonites took over the city and named it Rabbath Ammon which meant King's Quarters or Capital. Over the centuries the Rabbath was dropped and the city came to be known as Ammon and then Amman.
Roman Theatre In Amman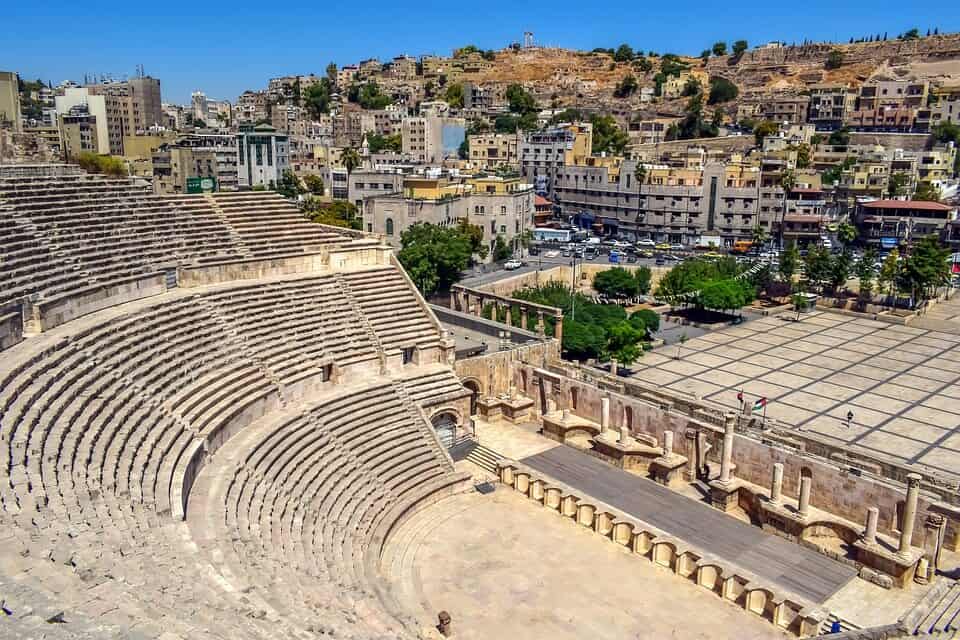 If you thought nothing else could surprise you about the interesting Jordan facts, here's one! There is a 2nd-century Roman theatre in Amman that could seat 6000 people, and it's right next close to the city.
Jordanians Do Not Praise Children To Excess
Jordanians will not praise their children to excess as they believe the practice invites bad luck and therefore this is generally avoided.
The Capital Of Amman Has No East Side Or West Side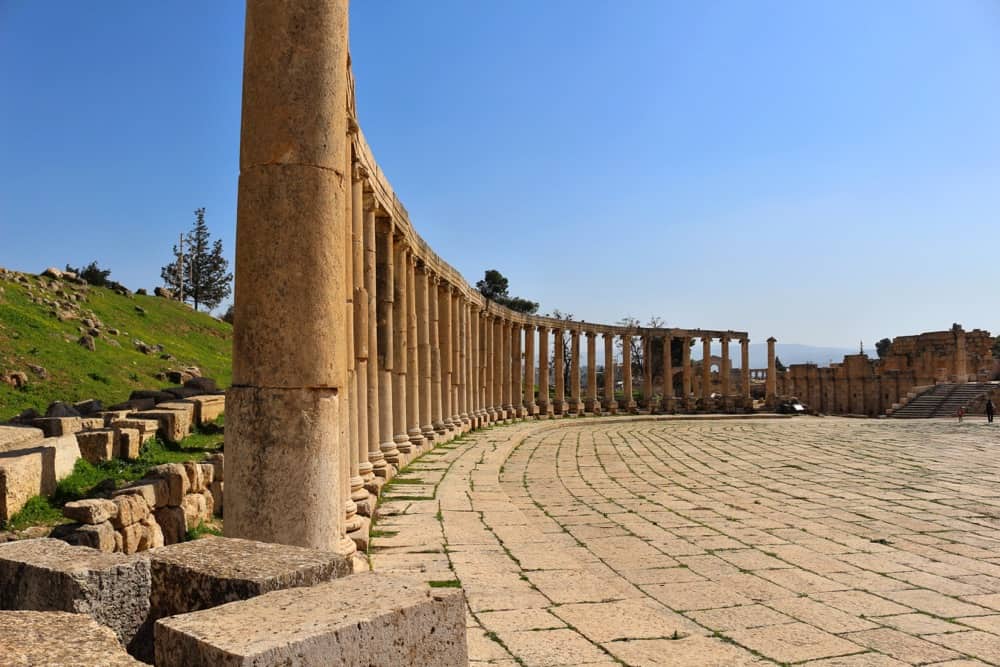 The Jordanian capital of Amman is unusual with respect to its construction. That is because the city was originally built across seven hills known as jabals. Does this remind you of Rome?
Through growth over time, the city now covers 19 jabals. As a result, the city has no east side or west side. Instead, directions are given based on jabals.
Petra Was Carved Millenia Ago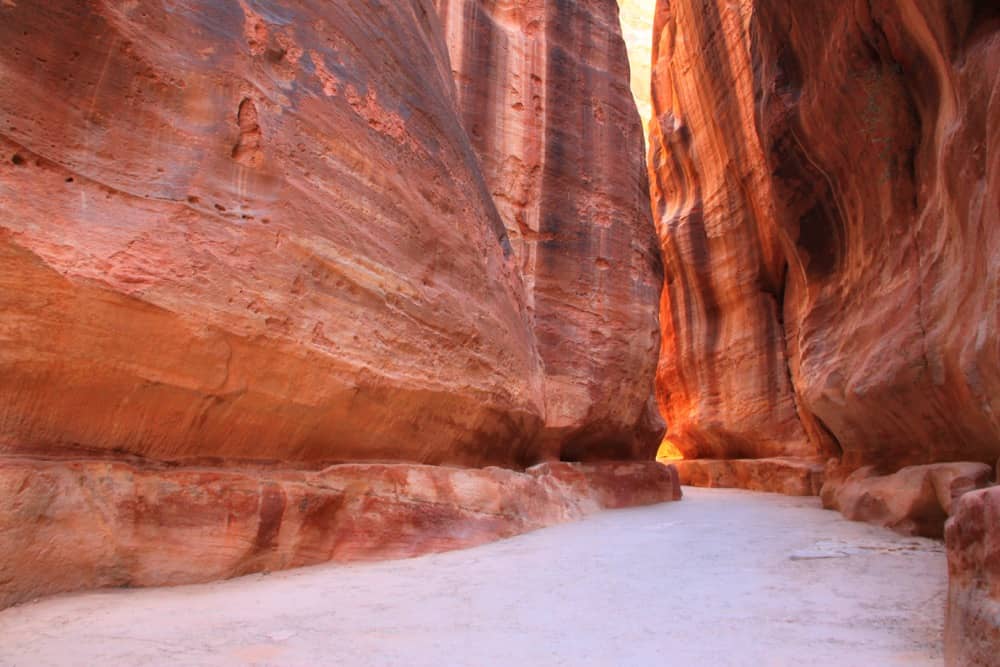 Naturally, you cannot mention Jordan without referring to Petra too. One of the New Seven Wonders of the World, the ancient archaeological site of Petra was carved into the rock about two millennia ago; but it was not well-known until the 1800s.
You enter the city of Petra through a narrow gorge that is 1.25 km or less than a mile in width and get to see over 800 ancient tombs.
Also known as the Rose City, Petra is home to such landmarks as the aforementioned Al-Khazneh and Ed-Deir monuments, that you'll find liberally splashed across the various tourism posters of Jordan and the Middle East.
However, if you want to obtain a different view of the Nabataean ancient capital, take the main trail at the site and hike one of the Bedouin back roads. That way you can contemplate some of the beautiful Jordan scenery.
You Can Refuse A Meal Up To Three Times Before You Accept
Etiquette in Jordan allows anyone who is offered a meal to refuse three times before finally accepting the invitation. If you want to decline, you have to do it in a way that will not offend your host.
The Kanefeh In Jordan Is To Die For!
Made with a thin noodle-like pastry or semolina dough, the Kanafeh is a traditional Middle Eastern dessert that is filled with cream or cheese and covered with nuts.
Jordan Is Home To Many Ancient Olive Trees
Jordan is home to some of the most ancient olive trees on the planet. Wadi Rum especially has been planted with olive trees since 5400 BC.
Jordan has over 12 million olive trees that produce both olive oil and olives.
Jordan Used To Be A Part Of The Fertile Crescent
Jordan as a country was part of the Fertile Crescent, which is a crescent-formed area that was comprised of fertile land in an otherwise arid area where agriculture started in 8500 BC.
Often called the 'cradle of civilization' this fertile crescent is where farming first emerged. The crescent is famous as being the first place where pig and sheep farming first started between 11000 to 9000 BC, and domesticated plants started around 9500 BC.
The other countries in the fertile crescent are Israel, Palestine, Egypt, Syria, Lebanon, Turkey, Iran, Cyprus, and Iraq.
The Most Important Example Of Islamic Art And Architecture Is In Jordan
The Qasr Amra that was built in the 8th century by Caliph Walid II is a famous example of early Islamic architecture and art.
Jordan's National Flower Is Found All Over The Country In Spring
The beautiful Black Iris is the national flower of Jordan. It blooms in spring and can be found all over the country, especially in the Northern Karak regions.
There Are A Lot Of Cultural Rules To Observe!
Since Jordan is an Islamic country, many traditions that need to be observed are Muslim. Of course, you don't have to observe them, but it's always good to do so out of respect for your hosts' culture.
Women must cover their heads and hair in public.
They should also cover the nape of their necks as they are considered erotic or provocative.
It's considered rude if you eat or drink with your left hand.
Eat slowly, because if you stop eating, your host will have to stop too.
If your plate is empty, the host will have to add more food to it. Leave some food back in your plate. This shows the host that you are full.
Pointing with your index finger is taboo. Use two fingers instead.
Shake the hand holding your coffee cup from side to side if you don't want it refilled. If you hand it back straight, it's bound to be refilled.
If you're staying with or visiting someone, avoid expressing admiration for any items from their house too much. Your host will feel obligated to give them to you as a gift.
Aqaba Is The Only Port City In Jordan
There's only one port city in Jordan, and that's Aqaba! It's from here you can catch the ferry to Sharm-al-shaikh in Egypt or Eilat in Israel.
Other Incredible Facts About Jordan
Mansaf is the national dish in Jordan. It's made of lamb cooked in a fermented yogurt sauce and served with bulgur or rice.
You'll down your fair share of falafel, baklava, and halva in Jordan. The food is delicious!
The Jordanian Dinar is worth USD 1.4
Wadi Mujib is perfect for thrillseekers who love canyoning, climbing, and swimming.
Jordan produces a small amount of natural gas.
Jordan is derived from the Hebrew word 'Yarden' which means to 'flow down'.
Over 40% of Jordan's population lives in Amman.
The national animal is the Arabian Oryx and the national bird is the Sinai rosefinch.
Wadi Rum or Valley of the Moon is the largest Jordanian valley, and home to some ancient riverbeds and amazing rock formations.
Jabal Umm al Dami in Wadi Rum is the highest point in Jordan, with an elevation of 1854 meters.
You can hike up to the 15th-century mountaintop village of Dana!
Pin For Later:
Did you know these amazing facts about Jordan? Are there other interesting facts that we should add to this list? Comment below and let us know!