How To Get From Prague To Karlovy Vary? + Top Things To Do In Karlovy Vary.
When you think of Karlovy Vary, what's the first thing that comes to your mind? To be honest, before we'd visited this town, we didn't know much about it. The only information we had is that it's located in Czech Republic. When we started planning our road trip through Western Europe, we decided to visit this spa town. It was the best thing we could possibly do! Carlsbad is a lovely place, full of beautiful monuments, hiking trails, healing thermal waters, and pretty awesome restaurants. In this guide, we will give you the top things to do in Karlovy Vary. You will also find out how to get from Prague to Karlovy Vary (it's a great destination for a day trip from the capital of Czechia).
How To Get To Karlovy Vary From Prague?
Current time in Czechia:
If you wonder how to get to Karlovy Vary from Prague, your options are listed below. The most convenient option is booking Karlovy Vary day trip from Prague. It's pretty cheap and you don't have to worry about organizing everything by yourself.
Anyway, if you prefer to DIY, here is how you can do it:
Prague to Karlovy Vary By Car.
It is the fastest and most convenient way to travel. Unfortunately, Karlovy Vary parking fees are ridiculously expensive. You will pay 175 CZK ($7) for 24 hours, which is high for the small town like Karlovy Vary.
Prague Karlovy Vary Bus.
This is the cheapest option. You can take a direct bus from Prague to Karlovy Vary. You will pay 160 CZK ($6,5) and be there in 2,5h.
Prague to Karlovy Vary Train.
There is a direct train from Prague to Karlovy Vary. The journey is long (more than 3,5h) and expensive 322CZK ($13,50).
The distance from Prague to Karlovy Vary is short (130 kilometers / 80 miles), that's why there are no direct flights between these two places.
Karlovy Vary Airport is quite small, however international. It is possible to fly there from some places in the world (e.g. Moscow).
Top Things To Do Karlovy Vary
Book your Karlovy Vary day trip from Prague here.
Jan Becher Museum
When speaking of Karlovy Vary things to do, the first thing to mention is Jan Becher Museum. Becherovka is world's famous alcohol with specific herbal taste. Only a few know that it comes from Karlovy Vary and was invented by Jan Becher.
His museum is located in the town at Masaryka street. You can learn there a lot about the history of this liquor and even try it at the end!
We really loved the famous beton drink (Becherovka + tonic).
The museum is open daily from 9 am till 6 pm.
The admission is 120 CZK ($5), including liquor tasting.
Hot Spring Colonnade
The main reason people travel to Karlovy Vary is to drink the healing thermal waters. There are many springs in the heart of the town. What's awesome, the water is for free. All you need to buy a mug or bring it from home.
The water is hot, so it is not recommended to pour it to the plastic bottle. Heated plastic releases toxic substances that may be harmful to your health.
An interesting fact is that the spring water is only healing when you drink it (not swim in it).
There are not many pools with hot water in the town.
Grandhotel Pupp
It's the most famous and one of the oldest hotels in Carlsbad. It hosts Karlovy Vary Film Festival festival every year.
If you are looking for Karlovy Vary James Bond spots, that should be your place to go!Grandhotel Pupp appears in one of the best James Bond movies: Casino Royale (as Hotel Splendide in Montenegro).
Diana Lookout Tower & Friendship Hill
If you wonder what to do in Karlovy Vary, you should definitely think about going to Diana Lookout Tower! In order to get there, you need to take a cable car, which is located right next to the Grandhotel Pupp.
The admission is 80 CZK ($3.30) both ways. The tower is located on the top of the hill. You can either climb up 150 steps or take a free elevator.
The views from Diana Lookout Tower are absolutely breathtaking! There are two restaurants next to it, where you can have a lunch or drink a beer.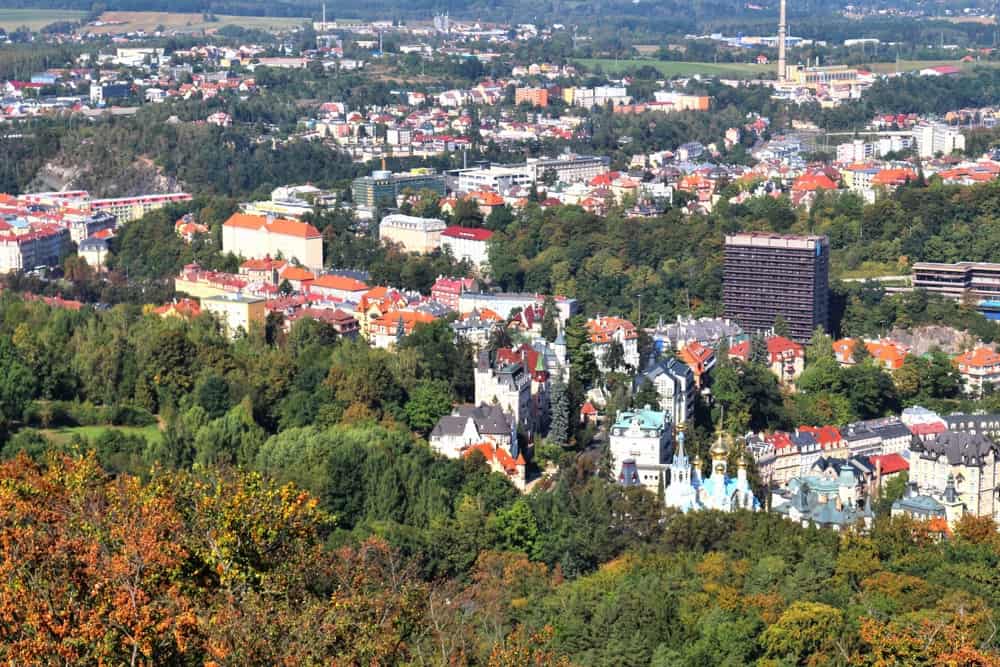 Alzbetiny Lazne
It is the oldest Karlovy Vary spa. It's situated in a beautiful building from the beginning of the 20th century.
The spa is still working, so you can go there to have a treatment. The other names from Alzbetiny Lazne are Elisabeth Baths and Spa 5.
Mill Colonnade
This beautiful neo-renaissance structure is one of the top Karlovy Vary attractions. It contains 5 thermal springs (Mill Spring, Rock Spring, Nymph Spring, Lybuse Spring and the strongest Prince Vaclav Spring)
If you wonder what to see in Karlovy Vary, you should definitely go to Mill Colonnade!
Stara & Nova Louka
These two main roads located on the both sides of the river, cannot be missed by any tourist visiting Karlovy Vary! They are more than beautiful.
Most places mentioned in this guide are located at the Stara or Nova Louka.
Church of St. Mary Magdalene
Baroque is our favourite architectural style, that is why we loved St Mary Magdalene church! It is huge and monumental. According to the Karlovy Vary travel guide that we found in the Internet, it is one of the most beautiful baroque monuments in Czech Republic.
It is worth to go inside the church the see the crypt.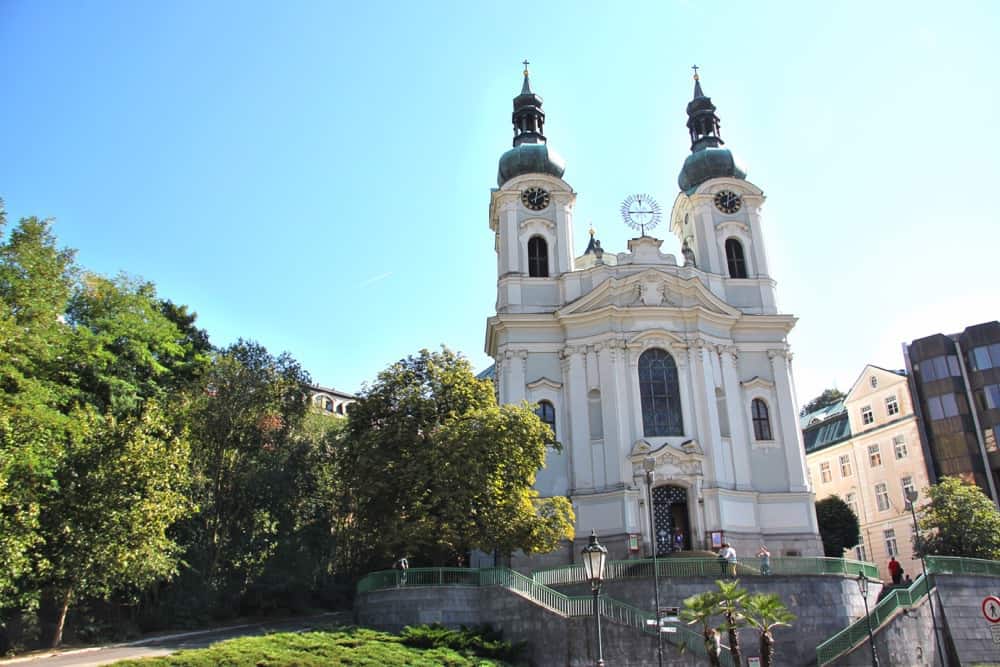 Park Colonnade
If you are looking for the best place to relax in Karlovy Vary, you should go to Park Colonnade. It is a lovely and peaceful place. In the summer, you can sit in the grass and drink a beer to cool off (drinking in public is not forbidden in the Czech Republic!).
Masaryka Street
If you are interested in Karlovy Vary shopping, Masaryka street should be your place to go.
It is the longest and the most famous street in Karlovy Vary, full of shops, banks and restaurant. There is even a cinema (Kino Cas) there!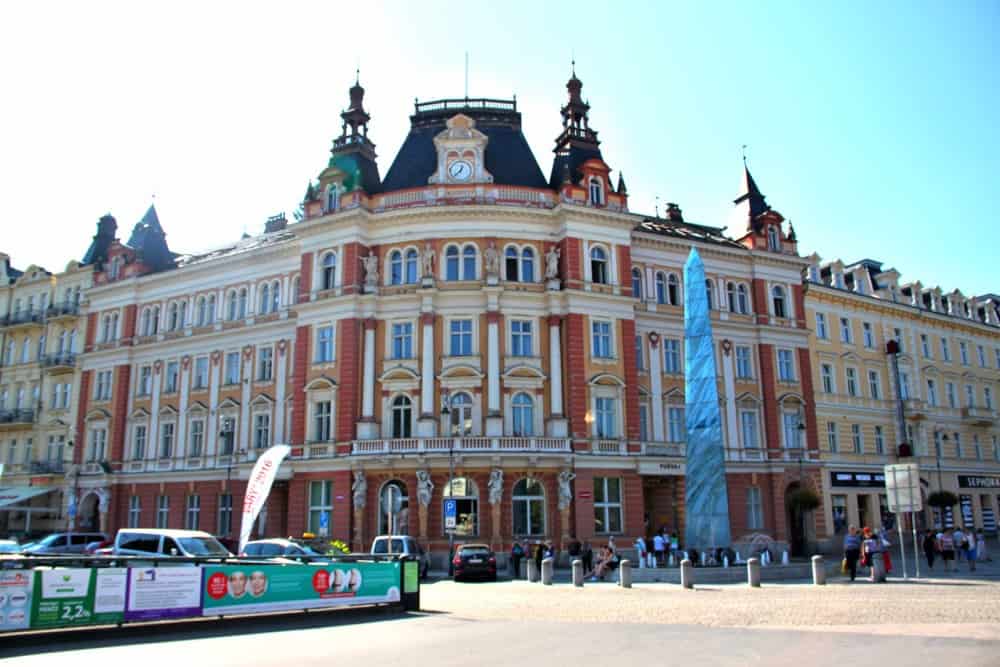 What To Eat In Karlovy Vary?
There are many restaurants in Karlovy Vary that serve delicious food. What we'd like to recommend you is to try:
Traditional Karlovarske Oplatky
Thin, crispy, warm waffles with sweet filling inside. They are very cheap- you will pay 10CZK (40 cents) for one. Our favorite is cinnamon oplatek!
There are many Karlovarske Oplatky stores in the town. Here you can see the full list with addresses.
Babiccino's desserts
Táboritská 3/913, Karlovy Vary
Karlovarske Trdlo Babiccino is the best cafe in Carlsbad. They are famous from the warm, sweet, baked rolled dough (trdlo). They serve it with whipped cream, ice cream, strawberries, pistachio or chocolate. Yummy!
Where to stay?
We were staying in 3 star Hotel Derby, located in the halfway between new and old part of the town. Here you can read the full review of the hotel.
If you prefer more luxurious places, you should definitely choose world's famous Grandhotel Pupp which we are writing about in this post.
For the full list of best places to stay in Carlsbad click here.
If you like staying in apartments and feel like home, check out AirBnb.
Already in love with this lovely Czech spa town? Book Karlovy Vary tour from Prague here.
Pin For Later: