Kek Lok Si Temple – the best temple in South East Asia!
Kek Lok Si Temple is the most beautiful temple we saw in South East Asia.
It's absolutely breathtaking!
The temple is situated on the hill. To get there, you have to reach hundreds of steps. But it's not difficult, you can do it even if you are not very fit.
What to do there?
Kek Lok Si is huge, so you will be there for at least an hour, walking around and taking awesome pictures.
In order to get to the very top, you may buy a ticket for the fast train.
How to get there?
The cheapest way is to take the bus #204 from Komtar. Ticket price won't cost more than 4MYR ($1).
Here you can find Penang's Rapid Bus schedule.
You can also go there by taxi that can go to the very top of the hill.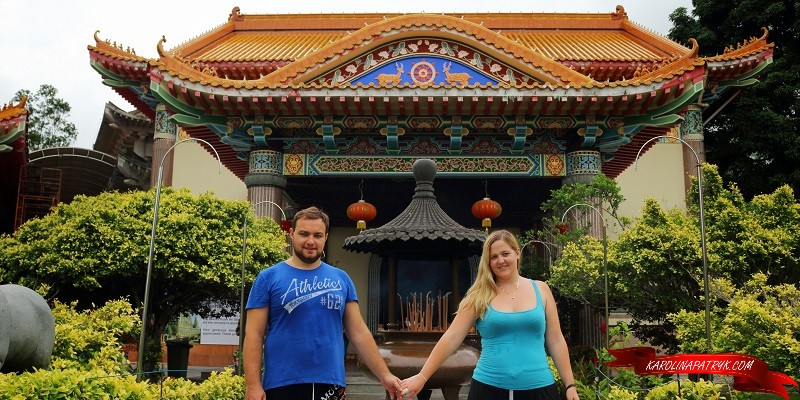 Tips
1. After visiting Kek Lok Si, go to Penang Hill.
These two tourist attractions are very close to each other (about 2km).
You can get there by the same bus #204.
Penang Hill is the last stop and Kek Lok Si is the one before it.
2. Take your time.
There's something special in Kek Lok Si Temple.
We didn't want to leave this place, we wanted to stay there for ever. The atmosphere on the top of the hill is amazing, so take your time and enjoy it.

3. Don't worry about the weather.
It was rainy and foggy when we were visiting Kek Lok Si.
But we didn't mind. Mountains and temple in the clouds and fog make this place even more romantic and mysterious.

4. Buy food for the turtles.
In the middle way to Kek Lok Si, you will see Turtle Temple. For only 1 MYR you can buy food for them.
It's lots of fun to feed them :).

Disclosure: Yay for transparency! Some of the links in the article are affiliate, which means that if you book something by clicking on them, we will get a small commission with no extra cost to you. Your support helps this blog going.