[Total: 7 Average: 4.6/5]
Ljubljana Ultimate Guide – top 10 things to see in Ljubljana
The capital of Slovenia has so much to offer that we are not sure where to start. Maybe with telling you the it has the most unique Old Town that we have seen in Europe (with Tallinn as a runner-up)? Or maybe that it is so small that you can easily see all the important tourist attractions in few hours? One way or another, it is a place worth visiting! We've created this Ljubljana Ultimate Guide to help you planning your trip.
We don't know anyone who won't be charmed by this city. Ljubljana is like a perfect combination of Slovenia, Croatia & Italy, with the bridges and canals like those in Venice. There is something magical about this place. We could spent hours walking around the Old Town, eating gelato and simply relaxing.
Did you know that Ljubljana is called The Green Capital of Europe? No wonder why- it is one of the most peaceful cities we have ever been to.
Top 10 things to see in Ljubljana:
Ljubljana Ultimate Guide #1
Ljubljana Castle
The castle is definitely the best place to visit in Ljubljana. It is visible from any places in the city. The good news even though it is located on the hill, everyone can go there!
There's a funicular railway that will get you directly to the top of it. The return ticket costs 4 euro.
You can also take a short hike up the hill. The way is beautiful! You will walk surrounded by the unspoilt Slovenian nature.
The castle itself is nice but we not spectacular. What we liked the most is the view from the hill! If the weather is good, you can see the amazing Julian Alps that are located over 100 kilometres away. How awesome is that?
Ljubljana Ultimate Guide #2
Metelkova street
Even though we have visited over 15 European capitals, we have never seen anything like Metelkova street.
It is called the City in The City, the independent area that doesn't belong to anyone. It is full of street arts, graffitis, weird sculpts and people of all the subcultures.
The rule of Metelkova is simple:
You can be whoever you want, dress and look the way you want to, and we still won't judge you.
So it may be quite shocking to visit this place for the first time: you will see people riding the weird, double bicycle, having green hair, wearing clothes that you won't find in any stores. You will see shoes hanging on the wires and hear 8 different kind of musics, including Jazz, Psychobilly, Rock, Punk rock, Heavy metal Techno and more. (It is NOT loud at Metelkova! The music is played inside the buildings)
Metelkova has very interesting history- in the past this place belonged to the Yugoslavian army. When this big country divided into smaller areas, the government of newly formed Slovenia didn't know what to do with this place.
People started squatting there. They also organised nice events and Metelkova slowly became the cultural centre of Ljubljana. The government tried to do something with this but after protests of Slovenian people, it gave up.
In the heart of Metelkova, there is one of the coolest hostel in the world- Celica. We've been lucky enough to stayed there. Keep on reading to find out what it's like to live behind the bars!
IMPORTANT INFORMATION:
Even though Metelkova is considered as an independent area, it is NOT TRUE that everything is allowed there. It is not a good idea to do drugs, smoke weed or break any other laws at Metelkova.
We saw many undercover policemen who were walking around this street, especially at night. They stopped us once to check our IDs. If you don't want to get in troubles while traveling abroad, think twice before doing anything illegal.
It is TRUE though that it is a very safe place. We've been staying at Metelkova for almost a week and we haven't seen any fights or crimes. Even when we were walking there after the midnight, we felt very safe.
Ljubljana Ultimate Guide #3
Triple Bridge
Every tourist visiting Ljubljana will see the Triple Bridge. They connect the Old Town with the new part of the city and are located close to the Prešeren Square.
Three Bridges are the landmark of Ljubljana. In 2012, they were even an official logo of Google, in 140th birthday anniversary of its architect, Jože Plečnik.
Ljubljana Ultimate Guide #4
Cathedral of St. Nicholas
Ljubljana Cathedral is the most important church in the city. It was built in 18th century and has the beautiful doors made of bronze.
Even though Cathedral of St. Nicholas looks amazing from the outside, we enjoyed its interiors even more. The baroque decorations are breathtaking and mysterious. There are no tickets to the church, the admission is free of charge.
Ljubljana Ultimate Guide #5
Prešeren Square & Franciscan church
Prešeren Square is our favourite spot at the Old Town of Ljubljana. Its name originates from the statue of France Prešeren (Slovene poet) that is standing in the centre of the square.
The tall, reddish Franciscan Church of the Annunciation is another landmark of this place. In our subjective opinion, it is the most beautiful sacral building in Ljubljana. This baroque church stole our hearts and we kept coming back there almost everyday throughout our stay.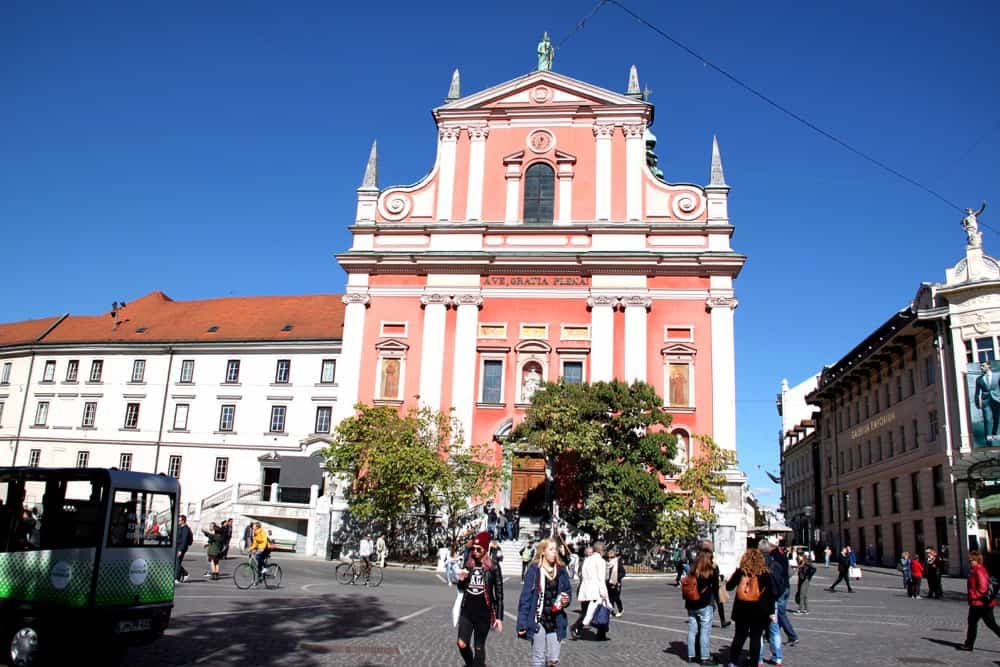 Ljubljana Ultimate Guide #6
Zoo
Zoo in Ljubljana is a hideaway gateway from the city. Even though it is not big, we really liked it. Visiting places where animals are kept in the cages is always controversial… All we can say is that animals at Ljubljana's zoo have great conditions of living and they are taken good care of.
Ljubljana Ultimate Guide #7
Museum of Illusion
Visiting Museum of Illusion is a perfect alternative for those of you who are not interested in the history. If walking around the Old Town is too boring to you then you will enjoy this place.
We have mixed feeling about the Museum of Illusion. We had fun there but on the other hand we were quite disappointed. The admission (8 euro) is quite high comparing to other places like this. We thought we would spend there at least few hours. It turned out that the museum is very small and we saw everything in 50 minutes or so.
Maybe we are just spoiled by different countries. In Thailand we have visited a similar place, Art in Paradise. It was huge and the exhibitions were more interesting.
To sum up- Museum of Illusion may not be the world class but it is definitely nice enough for the small country of Slovenia.
Ljubljana Ultimate Guide #8
Mestni Trg & Town Hall
Town Square (Mestni Trg) is one of the oldest places in Ljubljana. It was the centre of the town in the Middle Ages. The original buildings that were standing there we destroyed by the Earthquake in 16th century.
They were replaced by the new ones later on. The most famous of them all, Town Hall, was renovated in 18th. It is a beautiful example of baroque architectural style.
The thing we liked the most at Mestni Trg is the Robba Fountain. Three men with jugs symbolise the main rivers of Slovenia: Ljubljanica, Krka and Sava.
TIP: There is a Telemach store located in front of the Town Hall. 
You can buy there Slovenian SIM card to have an unlimited access
to the Internet in your phone!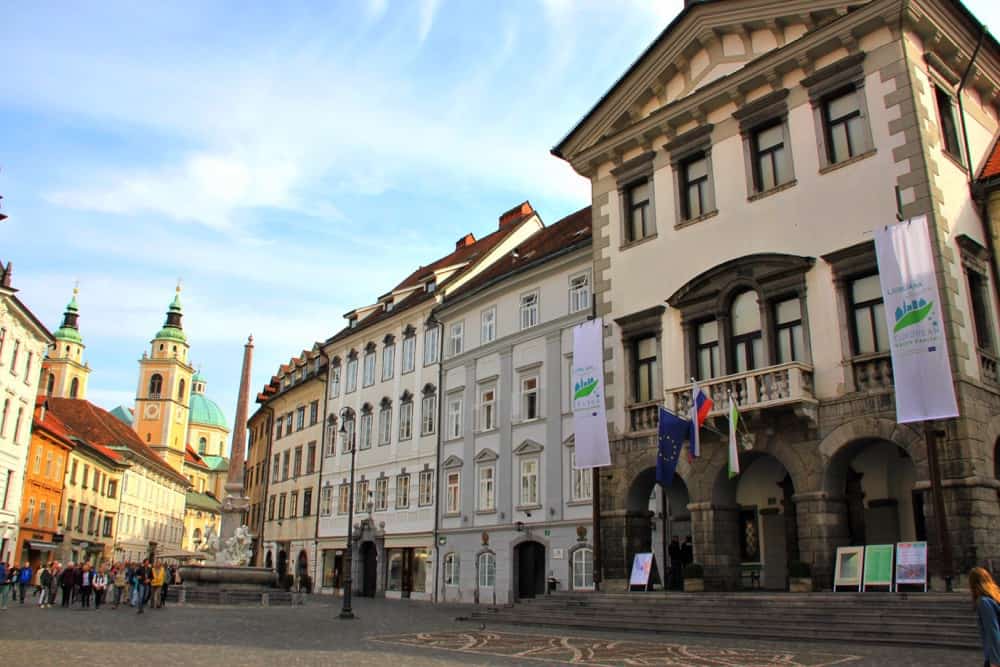 Ljubljana Ultimate Guide #9
Cankarjevo Nabrezje
Along the Ljubljanica river, there are many restaurants and cafes. This place is always full of people. Some of them are sitting at the canals, some at the beer gardens.
This area called Cankarjevo Nabrezje is the best spot to eat in Ljubljana. Even if you are not hungry, it is worth to go there and take a relaxing walk along the river.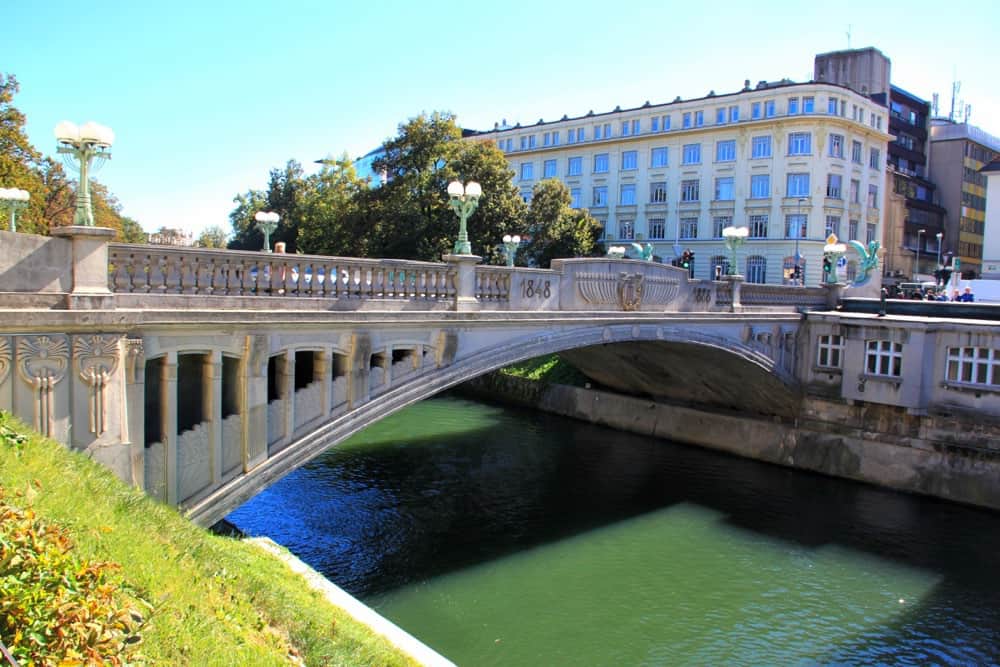 Ljubljana Ultimate Guide #10
Slovenska Filharmonija & Kongresni trg
Kongresni trg (Congress Square) is one of the most peaceful areas of Ljubljana's Old Town. There are two main reasons why it is worth to go there. The first is to see the beautiful building of Slovenian Philharmonic Orchestra.
The second is to take some awesome photos of the castle. We love photography and it was one of the most interesting spots that we have found in the Old Town of Ljubljana!
Where to stay?
For trendsetters & budget travellers:
Hostel Celica is the most interesting place that we have ever stayed in. It has awesome location: in the former prison at Metelkova street (city inside the city, we are writing about it above).
The rooms are actually the cells, so you can truly experience how it is to live behind the bars. You don't have to be afraid though- you can unlock it whenever you want.
Every room has a separate doors, so you don't need to worry about the privacy. Celica is called the 5 star hostel because it literally has all the facilities you need: free and fast WiFi, clean shared bathroom, good breakfast, perfect location and awesome staff.
Check out the latest hotel prices for Hostel Celica—> click here.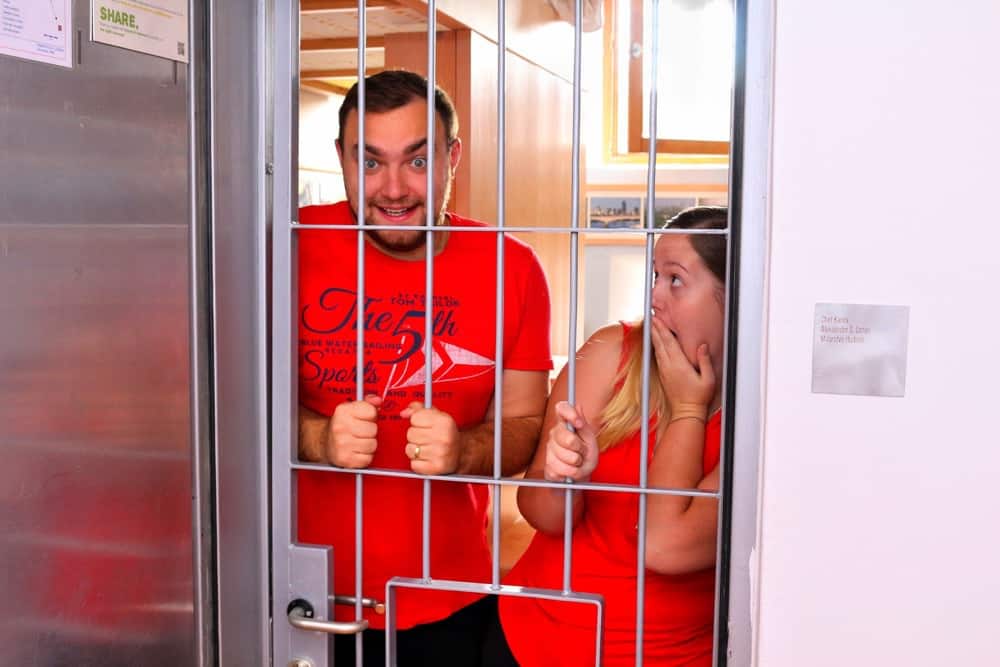 For everyone:
This is a perfect place to stay for everyone. The rooms at Meksiko are stylish and have beautiful design. Hotel is situated 10 minutes walking from the Old Town.
There are many restaurants and shops around Meksiko, so the location is just perfect. The breakfast is delicious, you can see it on the video below.
What we loved the most about Meksiko is that it has all the facilities that we needed. The WiFi was fast and stable, so we could work online and talk with our family on Skype without loosing signal. The room was really cozy and the bed was super comfy.
We love hotels like this! Our stay was flawless.
Check out the latest hotel prices for Hotel Meksiko—> click here.
For luxury travellers:
Grand Union is one of the most famous hotels in Slovenia. It is 111 years old and has the best location in Ljubljana: in the heart of Old Town, right behind the Franciscan church and Prešeren Square.
Even though it is a four star hotel, we think it deserves 5 stars. Why?
First of all- because of the location. Secondly, because of the amazing interiors. Last but not least… the breakfast! It was honestly the best that we had during our 3 weeks stay in Slovenia. Gluten-free bread, milk without lactose, fresh vegetable & fruit smoothies will satisfy even the most demanding tourists.
The hotel is one of the biggest in Ljubljana but it won't take away your privacy. Even though is is located in the heart of Old Town, it is very quiet in the room at night.
The WiFi at Grand Union is really fast, there is a parking, swimming pool and wellness area available for the guests. We absolutely loved this hotel!
Check out the latest hotel prices for Grand Hotel Union—> click here.
Disclosure: We want to thank Hostel Celica, Hotel Meksiko and Grand Hotel Union for complimentary stay. All opinions presented in this post are honest and our own.
Did you enjoy reading out Ljubljana Ultimate Guide? Remember, sharing is caring! Share your thoughts in comments.
Disclosure: Please note that some of the links on this website are affiliate links, and at no additional cost to you, We earn a commission if you make a purchase.