Hawaii Romantic Guide – Things to Do in Hawaii For Couples
Hawai'i is literally a paradise right in the middle of the South Pacific. With it's wide swathes of pristine beaches, crystal-clear waters, and luscious green jungles, it's no surprise that the Hawaiian islands attract visitors from all over the world seeking to soak up sunshine, explore the mountains, and surf some waves. Of the eight islands, beautiful Oahu and romantic Maui are among the most popular. At the present time, Oahu is the most populated island. Here you can find Pearl Harbor, the famous North Shore, and sites like the Dole Plantation. Maui is slightly larger but much less populated. It is a favorite of holiday-goers from both the other Hawaiian islands and people abroad. Maui excursions include a Maui volcano tour, Maui to Pearl Harbor tours, and the lovely Road to Hana stretch, among others. Here, we will tell you all about those fun activities (and others!), the best hotels in Oahu and best hotels in Maui for couples, and advice on the can't-miss places to visit on the islands.
Oahu
Oahu is the third-largest and most populated island of Hawaii (after Maui and the Big Island). With popular areas like Waikiki, North Shore, and Honolulu, there's no end of things to do here. We'll tell you all about fun and interesting things to do with your sweetheart, such as visiting places like Pearl Harbor and the Dole Plantation, catching waves at the best beaches on the island, and indulging in the most delicious, authentic local cuisine.
What to do
There are countless amazing things to do and see on Oahu. For a dose of island culture, visit the Polynesian Cultural Center, a wonderful experience of Polynesian cultures from all over the world. Pay a visit to the Dole Plantation, a historic pineapple plantation. Take the train tour and indulge in a sweet Dole Whip, the attraction's signature pineapple-topped ice cream treat. And you certainly can't miss taking a tour of Pearl Harbor, the site where the Japanese bombed the island during World War II. The USS Arizona Memorial and the Battleship Memorial are here, as well. It's a sobering experience but certainly worth it. Perhaps the best Pearl Harbor tour is the 'Pearl Harbor Tour from Honolulu', a five-hour excursion with pick-up and drop-off, a guided tour, and a trip through Honolulu.
To experience the beauty of the island, go on as many hikes around the island as you can. Some of the most popular and fun are the Diamond Head hike, the Manoa Falls hike, and Koko Head. Snorkeling and scuba diving in Hanauma Bay, with its crystal clear waters and range of sea life, is an unforgettable experience, as well. Take a cruise around the island and visit the North Shore, an authentic and relatively untouched area famous for surfing. Grab some delicious local food from the shrimp trucks, stroll through the sweet historic Haleiwa town, and soak up some sun or catch some waves at the famous Sunset Beach. Other lovely beaches around the island include Lanikai Beach, Magic Island Lagoon, and Depot Beach Park (it's much prettier than it's name, believe us). And don't miss trying amazing local food around the island, such as kalua pig, poke, shave ice, saimin, luau stew, manapua, and poi donuts – to name just a few!
Where to stay
There are multiple distinct areas on the island.
Waikiki is the most popular area among tourists. Most of the big name resorts/hotels are in this area of Honolulu. If you're looking for good nightlife, plenty of shopping options, and access to certain private hotel beaches, consider staying here. Some of the most romantic and luxurious resorts include the Hilton Hawaii Village Waikiki Beach Resort and The Royal Hawaiian.
Check out latest prices for—-> Hilton Hawaii Village Waikiki Beach Resort.
Check out latest prices for—-> The Royal Hawaiian.
Off the beaten path
If you're looking to catch some waves, mingle with locals, and escape the crowds, stay in the North Shore area of Oahu. A favorite of tourists and locals alike, this area is quite peaceful and closer to the true nature of the island. Romantic places for couples to stay here include the famed luxurious Turtle Bay Resort (pictured above) and the Courtyard by Marriott.
Check out latest prices for—-> Turtle Bay Resort.
Check out latest prices for—-> Courtyard by Marriott Oahu North Shore.
Another lovely area on the island is Diamond Head. It's close to Waikiki but far enough away that you won't feel the crowds. If you want peace and enjoy outdoor activities, such as hiking, this is the place for you. Popular romantic hotels here include the New Otani Kaimana Beach Hotel and Lotus Honolulu.
Check out latest prices for—-> New Otani Kaimana Beach Hotel.
Check out latest prices for—-> Lotus Honolulu at Diamond Head.
Maui
A bit larger than Oahu, Maui is much less crowded than its smaller sibling. You could even call vast swathes of it untouched, still as natural and beautiful as ever. Although its less crowded, there are no less things to do here. We'll cover the best, can't-miss things to do on the island with your partner, such as a sunrise Maui Haleakala tour, the most beautiful, uncrowded beaches to visit, and the best place to stay in Maui for couples.
What to do
Although much of Maui is less 'touristic' than neighboring Oahu, you won't run out of things to experience here. You can visit Pearl Harbor from Maui and make a day trip to Oahu out of it, as there are quite a few Pearl Harbor tours from Maui. You can book some great Maui Pearl Harbor tours through local companies. There are different packages, self-guided, tour guided, Pearl Harbor + a circle around Oahu, and more. Aside from that, there are plenty of fun and romantic Maui adventures to indulge in during your stay. Popular Maui excursions include the Road to Hana, Haleakala tours, Molokini, which is a beautiful partially-submerged volcano and snorkeling site.
The Road to Hana is one of the ultimate driving experiences in Hawaii, stretching for ~68 miles of lush rainforest, hidden waterfalls, and breathtaking ocean views. Local company Valley Isle Excursions has a great Road to Hana tour that takes you to all the best spots and eateries along the Road. Haleakala National Park is another can't-miss experience on Maui. Home to dormant volcano Haleakala, the park covers 30,000 acres of untouched Hawaiian nature, with plenty of hikes, waterfalls, deserts, and more. The ultimate experience here is a Haleakala Maui sunrise tour. There's nothing more romantic than watching the sun slowly light up the park in the wee hours of the morning. You can find Haleakala tours Maui and Maui sunrise tours through Valley Isle Excursions, as well. Other amazing things to do on the island include hiking through the West Maui mountains, relaxing at Kaanapali Beach, and visiting the Seven Sacred Pools at Ohe'o.
Where to stay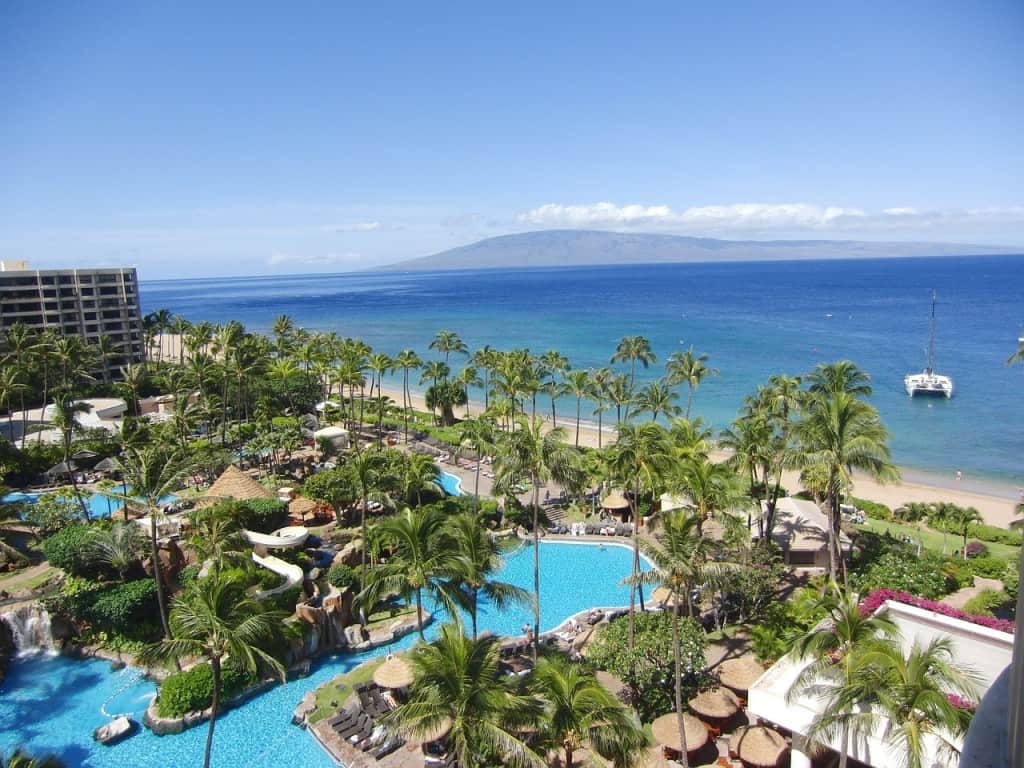 There's no shortage of beautiful, romantic places to stay on Maui. Just as with Oahu, there are different areas of the island that will sit different people.
West Maui is the most popular area among tourists. It's quite touristic and contains Lahania Town. It is over 1,000 years old and one of the old capital's of the Kingdom of Hawaii. The best hotels in Maui for couples are located here. Some of them are Royal Lahaina Resort and Honua Kai Resort and Spa.
Check out latest prices for—-> Royal Lahaina Resort.
Check out latest prices for—-> Honua Kai Resort and Spa.
Off the beaten path
If you prefer a more authentic experience and some quality time with your sweetheart, away from the crowds of tourists, stay in South Maui in the first place. The beaches are amazingly pristine, nature abounds, and the vibe is very relaxed. Life moves slowly here. The best place to stay in Maui for couples here is Wailea Beach Villas Luxury Hotel as well as Hotel Wailea Relais & Chateaux.
Check out latest prices for—-> Wailea Beach Villas Luxury Hotel.
Check out latest prices for—-> Hotel Wailea Relais & Chateaux.
If you want to dive deep into Maui's beautiful nature and completely escape the touristic crowds, consider staying in the North Shore area of the island. First of all, it's quite remote, secondly, it's very authentic, and as yet unaffected by major tourism. It's perfect for those looking to experience the true Hawaii. One of the best hotels in Maui for couples here is Lumeria Maui, a small, romantic boutique hotel.
Check out latest prices for—-> Lumeria Maui.
We hope you enjoyed our romantic couple's guide to Oahu and Maui! Feel free to leave any comments or questions in the comment section below. If you're still on the hunt for the perfect romantic getaway for you and your sweetheart, take a look at our destination guides for places like London, Warsaw, Portugal, New Zealand, Italy, Barcelona, and Turkey.
To try snacks from all of these countries and more, delivered directly to your door—-> click here.
Disclosure: Yay for transparency! Some of the links in the article are affiliate, which means that if you book something by clicking on them, we will get a small commission with no extra cost to you. Your support helps this blog going.