Ultimate Guide To Lake Morskie Oko In Poland
Morskie Oko lake (also known as The Sea Eye) has been recognized as one of the most beautiful lakes in the world by The Wall Street Journal. No wonder why- surrounded by the high mountains, with crystal clear water, it truly is a natural wonder. In this post, you will find all the useful information for visiting Lake Oko including tips on how to get to Morskie Oko from Zakopane, traveling time, and tips for getting the most of your trip all year round.
General Information About Morskie Oko Lake
Located 1,395 m (4,577 ft) above the sea level, Morskie Oko Poland really is breathtaking! It is the biggest lake in the Tatra Mountains (a mountain range that forms a natural border between Poland and Slovakia).
What's The Best Time To Visit Morskie Oko Lake?
You can visit it all year long, but it looks the best in the summer when the sun is shining. When it's cold outside, the visibility may be poor, and the lake may be covered with the mist.
The difference is huge. Just take a look at these two photos. The misty one was taken at the beginning of October. Always check the live camera on this website before visiting the lake to make sure you will be able to see it at all.
The lake is frozen from November to May. It's the only reservoir in the Polish Tatra Mountains where you can see fish (trouts), that's why the lake is also called Rybi Staw (Fish Pond). It's forbidden to feed the trouts and swim in the lake.
The famous lake may not be your only destination to reach when you are on Morskie Oko trail. For some, it's just the first stop of the hike. They are going next to Czarny Staw, Dolina Pieciu Stawow, Wodogrzmoty Mickiewicza, and even Rysy (the highest peak in Poland).
The average time of hike from Morskie Oko to:
Rysy – 4 hours 15 minutes
Czarny Staw – 1 hour
Dolina Pieciu Stawow – 1h 45 minutes
Morskie Oko Hostel
There is a hostel right next to the lake which is a great gateway if you want to reach Rysy or simply see the lake at night. However, it's almost always fully booked and you usually need to reserve your room one year (!) in advance. The booking can only be made by phone. More info here.
Morskie Oko Restaurant
It's hard to stay at the mountain hut for a night but you can always have a warm meal there. The food is basic but tasty, fresh, and cheap. See the full menu at Morskie Oko restaurant here.
How To Get To Morskie Oko From Zakopane?
Getting to the lake can be pretty confusing, as you can't really walk there from Zakopane. Here are the ways to get to the lake:
By Car
It's definitely the most convenient option. If you don't have a car in Poland check out your cheapest rental options here.
Drive to Palenica Bialczanska car park and leave your vehicle there. If you can't find directions to Morskie Oko parking, just follow the Lysa Polana signs.
Parking costs 30 PLN ($7.50) for the entire day. From there, just look for the Morskie Oko directions or follow the crowd. You can't drive directly to the lake! You will see the ways of getting to Morskie Oko later in this article.
By Bus
You can also take a direct bus from Zakopane to Palenica Bialczanska. The minibuses are usually not leaving from the Main Station in Zakopane. You need to walk to Bar Fis (Zakopianski Bar) that is on the other side of the road. The address is Kosciuszki 22.
Palenica Bialczanska bus timetable is changing, that's why you should check this website for the current info. For now, it's only in Polish. You can also just go to the bus stop and wait for the bus for a little while. It shouldn't take longer than half an hour for a bus to arrive.
The traveling time between Zakopane and Palenica Bialczanska is about 40 minutes. Ticket price is 10 PLN ($2.50), one way.
If you are traveling from Krakow, consider joining a day tour to Morskie Oko and Zakopane.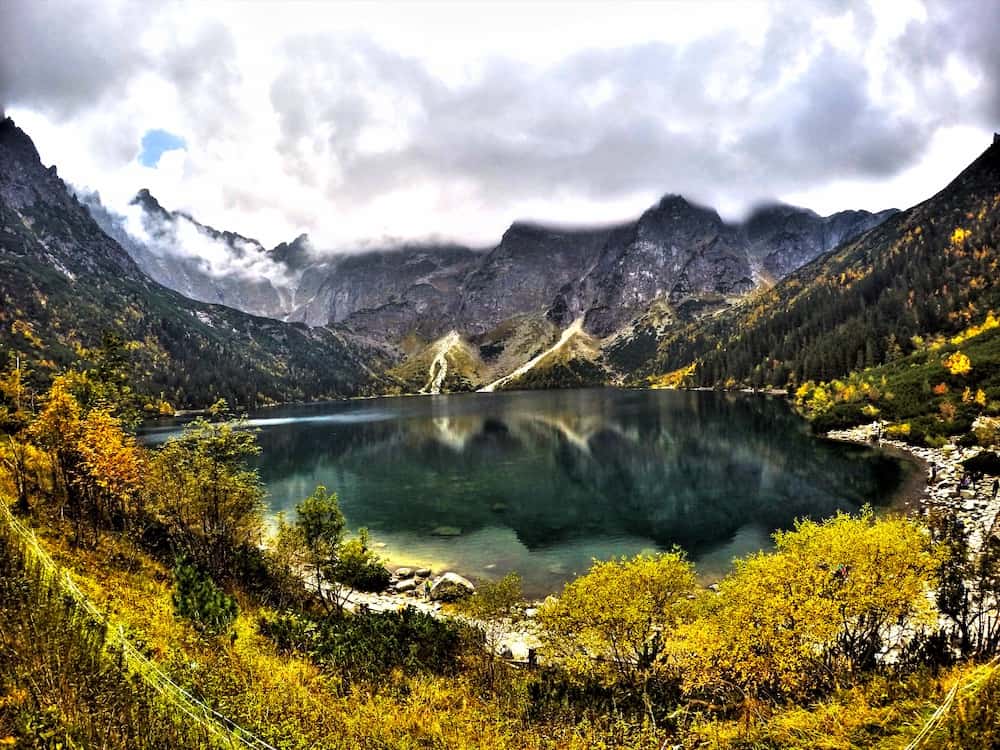 How To Get To Morskie Oko From Palenica Bialczanska Car Park?
Morskie Oko Lake is a part of the Tatra National Park, that's why you need to pay an admission fee to get in:
5 PLN ($1.30) for a normal ticket
2,50 PLN ($0.65) for a discounted ticket (for kids, retirees, disabled people, active soldiers)
kids under 7 years old go for free
After arriving at Palenica Bialczanska car park, you have two options to get to Morskie Oko:
Take Morskie Oko Lake Hike
The hike will take you approximately 2,5-3 hours. Way up is quite boring but it's very accessible. The asphalt road all the way makes it one of the best hikes in Poland for families with kids and disabled travelers.
There are 7 stops on the way to the lake:
Palenica Bialczanska
Dolina Bialki
Wodogrzmoty Mickiewicza
Wanta
Wlosienica
Zleb Zandarmerii
Morskie Oko
Take Morskie Oko Horse Carriage
Right after you buy a ticket to the Tatra National Park, you will see a horse carriage to Morskie Oko. It will take about 1 hour to go up and 30-40 minutes to go down.
Morskie Oko horse carriage price (one way) depends on the season, weather, and your bargain skills. On average, you will pay 50 ($12.75) PLN for going up and 30 ($7.65) PLN for going down.
The carriage can take up to 13 people. Morskie Oko horses are usually treated well, however, you may hear in the media, from time to time, that a horse fainted because it as too tired.
It's worth to know that even if you use Morskie Oko horse carriage, you will still have to walk up for 15 minutes to see the lake.
On a side note: I've been to Morskie Oko lake many times, I've done a hike and take a horse carriage. Both options were great.
Travel Tips For Visiting Morskie Oko Poland
Bring Cash
There are no ATMs at the lake area. Credit cards are not accepted either at Morskie Oko restaurant or at the horse carriage station.
Walk Only During The Day
Hiking at Tatra National Park at night is pretty dangerous. There is a big risk you will meet a bear in the forest.
Save The Emergency Number
+48 601 100 300
It's the emergency number of Tatra Mountain Rescue. Call them if anything goes wrong, at the end of the day, you are in the mountains, anything can happen!
Pin For Later:
Have a question? Join our Poland Travel Support Facebook group, we will be happy to help you!