Located in the north of Europe, Sweden is one of the safest countries in the world. No wonder why it attracts millions of tourists every year. Sweden has it all- from the lovely cities to the breathtaking landscapes. Add to that unique food and friendly people and you have a perfect travel destination for everyone! In this post, we are giving you the most beautiful places in Sweden, on and off the beaten path.
No matter if you are visiting this country soon or you simply want to get to know more about it, we are sure this article will fuel your wanderlust.
To start with, here's the map of the most beautiful places in Sweden that you can find in this post:
Gamla Stan, Stockholm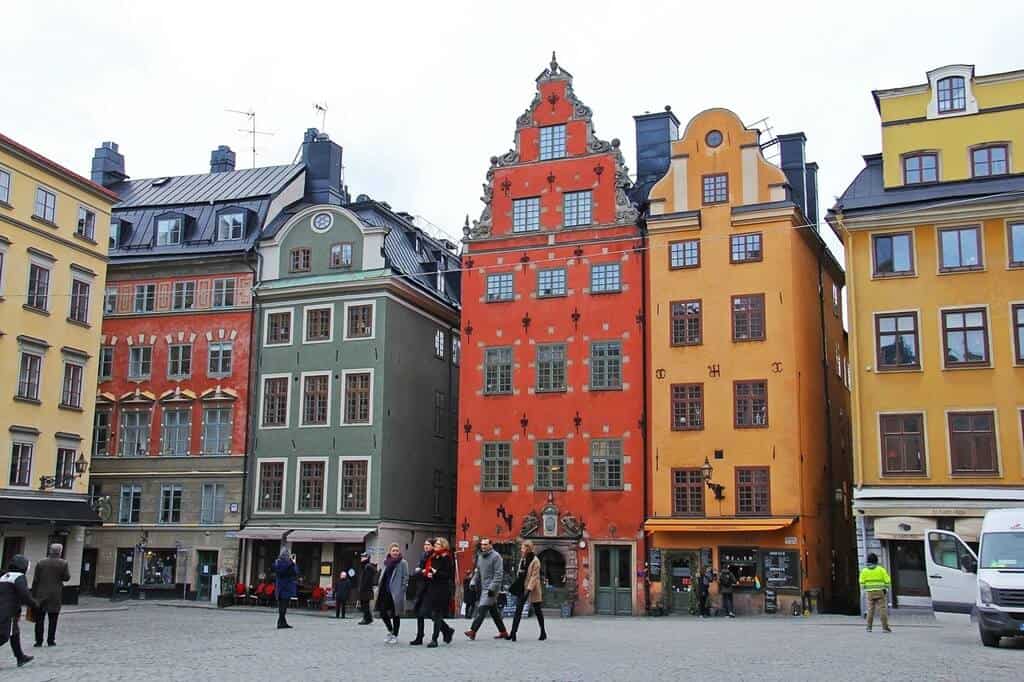 Sitting pretty on 14 islands that are connected by 57 bridges, Stockholm is one of the most beautiful places in Sweden. It is not only the largest city in Sweden but also it's capital. Due to the presence of canals and waterways throughout the city's landscape, Stockholm is also called the 'Venice of the North'.
Situated on the Baltic Sea archipelago, Stockholm is a traveler's dream as it has everything – impressive architecture, lovely cobble-stoned streets, lush green parks, freshwater canals, quaint sidewalk cafes, incredible historical monuments, swanky bars, and a charming Old Town.
Stockholm is a landmark city in many aspects as well. Firstly, it has the world's largest hemispherical building called "The Ericsson Globe". Secondly, the city is home to three UNESCO World Heritage Sites – Woodland Cemetery, Birka archaeological site, and the Drottningholm Palace.
Thirdly, Stockholm has the world's first National City Park that's spread over the Ulriksdal, Haga, Djurgarden, and Brunnsviken areas. And finally, you'll find the world's first open-air museum "Skansen" on Stockholm's Djurgarden island.
Stockholm has plenty of attractions for visitors but one of the best places to visit in the city is the Old Town called "Gamla Stan". Gamla Stan is the heart of Stockholm and is characterized by cobbled streets with buildings in different shades of yellow. The area is full of bars, cafes, restaurants, museums, and historic attractions.
The best way to explore Gamla Stan is on foot. You can easily get lost in the Scandinavian charm of the town as it has several attractions, most notable of them being – The Royal Palace, Noble Prize Museum, Stockholm Cathedral, and the Swedish Parliament building. Do not miss out on exploring the famous Old Town square called "The Grand Square" (Stortorget).
You can get to Gamla Stan by metro and bus. Metro trains 13 and 18 directly stop at the Gamla Stan station. As for buses, you can board bus number 3 that drops you to Malartorget. From there, it's a few minutes walk to Gamla Stan.
Skansen, Stockholm
Want to see all the beautiful, historic parts of Sweden, but just don't have the time? Don't worry: you can visit the Skansen museum in Stockholm, and see them all in one day!
Skansen is the world's oldest open-air museum, and it was created with a view to curating and protecting some of the most beautiful buildings and structures in Sweden, putting them in a gorgeous landscape for all to enjoy. And no one could ever claim that it wasn't completely successful!
The museum is easy to reach (it's a short trip by bus from the city center, or you can take a ferry from the central island of Gamla Stan), and entry is a very fair price considering that you easily have a day's worth of entertainment. In the summer months, educators roam the park in traditional dress, doing demonstrations of crafts and giving talks so you'll understand exactly what you're looking at.
Or you can simply wander among some of Sweden's prettiest structures, from beautiful wooden churches (fully intact inside!) to traditional Sami camps with reindeer skins, to working water mills.
Don't be put off if you're visiting in the colder months, though – Stockholm in winter is a delight, and Skansen is no exception! You can view the animals (who are kept in excellent conditions), who represent the wild species found in Sweden – that includes reindeer and elk, lynx and otters, wolves, and wolverines – although you may miss the hibernating brown bears! If that's not enough, there's ice skating and cozy fire pits to roast sausages over.
Skansen is one of the most beautiful places in Sweden. It's educational, historic, and absolutely stunning – just like the country, it represents!
Drottningholm, Stockholm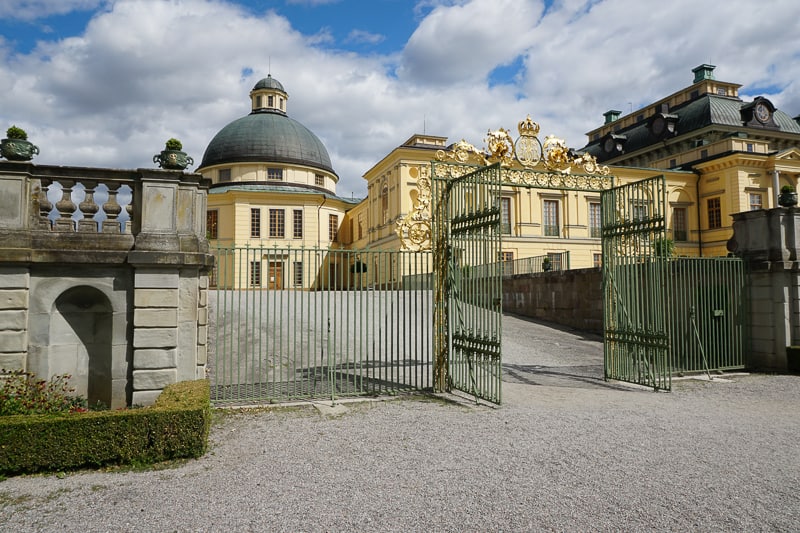 Visiting Drottningholm Palace on a day trip should definitely be high on your list of things to do in Stockholm, especially if you enjoy history, architecture, and gardens. The residence of the Swedish royal family, Drottningholm Palace is located on its own island in the Stockholm archipelago.
The Drottningholm Palace complex will take the better part of a day to explore in-depth, so be sure to allow plenty of time. The palace interior is stunning, with a grand staircase at the entrance, works of art, and beautiful ceilings and furnishings in the staterooms. The royal family's private apartments are not open for view to the public.
Other than the main palace, make sure you visit the Chinese Pavilion, a surprise birthday gift from King Adolf Fredrik to his wife, Queen Lovisa Ulrika. The pleasure palace features an extensive collection of Chinese objects of art. Also take a guided tour of the Drottningholm Palace Theatre, which still hosts performances.
Admire the formal gardens, just behind the main palace, with its box hedges and statuary, and the gold gate, modeled on Versailles. Then wander the park-like grounds, where you will find tree-lined avenues, green meadows, and even a maze!
While you can arrive at Drottningholm by the T-bana and then the bus, in season, the ferry is the most pleasant way to travel to Drottningholm. It is about an hour ride from the city center.
Malmo
Sweden's third-largest city, Malmo is one of the most beautiful places in Sweden. Vibrant, cosmopolitan, and steeped in Danish culture, Malmo greets visitors with iconic landmarks, museums, beaches, cultural hotspots, lakes, and greenness.
The buzzing city center, narrow streets, historical architectures, elegant cafes, and the delicious multi-cultural cuisines provide a distinct escape to the city's visitors. There is something for everyone in Malmo.
The splendid Malmo Castle that is home to City Museum, Art Museum and Museum Of Natural History is one of the most picturesque places to visit in the city. The famous Oresund bridge that connects Sweden with Denmark is also a sight to behold. Malmo is well connected to Copenhagen, thanks to the Oresund bridge.
The waterfront side of the Western harbor neighborhood is lined up with cafes that offer amazing views of the stunning modern architectures in Malmo. This neighborhood also houses Sweden's tallest skyscraper namely, Turning Torso and the Malmo beach.
The Lilla Torg is another must-visit attraction in Malmo that has traditionally old Swedish buildings, cobbled streets, and cute cafes with outdoor settings. Do not miss out Sodergatan, one of the most picturesque shopping streets featuring many sculptures and little arcades to walk through.
Malmo is a city that offers epic adventures, historical explorations, great eateries, and one of the finest beaches of Sweden.
Smögen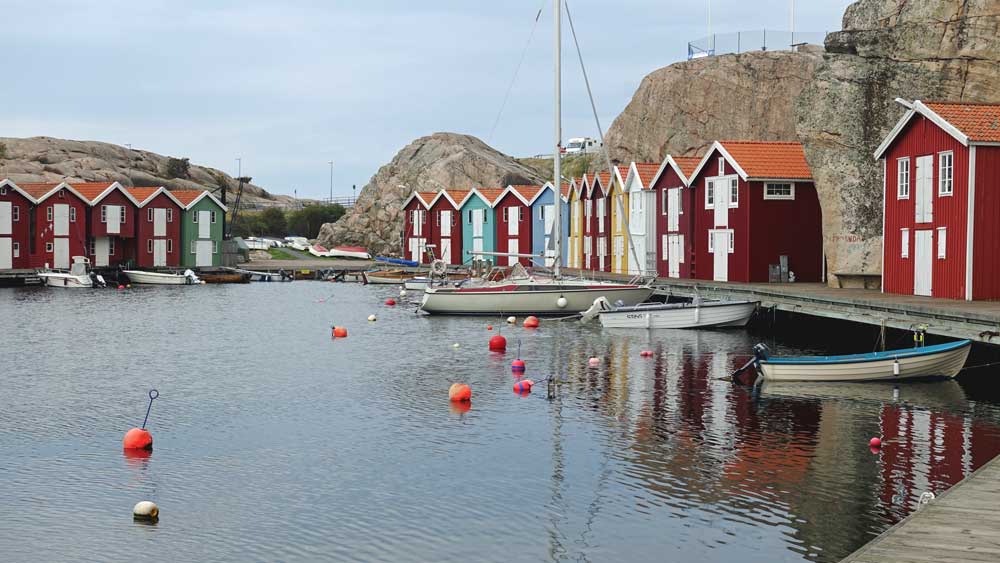 The west coast of Sweden is perhaps one of the most serene places to visit in the entire country.
Western Sweden is dotted with tiny fishing villages that are home to rows of iconic red, wooden houses nestled against the rugged coast. Most of these charming fishing villages are not accessible by train, which means a West Sweden road trip is one of the only ways to see this beautiful region of the country.
The village of Smögen is one of the most popular and most beautiful fishing villages you can visit on the west coast. Known for its vibrant and colorful fishing houses lining a picturesque wooden boardwalk along the water's edge, Smögen looks like a photograph straight off a postcard.
While there isn't much to do in this enchanting town besides wander the boardwalk and explore the pretty streets, the true fun lies in the relaxation that awaits. When in Smögen, plan to enjoy lunch or dinner at one of the small seaside restaurants. The village has some of the freshest lobster, crab, shrimp, and fish you'll find anywhere.
You can often watch the day's catch being unloaded off of fishing boats at the dock and being taken directly to the restaurants. While summer tends to bring out the crowds, visit Smögen in the off-season and you'll feel like you have the village and its famous boardwalk all to yourself!
Vaxholm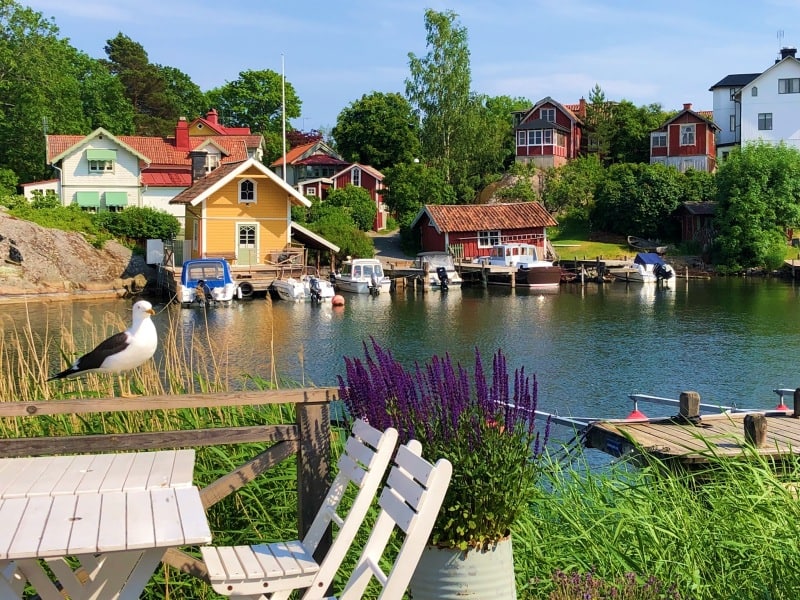 Vaxholm is the Capital of the Stockholm Archipelago, a group of 30,000 pine tree-covered islands and tiny islets north and south of Sweden's capital. Many Swedes have country houses on one of the islands, but the easiest way for travelers to access the archipelago is to visit Vaxholm. Which also happens to be one of the most beautiful places in Sweden.
Vaxholm makes the perfect day trip from Stockholm. It is accessible by bus, taxi, or car from Stockholm, but the loveliest way to get there is by ferry. Several companies run ferries and tour boats. The boat sails through the historic center of Stockholm passes Djurgarden and then heads out past some of the inner archipelago islands, arriving in front of the yellow Waxholms Hotell.
Off to the right is a tiny island fortress, which, for almost 500 years, helped defend Stockholm from invading neighboring navies. The best way to enjoy the town and appreciate the island's beauty is to take a walking tour from the hotel, along narrow streets to the tiny beach at Battery Park and around the gorgeous Norrhamnen bay to the Hembydsgårds Café.
This is the perfect place for fika and to soak in Vaxholm's charms. Sitting outside, enjoying one of their delicious desserts, with purple wildflowers, colorful wooden fishing cottages, and sailing boats bobbing on the bay is pure bliss. Vaxholm is definitely one of the most beautiful places in Sweden. Be sure to go there while visiting the country!
Vålådalen Nature Reserve
Valadalen settlement, near Are, is relatively unknown to foreign tourists but it is well known to Swedish nature lovers. The village is a gateway to Vålådalen Nature Reserve, which offers many walking trails and is a mecca for ski lovers in wintertime.
Everyone will find a route for themselves, from a short few kilometers strolls to multi-day trails. And the good news is that all the trails are marked and signposted, with well-defined paths. A bonus is a free small guide book available at the Tourist Information near the car park.
Vålådalen Nature Reserve's varied landscape includes mountain tops, forests, wetlands, and many lakes as well as unique geological features related to the last ice age such as pyramidal hills.
Some of the classic hikes are a hike to Blanktsjarn – a beautiful emerald lake, and Issjödalen och Pyramiderna – a hike to the pyramid hills. However, the list of hikes is endless and every path you take will be unique and rewarding. If you seek to get away 'from it all' set off for a 4-day hike from hut to hut in the wilderness.
You will find many returning visitors to Valadalen and the reason is a fantastic Vålådalen Fjällstation (a mountain station), which offers accommodation, sauna, and fantastic local Swedish food!
Lund
If you are looking for beautiful places to visit in Sweden, you are going to love Lund. Lund is a city in southern Sweden, located 20 km north-east of the bigger city of Malmö. You can reach Lund from Malmö by direct train or bus.
Lund is reputed for its university and lively student atmosphere but it also has a beautiful heritage. In medieval times Lund was an important religious center and there are still some sites of this period like the city's amazing Romanesque cathedral (12th century). Another site of the same period (11th century) is the Drotten Church, in the center of Lund, but only some remains are left which are displayed in an underground museum.
Officially founded in the 17th century, the prestigious Lund University is hosted in different Neoclassical-style buildings surrounded by picturesque gardens. Even if you are not a student, it is worth walking around these buildings to admire their architecture.
Lund is also a city of beautiful parks, green spaces, and pedestrian streets with trendy cafes. As a young university city, getting around by bike is very common and most of the locals have one. If you don't have your own bike, you can rent one for the day or use the Lundahof bike-sharing system, with the first half an hour free.
Jämtland
Lists of the best hiking trails in Sweden abound. And, you will never run out of great hiking ideas in Sweden's north and west regions where some of the best walks and hikes converge around the Jämtland towns of Östersund and Åre.
A good way to find your way hiking through Jämtland is to pick up the Way of Saint Olav, an old pilgrimage route that actually runs all the way across Sweden and Norway more than 500 km from east to west. You can hike any segment you choose. One lovely trail begins beside the Revsund church. The old road gives way to a footpath through the thick woods of birch and pine, creeping past rocks and forest floor covered in moss and lichen.
Another choice is the so-called Jämtland Triangle. This is one of the quintessential hikes in Sweden–a three-day trek or any portion thereof, with opportunities to stay and eat at the Swedish Tourist Association (STF) huts/stations. The route is well maintained and includes cross-country ski trails as well as hiking paths.
Another iconic hike is the famous Blankstjärnarna Trail which is a circuit route encompassing the emerald green lake Blanktjarn. In fact, it's such a popular area that steps have been taken to keep hikers back from the shore so that moss and plants can recover and protect the clear green waters. While you're hiking this route, enjoy the views from above the lake and appreciate the conservation efforts.
Falsterbro
Falsterbo and the neighboring town of Skanör are some of the most beautiful places in Sweden. In fact, Falsterbo is a popular beach getaway for Swedes but remains largely unknown to outsiders. Most everyone just heads to Malmo when visiting Copenhagen, Denmark without realizing this little beach town is not too far away.
From Copenhagen take the Oresund Bridge that connects Denmark to Sweden, then take E20 and followed Route 100 to Skanör-Falsterbo.
The beach is simple and clean just like Swedish design. There are colorful bathhouses scattered on the beach, the coast is covered in wild roses and high sand dunes. You will find kids riding their bikes, playing among the shady pine and beech woods. There is a ban on jet skis and motorboats in place to protect marine life, picnicking and lounging is the way to spend an afternoon in Falsterbo.
During summer the harbor is always dotted with boats of different sizes, families enjoying the sun, and the kids playing in the Baltic waters of this fish tail-shaped peninsula. Nearby, there is a lighthouse and a windmill that begs to be explored. Make time for lunch at Badhytten for fresh food, or some fantastic coffee and creamy Lejonet & Björnen ice cream.
Pin For Later:
Did you enjoy this post about the most beautiful places in Sweden? Let us know in the comments below!