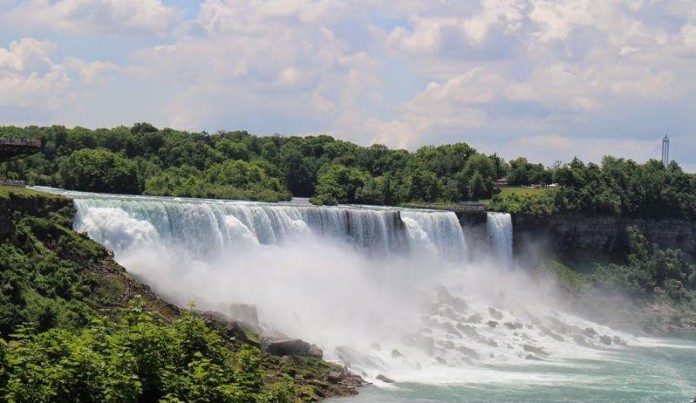 In our opinion, Niagara Falls fully deserve the fame that they gained. We were delighted to see them.
We were surprised that Niagara is not one, but three waterfalls! Two of them (the American Falls and Bridal Veil Falls) are located on the American side, the latest on the Canadian side (Horseshoe Falls). They are next to each other, so no need to go anywhere to see everything at once :).
We strongly recommend watching a waterfall in Canada. The view is much better, you can enjoy all the cascade at a time.
Niagara Falls are awesome!
Before we arrive here, we read plenty negative reviews about Niagara Falls. That it has lost its charm, has become very commercial and uninteresting.
It is far from a truth. Waterfalls are what they were before. Nothing has changed for thousands of years! It is a fact that around Niagara is a lot of tourist attractions, shops and mini-casinos, but absolutely nothing and no one is able to take the beauty out of the waterfalls :).
They make a great impression with their size, power and strength. Falling and foaming water is hypnotizing. We could just stay and look at the enormity of flowing water for a very long time. It was wonderful to listen to the noise and having our faces cooled by mist entrained by a light summer breeze.
Niagara Falls have some kind of magic. They force you to contemplate on how fragile the man is, comparing to such a huge element. And at the same time, to admire the beauty of the world. Because no building, no car and no robot will ever be as beautiful as a work of nature. So immaculate, clean, and yet terribly strong.
Water is the source of life and looking at Niagara Falls we understood how true this sentence is.
It sounds so poetic :). But we were just like that in there- melancholic, dreamy and yet full of creative ideas.
Close to the waterfalls, there are plenty of attractions, especially for children. The whole street called Clifton Hill is made for entertainment. Colorful, bright and blinking neons encourage to have fun. We decided to visit the museum of strange things-'Ripley's Believe it or Not'. This place is really surprising- a little funny, a little frightening, a little disgusting. In our opinion, it is worth to go there and see how the fattest and the tallest man in the world looked like, see how big was the feet of Chinese geisha, and finally go to the bridge, which by the play of light, completely muddles our labyrinth.
In the evening, we ate some food and next wanted to have fun, so we went to one of the mini-casinos. Oh, how easy it is to lose money in there! All games are on tokens. 2 tokens cost $1. If you win in any game, you get tickets, which you can exchange for prizes later. We spent $10 and get only cards for it, so everything is made to ultimately lose. But the fun is great :).
If you go to Niagara Falls, go shopping to tax-free shops. Prices are lower than in normal stores, especially on alcohol and perfumes.
Disclosure: Yay for transparency! Some of the links in the article are affiliate, which means that if you book something by clicking on them, we will get a small commission with no extra cost to you. Your support helps this blog going.