13 Photos That Will Make You Fall in Love With Vietnam
It is easy to fall in love with Vietnam. This country has an amazing and unspoiled nature, great food and beautiful architecture. You can feel that it has a rough and bloody history: people are not as friendly and smiling as in nearby Thailand or Myanmar. They are distanced and wary. Even though the suffering of Vietnamese people was great, they are not hateful or dogged. It is one of the interesting facts about Vietnam.
We spent a few months traveling around this country. When it comes to nature and landscapes, it's one of the best places in South East Asia. Vietnam has high mountains, sea with great beaches and busy cities with amazing architecture. You can spend many days traveling around this country and never get bored.
In this post, we are giving you our best photos of Vietnam. For more travel inspiration in South East Asia, check out our post about killer photos of Thailand.
Fall in Love With Vietnam
1. Mai Chau
Mai Chau is a hidden gem of Vietnam- it is located in the North of the country. The main reason to go there is to see the beautiful rice fields surrounded by green mountains.
See also: Travel Tips for Visiting Mai Chau
2. Halong Bay
Halong Bay is probably the most popular place in Vietnam. It is famous for the huge limestone cliffs protruding from the sea. Even though we have been there during winter, it was dark and foggy- we loved it! Halong Bay is definitely a must see in Vietnam.
3. Hanoi from the above
Hanoi, located in northern Vietnam, is the capital of the country. This modern city with skyscrapers and the international airport is getting more and more popular among digital nomads due to low prices and many great places to work online.
4. Celebrating TET
TET is the biggest holiday in Vietnam. New Year is celebrated every year in January or February. Vietnamese people are creating special altars for ghosts that live in every house. They are giving them gifts to have good relations with them. It's sometimes really crazy what you can find on these tables! The weirdest thing that we've spotted were cigarettes, Ballantine's (not cheap Vietnamese whiskey, the ghost must get the best products!) or coca cola. Boiled rooster with a head and comb is a must on the altar like this.
Right after the New Year, most people are praying and burning (fake) money. It's their way to give support to their dead ancestors.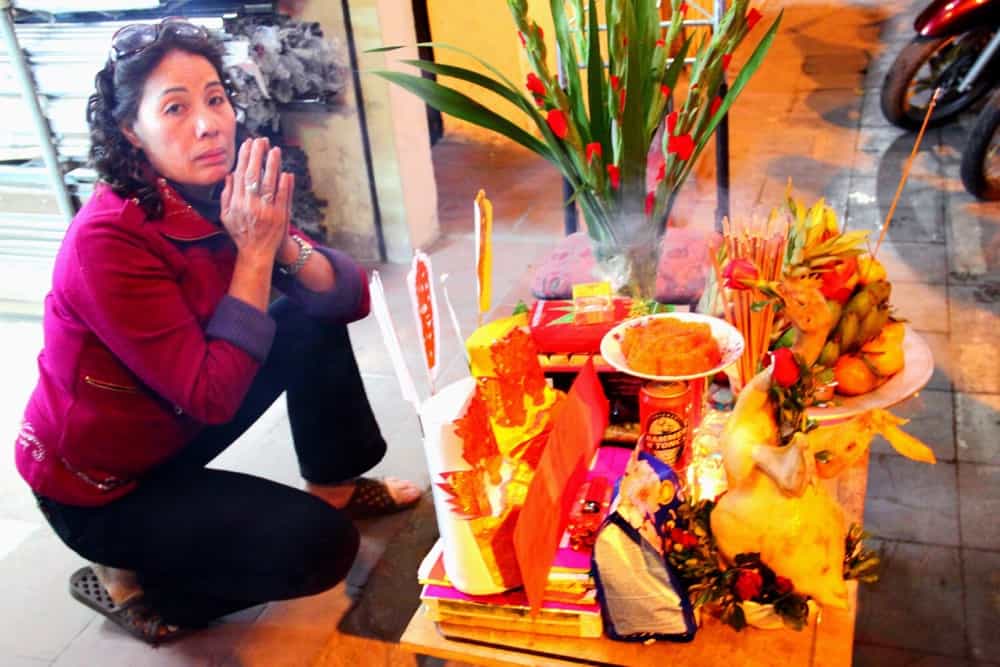 5. Old woman working on the rice field
This woman was more than 70 years old and she was more fit than both of us. She was working the entire day on the rice field, carrying the heavy bag, squatting and bending down, barefoot.
You can see the everyday life of villagers in many places in Vietnam. It's a really amazing way to discover their culture.
6. Mekong Delta home
Big families are living on boats like this in the South of Vietnam. Polluted and dirty Mekong river is their only source of income…
Despite the high economic growth, there is still a lot of poverty in this country.
7. Motorbikes
Vietnam is one of the busiest places that we have ever been to. Millions of motorbikes are riding the roads of this country every day.
Crossing the street may be really challenging in Hanoi or Ho Chi Minh City!
8. Local market
Visiting the local market in Vietnam is only for people with strong nerves. You can buy there cat meat, dog meat, see the chickens kept in the small cages or fish in the bowl with a little water. Cruelty to animals is one of the things we hated about Vietnam.
9. Hanoi's railway line between buildings
It is a hidden gem of Hanoi! Located pretty close to the Old Quarter is still not well-known among foreign tourists.
In this unique place, the houses are located dangerously close to the railway line. It's pretty scary when you are seeing the train going really fast right next to you! Can you imagine living in a spot like that?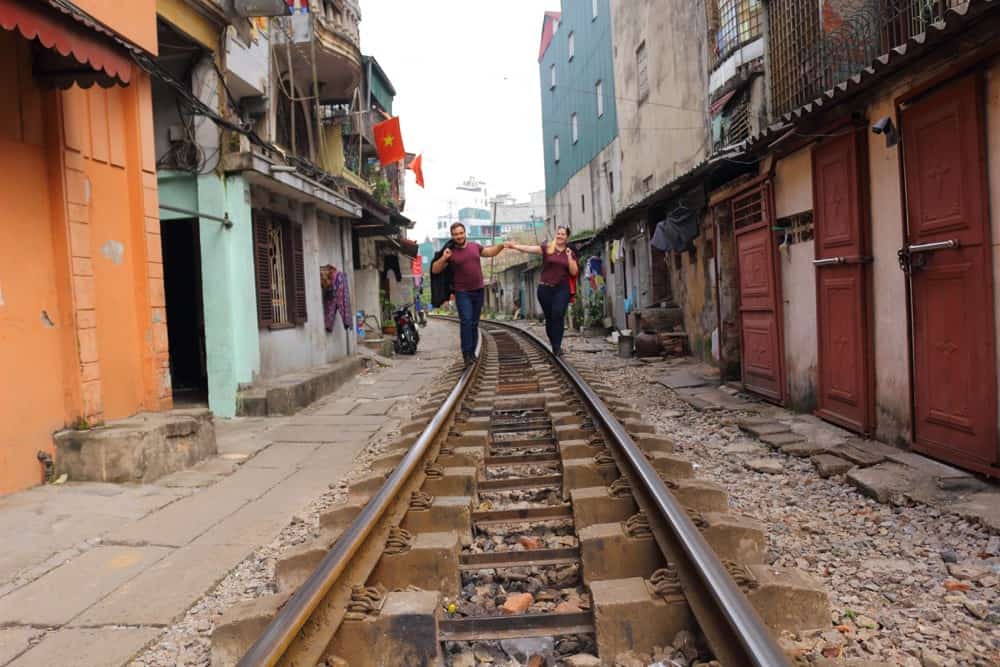 10. Bánh mì
Together with the famous pho soup, banh mi is the most famous Vietnamese food. Bread is not a typical Asian food. It was brought to this continent by colonizers.
Looking at the baguette, it's easy to guess that Vietnam was under French influence.
11. Rice fields at Hòa Bình Province
Most people love Vietnam for landscapes like this! The rice fields, mountains, and the beautiful nature are the views worth dying for.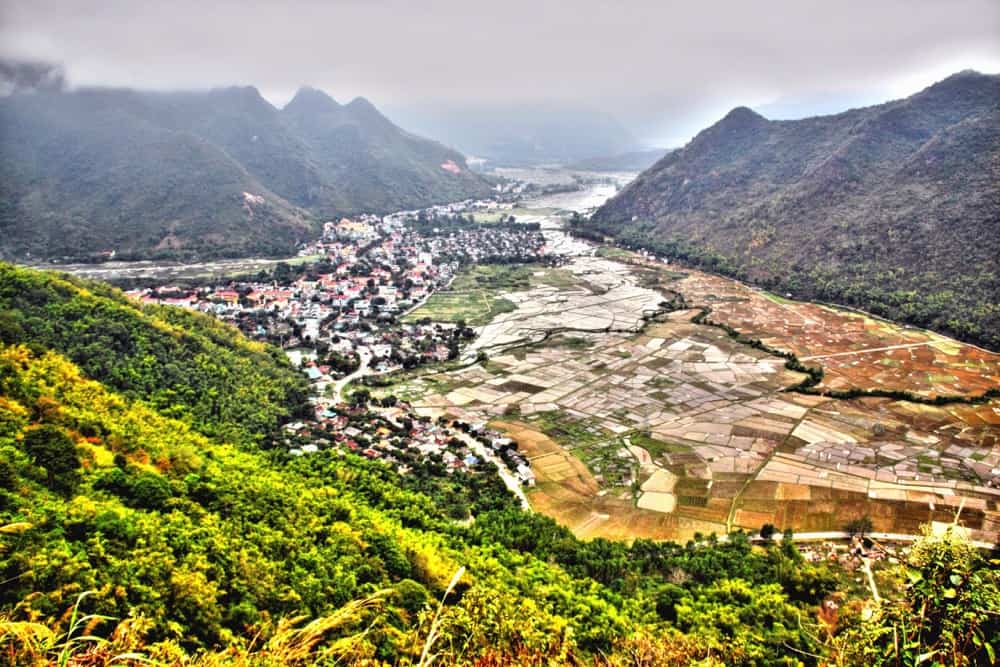 12. Ochsen at rural area of Northern Vietnam
This is how everyday life looks at the rural areas of Vietnam. Animals are working together with the owners to make a living…
13. Relax
… but after a long day, everyone deserves a relax! The best way to unwind in Vietnam is to lie down in a hammock, read something interesting or take a nap.
Which of these photos made you fall in love with Vietnam? Share your thoughts in comments!
Disclosure: Yay for transparency! Some of the links in the article are affiliate, which means that if you book something by clicking on them, we will get a small commission with no extra cost to you. Your support helps this blog going.