The Ultimate Krakow Guide.
How to Get The Most Of Your Krakow Holidays?
Located in the heart of Europe, Krakow is the most popular place in Poland. No wonder why- the beautiful Old Town, delicious food, low prices, and friendly people make this city one of the hottest destinations in the world. If you are planning your Krakow holidays, you will find here everything you are searching for.
Why am I so confident that this post really is an ultimate guide? First of all, I and Patryk have been living in Krakow for 2+ years. Secondly, we are native Poles that's why it's easier for us to find truly local places. Lastly- we are simply in love with Krakow! We keep coming back to this beautiful city every few months, we have friends there, so it's almost like home to us.
1. Krakow is safe.
The crime rate in the city is really low. As long as you are staying in the city center, you will be perfectly ok, both during day and night. The only place that I wouldn't recommend visiting after dark is Nowa Huta district. It's far enough from Rynek anyway, so most tourists don't even know the place like this exists. I am not saying that Nowa Huta is dangerous, it's just it may be weird there sometimes, especially during football games.
There are 2 main football teams in Krakow- Wisla and Cracovia. The extreme fans of both teams sometimes fight with each other, and trust me- you don't want to find yourself in the middle of this battle.
2. Krakow is polluted.
Actually, it's one of the worst in the world. That's one of the reasons we moved from Krakow (the second is traffic jams). Don't worry though- you will be perfectly fine while visiting the city. My advice is to bring a pollution mask if you are traveling to Krakow in the winter.
3. Krakow is a student city.
One of the oldest surviving colleges in the world- Jagiellonian University has been founded in Krakow in the 14th century. There are 23 colleges in the city, and more than 200,000 students from all over the world live there.
If you happen to visit Krakow in May, Google 'Juwenalia Krakowskie'. It's an annual event for students. The dates are different every year, that's why I am directing you to Google to check it all by yourself.
Best Places to Visit in Krakow
Looking for the short breaks to Krakow? Check out the cheapest flights to Krakow!
Rynek
It's definitely the most important place to visit in Krakow. The vibrant market square and the surrounding streets are car-free zones, so the only way to get there is to walk. There are so many things to do there that you can easily spend the entire day wandering around the market square. It's also the best area to stay in Krakow, as you will have most of the tourist attractions at your fingertips.
Even though there are over 130 (!) churches in the city, Kosciol Mariacki (St Mary's Basilica) is the most famous one. It's a landmark of Krakow and Poland in general. Every hour the trumpeter plays the famous hejnał mariacki. When you hear it, stop whatever you are doing and look up. The anthem will end up unexpectedly at some point. Why? According to the legend, ages ago, during the Mongol invasion, the trumpeter was shot and he wasn't able to finish the song. In memory of these tragic events, the anthem is still played with a sudden stop.
Be sure to visit Krakow Underground while on the Market Square, you will have a chance to see how the city looked like in the past. It's not boring- this Krakow museum is interactive and modern.
Wawel Royal Castle and Cathedral
This is where Polish kings lived. Beautiful, historical and unforgettable place.
Wawel is well-known not only because of its beautiful castle but also of its mysterious chakra.
It's believed that under St. Gereon's chapel there is a chakra that emanates intensive power that can heal illness and gives a strong boost of energy.
Be sure to see the Wawel Dragon breathing fire during your visit to Wawel Royal Castle.
Skip the lines and book your Wawel tour here.
Kazimierz (Jewish Quarter)
The Jewish quarter is located within the walking distance to Rynek. It's a place you need to visit while in Krakow.
Some say that Kazimierz and Rynek is one huge city center of Krakow. These places are different though. They have different architecture and atmosphere.
Here are some of the best things to do in the Kazimierz area of Krakow:
visiting the Old Synagogue and Jewish cemetery
eating zapiekanka u Endziora
going to the Schindler Factory Museum
Skip the lines and book your guided tour to Kazimierz here.
Park Jordana (Jordan Park) and Mis Wojtek Statue
It's one of the greenest places in Krakow. Located within the walking distance to Rynek, in the student area of the city, Park Jordana is a great place for a stroll.
If you go there be sure to find Mis Wojtek Statue.
Who was Wojtek? He was a bear and he was a Polish soldier. YES, THAT"S RIGHT. A bear was fighting for Poland during World War II. I am not joking.
Read more about Wojtek here.
Skalki Twardowskiego
According to the legend, it's where the mysterious Mr. Twardowski opened a school of magic and wizardry.
The rocky Skałki Twardowskiego is famous among climbers. It's a place worth visiting for everyone though. If you are not seeking for adventure, you can take a walk between the rocks.
We've been there with Mia, our 1,5-year-old daughter and she loved this place! She had fun searching for the snails, frogs, and insects that were hidden in the grass.
There is no entrance fee for Skalki Twardowskiego, so it's one of the free things to do in Krakow.
Zakrzowek
Located right next to Skalki Twardowskiego, Zakrzowek is one of the most beautiful places to visit in Krakow. The pristine blue water surrounded by white rocks makes this area a green oasis in the big city. Unfortunately, Zakrzowek won't be open to the public until 2023. The City of Krakow is currently working on making this place safe to swim.
Even though it's forbidden, Zakrzowek is usually full of people who just jump over the fence to get into the lagoon area. While we don't recommend doing so, it's still worth to go to Zakrzowek and see the water from one of the viewpoints that it's open to the public. The addresses are:
– Salezjańska 19
– Wyłom 1
If you want to actually relax on the beach and swim in the lake, head to Kryspinow.
Lagiewniki
Did you know that John Paul II, the Pope was born and raised in Poland? He was actually living in Krakow for some time.
If you are Christian, then there are 2 places you should visit in Łagiewniki: John Paul II Center (Totus Tuus 32) and the sacred Divine Mercy Sanctuary with a tomb of Saint Faustyna Kowalska.
Interested in getting to know more about John Paul II? Check out this fascinating tour.
Live Butterfly Museum
Grodzka 48/2
An amazing place for the entire family! One of the best museums in Krakow. It is not only about butterflies that will be flying around you. You can also pet rabbits, parrots, and other small animals there.
If you buy a combined ticket to Live Butterfly Museum and Mirror Labyrinth (more about it below), you will pay less.
Mirror Labyrinth
Grodzka 14
If you wonder what are the things to do in Krakow when it's raining, go to the Mirror Labyrinth. This place is surreal. Y
ou have no idea how difficult it is to walk through the labyrinth full of mirrors. It's hard to tell whether something that you are seeing in front of you is a passage or another mirror.
If you want to experience something totally different and unforgettable, visit the Mirror Labyrinth.
Krakow's Mounds
There are 5 mounds in the city. It's worth to visit them all, especially if you are looking for nice hiking in Krakow.
– the biggest one is Kosciuszko Mound,
– Pilsudski Mound is the highest,
– the smallest one is John Paul II Mound
– Krakus Mound is a final resting place of Krakus, the legendary founder of the city
– Wanda Mound is a tomb of Krak's daughter who committed suicide because she didn't want to get married.
Father Bernatek Footbridge
A must-visit place not only for those who spend their honeymoon in Krakow but also for every couple visiting the city. Father Bernatek Footbridge is a very picturesque place, located equally close to Kazimierz and Rynek.
According to the legend, if you and your partner hang a padlock on this bridge, and then throw the key to Wisla river, your love will be eternal.
No matter if you believe it or not, doing so is one of the most romantic things to do in Krakow. And yes, our padlock is still hanging there, since 2012.
Krakow Zoo
aleja Kasy Oszczędności Miasta Krakowa 14
Located on the outskirts of the city, this Zoo may not be among the best in the country. Still, if you are traveling to Krakow with children, it is a good place to visit.
If you want to save your time and money book a ticket to the zoo with a pick up from your hotel.
You can do it here.
Best Krakow Tours
Krakow Food Tour
One of the best ways to try Poland cuisine in Krakow is to join a guided tour. Not only you will have a chance to meet fellow travelers but also try delicious Polish cuisine.
Be sure to eat at least one obwarzanek, a ring-shaped bread that Krakow is famous for. My favorite is with cheese sprinkle but you can also choose poppy seeds, salt, and sesame.
Book Krakow Food Tour directly here.
Krakow Walking Tour
If you have enough time, you can wander around Rynek and discover the city all by yourself. You can also join one of the Krakow walking tours to make sure you've seen all the important places in the city.
The experienced guide will show you Krakow from the local perspective. Plus, you will have a chance to make new friends with travelers from other countries.
Skip the lines and book Krakow Walking Tour directly here.
Krakow Segway Tour
If you don't feel like walking, you can always use segway to get to know the city. The local guide will show you everything that's important in Krakow.
Even though we prefer walking, as we are traveling with a toddler, we'd definitely try a segway tour when Mia gets older.
Save your time and money and book Krakow tour by segway directly here.
Krakow City Tour by Electric Car
You can also find someone selling electric car tickets in the Old Town area. The price may be quite high, so always bargain or simply book it online in advance.
You will see everything that's important in Krakow without walking. Choose the Old Town and Kazimierz trip. This Krakow sightseeing tour is accessible, so it's perfect for those traveling with infants and wheelchair users.
Book it directly here.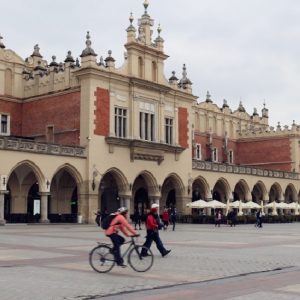 Krakow Bike Tour
Want to do some sports and see the beauty of Krakow all at the same time?
If you answer is yes then Krakow bike tour may be good for you.
Skip the lines and book the tour directly here.
If your plan changes, you can cancel the trip (and all the others I recommend in this post) up to 24 hours before and get the full refund.
Krakow Bus Tour
Hop on hop off buses are available all around the world and we are big fans of them.
Our favorite way to get to know the city is to wander around during the first day, and then take the sightseeing bus on the second day.
Krakow sightseeing bus can't take you directly to Rynek area, as it's walk-only zone but you will have a chance to get to other important places, like Blonia, Kosciuszko Mound or Schindler's Factory. Book Krakow bus tour directly here.
Krakow Boat Tour
Your stay in Krakow won't be complete without taking at least a short cruise on Wisla river.
Seeing the city from a completely different perspective will be a highlight of your trip (I'm speaking from experience)
Check out the sightseeing Krakow cruise here.
If you want to have fun, then hop on the party boat! 2 hours of cruising with an open bar and music is a great way to start a night.
Book this tour here.
Prices in Krakow
The prices in Krakow are low. Here are the examples:
double room with private bathroom – 150 PLN (~$40) / a night
lunch/dinner with drinks in a restaurant – 35 PLN ($10) per person
lunch/dinner with drinks in a milk bar – 18 PLN ($5) per person
one bedroom apartment monthly rental – 1800 PLN ($470)
Most of the Krakow activities will be cheaper than in other EU cities.
What To Eat In Krakow?
The most iconic food in Krakow is obwarzanek, a ring-shaped bread.
If you want to taste Poland cuisine, you should try:
pierogi (dumplings filled with cottage cheese & potato, cabbage, or meat)
bigos (a delicious mix of meat, sauerkraut, and cabbage)
schabowy z ziemniakami (mashed potatoes with fried pork cutlet)
golabki (rice with meat wrapped in cabbage)
zurek (yummy soured rye flour soup with meat, boiled egg, and potatoes)
chleb ze smalcem (smalec is basically a pork jam; it's best to eat with bread and pickled cucumber)
Where To Eat In Krakow?
If you wonder where to go out in Krakow, our list of the best places to eat, drink and party in the city may be helpful for you.
Cafe Botanica
Bracka 9
Cafe Botanica is our favorite place to have a coffee while on the market square.
It's green, cozy, and not that crowded like other cafes at the heart of Rynek.
It was peaceful enough for Mia to had her afternoon nap. The WiFi was great, so we've been working online during that time.
The coffee was good, so there really is nothing more we can expect from a good cafe.
A place to eat for meat lovers. The restaurant is located right at Rynek. They serve different kinds of meat including beef, pork, veal, duck, lamb, seafood and more. The portions are HUGE.
We've been eating lamb and strawberry steak and we couldn't really eat it all. Slawkowska1 is a great place to have dinner- it's just a few steps away from the heart of Rynek so it's usually not as crowded as restaurants surrounding the market square.
Kanonicza 15
A truly iconic place, one of the best places to eat in Krakow. It's located on Kanonicza street, one of the oldest in the city.
We've been dining at Art Restaurant more than once and everything has always been outstanding. The food is delicious and pretty unique. It's definitely not a place for a quick bite.
You need to have time to taste and experience the artistic food that they serve. If you are looking for fine dining in Krakow, that's your place to go.
The other thing that we love about Art Restaurant is their courtyard garden. When it's warm enough outside, you can have dinner in a green, peaceful oasis.
On a side note, Art Restaurant offers luxury Rolls-Royce transfer, so if you want to organize a romantic dinner for your partner, they can pick you up from the hotel and then drive back there.
Butcher (Rzeznik)
Rynek Główny 37
This amazing steakhouse deserved the separate article. You can read our review of this restaurant here. To keep it short- it's the best place to have a steak in the city.
Located on the market square, it has a beer garden, so you can sit outside in the summer while enjoying your favorite drink.
Plus, the food at Butcher is really delicious.
likeKonik
plac Wszystkich Swietych 2
Going there is one of the best things to do in Krakow with kids! LikeKonik is a cafe and playground all in one. It's our recent discovery and we absolutely love likeKonik. There are classes for children in this cafe every day but you can also go there to have a coffee while your kids will have fun.
Their website is only in Polish but check out their Facebook to get a general idea on what likeKonik is.
Zapiekanki u Endziora
Plac Nowy 4
The best place to eat in Krakow at night. Zapiekanki u Endziora are something that all the locals know. They are simply delicious. The bar is situated in the heart of Kazimierz. Be prepared that you may have to wait more than half an hour to get your zapiekanka. But it's worth it.
Forum Przestrzenie
Marii Konopnickiej 28
They say it's the most hipster place in Krakow. It's where locals come to have breakfast or brunch in the morning, as well as party in the evening.
In the summertime, you can sit outside and chill out. There is a small beach that belongs to Forum, which makes this place even better.
Jagienka
plac Jana Matejki 3
The list of the best places to eat in Krakow won't be complete without mentioning at least one bar mleczny (milk bar). It's a restaurant where you can fast eat homemade, traditional Polish food, like pierogi. Our favorite milk bar in Krakow is Jagienka, located very close to Rynek. You can have a 2-course meal of the day with a drink there for as little as $4.5!
Bar u Szwagra
The best fast food Krakow. There are many U Szwagra in the city, the most popular are on Lea 26 and Karmelicka 26. The bars are famous for the best kebabs in Krakow. It's the students' favorite place to eat, especially at night.
Keep in mind that they are not the real Turkish kebabs but the Polish variation of this famous dish. 'Szwagier' serves very unhealthy food.
Where To Drink in Krakow?
Yes, Krakow is a party city! And let's face it- drinking in Poland is quite popular. There are many places where you can drink cheaply in Krakow. The best are:
– Pijalnia Wodki i Piwa on Plac Nowy 7 (very close to Zapiekanki u Endziora!),
– Banialuka at Plac Szczepanski 6 (close to the Old Town)
– Ambasada Sledzia on Stolarska 8 (close to the Old Town as well).
A shot of Polish vodka or a beer cost 5zl ($1.5).
If you want to make new friends, join Pub Crawl Krakow Tour to have fun!
Where To Party Krakow?
The nightlife in Krakow is the best to experience at Rynek and Kazimierz area.
In my opinion, the best clubs are:
Klub Studio on AGH at Budryka 4
Stalowe Magnolie on sw. Jana 15
Coco on Szpitalna 38
Women usually have a free entrance, men need to pay. Start partying after 11 p.m. before this time, clubs are pretty empty.
The Most Instagrammable Places in Krakow
Krakow is Instagrammable in general. Most of the places mentioned above are great for photos but here are a few more worth mentioning.
Hotel Poleski
Sandomierska 6

Even though the food in the hotel's restaurant is average and the hotel itself is outdated, it's still worth to go there. Hotel Poleski has the best Krakow rooftop bar. You will get there an amazing view of Wawel castle and Vistula river.
If you are traveling by car, you can park your vehicle right next to the hotel which is a huge advantage, especially on a rainy day.
Cafe Szał
Rynek Główny 3
This is a place where you can take arguably the best photo of Kosciol Mariacki and Rynek.
Cafe Szal is located on the roof of Sukiennice. It's open all year round but when it's warm enough you can sit outside in their beer garden. It's worth to go there to see Market Square from above.
Przegorzały Castle
Jodłowa 13
Przegorzaly castle is located quite a long ride from the center of the city but it's still worth to go there. It's one of the best viewpoints in Krakow.
There is a pretty good restaurant (U Ziyada) in the castle, so you may combine this trip with a romantic dinner or simply make it a date.
Where To Go Shopping In Krakow?
The most popular shopping mall in Krakow is Galeria Krakowska, which is connected to the bus and trains stations.
It's quite nice but it's always crowded. Better go to Bonarka City Center at Kamienskiego 11. It's bigger and simply better.
Another shopping malls that we highly recommend are Galeria Kazimierz on Podgorska 34 and Galeria Bronowice on Stawowa 61.
Best Accommodation In Krakow
If you still don't know where to stay in Krakow, don't worry! There are thousands of hostels, hotels, and apartments in the city, so everyone can find something for themselves there.
For Luxury Travelers
An iconic place, Hotel Stary is one of the best hotels in Krakow. It's located in the heart of Rynek, has a spa area, delicious food, and all the other facilities that you can find in the 5-star accommodation.
Check out the latest prices for Hotel Stary–> here.
For Those Who Want to Feel Like Home
If you want to feel like home but still use hotel facilities like daily breakfast, choose Well Well Aparthotel.
It's located in the quiet area of the city within the walking distance to Rynek. You will have a kitchenette in the room, which is great especially if you are traveling to Krakow with kids. The breakfasts are basic but REALLY good.
Check out the latest prices for Well Well Aparthotel–> here.
For Budget Travelers
If you are looking for a good Krakow hostel, check out Bubble Hostel. It's very close to Rynek and main bus and train stations. They have dormitories and private rooms available, that's why it's one of the best places to stay in Krakow for budget travelers.
Check out the latest prices for Bubble Hostel–> here.
For Longer Stay
Even though there are many apartments and hotels in Krakow centre, it may be hard to choose the best one. If you want to stay in the city for more than just a few nights, check out Airbnb Krakow. To be honest, we usually find the best places to stay in the city on this website. Our recent discovery is Studio Pomorska, one of the few places in the center of Krakow with free parking.
Krakow Travel Blog General Info
| | |
| --- | --- |
| Country | Poland, European Union |
| Krakow currency | Polish Zloty (PLN) |
| Krakow taxi | Krakow Uber (click to get the first ride for free) or Bolt (click for the first free ride) |
| Krakow taxi number | +48 12 653 55 55 (iCar) |
| Rent car Krakow | Find the best deals car hire Krakow here. |
| Krakow taxi fares | 7 PLN ($1.80) for a start + about 3 PLN ($0.80) for every kilometer. |
| Krakow rent a bike | See here. |
| Krakow public transport | Use jakdojade Krakow to plan your trip. |
| Krakow tourist map | Download here. |
| How many days in Krakow? | 2-5 days. |
| Best time to go to Krakow | All year round. April- October is the best. |
| Prices in Krakow | Low. It's one of the cheapest destinations in Europe. |
How To Get To Krakow?
Still planning your Krakow breaks? Check out the cheapest flights to Krakow!
If you are coming from other European countries, choose cheap flights to Krakow Balice Airport.
If you are coming from another city in Poland, take a bus (FlixBus) or train.
How to Get Around Krakow?
In order to get to the Old Town, take a public bus or tram (remember, the only way to get to the market square is walking!).
It's pretty easy to use Krakow public transport, especially if you are using jakdojade.pl to plan your trip. You can install their app on your phone. It will help you to get anywhere in Krakow. The app can locate where you currently are, so don't be afraid of getting lost.
Buy Krakow City Pass if you want to use public transport for free and have access to 40+ museums.
Both Uber and Bolt operate in Krakow, so if you want to travel by taxi that's the cheapest and the most convenient option.
The Most Famous Events in Krakow
It's not the full list of festivals in Krakow. I am writing only about the most famous ones. More about the events in the city here. As you can see from the list below, the best time to visit Krakow is the summer and spring.
Spring
Juwenalia- students' event in May (I am writing about it earlier in this post).
Krakow Film Festival– one of the most important events like this in Europe. It happens annually in May or June.
Great Dragon Parade– a show of the beautiful and colorful dragons. A must-see if you are in Krakow. The parade usually takes place at the beginning of June.
Summer
Wianki– it happens annually, at night from 23th to 24th June. The tradition of throwing the wreaths to the water is hundreds of years long. Early Slavic maidens believed that if their wreath will be found by the man, they will get married soon. Wianki in Krakow is a colorful event, with firework and music shows.
Jewish Culture Festival – shows, exhibits, and workshops dedicated to the Jewish culture. The event takes place annually, in June or July.
Fall
Independence Day– November, 11th is a bank holiday in Poland. There are different parades and events organized in Krakow during that day.
Winter
Christmas Market and Szopka Krakowska Competition– Christmas is widely celebrated in Krakow. Apart from an amazing Christmas Market that opens up at the end of November, you can see the beautiful nativity scenes (szopka) that Krakow is famous for.
What Are The Best Day Trips From Krakow?
Auschwitz Concentration Camp
If you are a sensitive person, think twice before visiting the Auschwitz Concentration Camp. This is the concentration camp where Jewish, Poles and many other nations were killed and tortured.
I believe it's a place everyone should visit at least once (so far, I've been there three times). This concentration camp is located in Oswiecim which is quite far from Krakow. I recommend taking a trip to Auschwitz, as it's may be difficult to organize the entire tour by yourself.
More than a million people lost their lives in Auschwitz. But this concentration camp is not only the place of extermination. It's also a place where thousands of people were suffering from hunger, misery, and fear. Many of them were tortured. Some were subjected to medical experiments, especially pregnant women, twins, and dwarfs.
Auschwitz is a dark place, where you can feel death, misery, and evil. Be ready to:

see

tones

of human hair

that

was shaved

before the victims enter the

gas chamber (

later the hair was processed into soap

)
hear horror stories about the victims' lives
see

hundreds

of shoes

,

prostheses, and

suitcases

. You will see photos of prisoners, all looking the same:

skinny

, with

pale faces

,

bald

heads, and fear in the eyes.
Zakopane
The winter capital of Poland and the main town of the Polish Tatra Mountains is a place loved by tourists and locals. I am a native Pole and I've been to Zakopane with my family many times.
Book a day trip from Krakow to Zakopane or stay in the town for at least one night to do some hiking.
Wieliczka or Bochnia Salt Mines
There are two salt mines near Krakow- in Wieliczka or Bochnia. Wieliczka is closer but more crowded. It's one of the best places to visit near Krakow.
Don't buy trips from sellers on Old Town on Kazimierz because you'll overpay. Choose public transport, there is a bus that goes directly to the Salt Mine. Book your entrance tickets online to skip the lines and pay less. You can also choose an organized tour from Krakow to Wieliczka and back. Check it out here.
Located just 2 hours driving by the highway from Krakow, Lancut has one of the most beautiful castles I've ever seen.
Find car hire in Krakow to get a vehicle or take a direct train from Krakow to Lancut. The town is small and charming, so not only you will have a chance to see the amazing palace but also see the everyday life of Poles.
Lancut definitely is a place worth visiting for those who like traveling off the beaten path. If you are in the neighborhood, drop us a line! Our home is located quite close to Lancut, so maybe we will have a chance to meet up.
Even though this post is really long I still feel that I could have written more. If you have any questions about Krakow, comment below, I will be happy to help you.
Pin for later:
Have a question? Join our Poland Travel Support Facebook group, we will be happy to help you!