Police Thailand – our crime adventure in Pattaya
It seemed like a normal day in Pattaya. We rented a motorbike few days ago and we were planning to see the Sanctuary of Truth and Mini Siam & Europe today. We didn't expect that Police Thailand would be something that will destroy our day.
We were driving to these attractions but suddenly… the Police stopped us.
We were very surprised. We spent in Thailand more than 2 months and we've never been catched by the Police. We saw policemen sometimes, but they have always been smiling and helpful. Not this time. And NOT in Pattaya.
Police officer asked for our driving licence. We gave it to him. It turned out our Polish driving licence wasn't good enough. He said that the law in Thailand had changed and we need international driving licence to move on motorbike in Pattaya.
He took our document, gave us some paper and tell that we need to go to the Police station to pay a fine (400 THB, which is $12).
We were driving around for an hour, trying to find it. And we were stopped by the Police 4 MORE TIMES. Everytime we showed them the paper we got from the other policeman and they let us go.
Finally we found the Police Station. And we saw dozens of Farangs (foreigners) who were in the same situation as we were.
It turned out that Police Thailand made a big business from the tourists. They are stopping everyone on purpose only to get money from them.
Police Station in Pattaya looks like a funny restaurant. Everybody is smiling and you can even buy there a shake or a coffee.
In order to pay a fine, you need to press the button on the blue machine (photo below). You will get the queue number. Our was 84 and by the time we arrived there, number 47 were the first in the line.
It all looked like the Post Office in western countries.

We were waiting another 1,5 hour to pay the fine. After we finally made it, we spent another half an hour to find our policeman (it's difficult to drive around Pattaya city center because of many one-way streets).
When we found our police officer, he gave us another paper and said '3 days driving no problem'. Which means we can still drive without the licence for 3 more days! Than they will gave us another fine and so on.
We spent half a day on dealing with Police Thailand today. We were talking about this situation with many people we've met on the way. That's why we can give you best tips on how to deal with the Police Thailand.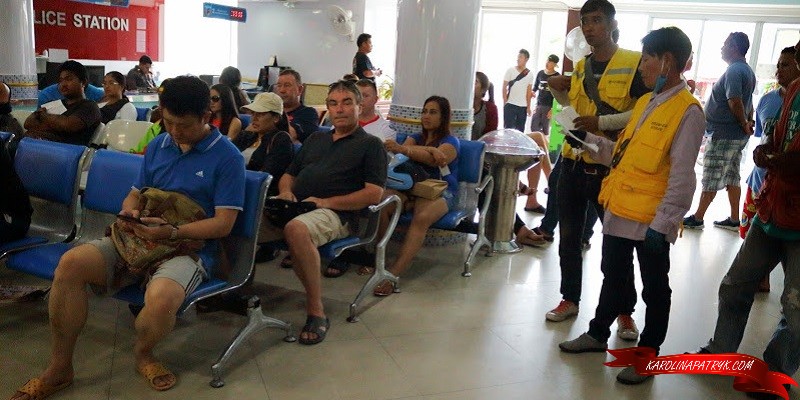 1. Always smile and be nice.
Remember: You are talking with Thai Police Officer. If he wants, you can go to prison. So be nice and keep in mind that Thai people hate arrogance and impoliteness.
No matter what happens, always be calm.
2. Avoid driving a motorbike in Pattaya.
We've been traveling around Thailand for more than 2 months. We've visited Southern, Central and Nothern Thailand. We were renting a motorbike everywhere. And never before we've been stopped by the Police.
It happens only in Pattaya. They will try to give you the fine for everything- high speed, not wearing the helmet or even for something illegal you are not aware of.
It's just crazy that we've been stopped by the Police Thailand 5 TIMES TODAY.
3. Always have your documents with you.
If Police Thailand stop you and you won't have any documents, they will keep the keys to your motorbike.  You will have to find a taxi, go to your hotel for your driving licence and come back. It will be way more pricey and time-consuming for you.
TIP: You don't really have to have your driving licence– passport or ID will work as well.
Have you ever been stopped by the Police abroad?