Port Dickson guide
Port Dickson guide: Most of you probably never heard of Port Dickson. It is not a popular tourist destination in Malaysia. We don't really understand why! PD is a lovely and peaceful town with beautiful beaches and an access to the sea. It is a holiday destination for Malaysian or Singaporean people but not for foreigners. During 1,5 week of our stay we have seen only one family of foreign tourists.
Why? First of all- it's not easy to get to Port Dickson on a budget. The best way to travel is taxi and it's not cheap. Secondly- Kuala Lumpur is situated less than 100 kilometres (60 miles) away, so most people prefer going there instead of staying in Port Dickson.
Kuala Lumpur is a really nice city but it's definitely not a good place to relax. For us, PD is thousand times better. Only few people know that Port Dickson is situated really close to KLIA airport, even closer than KL! So if you are looking for a peaceful place to stay and relax, close to the airport, PD will be perfect for you.
Port Dickson guide: How to get there?
From Singapore
There is a direct bus from Singapore to Port Dickson. You can easily book a ticket online on Easybook. We can highly recommend this website! We used it many times while traveling in Malaysia. The online payment is easy, they even accept PayPal which was great for us.
From Kuala Lumpur
Unfortunately, there is no direct bus from KL to PD. There are 2 options to get there though:
On a budget ($4)
You need to take a Komuter train from Kuala Lumpur and get to Seremban. The list of train stops going to Seremban:
Bangi
Bank Negara
Batang Benar
Batu Caves
BDR TSK Selatan
Kajang
Kampung Batu
Kem Batu Kentonmen
Kuala Lumpur
KL Sentral
Labu
Midvalley
Nilai
Putra
Salak Selatan
Sentul
Seputeh
Serdang
Taman Wahyu
Tiroi
UKM
When you get to Seremban station, you need to walk about 10 minutes to the bus station. From there, take a direct bus to Port Dickson. The buses on this route go frequently, about 10 times a day, so don't be worry, you will easily get to PD.
The whole journey will last about 2-3 hours, depending on which station in Kuala Lumpur you will start.
2. Fast
You can take a taxi or Uber to Port Dickson. Uber is cheaper, the ride will cost about RM120- RM150 ($28-$58). If you haven't travel by Uber yet, you should definitely give it a try! You can use our code karolinak205eu to get your first ride (worth RM45) for free.
Port Dickson guide: Driving around in PD
The easiest and the most convenient way to travel around Port Dickson is to ride a motorbike. It can be rent in a town or in a hotel. Some hotels (like for example Langit Langi where we were staying) offer it for free! We've been traveling through many South East Asian countries and free hotel motorbike rental is something that we have only seen in Port Dickson.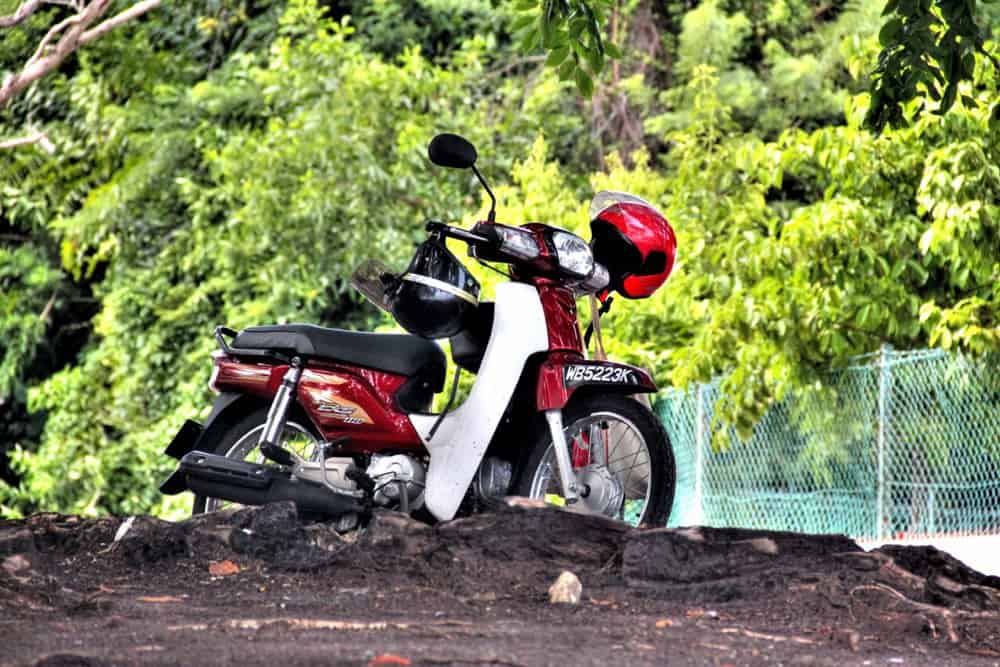 Port Dickson guide: Things to do in Port Dickson
Wan Loong Chinese Temple
For us, it is the most beautiful building in Port Dickson. Wan Loong is situated next to the Restoran Yun Long Seafood by the main road. The temple is peaceful and colourful.
We came across it accidentally, on our way to the Blue Lagoon. We stopped by and we were enchanted by the beauty of Wan Loong. We didn't even know the name of this temple during that time, so we had to google it later.
The admission to Wan Loong is free.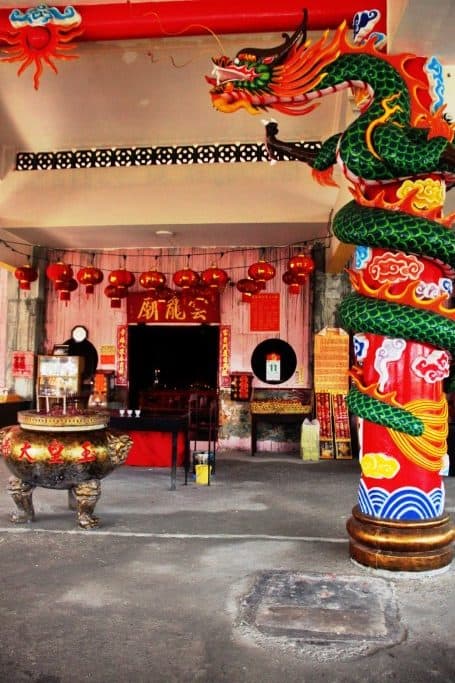 Relax on the beach
Beaches in Port Dickson are decent. They are not heavenly, they don't have the white sand and crystal clear water. But they are quite nice!
The main reason to visit PD is not the beautiful nature. It's the location. There is no other place so close to the airport and Kuala Lumpur.
Water sports
Beaches in Port Dickson may not be amazing but you can always have fun in the water there!
There are many water sports to choose from, like for example: water skis, jet skis, banana boats, windsurfing and kayaking.
Tanjung Tuan (Cape Rachado)
Cape Rachado is an exclave of Melacca situated on Port Dickson's territory.
Tanjung Tuan is really small! All you can see there is a beautiful forest reserve and the lighthouse. It's place worth visiting mainly because of its historical meaning. The famous battle between Portuguese and Dutch colonisers took place there in 1606 (Battle of Cape Rachado).
Watching the sunrise
We have spent the last 6 months in South East Asia. And the most spectacular sunset we have seen are the ones in Port Dickson!
Every day in the evening, the sky is burning in PD. It looks heartbreakingly beautiful and can't be compared to anything else.
The weather in Port Dickson is almost always great, in contrary to Kuala Lumpur, where there is raining every day.
Have you ever heard of Port Dickson? Do you know any other hidden gems of Malaysia? Remember, sharing is caring. Share your thoughts in comments!