Interesting Poznan facts
Poznan, the capital of Greater Poland is one of the best places to visit in Eastern Europe. With a rough history, beautiful architecture and unique atmosphere, it's a perfect tourist destination even for the most demanding travelers. In this post we will try to show you a different angle on this city. We've gathered Poznan interesting facts to give you insider insight on this amazing place.
Poznan interesting facts #1
Poznan is a home to the most famous croissants in Poland
Rogale Świętomarcińskie are sweet croissants filled with custard made of white poppy seeds, sponge-cake crumbs, sugar, eggs, nuts, almond flavouring, margarine, raisins and candied fruits. They have the semicircle shape in memory of the horseshoe that was lost by Saint Martin's horse.
Saint Martin is a patron of rogale świętomarcińskie. According to the legend, the baker from Poznan was inspired by him. He wanted to help the poor people, so he invented these delicious croissants. Then he started giving them for free to those in need.
Every year at November, 11th there is a huge celebration of rogale świętomarcińskie. All inhabitants of Poznan are eating them. There is even a museum in the city dedicated to these amazing croissants- Rogalowe Museum Poznania. They are definitely the first thing that you should try when you think of food in Poznan.
Interesting Poznan facts #2
Poznan is the only city that is mentioned in the Polish anthem
Polish anthem is a lively song with uplifting lyrics written by Józef Wybicki in 18th century after the partitions of the country.
What's interesting, Poznań is the only city mentioned in the anthem. Below you can listen to the entire song and see the part about Poznan.
Mazurek Dąbrowskiego (Dabrowski's Mazurek)
Jak Czarniecki do Poznania
Po szwedzkim zaborze,
Dla ojczyzny ratowania
Wrócim się przez morze.

As Czarniecki to Poznań
After the Swedish occupation,
To save our homeland
We will return across the sea.
Interesting Poznan facts #3
Poznan is considered as the musical capital of Poland
Poznan is the most important city in Poland for all the musicians. One of the country's best choirs are practicing and performing there. Every 5 years, world famous violin competition takes place in the city.
Many talented musicians were connected with Poznan. Anna Jantar, that is considered as one of the best Polish singer of all times, was born there.
Poznan interesting facts #4
The country of Poland has its origin in Poznan
Poland is one of the largest countries in Europe. It wasn't always that big. The land was expanding slowly in the Middle Ages. Poznan was one of the first Polish cities.
It's very likely that the baptism of Poland in 10th century took place in Poznan. There is a great interactive museum in the city- Porta Posnania ichot, where you can learn a lot about the Polish history.
Poznan interesting facts #5
Poznan is one of the best cities to live in Poland
According to independent rankings, Poznan is the top city to live in Poland. The assessment factors are economy, society, environment and politics.
The capital of Greater Poland has good infrastructure. What's interesting, it's located very close (closer than Warsaw) to the great European capital- Berlin.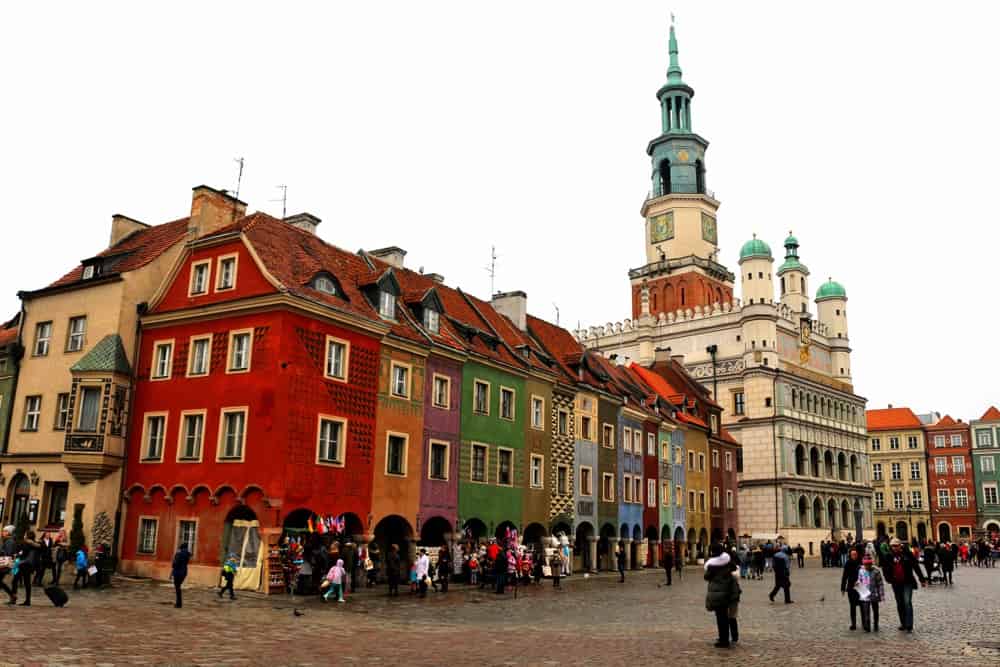 Poznan interesting facts #6
Poznan has very funny inhabitants
Let's start with dialect of Poznan- it's different than in other parts of Poland and has strong German influence.
There are many funny stories about Poznan inhabitants. The one we like the most is about the drunk driver who had been stopped by the police. He was afraid that someone from the drunk tank would take away his money (500 PLN), so he… ate it!
The other story that we like is about 92 years old Mrs Wiktoria. Her birthday wish was to try marihuana (which is illegal in Poland). She said she wasn't crazy enough when she was young and now it's time to go wild!
Poznan interesting facts #7
Poznan Cathedral is a place of the final rest for the first Polish kings
You are already aware that the country of Poland has its origin in Poznan. You may not know though, that the first Polish king Bolesław Chrobry and his father Mieszko I (the one who made Christianity an official religion) are buried in Poznan Cathedral!
The tombs are available to see everyday except Sunday.
Poznan interesting facts #8
Poznan is the most gay-friendly city in Poland
Even though Poland is one of the most intolerant countries of Europe, Poznan is different. It's considered as the most gay-friendly Polish city.
Maybe it's because of the strong German influence, maybe because inhabitants of Poznan are the least religious in the country. One way or another- we hope this city will be the precursor of good change in Poland.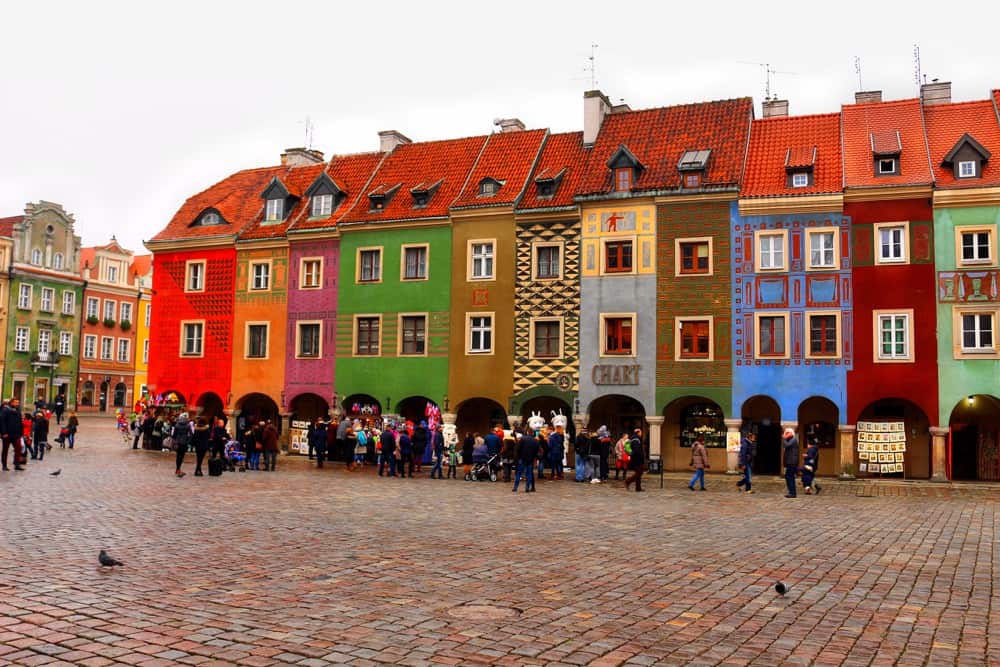 Poznan interesting facts #9
Poznan is famous from the beer
Lech, produced in Poznan, is our favourite Polish beer.
The best and the most famous shopping mall in the city is located in the former brewery. It's even literally called Stary Browar which in Polish means Old Brewery.
Poznan interesting facts #10
The best tourist attraction of Poznan are Billy Goats
Two billy goats are hidden in the clock of Poznan's Town Hall (Ratusz). Everyday at midday they are coming out and start a little fight by head butting. Why? Here is the legend:
After the Great Fire the Poznan's Town Hall with a clock was rebuilt. It was the occasion for celebrating. The feast was supposed to be prepared by young cook named Pietrek. He was really excited and he wanted to see everything that was going on at merket square. He thought it's OK to go there for a moment while the meat was roasting. Unfortunately, he didn't come back on time and the roast burnt to cinders.  He was terrified and had no idea what to do. He ran to the nearest meadow and stole two billy goats. Pietrek couldn't keep them still, so they ran away. They started head butting before the assembled crowd. The mayor of the city thought it's hilarious and he asked the clockmaker to construct a special mechanism that will play this scene every day. 
Poznan interesting facts #11
Poznan is a home to Polish eBay- Allegro
Poznań has long and interesting trading history. Fairs organised in this city are still famous all over the world.
Only few people know though that Poznan is the capital of Polish ecommerce and innovations. EBay is not popular in Poland because of Allegro- the biggest online auction website in the country. It was founded in Poznan in 1999.
If you are looking for the great place to stay in Poznan, we 
recommend you Sheraton Poznan. It's a five star hotel located 
in the city centre, within the walking distance to the Old Town. 
The Ławica airport is only 15 minutes driving away. 
We've been staying in Sheraton Poznan for a weekend 
and absolutely loved every second of our time there.

Check out the latest prices for Sheraton Poznan—> click here.
Disclosure: We want to thank Sheraton Poznan for complimentary stay. All opinions presented in this post are honest and our own.
Did you know this facts about Poznan Poland? Do you know something else about this beautiful city?
Disclosure: Yay for transparency! Some of the links in the article are affiliate, which means that if you book something by clicking on them, we will get a small commission with no extra cost to you. Your support helps this blog going.