Ramada Hotel & Suites Vilnius review
There are not so many hotels in the world that seem to be just… perfect. Situated in the best location in the area with all the useful facilities that you can imagine. The staff in hotels like this is professional but not overweening. Your room is luxurious and comfortable. You don't feel like home there. You feel like a king with the perfect life that always gets what he needs. We found the hotel like this. Keep on reading to see the amazing Ramada Hotel & Suites Vilnius review.
As we mentioned before, the hotel is situated in the best place in Vilnius. Right next to the Lithuanian National Philharmonic, just few steps from the Gates of Dawn and The Town Hall. It truly deserves its 5 stars, as it is always listed as one of the top hotels in the city (based on independent opinions).
Staying in heart of an Old Town is a wonderful experience, there is nothing better than having all the important places, best restaurants and bars right at your doorstep.
It is worth to mention that many famous people were staying at Ramada! Enrique Iglesias, Sting, Roxette, Steve Wozniak and more.
Rooms
Ramada is a boutique hotel with 55 rooms. We love staying in places like this! You feel there like you were the only guest and everything is made especially for you.
Every room at Ramada Hotel & Suites Vilnius has AC, TV, working desk, safety box, coffee machine, free WiFi and more. Not to mention all the standard facilities that you get in every 5 star hotel like slippers or bathrobes.
There are 7 types of rooms in the hotel:
Classic
Luxurious and comfortable (16m2) room with two single or one double bed.
Comfort
More spacious (18m2) than classic room, equipped with complimentary espresso coffee with wooden floor in the bathroom and weight scales.
Superior
Bigger than comfort room (23m2) with complimentary coffee, wooden floor in bathroom, Bvlgari toiletries and a bath.
Superior Deluxe
Bigger (27m2) and more luxurious than Superior room. Has all the facilities that you can find in other rooms plus lounge area with coffee table and sofa.
Junior suite
The room we were staying in. It was wonderful, spacious (28m2) and luxurious. We has separate shower (with steam sauna!) and bath. Some rooms have the kitchenette instead.
Queen suite
Pure luxury- spacious (36m2) room with luxurious design. Some queen suites have a fireplace!
Royal suite
The best room at Ramada Hotel in Vilnius. It is huge (53m2), has two bathrooms, one bedroom and one living room.
What we really liked about Ramada Hotel Vilnius:
Central location- you really can't get anything better in Vilnius. Ramada is situated in the heart of an Old Town.
Beautiful design of the room- it is luxurious and old-style. Even though it looks like the palace, you will have all the modern facilities you need, like WiFi or coffee machine.
High quality of toiletries- especially in suites, where you are getting Blvgari cosmetics!
Welcome drink for everyone– a glass of good wine is a perfect beginning of the stay in the luxury hotel.
Comfortable bed– we were sleeping like the babies in our king size bed. It was so comfy that we didn't want to get up!
Amazing staff– waitresses, waiters, cleaning ladies, they were all very nice, friendly and professional.
Delicious breakfast– the food was always fresh and tasty. We really liked the freshly squeezed orange juice and decaf coffee that is not available in every hotel
Sunday breakfast until 3 pm! Ramada is the first hotel we've been to that actually listens to what their guests want. You can sleep as long as you can on Sunday and still have a breakfast. Even when you get up at 2pm :)
Imperial Restaurant
One of the best restaurants in Vilnius! We have been there for a dinner and we absolutely loved the food. We have chosen the tasting menu which you can see on the photos below. Everything was perfect except from the one thing- the prices of drinks are really crazy. 50 euro for 2 glasses of wine per person is a little bit too much. But… the luxury has its price, right? :)
Bar California
Bar California is a great place to have a drink, especially during the summer. You can sit outside and watch the people passing by. When we were staying in the hotel, on Friday evening there was a live music at the California. It was really lovely!
Wellness Center
The Wellness centre at Ramada Hotel & Suites Vilnius is quite small but enough to relax or work out. The gym has all the basic equipment and the weight scale.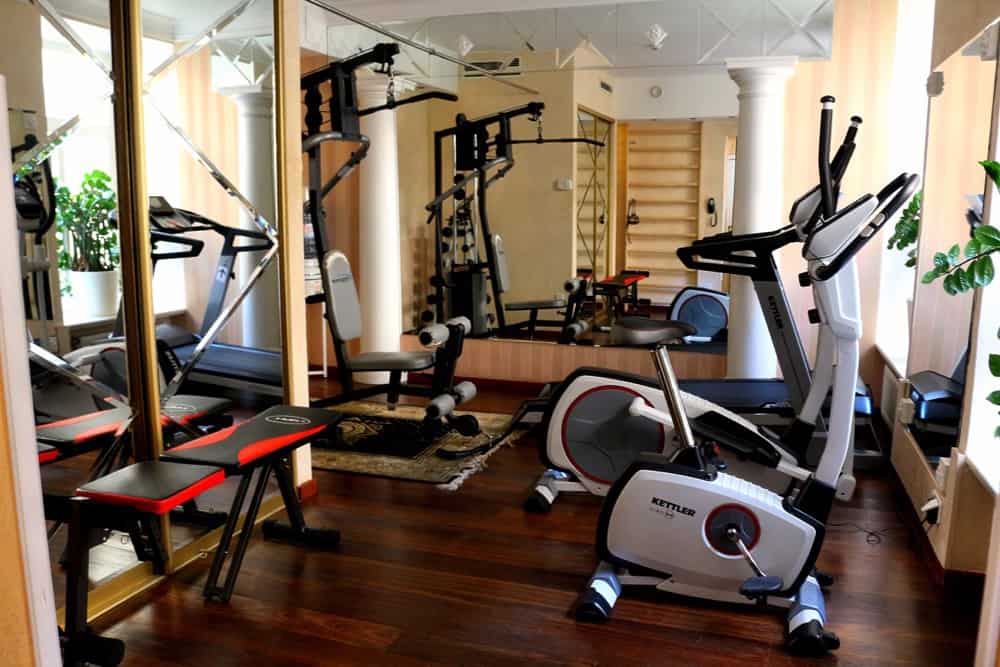 Guests can also use the sauna and jacuzzi which is a perfect way to relax after a busy day of sightseeing!
Check out the latest prices for Ramada Hotel Vilnius—> click here.
Disclosure: We want to thank Ramada Hotel & Suites Vilnius for complimentary stay. All opinions presented in this post are honest and our own.