Charleston Honeymoon – Romantic Things To Do in Charleston For Couples
Living just a short road-trip away from Charleston, South Carolina has been a luxury I only recently began taking advantage of. My husband and I have completely fallen in love with the quiet, southern charm of Charleston and frequently visit even if it's just for the day. A few months ago we spent a long weekend in Charleston to take a break from wedding planning and discovered so many beautiful, and
romantic spots for couples
.
Charleston Waterfront Park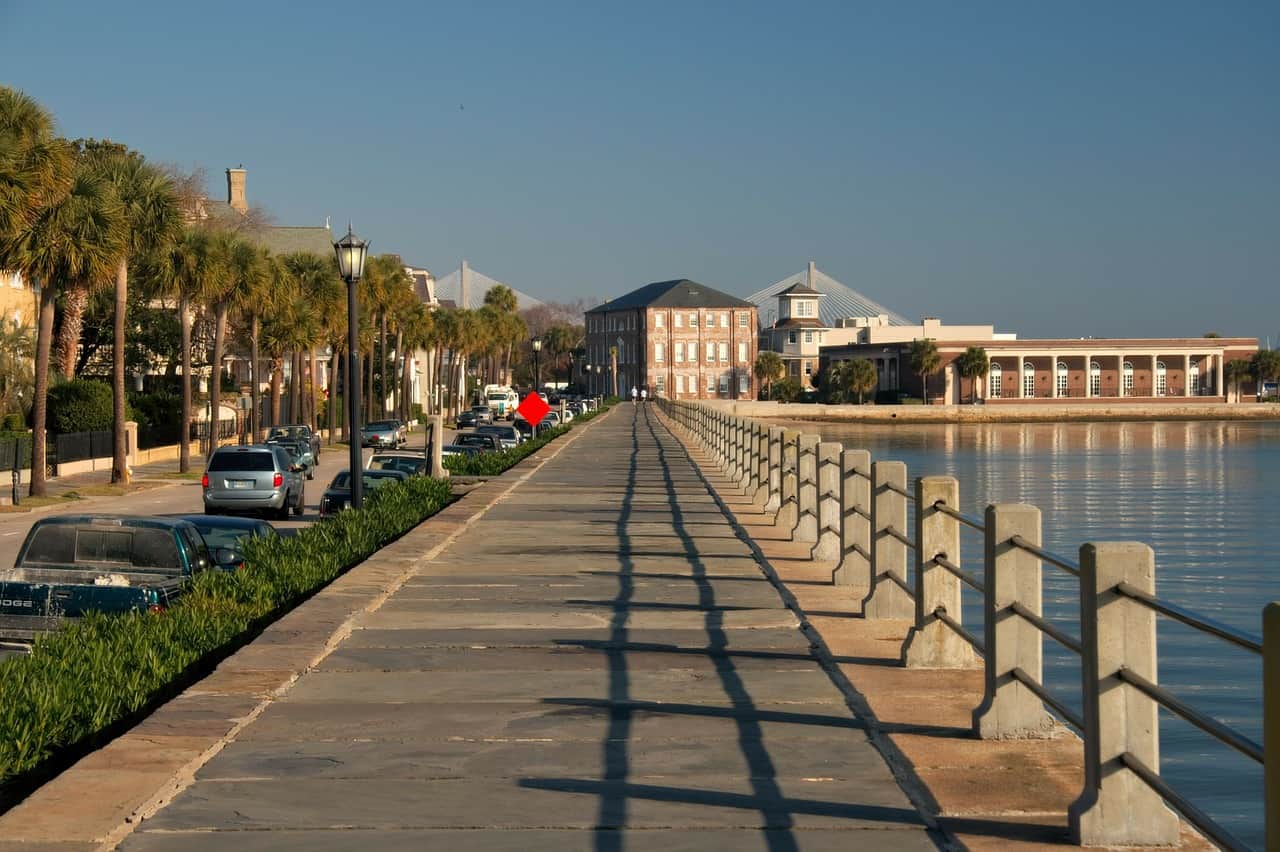 One of the many great things about Charleston is that many of their attractions are within walking distance of each other. You can walk down any given street and enjoy a quaint cafe or a unique shopping venue. You might be familiar with the historic Charleston City Market located downtown. It is a four block, partially open-air market that used to be where Charlestonians would sell food, textiles, and other goods. The market is still open today as a tourist attraction, and vendors sell all kinds of souvenirs and authentic Charleston goods. Just a few blocks past the City Market you will find the beautiful eight-acre Charleston Waterfront Park. With breathtaking views of the Arthur Ravenel Jr bridge and home to the famous Pineapple Fountain, there are many beautiful and photogenic spots to sit and reflect with a loved one.
My husband and I typically visit the Charleston Waterfront Park while strolling around the downtown area. As previously stated, there are a lot of other popular destinations within walking distance of the waterfront park, making this an easy detour for any Downtown Charleston visit. There are several restaurants within walking distance from the waterfront park. So grab some food to go and have a picnic on one of the many shaded bench areas on the water!
Be sure to visit this waterfront park during the evening to experience a truly magnificent sunset on the Cooper River. Take a moment to appreciate the brick walkways under the shade of kissing tree branches. This is the perfect place to take a romantic stroll after a delicious dinner in the many restaurants within walking distance.
Angel Oak Tree
Just a short drive from Charleston on John's Island lives one of the oldest and most beautiful live oak trees in the United States. Located in Angel Oak Park, the Angel Oak tree is estimated to be between 400 and 500 years old. This magnificent beauty proudly stands almost 67 feet tall and 28 feet wide at the trunk. But that is not even the most impressive part. The Angel Oak's branches create over 17,000 square feet of shade, with the longest branch at 187 feet in length. There is no charge for admission and parking is free, but can be sparse.
On any given day, there is usually a lot of activity surrounding the tree. In addition to the families and visitors taking photos of the tree, there are often painters and musicians creating their art under the branches of this natural marvel.
My husband and I visited the Angel Oak during a day of traveling around the surrounding area of Charleston. While the Angel Oak has become a famous Charleston icon, it is not actually located in Charleston. The Angel Oak is located about a thirty-minute drive away from Charleston. The drive wasn't bad at all, and fortunately, we found a parking spot right away. We visited on a Sunday which appeared to be a popular day to visit the Oak.
As mentioned before, admission to Angel Oak Park is free, but there is a gift shop on the location that accepts donations to the maintenance and well being of the park. So if you like what you see, be sure to donate a few dollars toward the Angel Oak! Remember, this is a state-run facility, so it relies heavily on donations!
There are quite a few rules when visiting the Angel Oak, but they are all pretty much self-explanatory. First of all, there is absolutely no climbing on the tree or standing on the roots. While that might sound obvious, the tree and its roots are so big and sturdy looking they practically beg to be sat on. Also, you cannot carve anything into the tree or take any part of the tree with your home. So, do not think this is going to be the kind of romantic experience where you carve your initials into one of the oldest trees in the country. You could get into a lot of trouble if you do that!
The Angel Oak looks like it came straight out of a fairy tale. I can confidently say, you have never seen anything like this in your life. Bring food and a blanket and have a relaxing, southern picnic under the branches. Or, hire a photographer and take some beautiful couples photos in this picturesque location. The Angel Oak makes a great, budget-friendly day time date for any couple!
Pounce Cat Cafe
I know what you are thinking. How does a cat cafe qualify as a romantic spot? Just hear me out! Pounce Cat Cafe is the ideal date for any cat or animal lover! Imagine enjoying a great cup of coffee or an adult beverage while snuggling a bunch of great (and adoptable!) feline friends!
Pounce Cat Cafe is home to many cats who are looking for their forever homes. The cafe gives guests the unique experience of meeting and interacting with these animals outside of the traditional shelter environment. All of the cats that live in the cafe come from local animal shelters. Once they are transferred over to Pounce, that's where they live full time until they are adopted! While the cafe's primary goal is to adopt our their cats, they are not pushy at all. The cafe does not guilt you into adopting a furry friend unless that's absolutely what you want to do!
Your experience includes one hour of cat snuggles and a beverage. Reservations are not required, but I highly recommend getting one because they only let a certain number of people into the cafe at a time. Pounce also hosts a variety of fun events throughout the year. Some of their regular events include Drag Bingo and Cat Yoga. Around Valentines Day, they host a special date night for couples to sip wine, eat chocolate covered strawberries, and spend time with their kitties.
My experience at Pounce Cat Cafe was nothing short of amazing. We made a reservation ahead of time and arrived fifteen minutes before, as recommended. We were escorted through the "cat room", to an enclosed bar area away from the cats. So don't worry, they're not making food and drinks in a room full of cats! We had some time before to get our drinks, sit and relax and wait for our time with the floofs!
Once our time window began with the cats, an employee directed us into the cat room. There are couches, tables, chairs, and plenty of cat toys to entice any feline into becoming your friend. There are only a few rules at Pounce. They ask that you don't pet sleeping cats. I thought this rule was silly, I pet my kitties when they're sleeping all the time! I made the mistake of violating this rule and got a nice little scratch for it.
You can also purchase treats to feed the cats. We didn't do this, but I wish I had! Another couple in the cafe purchased the treats, and all the cats were loving on them the entire time. I'm not too proud to admit I was jealous. However, there were many cats roaming around looking for pets and snuggles, so it wasn't long before I found several cats to befriend.
I was really pleased to see a cat get adopted while we were at the cafe! Who knows?! You might even fall in love and take home a new furry friend!
Carmella's Dessert Cafe and Bar
This is one of my own personal favorite date spots in Charleston! Tucked away on East
Bay Street, right around the corner from the Charleston Waterfront Park, is this adorable and highly instagrammable dessert bar. Voted "Best Dessert Spot in Charleston" by USA Today and featured in Harper's Bazaar, Carmella's doesn't disappoint. This cozy environment is perfect for a romantic night with a loved one.
Carmella's serves classic Italian desserts, like gelato and tiramisu. In the morning, enjoy a fulfilling breakfast with a smoothie or pastry. Come back for a great lunch of sandwiches and stromboli in the afternoon. In the evening, relax and enjoy delicious desserts and a full-service bar featuring dessert cocktails, beer, and wine. One of the most impressive desserts they offer are mini cakes. These adorable smaller versions of some of their more impressive large cakes are beautifully decorated and deliciously made.
I had been dying to go to this dessert bar since I saw it walking around downtown Charleston one day. Fun fact: my great grandmother's name was Carmella. She was your typical, Italian woman constantly cooking delicious food and desserts. Also, she lived on Bay Street in New Jersey, and ironically Carmella's Dessert Bar is located on East Bay Street in Charleston! So clearly, I had to visit.
We visited Carmella's at night and one weekend and it was definitely busy. We could tell from the street that this was a popular spot. There were many groups of people sharing desserts or enjoying dessert cocktails. We waited in line for about ten minutes or so, which gave us time to decide what we wanted for dessert. They have a great display cabinet where you can help make your decision on what treat you want to try while waiting on line.
My husband and I split a giant chocolate chip cookie that was stuffed with an Oreo AND Reese's peanut butter cup. It was mind-blowingly delicious! We had a large dinner that night, so I was kind of full which is why we opted to share a cookie instead of one of their more impressive desserts. Believe me, next time I'm in Charleston I'm taking on one of Carmella's beautiful and without a doubt delicious mini cakes! I will keep you updated on this!
Carriage Rides
There are a LOT of options as far as carriage rides go in Charleston. One of the most popular ways to see the city comes in many ways, shapes, and forms depending on your tastes. There are a wide variety of daytime carriage tours where you can learn about some of the historical buildings and spots around the city.
My husband and I have only ever been on one carriage tour. It was public, daytime tour, but it was still romantic and a great activity for us to do together! Our tour guide was genuinely passionate about Charleston and offered a lot of information based on his own personal experiences. We ended up learning a lot about the city, and would definitely do it again!
If you really want to impress your significant other, you can rent a private carriage ride either during the day or in the evening. Take a quiet ride down the cobblestone streets to start your day end your evening. One of my favorite romantic ideas for a date in Charleston would be to have a carriage pick you up from a restaurant after your dinner and take a ride around before ending your evening. And you could definitely do that!
Well, folks. Those are my picks for romantic activities and locations in Charleston, South Carolina. I hope you get out there and experience it all!
Pin For Later:
Bio: My name is Morgan Rundquist and I am the creator of the lifestyle blog, Unapologetically Morgs. I'm a 90s baby born, raised, and still living in beautiful Wilmington, North Carolina with my husband Kaleb, and our fur-children Teddy, Tater Tot, and Taco. Wine, writing, television shows, and animals (specifically, cats) take up most of the space in my brain. And of course, traveling. I will never pretend I am some accomplished, professional traveler (not yet at least) but I am extremely passionate about visiting and experiencing other places. Even as a child I looked forward to long car rides because that meant we were visiting someplace new. As an adult, I am fortunate to be able to travel often and share these experiences on my platform!