Ahh… England. Who wouldn't like to get lost in the beautiful cobblestone streets or drink afternoon tea in the lovely cafe overlooking the sea? While the weather in Great Britain is not always perfect, there are many amazing romantic getaways and one night breaks in the UK where you can rekindle your relationship with your partner.
From Wales to Ireland, we've covered it all! Keep on reading to discover the most romantic getaways in the United Kingdom.
Cornwall
If you're looking for one of the most beautiful and romantic places to visit in the UK, then you really can't go wrong with Cornwall. Located in the southwesternmost corner of England, Cornwall is famed for its great weather (for England), beautiful beaches, fascinating history, and breathtaking natural scenery — a perfect recipe for a romantic getaway!
You can drive from London to Cornwall in about six hours and there are many great things to see and do along the way, however, the real highlights reside in this beautiful region. Make sure not to miss the charming village of St Ives, known for being a haven for local artists, there are countless cool galleries, local shops, and even a branch of the Tate art museum.
If you love exploring castles then you can't miss St Michael's Mount just outside of Penzance or the ruined Tintagel — rumored to be the legendary birthplace of King Arthur. And if you're keen to get outside, try hiking around Land's End or Cape Cornwall, take in the incredible Minack Theatre, or even try your hand at surfing in Newquay — England's surf capital!
Cornwall is packed with lovely things to do and it's sure to be the perfect romantic getaway in the United Kingdom.
Bath
Beautiful Bath may well be the most romantic getaway in the UK. Located in South West England, the city has been crucial in many parts of Britain's history – from Romans using it as a spa town to being the site of the first King of England's coronation.
If you are a history and culture-loving couple, there is plenty to learn about here; from the original Roman Baths to a tower tour of the cathedral, to the Jane Austen museum. But if museums and churches aren't your things, the historic buildings still make a wonderful backdrop to its many bars, pubs, and restaurants. There are also plenty of places to go hiking nearby, including the wonderful Bath Skyline walk, which can be reached on foot from the city center.
Once you've had a busy day's exploring, Bath Spa is a must-visit and is perfect for couples. The Thermae Bath Spa is the country's only natural thermal spa, making use of the hot springs that the Romans found in ancient times.
Consisting of treatment rooms, various saunas and steam rooms and swimming pools – including a heated pool on the rooftop that is lovely in cooler weather – unwinding in Bath Spa with your other half is a wonderful end to a weekend in this romantic city.
Cotswolds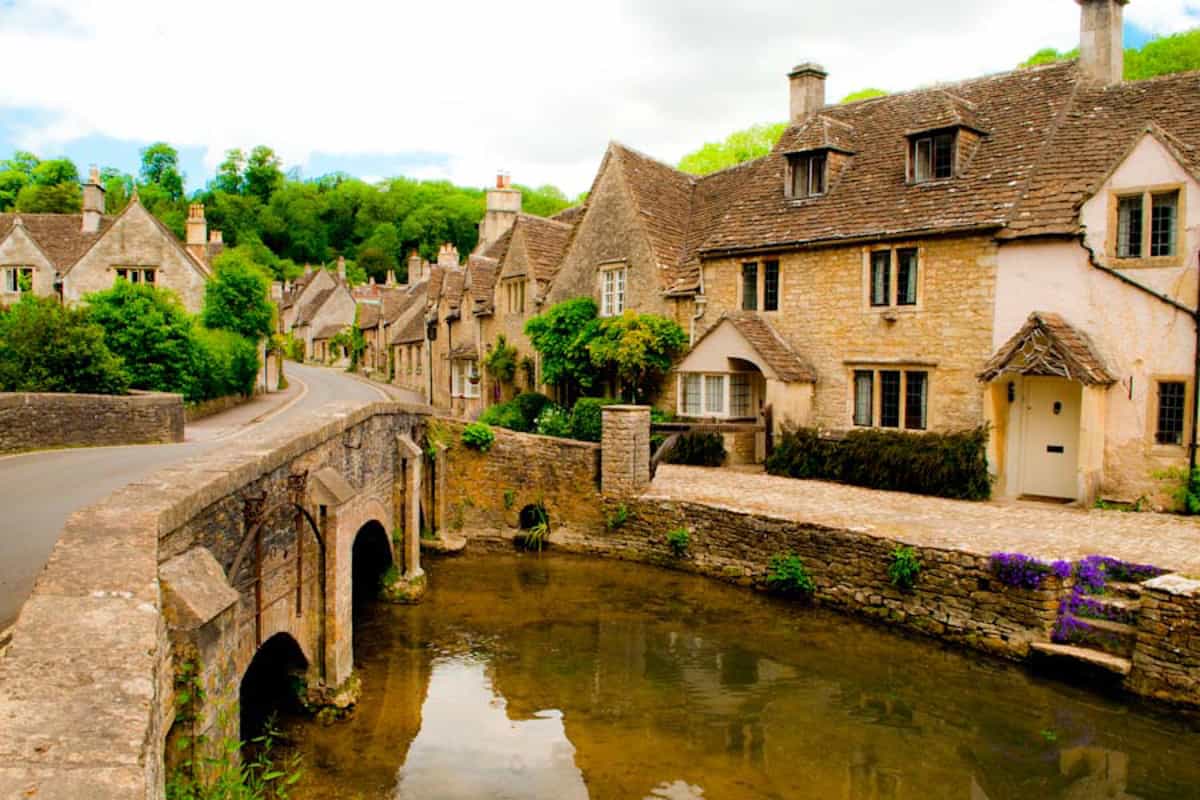 There's something incredibly romantic about the English countryside with its rolling hills, green fields full of sheep, quiet country lanes, and quaint villages dotting the landscape. The Cotswolds has all of this and more making it one of the best places for a romantic getaway in the UK.
The Cotswolds covers almost 800 square miles and five counties and nearly every bit of it displays picture-postcard scenes of quintessential English country life. A perfect Cotswold romantic getaway includes exploring the many towns and villages full of charming gold-stone cottages, country manors and castles, lively markets, and historic churches. The cobblestone streets are lined with old English pubs, butchers, bakers, cheesemongers, and lovely boutique shops.
You will drive between the villages along narrow country roads with only miles of iconic stone walls separating you from the fields and hills mentioned above. The biggest challenge will be refraining from stopping every few minutes to take in the views.
At the end of the day, you can enjoy a romantic evening meal in a country pub or cozy restaurant before settling in for the night. When it comes to accommodations made for romance the options are endless. Step back in time with a stay at a historic hotel like the Charingworth Manor, try a luxury B&B like Abbots Grange, or have a magical treetop glamping experience at The Fish.
Castle Combe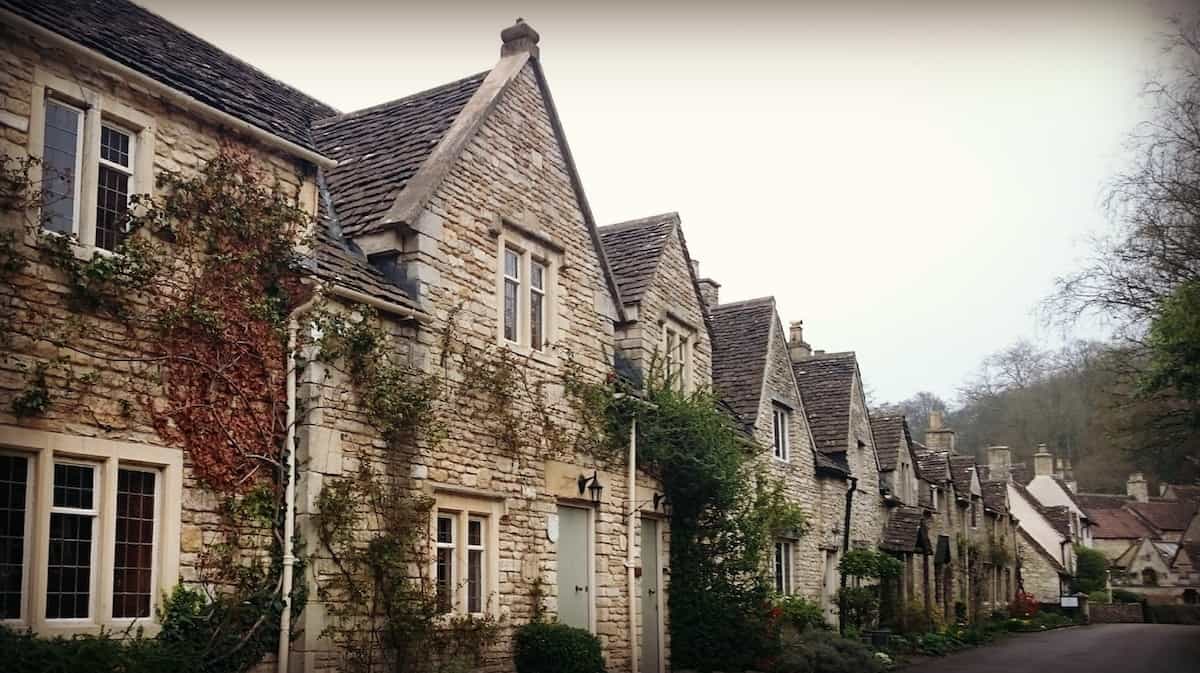 Castle Combe in Wiltshire is widely regarded as England's prettiest village. Its honey-colored stones and timbered buildings, with jam pots for sale on the doorstep, take you back to a bygone era. A river meanders through the village under a picturesque bridge surrounded by quaint cottages. The village is so appealing that it has been featured in many TV programs and films including Downton Abbey and War Horse and makes the perfect spot for a romantic stroll in the Cotswolds.
To max out on the romance factor, you can stay at the Castle Inn, a traditional cozy English pub or the Manor House Hotel at Castle Combe, a stunningly beautiful luxury hotel dating back to the 12th century, with a Michelin starred restaurant and riverside position with Italianate gardens.
If your budget won't stretch to stay over, do stop off for drinks, dinner, or that quintessential afternoon tea and a stroll around the gorgeous gardens. This is a popular spot to get married so who knows where romance will lead you in Castle Combe!
If you are on the hunt for yet more romantic English villages, combine with a trip to Lacock or head to Bath to sample the spa waters. For a more action-packed date, check out Castle Combe Driving Circuit.
Peak District
If you're a couple who love the outdoors, a long hike along the open escarpments of the Peak District with no one in sight bar the two of you makes for the perfect romantic getaway in the UK. Indeed the Peak District has been the backdrop for many an adaptation of Pride and Prejudice, arguably one of the top romance novels of all time.
Spend your days taking in the views at Stanage Edge, Curbar Edge or Monsal Head, or head to Chatsworth House to picnics like Elizabeth Bennet and Mr. Darcy. If the mood takes you, you may want to take a romantic wild swim in the River Derwent which runs through the Chatsworth Estate.
For those of you looking for a way to declare your love without dipping into icy water, perhaps add a lock to Bakewell's Lovelock Bridge.
But the real romantic treat of the Peak District is the dark night skies, creating the perfect conditions for stargazing. Grab a bottle of wine and some blankets, and head to Surprise View, near Hathersage. Or cozy up in a hot tub with a couple of Peak Ales at Scaldersitch Farm, Hartington, which offers luxury glamping with cozy log burners and private hot tubs.
Quantock Hills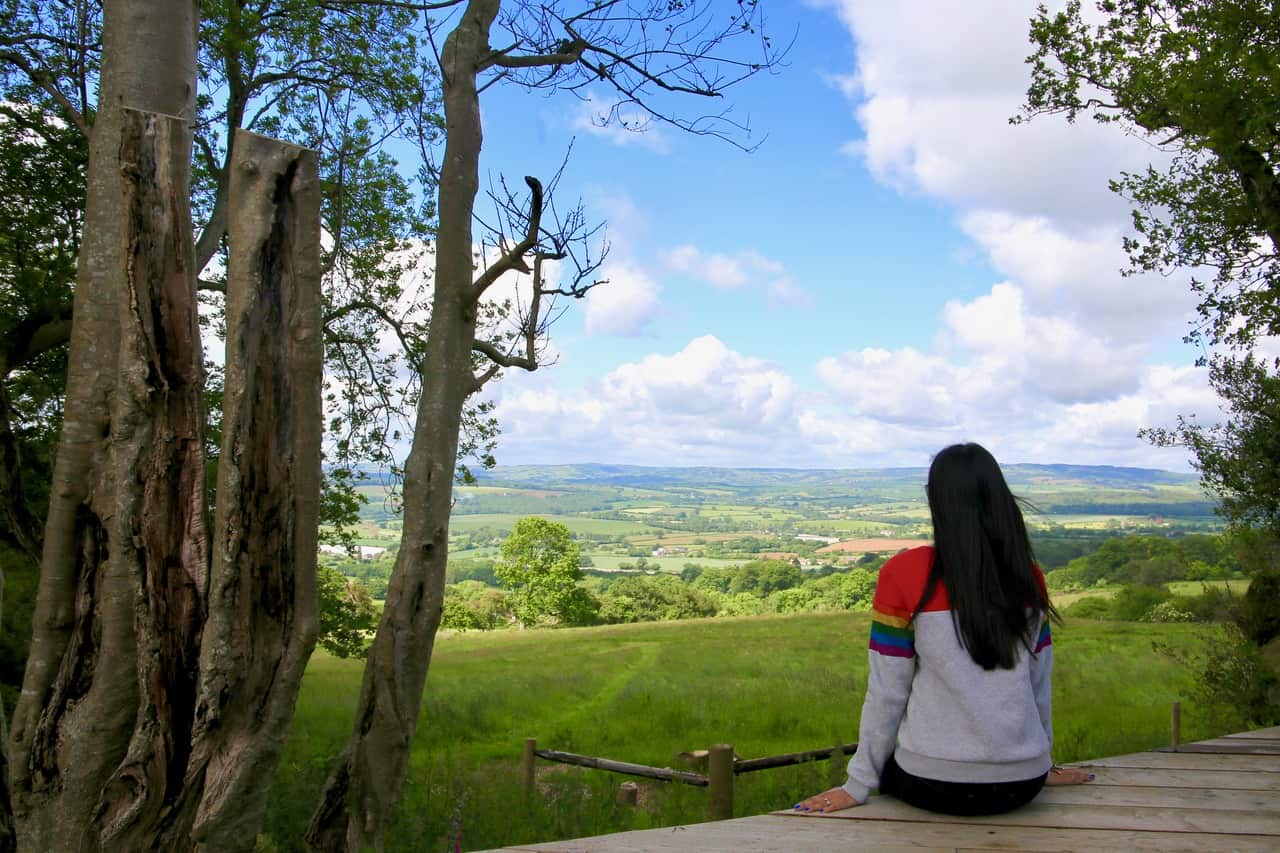 It's no surprise this corner of England was one of the first recognized Areas of Outstanding Natural Beauty (AONB) in 1956. Twelve miles north of Taunton the Quantock Hills form the western border of Somerset. Captivating views from the top of the hills on a clear day can stretch across the Bristol Channel and as far as the Gower Peninsula in Wales.
The romantic landscape of heath, cozy villages set in scenic wooded valleys or 'combes' as they're known alongside rolling moorlands with rare grazing Exmoor ponies is a haven for those seeking a peaceful retreat. And if that wasn't enough you have an incredible Jurassic coastline to explore.
Pull-on your walking boots and discover the ancient hills of Quantock on foot. Wander through the sessile oak woods of Holford Combe in the footsteps of poets Coleridge and Wordsworth. Go fossil hunting along the coast between Klive and East Quantoxhead, amongst rocks formed up to 200 million years ago.
Surrounded by impressive panoramas admire the grand limestone cliffs as you amble along with the slate and shingle beach.
When it's time to rest, settle in at a plush shepherd's hut on Tilbury Farm. With your own private hillside meadow, wooden deck, fire pit, and hot tub enjoy cozy evenings looking out to breathtaking vistas over the Blackdown and Quantock Hills. It's the perfect hideaway in the hills.
Leeds Castle, Kent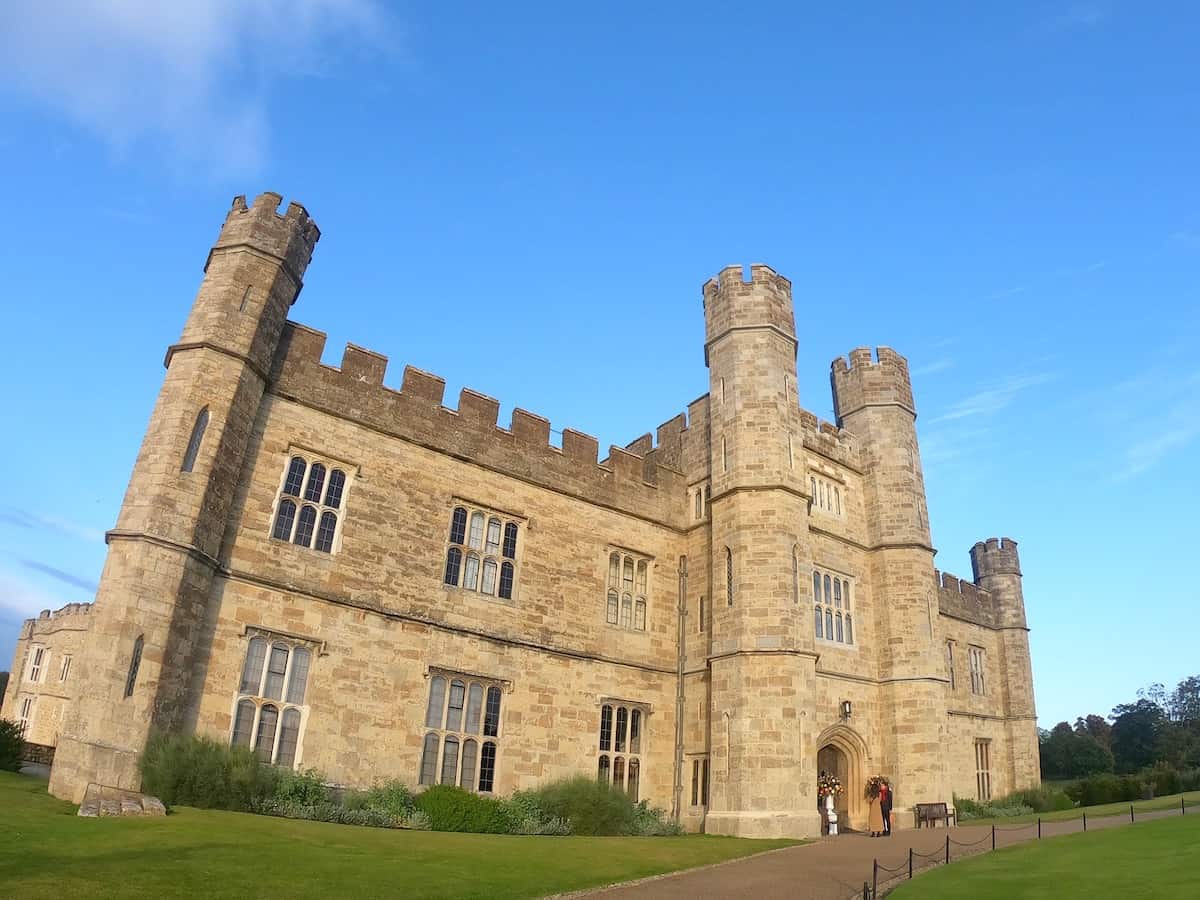 Rising majestically from the calm waters of its moat, surrounded by acres and acres of lush greenery, the 900-year-old Leeds Castle in Kent is the perfect romantic gateway. Experience royalty as you take a tour of this incredible castle that's bathed in rich architecture, impressive history, and just immense beauty.
As you enter, you will be completely spellbound by the sheer magnificence of this castle. You can book a tour online and their historian will take you through some of its many incredible halls, rooms, and libraries filled with plush upholstery, intricately carved walls, and lots of stories that will transport you to the Tudor era.
There's always so much to do to spend time with your significant other at Leeds Castle. Some of these include walking through the maze, punting on the lake, grotto, adventure golf, falconry experience, and Segway rides through the spectacular scenery. Just sitting by the crystal clear waters, watching the black swans glide gently over the reflection of the incredible 900-year-old castle is very romantic.
You can also stay here at their iconic Battel hall manor house, holiday cottages or bed and breakfast options for shorter stays. The accommodation is comfortable and offers a high level of privacy. Most buildings are surrounded by gorgeous gardens and also offer views of the castle and the waters.
They also have a wonderful restaurant called Castle view restaurant that's true to its name. The food here is amazing with locally sourced, fresh ingredients being integrated into the menu. It's perfect for a candlelight dinner surrounded by magnificent views of the castle.
You can reach Leeds Castle easily by road within 1.5 hours from London. You can also take a train from anywhere in London.
The Causeway Coast & Glen
The Causeway Coast & Glen offers couples everything they need for a romantic getaway in the UK. Picture dramatic cliffside views, romantic forest walks, whiskey tasting, and much more.
Northern Ireland offers beautiful views, epic sunsets and if you visit at the right time of year, you'll even have a chance to see the Northern Lights from the Causeway coast! Some of the highlights for couples include a romantic stroll and picnic at the Giants Causeway (one of Northern Ireland's most famous sights), wandering across the epic Carrick-a-Rede rope bridge, having fun at the amusements in the coastal town of Portrush, or admiring the epic views of Dunluce Castle.
For couples who are fans of the TV show, Game of Thrones, you can take advantage of a tour and see all the epic Game of Thrones sights dotted around the Causeway Coast & Glens.
Actually, one of the best places to stay for a romantic getaway here is the Hedges Hotel, which is located right next to the beautiful Dark Hedges, famous for its appearance in Game of Thrones, and for being a super romantic spot. When you stay at the hotel, you'll be one of the first to visit the Hedges, so you'll have the whole place to yourself for a while!
Belfast
Belfast, Northern Ireland is one of the best destinations for couples in the United Kingdom, and for good reason! You don't even need to stay in Belfast for long to fully get a feel for it and enjoy all it has to offer. In fact,
48 hours in Belfast
is the perfect amount of time.
This beautiful city is particularly a good location for couples who love to read and are total nerds! If you're a fan of Narnia, be sure to check out C.S. Lewis Square, especially if you love the Chronicles of Narnia. Perhaps you and your partner love history; you could explore the
Titanic Museum
since Belfast is actually where the Titanic was built!
If you're an avid Game of Thrones fan, be sure to plan for a day tour through either a company or on your own with a car rental. An abundance of Game of Thrones was filmed in Northern Ireland, so you have to be sure to check out Cushendun Caves, Giant's Causeway, and Carrick-a-Rede Rope Bridge.
If you're looking for a place to stay, be sure to check out the Jury's Inn for an affordable stay that's located downtown. It's also worth checking Airbnb because then you could have a whole place to yourself with your partner!
Derry and the Giant's Causeway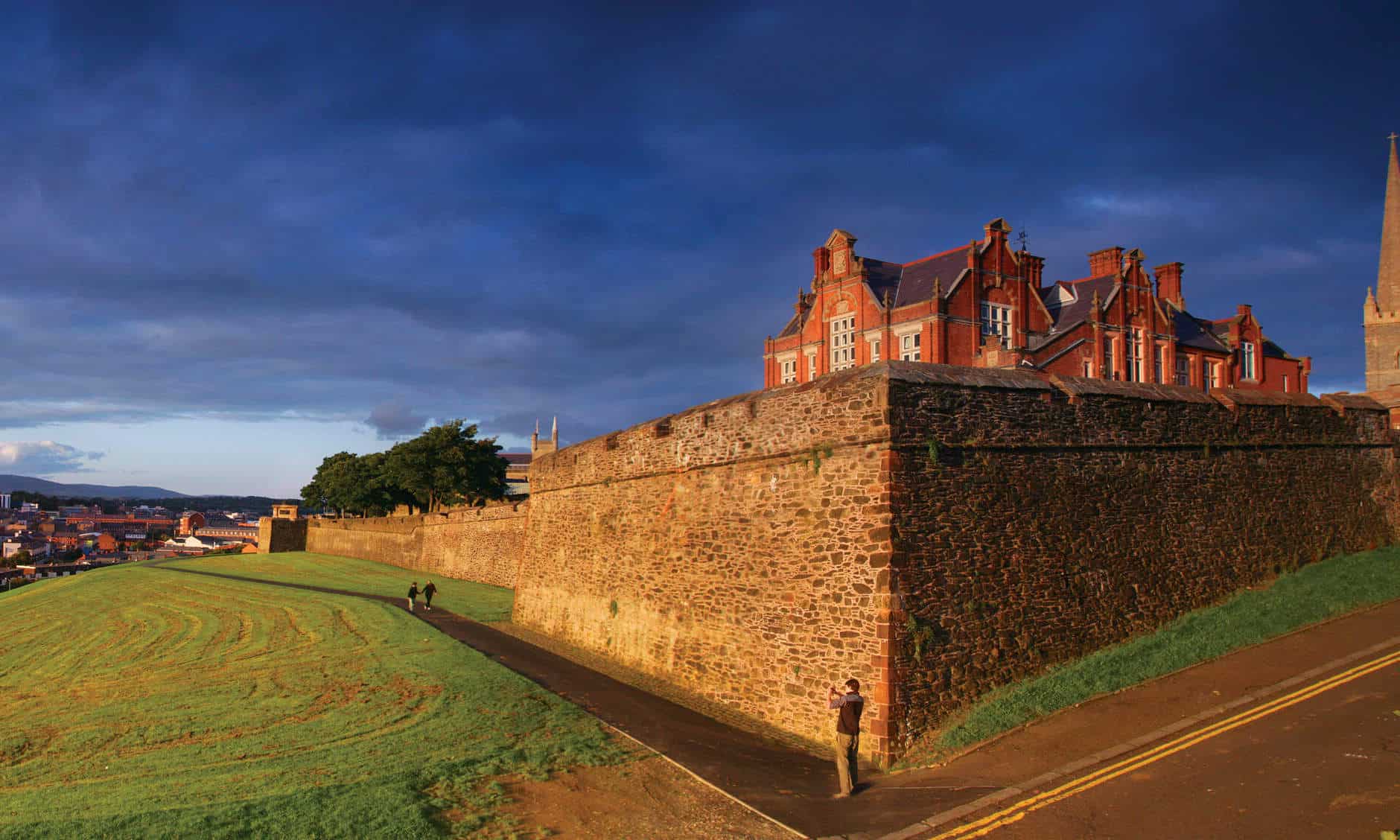 If you are looking for a city break that is wonderfully romantic, steeped in history, and has plenty of fairy-tale locations nearby, then look no further than Derry in Northern Ireland.
Derry, or Londonderry, as the city is known is often overlooked in comparison to Belfast, but has so much charm and is the ideal romantic getaway location in the UK.
One special way to soak up the atmosphere of the city is to take a stroll along the impressive 400-year-old city walls. There are many scenic viewing points along the route, as well as information signs which will enlighten you about the significance of these walls down through the centuries. One of the most romantic times to saunter the wall is at night when you can enjoy the splendor of the city lights.
The Craft Village is definitely one of Derry's best-hidden gems. It is a treasure trove of tasteful craft shops and delightful cafés situated in picturesque little streets. This is the perfect place to find a unique souvenir for someone special in your life.
Other great things to do with your partner include a
tour of the Peace Murals
, a visit to the historic landmarks of the Guildhall, and the Peace Bridge. For something a little more lighthearted, visit the filming locations of the hit series Derry Girls!
After all that sightseeing, you might fancy some quiet time in nature. Ness Country Park a short distance outside of Derry is a great escape from the buzz of the city. Walk hand in hand along the Burntollet River and visit the highest waterfall in Northern Ireland.
No matter how the
weather is during your Ireland trip
, while in Derry, you must visit the nearby UNESCO World Heritage site of the Giant's Causeway. The unusual volcanic rock formations look like a jig-saw puzzle of hexagonal towers and create a magical, mythical landscape. According to the legend, the Irish warrior Finn McCool built the causeway to Scotland so that he could fight the famed giant Benandonner. This is a popular spot, so try to get there early or late in the day to experience this amazing sight at its best.
Mersea Island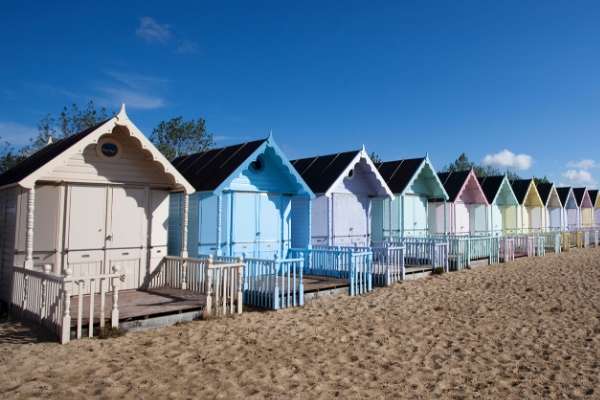 The gloriously romantic Mersea Island can be found off the coast of Essex. It's an estuary island that's connected by an ancient causeway and can be cut off by the time a few times a month.
The causeway was built by the Romans, who left lots of evidence of their visits to the nearby town of Colchester. It was the Romans who introduced viniculture to Mersea and today you can still find a flourishing vineyard and brewery here, which make for a romantic afternoon wine tasting amongst the vines.
Mersea is full of hidden away romantic cottages and gorgeous bed and breakfasts to spend a romantic getaway in. Take it a step further and rent a colorful beach hut for the stay and add a traditional British seaside to your away time.
Add a little va va voom to your romantic break and visit the West Mersea Oyster Bar or the Company Shed in West Mersea for a fabulous seafood meal (or takeaway) that includes the world-famous Colchester Native Oyster, which grows here.
The island is small, but perfectly formed, the roads are quiet and the public footpaths will lead you to deserted beaches for dreamy picnics to enjoy your seafood and local wine at.
Scottish Borders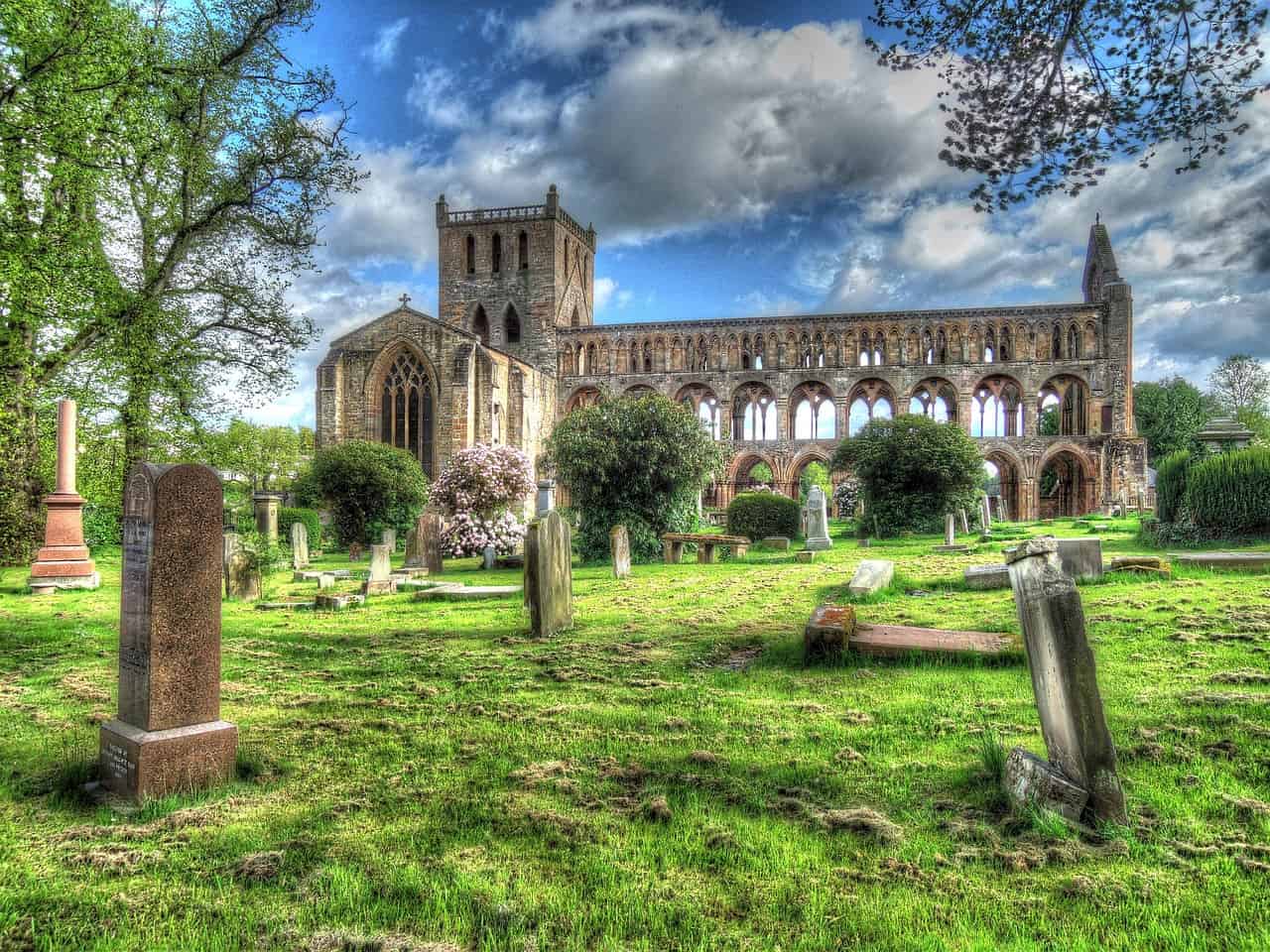 The Scottish Borders is a real hidden gem of a destination, full of secret romantic activities from walking in the rolling hills to exploring ancient abbeys. Often overlooked in favor of the more popular Highlands and of course Edinburgh, the Borders is a great place to escape from the crowds with your loved one and explore a land bursting with history and enchantment.
If you're feeling energetic there are numerous hiking trails traversing the gently undulating countryside, peppered with incredible panoramic points such as the famous 'Scott's View' which overlooks the tranquil River Tweed.
For history buffs, the stories behind the ruined peel towers and castles that date back hundreds of years will keep you occupied for days. Many of these ruins make excellent photo opportunities, and even wedding shoots! One of the most popular things to do in the Scottish Borders is to explore the abbey trail, which leads you to the abbeys of Kelso, Melrose, Dryburgh, and Jedburgh.
All are achingly beautiful and each has their own romantic tale – did you know that the heart of Robert the Bruce is supposedly buried right here at Melrose Abbey at the request of the man himself?
The most romantic way to spend an afternoon in the Borders is to take afternoon tea at the Roxburghe Hotel, surrounded by sumptuous furnishings and a roaring log fire. You could spend weeks here exploring this forgotten land, but you'll also get a good flavor on a short weekend trip.
London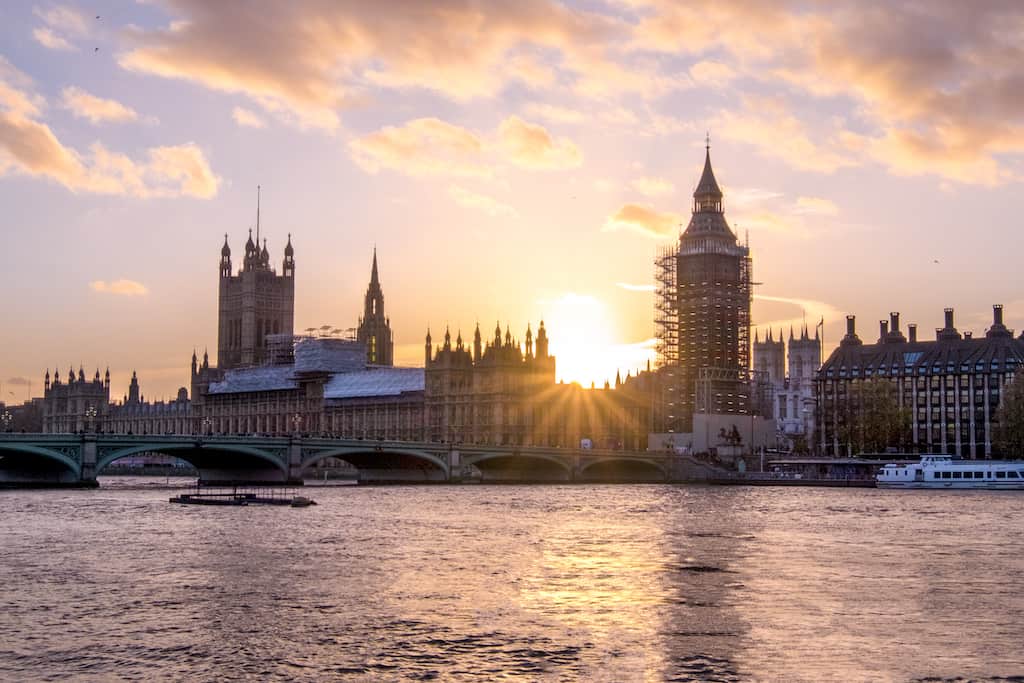 For one of the most romantic getaways in the UK, it's hard to beat the capital city. While London is often overlooked as a romantic destination, it has everything you could ever want for an unforgettable date.
There is an overwhelming amount of options for a romance filled break. Take in the iconic sights at sunset while strolling hand-in-hand along the River Thames. Pack a picnic and head to one of the many parks in the city. Lavish your date at a Michelin star restaurant or enjoy a diversity of food at one of London's many street food markets. Watch the city lights twinkle across London's famous streets from a rooftop bar.
For something more cultured, visit one of the 170 museums in London! You can even go all out and spend the night at some of the museums for a truly memorable experience.
Prefer something a little quirkier? Book a themed dinner, try out junkyard golf, visit a hot tub cinema or go kayaking under Tower Bridge. You could even test your puzzle-solving abilities and work together to get out of a locked room at an escape room experience.
If all of that sounds like too much, London has a plethora of hotels to just kick back and relax. Whether you're looking for five-star luxury, a spa break, or something a little unusual, the capital city truly has it all.
No matter what your interests are, you are sure to find many romantic things to do in London.
Dorset
One of the most romantic places to visit in the UK is definitely the stunning county of Dorset; home to the incredible Jurassic coastline (a UNESCO World Heritage Site) and jaw-dropping natural wonders.
Dorset offers a variety of romantic experiences and different kinds of activities for couples. To start off with, head over to Durdle Door, one of the most remarkable hidden gems in Europe. This stone arch is right by a beach and is incredibly picturesque, especially during sunset. Aside from relaxing on the beach with your significant other and soaking in the beautiful views, you can also camp near this site, or go for quiet nature walks together — there are plenty of trails in this area!
Another romantic thing to do in Dorset is to stargaze in the chalk plateau of Cranbourne Chase AONB, one of the dreamiest places in the UK with very little light pollution. For the ideal experience, lay down on a blanket next to the enchanting ruins of Knowlton Church, and enjoy the quiet atmosphere, the beautiful stars, and of course — each other's company.
To make your experience in Dorset even more special, go for a romantic hot air balloon ride in Poole. Snuggle up to the view of beautiful rolling fields and historic villages as you drift over the Dorset countryside, and end the magical experience with champagne provided by your guide!
Gower Peninsula, South Wales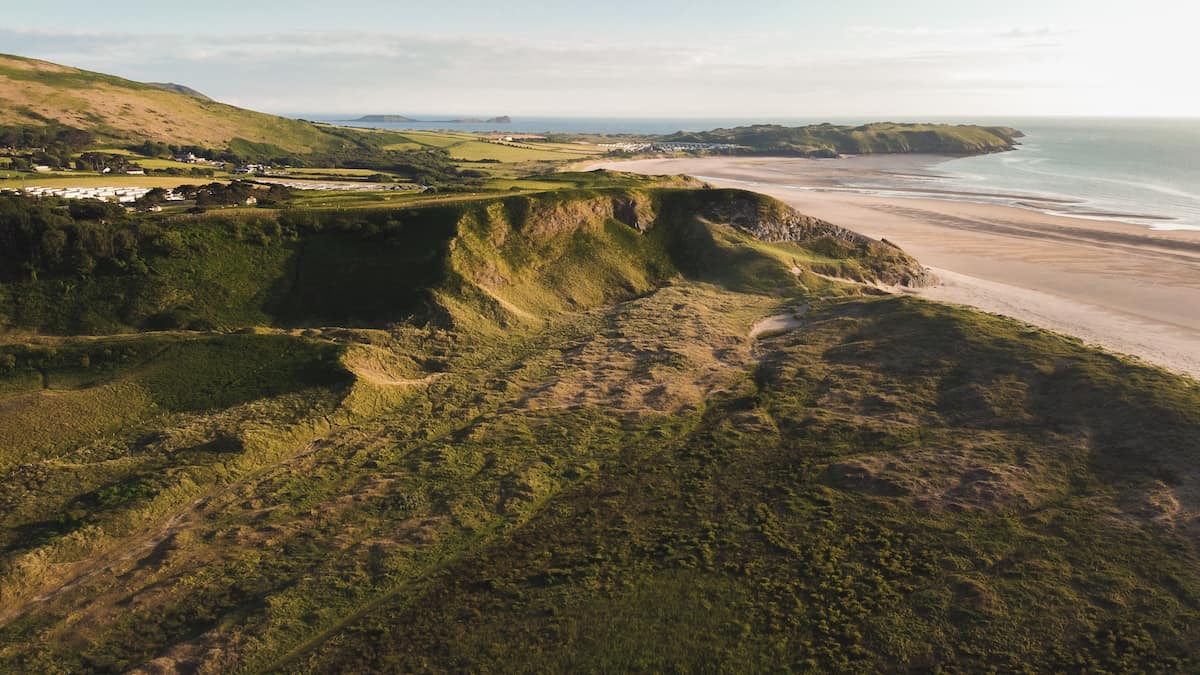 Tucked away on Wales' ruggedly romantic south coast, the Gower peninsula is wind-swept and wave-battered on all three sides. In fact, it feels more like an island than a peninsula, with butterscotch beaches never being more than 30 minutes or so away.
It's most famous for being the UK's first-ever official Area of Outstanding Natural Beauty, but those who know it best know that there's more to this idyllic little nook than just good looks.
Ramble the beaches and you're as likely to meet surfers and seals as you are to meet dolphins and wild ponies. Sneak into the many cozy country pubs to nuzzle up with your loved one in front of a fire and mingle with the friendly locals. Oh, and yes, Welsh is an entirely separate language to English and you'll be greeted with open arms for giving it a go. Try 'Diolch!' to say 'thank you' and you're sure to make some new friends!
But the Gower isn't only for ale swillers, surf bums and country bumpkins mind you. Welsh produce is enough to get even the most enthusiastic of foodie couples in a tizz, with plenty of Michelin-star restaurants and glitzy waterfront emporiums of enology to explore.
Whether you stay in a country cottage or a beachfront campsite, you're sure of a wildly romantic time on Wales' glorious Gower peninsula.
Lake Vyrnwy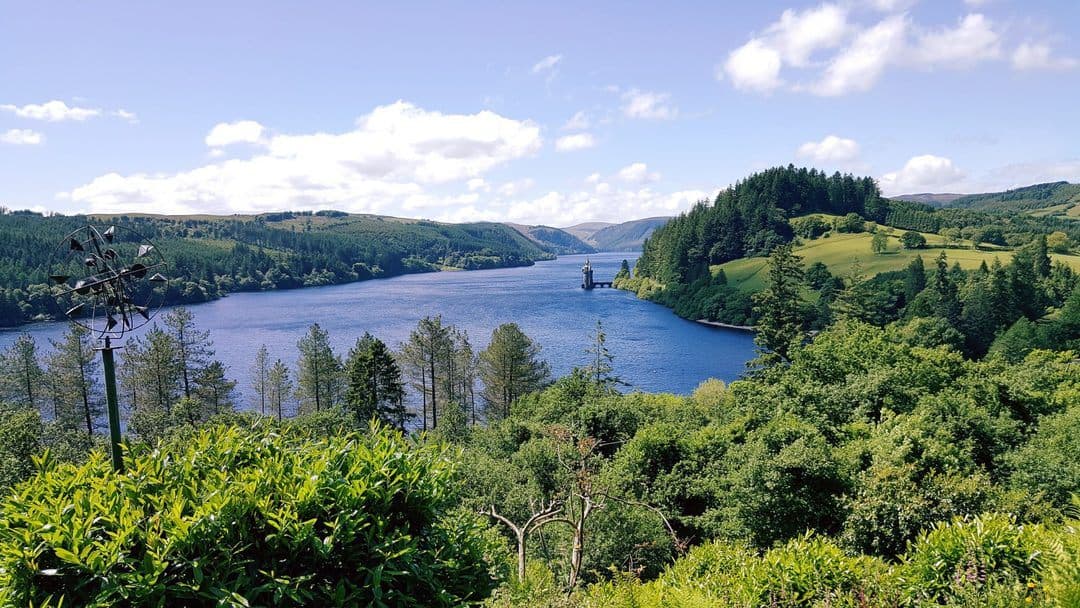 If you are looking for a romantic destination in the UK, you will be spoiled for choice in Wales. Located between
Welshpool
and Snowdonia, Lake Vyrnwy is the perfect destination for couples.
As you get there, you will discover a beautiful reservoir, nestled in an unspoiled natural environment.
There are many walking trails around the lake. If you want to discover beautiful waterfalls and the Welsh countryside, that will be a good place to start.
But that's not all! You can also go biking around the lake, horse riding, or even kayaking! It's a great way to enjoy some time with your other half while discovering beautiful landscapes.
The best place to stay is the Lake Vyrnwy hotel and spa. It's located up a hill and offers stunning views over the lake and the countryside.
You can grab lunch or dinner at the pub. The food is delicious! If the weather is nice, you should get your meal on the terrace so you can enjoy the beautiful views of the lake. They also have a spa so if you want to be pampered with your loved one, it will be ideal.
As a general thing, Lake Vyrnwy is a very relaxing place to stay at for a weekend and it has everything couples might be looking for.
Cambridge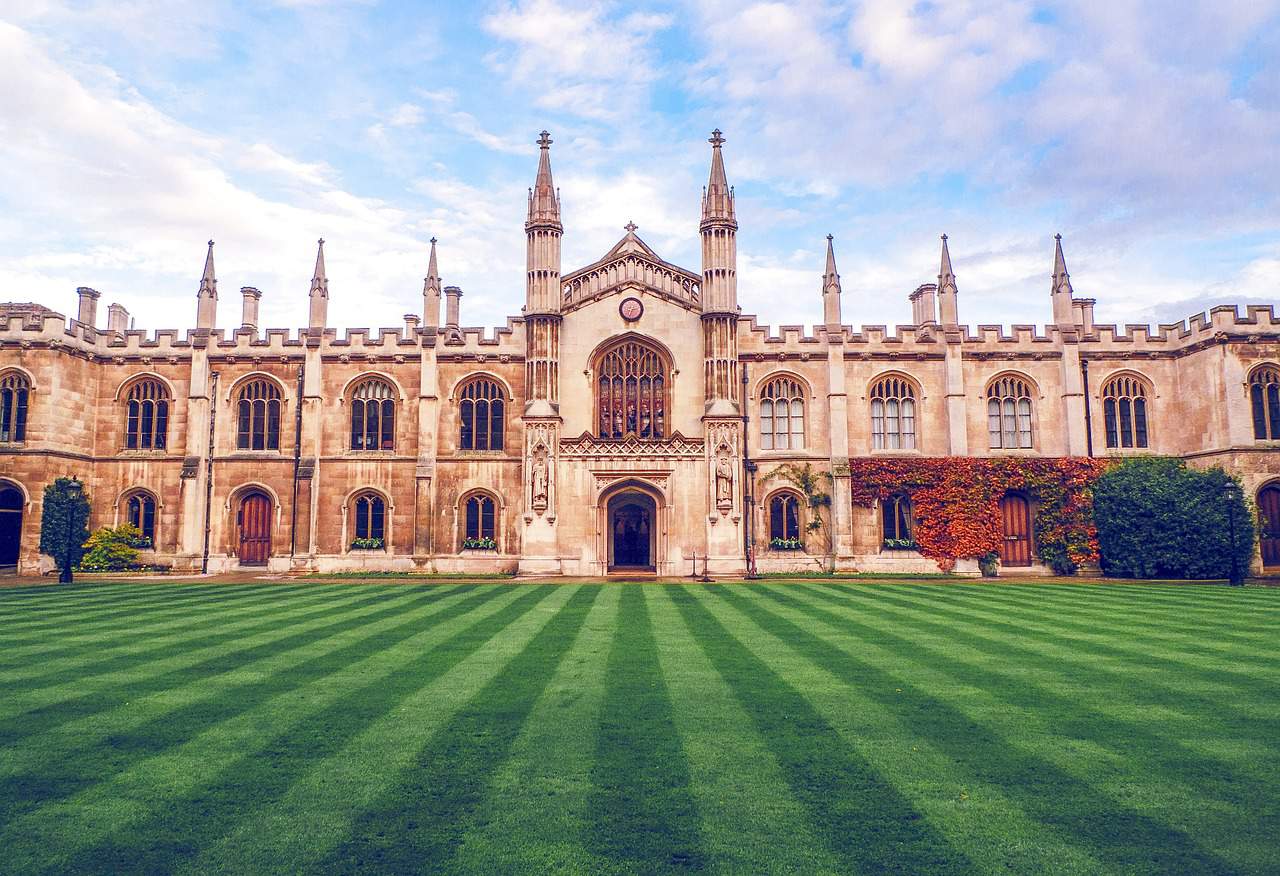 Cambridge
has always been one of the most popular places to visit in the UK, and with good reason! Located only an hour's train ride away from London, it's the perfect romantic escape if you feel like getting away from the city…
To start with, no trip to the town is complete without going 'punting' along the historic waterways of the River Cam. Much like the gondolas of Venice, Cambridge's punting boats are an iconic site and so much fun!
You can rent a boat for yourself, but getting the hang of steering with a punting pole tends to be a challenge. From experience, it's best to leave this job to the professionals, and hire a local guide instead. This leaves you to simply lay back and enjoy the beautiful surroundings.
Having a guide is also great because they will be sure to tell you all about the fascinating history of Cambridge University. You'll pass all the colleges that form it along the river, and it's always fun to learn about the many famous alumni who walked their halls.
Alternatively, you could explore Cambridge on foot and picture a fairytale wedding at the gorgeous Kings College Chapel. Built in the mid-1400's it's one of the oldest and most recognizable buildings in Cambridge, plus it only costs £7 to enter.
Of course, stopping off at several of Cambridge's lovely independent shops is also a must! One of the best places to visit is Market Square. Here you can stroll through the stalls, and maybe even purchase some fresh flowers to mark the romantic day!
However, what makes Cambridge one of the most romantic getaways is the fact that you can then end the day at one of several amazing restaurants. Local favorites for couples include the Orchard Tea Garden and the Clarendon Arms!

Isle of Coll
The best thing about the
Isle of Coll
is that there is nothing to do – in the best of ways.
Coll is a small island off the west coast of Scotland, just under 3 hours by ferry from Oban. There is one village near the ferry port and a few settlements spread across the island, only one hotel and a small shop, no street lamps, and no brown signs pointing out tourist attractions. But that is exactly the appeal. Instead, the Isle of Coll boasts beautiful sandy beaches, a breathtaking coastline bustling with wildlife, and some of the darkest skies in the country – perfect for an evening of stargazing with your loved one!
For a top-notch tour around the island, book a boat trip with IsleGO and explore the choppy waters at the Cairns of Coll, the northernmost tip of the island. Then make your way to Cliadh beach and wave at the seals who tend to swim up close to the shore to take a look at visitors.
Choose between renting a self-catering cottage or staying at the Coll Hotel, a wonderful, family-owned hotel which is known for its outstanding food and comfortable rooms with sea views. Even if you're not staying here, a romantic dinner with views of the calm bay is a must.
At night, make your way up to the little church behind the village and look out for the milky way – for more guidance, why not visit for a stargazing weekend which is organized every autumn and spring? Even the northern lights can be spotted here on a cold and clear winter's night.
Edinburgh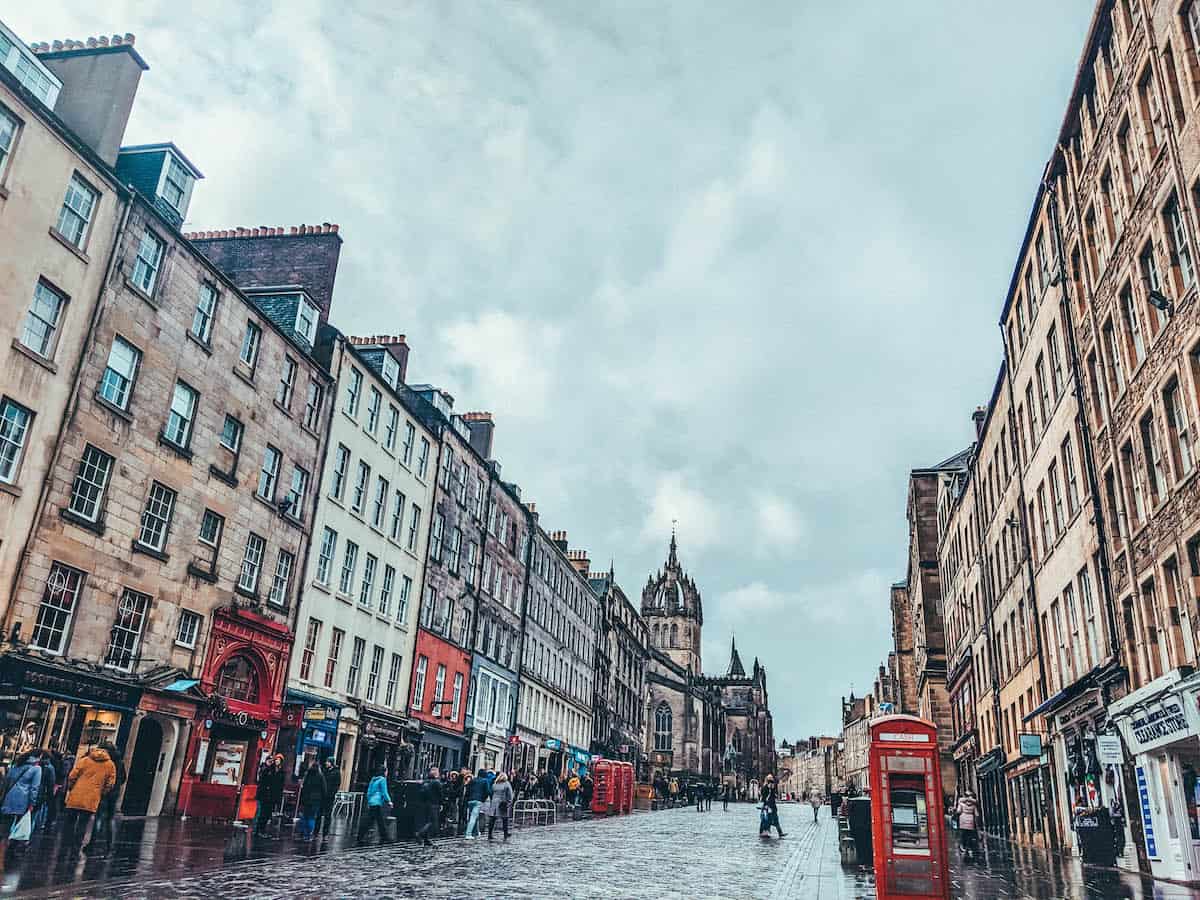 Edinburgh is considered one of the main
reasons to visit Scotland
as it is perfect for a special getaway. From the enchanting architecture to wandering hand in hand down the colorful cobbled streets (like the insta favorite Victoria Street) you will be forgiven for thinking you've stepped into a fairytale movie set.
For a unique place to stay, head out of the city center to Stockbridge which is a vibrant suburb renowned for the stunning Georgian terraced houses and quaint brunch spots, boutiques, and trendy bars.
Keep cozy with a nip of whiskey (or three) from the Whiski Rooms which offer over 300 malts, before heading up the Royal Mile as the tune of bagpipes fill the air. Edinburgh Castle is the grand finale of the Royal Mile and the main reason many couples quickly fall head over heels with Edinburgh's charm.
For a spectacular introduction to Scottish cuisine visit Angels with Bagpipes for a meal to remember or to The Dome renowned for its delicious high tea and luxurious surroundings. One of the most romantic things to do in Edinburgh is the short hike up Arthur's seat where not only can you admire panoramic views over the city, but it is one of the best spots to watch the sunset.
Pack a picnic or a bottle of wine and watch the city spires turn into twinkling lights to end your stay in the Scottish capital.
Note!
Be sure to check out the latest travel requirements before your trip to the UK.
Pin For Later:
Did you enjoy reading this post about the most romantic getaways in the United Kingdom? Let us know in the comments below!