If you're planning a romantic holiday (or even better your honeymoon), you might want to consider going to Spain. With so many romantic places in Spain to pick from, you can be sure your vacation in this country will be unforgettable. If you are not sure where to spend your romantic Spain honeymoon, I am here to help you!
Let's explore the different regions and cities to help you plan a romantic Spain honeymoon itinerary you're going to remember.
Spain is a big country. In fact, it's the fourth largest country in Europe. That's why I've divided this post about romantic things to do in Spain into 3 sections:
romantic places in Northern Spain
romantic places in Central Spain
romantic places in Southern Spain
I hope it will make planning your honeymoon in Spain a little bit easier.
Here's a map of the most romantic places in Spain that you can find in this post:
When it comes to planning your romantic Spain honeymoon, you're going to love all the options out there. As I mentioned above, it is a big country, so let's start with the best places for couples in Northern Spain.
Romantic Places In Northern Spain
Barcelona
Barcelona is located in Catalonia in the Northeast part of Spain. It's on everyone's list and is well known around the world. Barcelona is obviously a wise choice when it comes to romantic holidays.
With the beautiful and narrow streets, the famous "Rambla" and the old buildings, there's something special about Barcelona. You could take a cooking class, wake up early to see the sunrise from the balloon or have a nice dinner with a flamenco show!
What's interesting Barcelona is wheelchair accessible so it's a great destination for everyone.
Read also our Romantic Barcelona Guide.
Costa Brava
The Costa Brava – or 'Brave/Rugged Coast' – is a pine-blanketed paradise that tumbles northward from Barcelona to the French border.
But it's so much more than just beaches and sunburnt seaside resorts. In fact, Costa Brava epitomizes the ideals of the Mediterranean lifestyle and is easily one of the most romantic places in Spain.
Meander your way through the region's Medieval capital of Girona, which you will no doubt recognize from Game of Thrones. Here you can roam the river and say a toast to your loved one at the 3-Michelin starred Celler de Can Roca (voted 'World's Greatest Restaurant' no less than two times).
Enjoy tapas and cañas on a sunny terrace in the tiny town of Figueres, followed by a visit to the Salvador Dalí Museum. Just around the corner, the fishing-boat-bobbing village of Cadaqués, where Dalí chose to live most of his life, is a picture-perfect scene of whitewashed 'casitas' and crystalline waters. Stroll the wisteria-draped streets and pause for a romantic meal for two at the ultra-cozy Compartir.
Not far from here you can hike the craggy cliffs of the Cap de Creus nature park, stopping for picnics and besitos in its lush forests and secluded beach coves.
If you can't quite bring yourself to leave, head to Calella de Palafrugell to finish your coastal fondle with a perfect paella on the beach at the impossibly idyllic Restaurant Tragamar.
Girona
Cobbled streets, views of the Alps, and a restaurant deemed to be one of the most romantic in Spain? Girona has it all.
Located an hour north of Barcelona by high-speed train, the city of Girona is a beautiful town fit for any romantic Spain honeymoon itinerary. The cute streets are dotted with restaurants and bars. A laid back Catalonian atmosphere makes it easy to love.
Nothing says romance more than dining at one of the world's best restaurants. El Celler De Can Roca is notoriously difficult to secure a booking at, but it is renowned for its quality. It regularly places in the top 50 restaurants in the world.
If your budget doesn't stretch that far, Le Bistrot has been acknowledged regularly as one of the most romantic restaurants in Spain. A set menu offering, it is the location in an alley resplendent with an archway and deep stairwell that have people heading here. Be sure to sit outside on a warm day to take in the ambiance.
If eating doesn't tick the romantic boxes for you, a stroll along Girona's city walls will. An hour to the beach, and an hour to the Alps, the views on a clear day from the walls are magnificent. The walls are dotted with excellent vantage points and quiet gardens. Below the walls, a stroll along the River Onyar at sunset is best taken leisurely.
Girona is a perfect addition to a romantic Spain honeymoon itinerary.
Ribadeo
Dreaming of a romantic honeymoon in Spain? This country always tends to be in the top place as European honeymoon destinations. With stunning weather all-year-round, delicious food and diverse landscapes there are enough reasons for Spain to be one of the most visited countries in Europe by honeymooners!
Ribadeo is a little-known gem that is perfect for romantic holidays in Spain. Thanks to its scenic views and fewer tourists around, couples can enjoy complete privacy here. It is one of the most unique places for a honeymoon in Spain. This beautiful region located in northern Spain is full of many stunning places for couples to explore. From amazing walks on the As Catedrais beach to visiting Isla Pancha.
Honeymooners should also take a wine tasting trip and visit some of the most picturesque villages and towns in the Ribadeo region. Active couples can explore some of the best Spanish beaches and do many water sport activities. To finish off, watching a sunset in northern Spain is a must – can there be anything better to add to your romantic Spain honeymoon itinerary?
Rioja
For wine-loving couples, there is no better to spend the honeymoon in Spain than the Rioja wine region. Arguably the most famous wine region in all of Spain, Rioja is home to some of the top wine producers in the world.
In addition to having some of the
best wines in the world
, Rioja features a stunning landscape of gently rolling hills and picturesque towns and villages like Logrono. Adding an element of romance to an already beautiful honeymoon destination, many of the wine producers in Rioja can arrange romantic wine tasting experiences.
From hot air balloon rides over the vineyards at sunrise, to private wine tastings in the vineyards, honeymooners and romantics alike will find plenty of things to do in Rioja.
As wine tourism continues to grow, so has the culinary scene, with several Michelin Star dining experiences. Honeymooners can treat themselves to romantic stays at one of the many five-star luxury hotels found throughout Rioja. Or, they can book a romantic fireside dinner in a stone cabin in the middle of a vineyard.
Only three hours from Madrid, Rioja is a worthwhile addition to any honeymoon trip to Spain.
Segovia
Segovia is an amazing destination in Spain for couples with an interest in history and architecture. Not only is this ancient Spanish city a very romantic and atmospheric place, but it is also home to some of the most spectacular buildings in the country.
These include the well-preserved ruins of a Roman aqueduct, an impressive Gothic Cathedral, and a medieval, fairytale-like castle, known as the Alcazar of Segovia.
If you want to take some beautiful photos during your romantic Spain honeymoon, make sure you go up the tower of the Alcazar, where you can enjoy panoramic views of the entire city and its surroundings.
Segovia is equally magical at night. You can mingle with locals at the lively tavernas and tapas bars around Plaza Mayor, or simply stroll through the old streets of the city. The historic Jewish Quarter tends to be overlooked by tourists, which makes it a perfect place for a nice romantic walk, away from the crowds.
San Sebastian
San Sebastian in the Basque Country is one of the best honeymoon destinations in Spain, especially if you are a foodie and love the beach and nature.
The city has one of the most beautiful urban beaches in Europe, La Concha Bay. And a unique old town packed with cute churches and elegant art nouveau buildings which make San Sebastian one of the best examples of Belle Epoque architecture. Finally, the Basque love food and fresh ingredients.
In San Sebastian, the food is so good that the city has more Michelin-stared restaurants per square kilometer than any other place in the world.
San Sebastian is also known for its Pintxos, Northern Spain's version of tapas. Pintxos are typically served on a slice of bread with a skew, but you can find all types, with different ingredients and presentations. They are so delicious and the best of all is that they are cheap, each pintxo only costs 2€ or 3 €, so you can try a different variety of ones.
You can easily spend 3 days in San Sebastian just exploring the city, eating pintxos and falling in love with everything around you.
Sitges
Spain is an amazing country full of romantic destinations for any couple or honeymooner. For LGBTQ romantics, there's one destination that stands out the most – Sitges.
The seaside town of Sitges is located just 35 km southwest of Barcelona. Its popularity with the LGBTQ community is due to the tolerance of locals and the shops, cafes, boutiques and nightlife spots that cater to the community. Besides the cultural draw, Sitges is simply gorgeous and there's so much to do and see on a Sitges gay beach holiday.
Sitges, of course, is home to some of the most beautiful beaches in Spain. There are multiple gay beaches and oceanfront bars and resorts.
The iconic Church of Saint Bartholomew bisects the shoreline and makes a great stop during a blissful walk on the beach. One of the most romantic things to do in Sitges is wine and dine on delicious tapas.
Some of the best food in Catalonia is found in the town because the fresh seafood and local culinary traditions are exquisite. The perfect after-dinner activity is a lover's stroll along the coastal promenade, Passeig Maritim. The views are gorgeous at any hour of the day, but the evening Meditteranean breeze is magical.
For those who enjoy the nightlife, Sitges has everything from cocktail bars to drag shows that will entertain couples every night of their trip. For LGBTQ romantics, there's nowhere better than Spain's picturesque gay enclave, Sitges.
Romantic Places In Central Spain
Albarracín and Teruel Region
One of the most romantic places in Spain is the Province of Teruel. It's one of the least tourist regions of the country, which is quite surprising if you consider the number of charming villages and beautiful natural landmarks you can find there.
Amongst the lovely places to visit in Teruel, there's no doubt that Albarracín is the place you can't miss in any case, especially if you love strolling in romantic medieval villages that take you on time travel.
Albarracín is one of the best conserved old villages in Spain and has been voted many times as the most beautiful village in the country.
The medieval walls, the cobbled streets, the beautiful old buildings made of sandstone are situated in a picture-perfect environment, surrounded by hilly landscape.
Not far from there one should also visit the Pinares del Rodeno, a rocky area with prehistoric painting. If you get to spend some more time in this region, you can't miss out on some other beautiful villages such as Valderrobres or Mora de Rubielos.
Guadalupe
Located well off the beaten track, Guadalupe in the remote Extremadura region is the perfect destination for a romantic Spain honeymoon.
The real highlight of this small town is its monastery, which dates from the 13th century and has been listed as a UNESCO World Heritage Site since 1993. It became a royal sanctuary after King Alfonso XI won a battle against the Moors and attributed his victory to the statue of Mary enshrined in the monastery. For centuries, it was one of the most important and highly revered monasteries in the whole country.
And the best part is, you can dine al fresco in the cloister, and even sleep inside the monastery, part of which has been converted into lovely guest quarters. The rooms here are a real bargain too, going for as little as 65 euros for a double. Guadalupe offers intrepid travelers the opportunity to get off the tourist trail and to be transported back in time inside an incredible work of architecture.
Toledo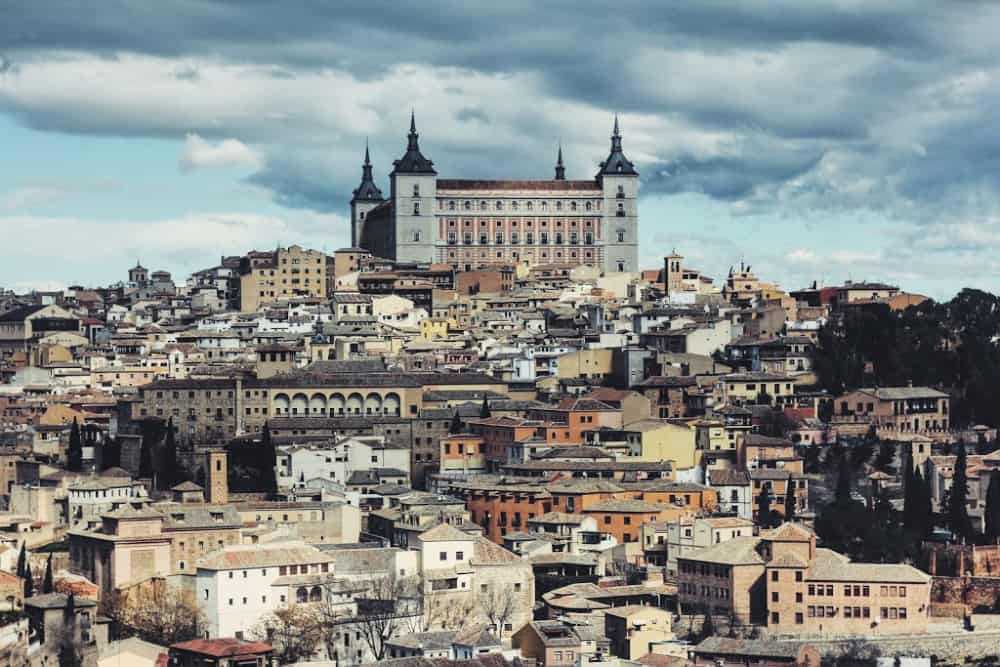 Toledo is not only one of the most romantic cities in Spain and the most charming place in the country, but also one of the best day trips from Madrid (as it's located less than 70 kilometers away from Madrid).
Start this romantic visit to Toledo, crossing the Alcantara Bridge or the beautiful Puerta de Bisagra, to enter its historic center declared a World Heritage Site, which will leave you speechless. Take a picture at del Valle lookout, one of the most romantic places in Toledo.
Other essential things to do in Toledo that you must do are: visiting the Cathedral, the Alcazar, the San Roman church and the San Juan de los Reyes Monastery; strolling at sunset through the narrow streets of the city center, watching the masterpieces of El Greco; and tasting its delicious cuisine, like the typical marzipan.
Madrid
The Spanish capital of Madrid is often overlooked in favor of Paris and Venice when it comes to being a romantic city, yet the exquisite architecture, excellent bars and eateries and the plethora of parks and green spaces make it a wonderful destination for a honeymoon in Spain.
Not only can you while away the hours strolling hand-in-hand through the city sights of Retiro Park, Paseo del Prado, the Plaza de España and the botanical gardens, but by night you can enjoy a spectacular sunset at the Templo de Debod, one of the most romantic spots in the city!
Another way to fire up your passion while in Madrid is to spend an evening at an amorous flamenco show. This sensual dance is full of energy, color, and intensity and a dinner and drinks flamenco show will sure to be a night to remember!
Madrid is also home to a great selection of boutique hotels which are the perfect place to come back to after a long day exploring the city.
If you have time, don't miss a relaxing walk along the riverside, wine-tasting session at one of Madrid's chic wine bars and perhaps a cocktail and dinner at a stylish rooftop restaurant!
Read also our Romantic Madrid Guide.
Valencia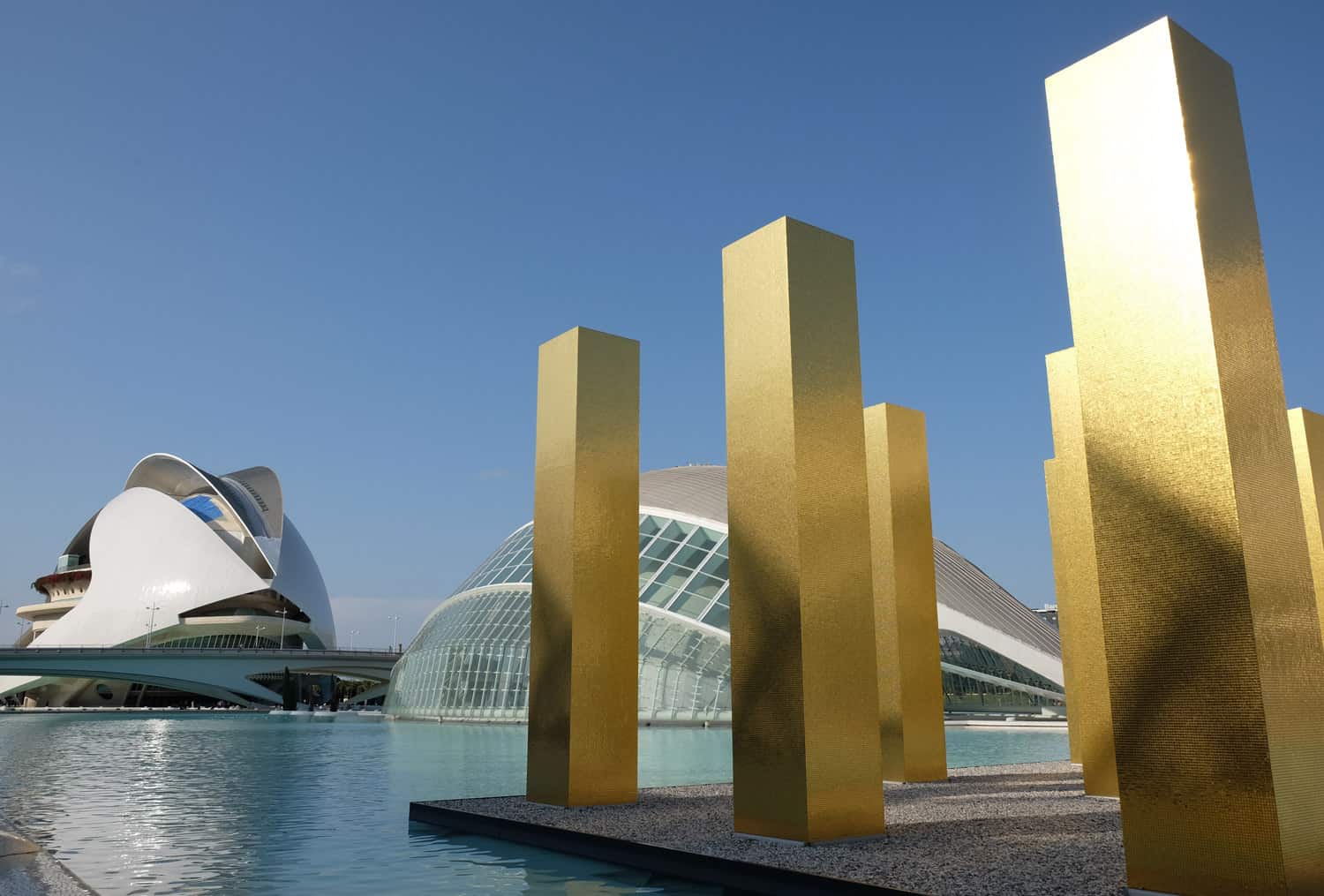 Valencia is arguably the most romantic city in Spain. It makes the perfect romantic destination in Spain because it combines amazing sights, a relaxing atmosphere, near-perfect weather, and fantastic, authentic food in a city perfect for wandering hand in hand.
Valencia is on the eastern coast of Spain, just across the Balearic Sea from Ibiza and Mallorca. It has a warm, sunny climate, and is lovely to visit all year round. It has an up-and-coming seaside district, but for Valencia's most romantic places, look inland.
Valencia's defining feature is the old riverbed. In the 1950s the river flooded and the city authorities decided to divert it out of harm's way. The old Turia riverbed was converted into the longest urban park in Europe, and today it's a beautiful place to walk with a loved one. You'll see gorgeous lakes, fountains and medieval bridges that once crossed the river and now straddle the park. If you don't fancy walking it (it is over 5 miles long) you can hire bikes and cycle it together.
At one end of the Jardin del Turia, you'll find Valencia's stunning, honey-colored old town. Full of winding Medieval streets and bars with inviting pavement tables and tempting pintxos – Valencian tapas. The cathedral is a wonder, as is the lovely Palace of the Marquis de Dos Aguas. Some of Valencia's best food options are in and around the old town. You'll love the beautiful Art Nouveau Mercado de Colon, which now hosts stylish restaurants and food stalls.
At the other end of the gardens is Valencia's star attraction, the astonishing City of Arts and Sciences. This collection of space-age buildings housing a museum, opera house, IMAX cinema, and aquarium is built on the old river bed is an amazing place to stroll around, taking in the sights and enjoying each others' company.
Ibiza
While "romantic honeymoon destination in Spain" might not be the first thing you think of when you picture Ibiza, don't rule out this stunning island just because of its reputation.
The nightlife and club scene that Ibiza is famous for is the centerpiece of the island's two largest cities, Ibiza Town and Sant Antoni. But the rest of the island is a blend of serene beaches, yoga retreats, small towns, and stunning Mediterranean scenery.
Much of the island is actually a UNESCO World Heritage Site, and Ibiza boasts a rich history that dates back to the time of the Phoenicians. You can feel this history walking around the fortified Old Town. This part of Ibiza is as different from the mega-clubs and drunken tourists that everyone associates with Ibiza as it is possible to be.
Ibiza is also a short ferry ride away from Formentera, an island which has the most pristine beaches and waters you'll find in the Mediterranean.
To see the quieter side of Ibiza, rent a scooter, pack a beach bag, and get lost exploring this friendly island. You'll find hidden beach coves and sleepy little towns and hippie markets that have been around since the '60s. And if you decide to celebrate your nuptials by dancing the night away with your new spouse? You're definitely in the right place for that.
Formentera
The petite island of Formentera sits off the coast of Ibiza but feels a million miles away from the notoriously hedonistic vibes of the larger Balearic Island.
Its proximity to Ibiza makes it a popular day-trip destination, but if you venture away from the main port (there is no airport on the island) you'll find a more relaxed vibe and a friendly atmosphere. The coast is peppered with cozy nooks and secluded beaches, perfect for a honeymooning couple looking for tranquillity.
And luxury hotels, alongside more modest holiday homes, shrink into the lush vegetation, rather than imposing upon it. It'd be the perfect place to recharge, rekindle a relationship, or simply relax in nature.
In between trips to the beach, you can explore the markets, feast on local food, or go cycling around the moderately flat roads, all before heading out to one of the island's lighthouses to watch the sun go down with the one you love.
Mallorca
It's definitely worth going to Mallorca to spend your romantic Spain honeymoon.
If you avoid the busy touristy areas, you could find magnificent spots in the countryside or on the other side of the island which makes it perfect for romantic vibes. With the amazing beaches, spa options, and vineyards, your Mallorca itinerary will definitely be jam-packed.
Alicante
Strolling along the beach, getting lost in the old streets and watching sunsets from hills and mountain peaks – visiting the region on
Alicante
with your loved one is a great idea.
The city of Alicante is beautiful and its gorgeous beach and promenade make it a perfect place for love birds. And for the evening head to

Santa Barbara Castle and end your day there.
If you are looking for more romantic places in the area, just get to Altea which is a beautiful small town close to Alicante.
It is easily reachable by car or tram and with its whitewashed houses, colorful flowers, and pretty ocean views it is another place made for love birds.
As it is small, I also suggest having dinner at one of the restaurants that come with a view and to take your time – end your day there or just take a stroll at the beach. Even better: bring your drinks with you to the beach and a towel so you can crop off your day in this dreamy town of Altea.
And while the area is surely no hidden gem, it is good to know that it is not overpriced as some other places in Spain, which makes it also perfect for those couples, who also do not have a big budget.
Romantic Places In Southern Spain
Seville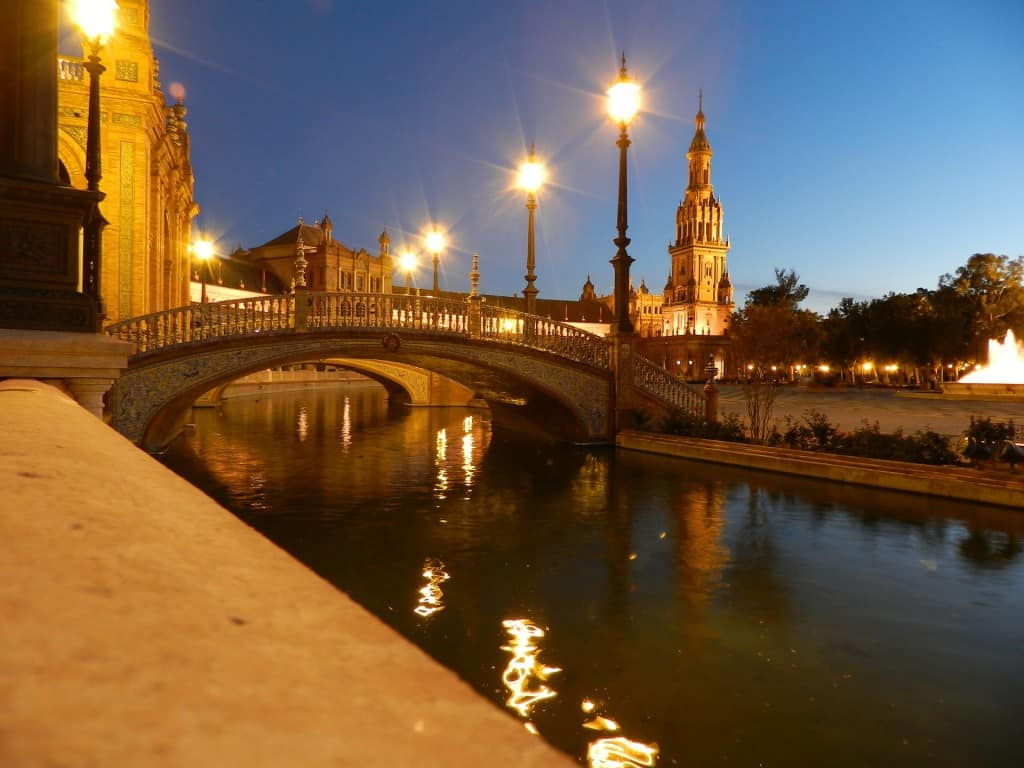 Seville is known as the capital of Andalusia and is one of the largest Spanish cities. Located in the South of Spain, the weather should be promising.
Sevilla is definitely one of the best places to honeymoon in Spain because you can find parks everywhere, the views are stunning and you can pick amongst many great restaurants. This being said, Seville becomes the perfect spot to create dates you're going to remember. Imagine going on a romantic stroll or enjoying a fairy-tale picnic.
Read our entire post about the romantic things to do in Seville.
Cadiz
While many visitors to Andalusia, Spain's southern province, are content to visit Cadiz as one of their day trips from Seville, the lovely old city can make for the perfect getaway for your romantic Spain honeymoon.
With whitewashed houses gleaming in the bright Spanish sun, the scent of jasmine and honeysuckle in gardens in the spring and summer, and the most delicious food you can imagine, Cadiz has all the ingredients to make your romantic Spain honeymoon something will never forget.
Wander the alleys of the Old Town, visit the Cadiz Cathedral for amazing photo ops, and admire the architecture and lovely courtyards. Climb the Tavira Tower for panoramic views and to see the incredible old camera obscura. For some quality beach time, make your way to La Caleta Beach, a beautiful sandy beach just a 15-minute walk from the Cathedral. With Cadiz as your base, you can also explore more of the Costa del Sol if you have a car.
Take the time to enjoy long delicious meals: this is the ideal place to really relax at mealtimes over small plates of tasty tapas and jugs of sweet sangria! Don't forget to try the sherry from the region as well.
Granada
Granada is also located in Andalusia in the South of Spain. With similar features found in Seville, Granada is a great stop to enjoy a bit of flamenco music, eat tapas and drink one of the best wines in Spain.
While you're here, you might want to visit Alhambra Palace or look at the stunning views from one of the miradors (viewpoints).
Ronda
Ronda is located in Malaga in Southern Spain. It's also known for its Romantic Ronda festival which is a great cultural festival.
You'll go back in time to experience the truly romantic Spanish vibes and try some old traditional meals. As Ronda is one of the oldest cities in Spain, it makes it perfect for romantic opportunities. You could visit old squares, check out the surroundings while enjoying the countryside vibes.
Lanzarote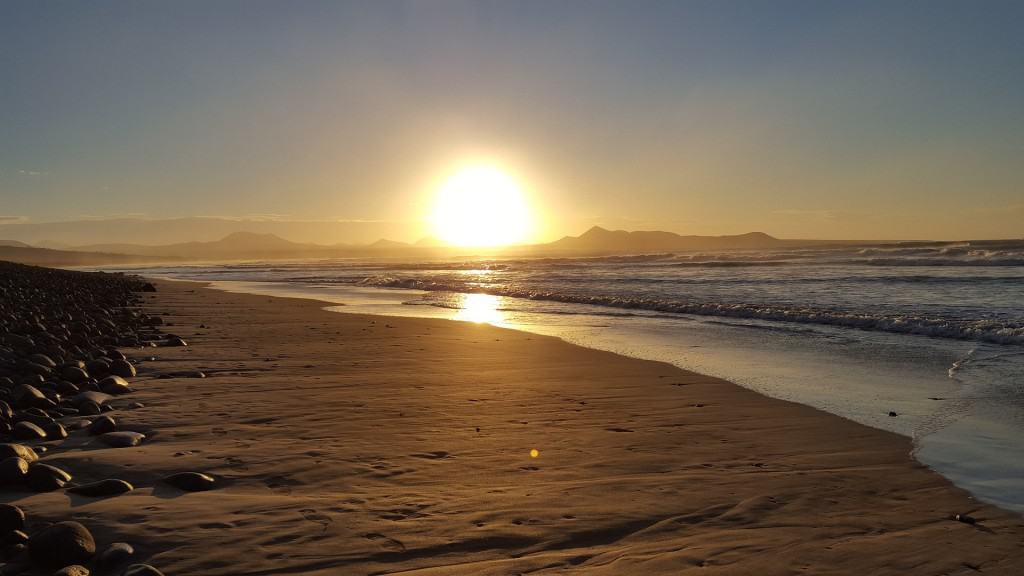 Lanzarote is one of the famous Canary Islands located in the Atlantic Ocean. You could stroll along the white sand beaches or have a dining experience in a cave. It's the ideal destination for those who love road-tripping in breathtaking landscapes or for sports enthusiasts.
While you're there you should also check out the Timanfaya National Park.
Tenerife
Tenerife is another famous Canary Islands. In fact, it's the most populated Spanish island.
If you like the great outdoors, you will surely love Teide National Park which is also home to Spain's highest peak. This being said, it's ideal if you'd like to do some romantic hiking in Spain. You could also enjoy blue natural pools across the island and make the most of what nature has to offer.
Gran Canaria
One of the most romantic places Spain is the island of Gran Canaria Island. It's located just off the northwestern coast of Africa.
The best place to stay in Gran Canaria is the five-star and adult-only hotel called Bohemia Suites and Spa. It is equipped with luxurious ocean-view suites, many pools, stunning gardens, an Asian style spa and more. The hotel also has a vibrant restaurant and cocktail bar with 360 views.
Due to the fact that no children are admitted to the hotel, it is the perfect place for a romantic Spain honeymoon.
Moreover, the hotel is located just a short walk away from the infamous Maspalomas sand dunes. There, it is best to take a stroll during sunset and take on the scenery. All in all, Gran Canaria is the perfect romantic destination in Spain. Click here to find out more.
The Most Romantic Things To Do In Spain
If you still have no idea where to spend your honeymoon in Spain, these romantic things to do in Spain might enlighten you.
Castle Hopping in Spain
There are so many beautiful castles to discover in Spain.
If you want your partner to feel like a princess/prince, why not going on a castle hopping adventure across the country. The ultimate fairytale one would be Segovia's Alcazar.
You might also love castles like Castillo de Coca, Olite, Alarcon or Tossa de Mar.
Going To A Flamenco Show
Flamenco has three main characteristics. We all know about the traditional Flamenco dance, but it's also characterized by the song and the guitar.
You can watch Flamenco shows pretty much everywhere in Spain, but places like Seville or Granada would be the best places to enjoy it.
Wine Tasting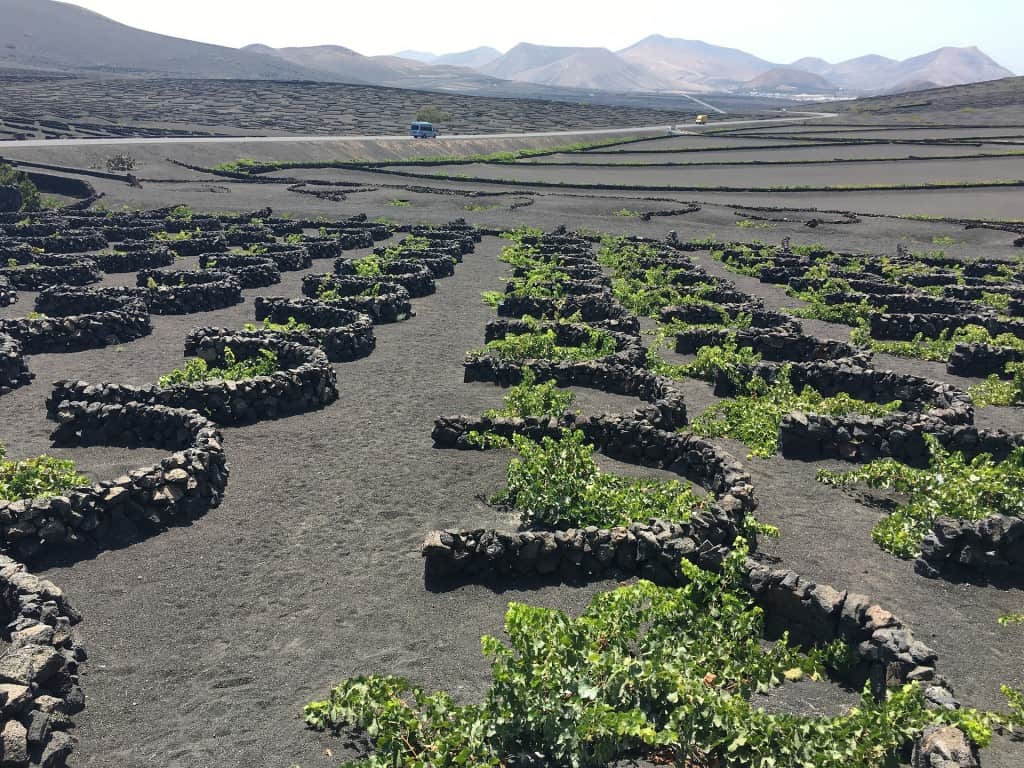 Spain is a well-known wine tasting destination. Barcelona has a lot of wineries in its surroundings which makes it perfect to visit the vineyards while enjoying a bit of wine and some delightful Spanish tapas.
Ideal for a day trip to escape the busy city of Barcelona, it's an amazing opportunity to spend quality time with your other half. You could also explore the epic wineries found in Lanzarote with a dramatic backdrop.
Taking Cooking Class in Spain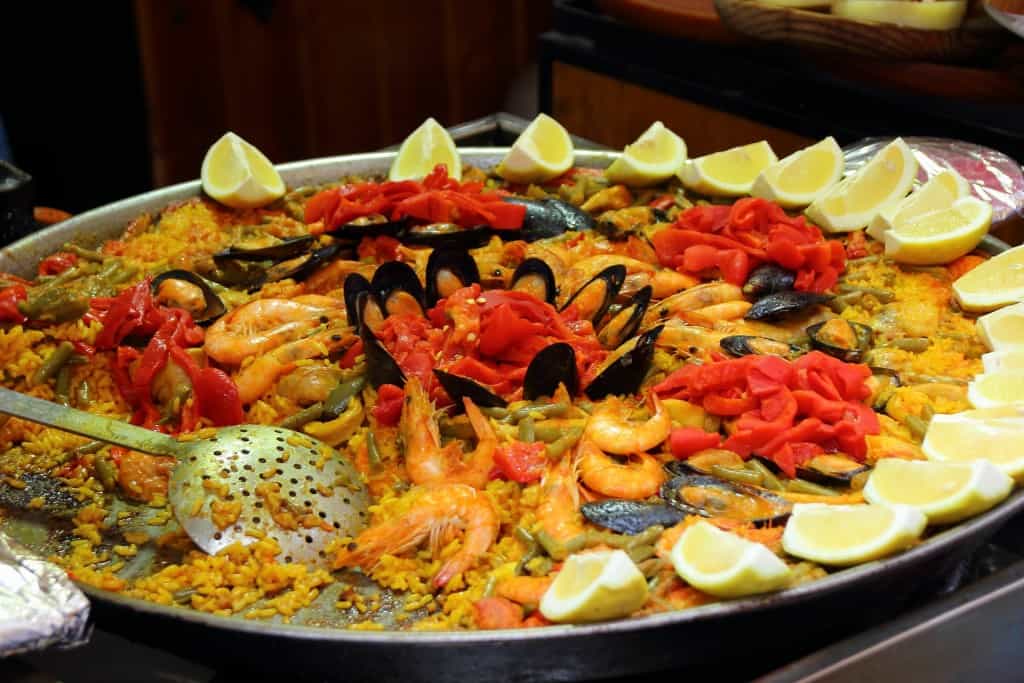 Spanish cuisine knows how to impress.
While in Spain, why not try a cooking class to learn how to make of those famous paellas. It's a fun way to learn about Spanish culture. You can take cooking classes in many cities including Madrid, Barcelona, and Sevilla.
Hot Air Balloon Ride
Is there anything more romantic than a hot air balloon ride featuring a perfect sunrise and some old medieval towns?
I seriously doubt it. You can experience this kind of day in many places around Spain including Barcelona. This one-lifetime experience will surely be unforgettable.
Tips For Your Romantic Spain Honeymoon
How To Travel Around Spain?
The best way to travel around Spain is by train. Depending on where you're heading, flying could also be a good option as some cities can be quite far from each other.
Another great option to consider would be to rent a car and go on a road trip around the country.
Is It Always Hot In Spain?
No. The seasons in Spain can be tricky. There are officially four seasons, but it sometimes feels like there are only two. The summers are quite warm and the winters are mild if we compare it to the other countries around the Mediterranean sea.
Pin For Later:
Do you have any romantic suggestions? If you have any questions honeymoon in Spain, please let me know in the comments! I would be happy to hear from you!