Romantic Things To Do in Atlanta For Couples
Atlanta, Georgia is known for being home to the 1990 Olympics, southern cuisine, where Martin Luther King grew up, and yes, it's nightmarish traffic. What most people fail to realize is that this metropolitan area, spread out over miles and miles of picturesque landscapes and skyscrapers, boasts many romantic activities. With restaurants, exhibits, and pop up bars showing up every few weeks, there are many romantic things to do in Atlanta for couples!
Best Time To Visit Atlanta
Since the city is also known as "Hotlanta", the best time to visit Atlanta would be between March to May. The weather is just starting to heat up, and spring will be in full bloom! If you decide to brave the summer months, be aware that it will be hot, humid and prices for most accommodations and experiences will be at their highest.
The next Atlanta best time to visit would be in the Fall, usually between September to November. With the leaves changing and the crisp, cool air approaching, Atlanta turns into a whole other world! Plus, you might have better hair days during this time!
Best Places to Stay in Atlanta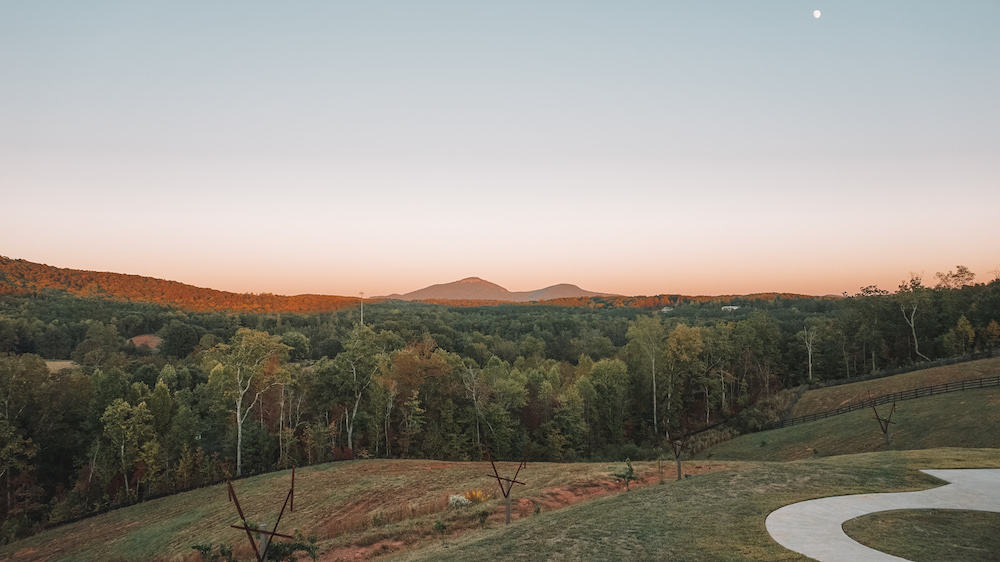 Romance means not being bothered by the outside world right? Hotels are an awesome option to get cozy with your boo (and trust me we have plenty), but Airbnb's in Atlanta will provide the most exciting and unique experience during your stay here! Check out the most romantic places to stay in Atlanta below.
Unique Airbnb Atlanta
One of the most popular in Atlanta AND on Airbnb is this whimsical treehouse in the heart of Buckhead. Yes, you read that right. A treehouse in the city and it is magical.
This treehouse encompasses 3 things: Mind, Body, and Spirit. You can fall asleep in the trees, and wake up to the sound of nature. It's truly a one of a kind, dreamy, and romantic experience!
Another up and coming Airbnb Atlanta is the Decatur Alpaca Cottage. A quaint and relaxing oasis filled with plush furniture, and soothing colors.
Their outdoor patio area is the perfect place to open a bottle of wine and enjoy each other's company! Not to mention, the cutest Alpaca Experience! Become one with nature as you unwind in this sanctuary- you won't even believe you are in Atlanta!
Atlanta Romantic Hotels
Their grand entrance and marble accents will make you and your partner feel like Kings and Queens! Located in the Midtown business district, this ornate and luxurious hotel offers a romantic experience you'll never forget.
Enjoy a glass of wine on their outdoor terrace, share small bites at the bar, swim a few laps at their indoor saltwater pool, or book a couples massage at their premier spa. These upscale amenities in one of the most romantic hotels in Atlanta GA might make you stay longer than you should!
Check out the latest price for this Atlanta hotel with pool—> click here.
The W hotel series is known pretty much all over the world. If you are looking for the best area to stay in Atlanta, look no further. Here in the city, both locations of W hotels offer something special! Head to the Buckhead location for beautiful designs, and a rooftop bar called Whiskey Blue overlooking the city. With fire pits, glass railings and an epic drink menu, you and your babe are sure to have a great night (or 3!) in this Atlanta romantic hotel.
Check out the latest price for this romantic hotel Atlanta—> click here.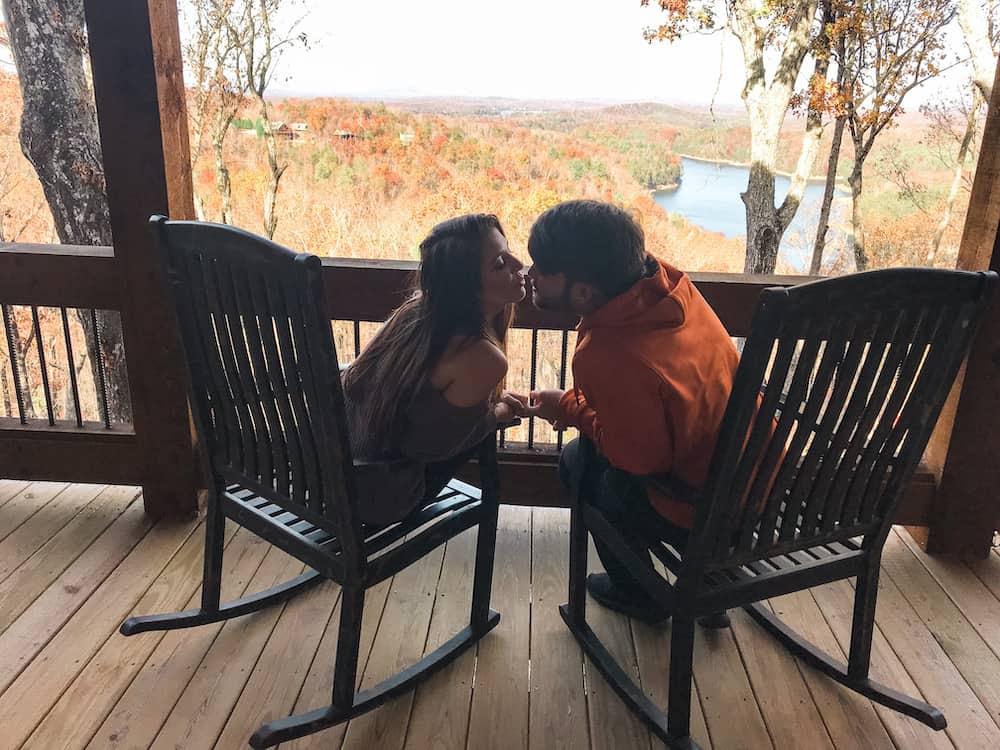 Romantic Things To Do Atlanta
To get the most of your romantic stay in Atlanta, get Atlanta City Pass.
With an abundance of romantic activities, you might have a hard time narrowing down your options. Lucky for you, I've compiled an easy list for you and your significant other to choose from!
If it's your first time in the city, check out Atlanta Segway Tour to see the best tourist attractions in Georgia.
Step back in time as you enter Starlight Theaters for an experience like no other. Bring some blankets, catch a show and enjoy their big screen movies from the comfort of your own car! This was THE romantic thing to do back in the '50s, so why not pay tribute to our history right?
With up to date movies playing 7 nights a week, you both can cuddle up, grab some snacks from their snack bar and enjoy the show! To add a little more romance, pick up some snacks of your own for an in-car picnic!
Atlanta Travel Blog Pro Tip: You must have a working car with FM radio since the audio is broadcasted through there. Check their website for movies and viewing times!
Fancy an Atlanta Food Tour without having to drive all around the city? The Atlanta Food Truck Park is the perfect place to spend the evening trying Atlanta's finest, artisanal food, all in one place!
With over 3 acres of grassy areas, you can set up shop to have a romantic picnic while you stuff your face with sweets, treats, and yummy southern cuisine.
You might be leaving the kids at home to for romantic getaways in Atlanta, but that doesn't mean you can't be kids yourselves! Skyline Park is located on the roof of Ponce City Market (another amazing food and beverage hall with lots to eat and drink!)
Here you will find a mini golf course overlooking the Skyline of Atlanta (hence the name), Fair inspired games, margarita cocktails, and even a drop zone! Channel your inner child for a night of fun!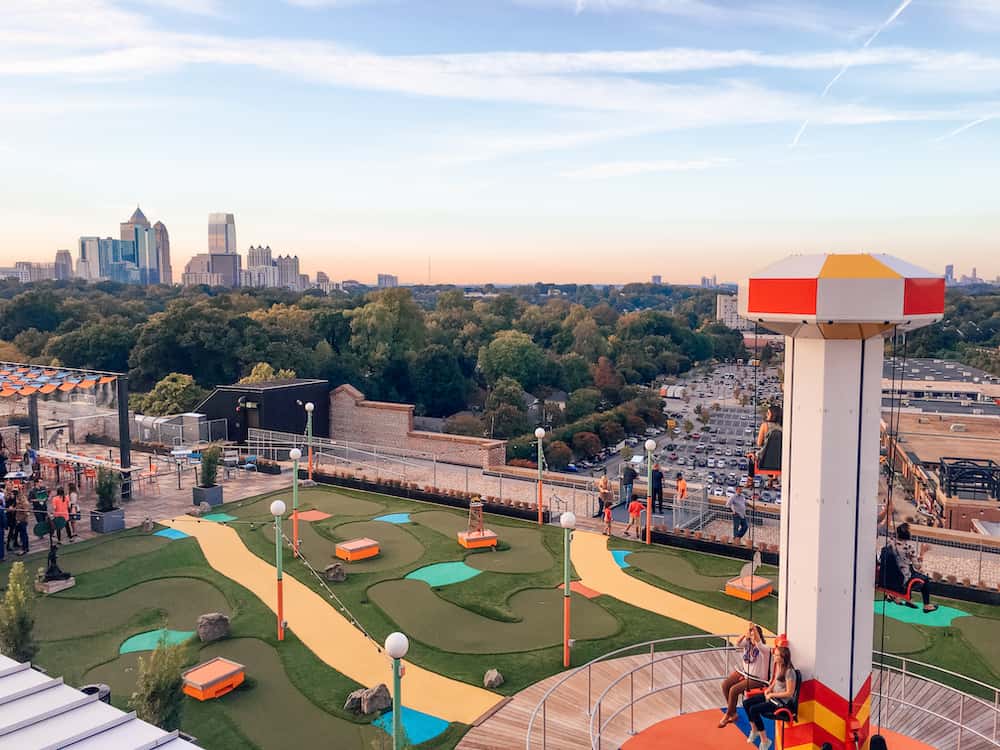 If this doesn't excite you, head over to their restaurant and elevated beer garden called Nine Mile Station. You and your S.O. can enjoy sharable bites, craft beer and an unobstructed view of Atlanta.
Atlanta Travel Blog Pro Tip: Get there close to sunset for an even better experience. It's one of the best places to have Atlanta romantic dinner.
Close to Grant Park, this recently redesigned Grocery Store is now a state of the art music venue! How cool is that? Local artists from all over come to play this private venue as you tune in to the bluesy vibe portrayed here.
For admission, it's free but you can simply make a donation to the artists and enjoy this hidden gem! Grocery on Home is not only an intimate venue but also BYOB, so come prepared!
Competition Date Night
Looking to amp up the night with some friendly competition? One of the best date ideas Atlanta is to head to Painted Pin to see who has the best hand, eye coordination for bowling or to TopGolf to see who can call themselves the next Tiger Woods.
Painted Pin is the epitome of a sexy, competitive date night. Their billowing red curtains, leather tufted couches, and concrete floors definitely set the mood. Not only is it an upscale bowling alley, but they also offer indoor bocce ball courts, pub games, shuffleboard, ping pong, etc. Spend an hour or 4 here to ramp up the energy!
Atlanta Travel Blog Pro Tip: To spice things up, you can offer an "award" for who wins. An in-room massage with candles anyone?
Brews and Rooftop hopping
Looking for awesome Atlanta viewpoint? Most of them are epic, but you know what's even better? Beer and a view. The Atlanta craft beer scene is bustling right now, making it the ultimate way to spend an afternoon (that leads into the night).
Romantic places in Atlanta GA to check out are:
Hotel Clermont:

Located near Ponce City Market on top of their newly renovated hotel!

Gypsy Kitchen:

Located in the premiere Buckhead Shoppes, offering tasty cocktails and people watching!
Other notable, Atlanta Romantic Things To Do (or right outside of Atlanta)
Stone Mountain Park (Stone Mountain)
Stone Mountain is one of the most romantic getaways in Georgia. It's a great place for taking a hike up the mountain, watching the sunset and walking around the park.
Jeju Sauna (Duluth)
A Korean bathhouse is one of the romantic places in Georgia where you can leave your worries at the door. This 35,000 sq ft spa offers saunas, steam rooms, salt rooms, massages, a swimming pool AND food court for a very affordable price! Relax with your sweetie pie as you both rest, relax and rejuvenate.
Lake Lanier (Buford)
Rent a boat for either a half/full day for an afternoon of fun in the sun. If boating isn't your thing, head to Lake Lanier Islands for some cocktails at Margaritaville or simply lay on their beach. Be warned, the beach does have a lot of children which is not romantic at all.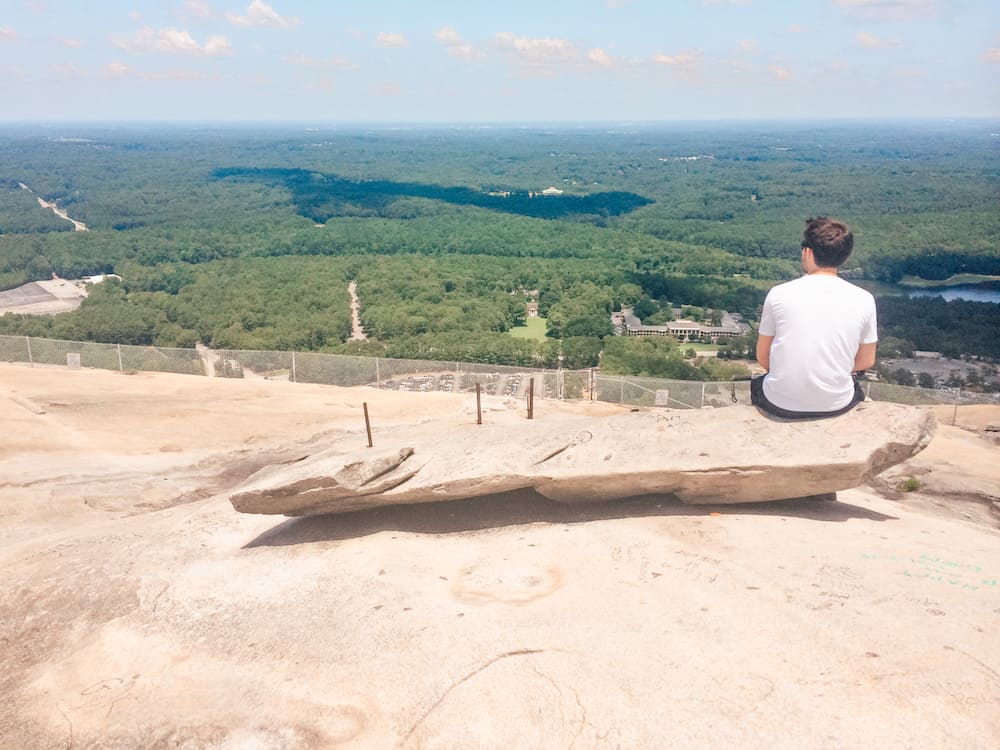 Romantic Day Trips from Atlanta
Romantic Places to Stay Outside of Atlanta
If you can make a day trip from Atlanta, there are some amazing spots to check out for the ultimate romantic getaway! Atlanta has much to offer in the form of city activities, but the surrounding areas bring you two closer to each other and nature. Here are some of the Atlanta day trips ideas:
Known for being a luxurious and ancient wedding venue, Barnsley Resort oozes southern charm. Located in Adairsville, Georgia, this place offers unique dining experiences, horseback riding, canoeing, and spa treatments.
Plus, you can either stay in one of their upscale rooms or rent an entire villa for the weekend! One of the most romantic weekend getaways in Georgia near the North Georgia Mountains.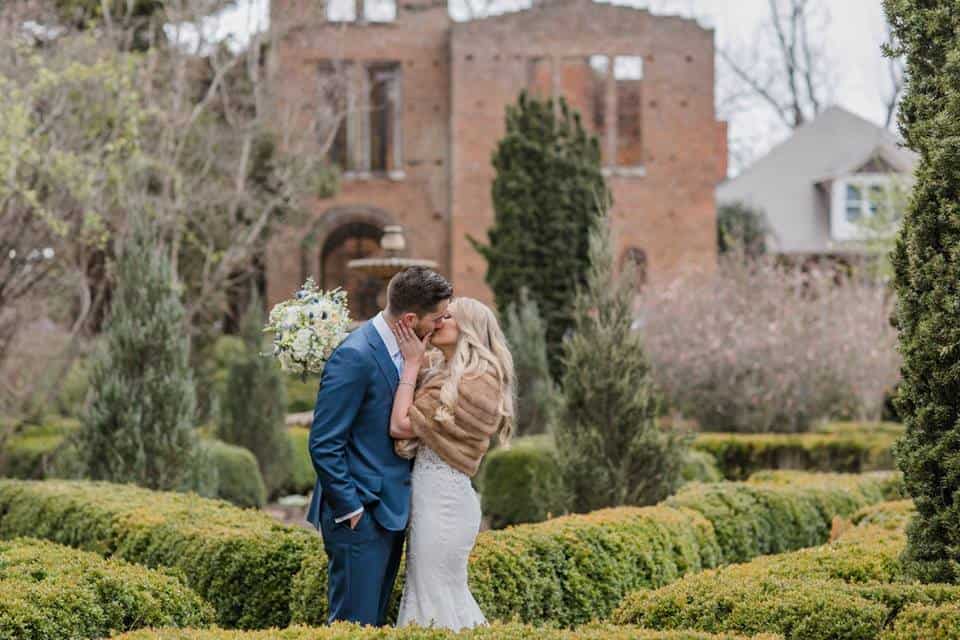 On the opposite end of Atlanta (about 1 ½ hour South East) is the Ritz-Carlton. Just from hearing the name, you know it's gonna be nice!
This time, however, you are situated on 30 acres of lush forest on the Lake Oconee shoreline. Entertain each other with an afternoon of golf, canoeing, hiking, tennis, etc. There is something for each and every couple here!
A luxurious winery that offers so much more than just fine wine. Here, you will have an overall experience (that you can brag about again and again.) Want to enjoy a weekend getaway? Celebrate an anniversary? Brush up on your tennis and golfing skills? How about a place to just rest and relax? Chateau Elan literally has it all. From their renowned dining experiences to their golf villas, all the way up to their spa and luxurious estate rooms, you might never want to leave.
For everything wine, you can partake in their weekly or monthly events, dine at the winery, design your own custom wine label, book a wine tasting or even a tasting with a tour of the grounds!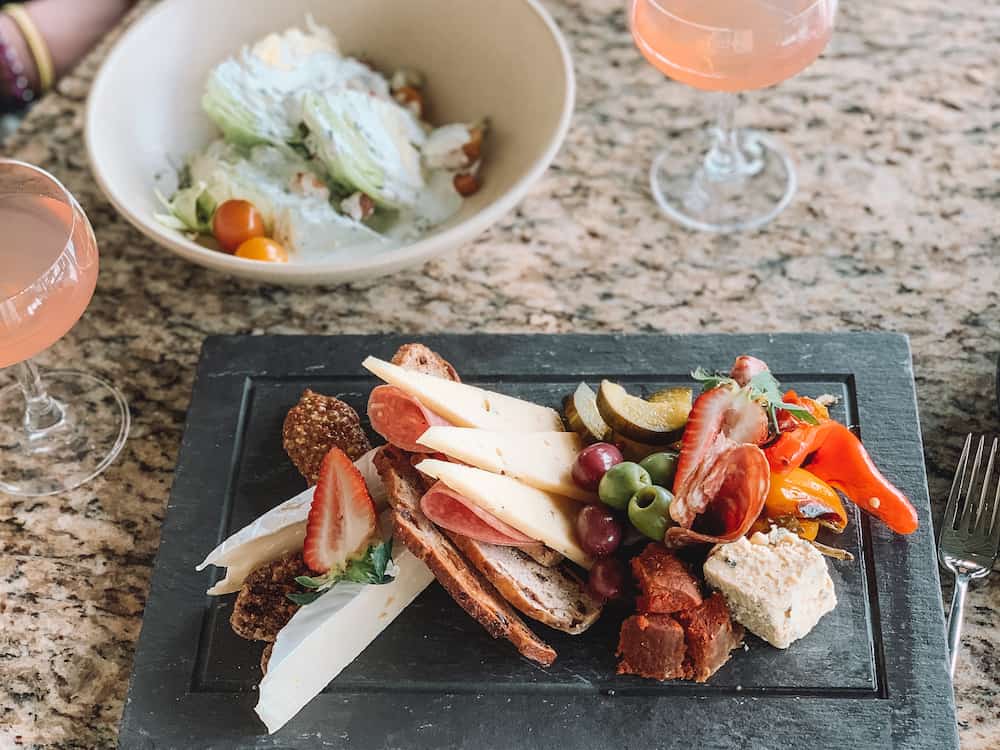 Read: How to Travel as a Couple Without Killing Each Other
Romantic Things To Do Outside of Atlanta
Did someone say wine? The wineries and vineyards are all within close proximity of one another, making it easy for you to choose your own route and enjoy the scenic mountain views and rolling meadows. There is much to be explored with over 25+ to visit either over a long weekend or along the Georgia Wine Highway.
Skip the lines and book the recommended Atlanta Wine Tour here.
You might be wondering a little bit about the name. Yes, this place has goats that you can pet and play with! Goats + wine + food + view = sheer bliss.
Their award-winning wines will make you proud to be an American! With wine names like Valor, Independence and Liberty, it's our civilian duty to enjoy these from the rooftops! Grab a glass and enjoy the scenic views from their 50 ft. Veranda, or head inside where you're greeted with 30 ft ceilings and live music!
Come spend the day at the stunning Kaya Vineyards. Entering through wrought iron gates, you are greeted with a stone front and warm welcome. Kaya offers a light lunch menu that pairs nicely with their award-winning wines, or you can enjoy their tasting room dining which offers a variety of dishes handcrafted by their Executive Chef. Personally, the paninis are to die for, and very sharable for you and your partner.
Probably the most unique and beautiful winery in Georgia. Their motto is "The beauty of Tuscany, the experience of Sonoma & the hospitality of the South." This statement couldn't be truer. As soon as you drive up to their property, you feel as though you have teleported to the Tuscan vineyards of Italy. It's like a whole new world in the heart of the North Georgia mountains. (Plus, what is sexier than Italian wine and landscapes right?)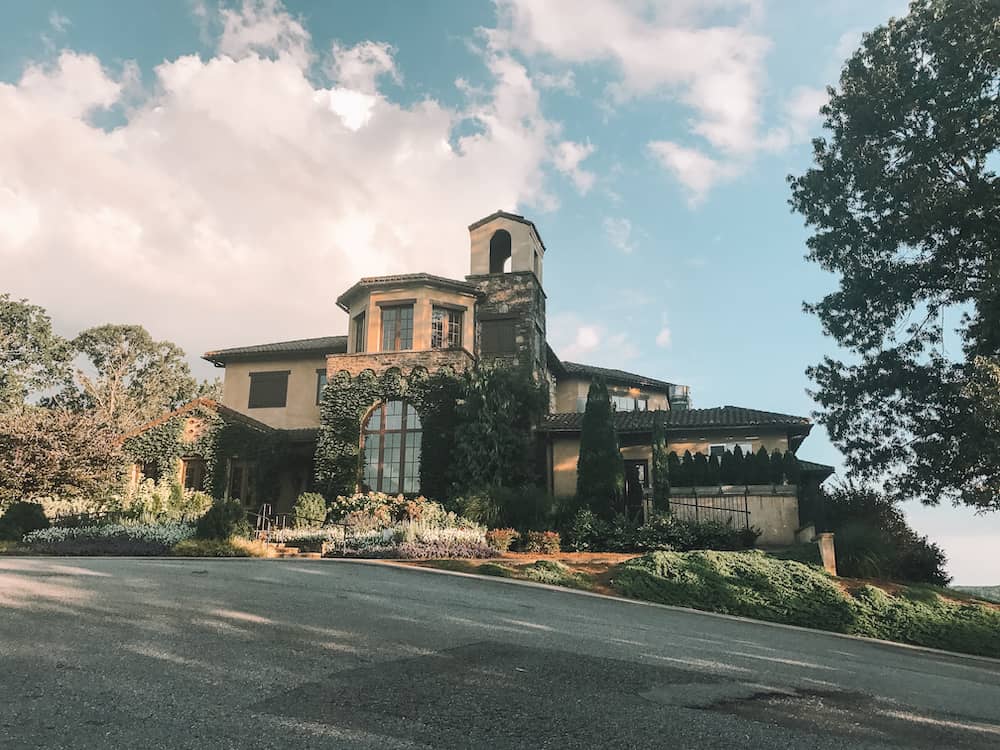 Here at Monteluce, you can expect opulence. A wine and fine dining experience overlooking their vineyards, a mossy façade, grand staircases, and an epic patio area. The luxury doesn't stop there, with a velvet lounge area, executive chefs and 10 handcrafted wines, your taste buds will be screaming for more.
The best part is that they offer wine tastings AND wine hikes! Why not work off some calories so you can enjoy more than one glass?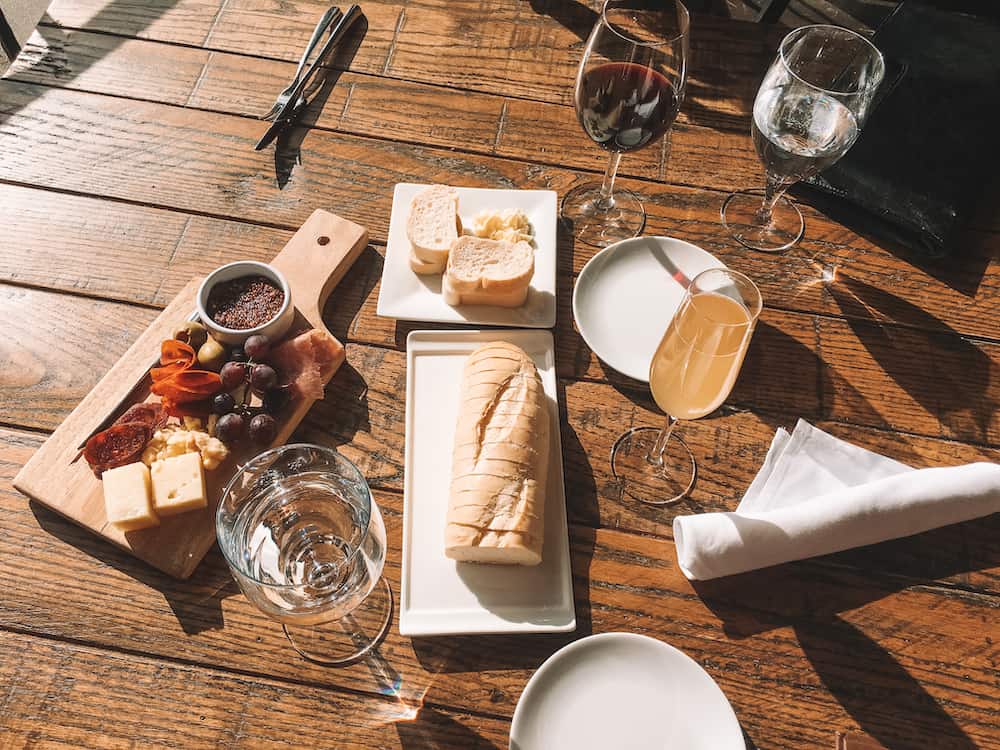 If sipping wine isn't the only reason why you and your boo are visiting, here are a few more romantic getaways near Atlanta GA.
Helen, Georgia
This replica German lookalike town has so many activities to offer. Stroll the streets for live music, trinket stores and lots of beer/wine! Vineyards and wineries open around 10 are here, making it the perfect start to any day!
Ellijay, Georgia
Frequented by locals and visitors alike, this mountain town makes you into an outdoor person, even if you really aren't one. With amazing restaurants, exciting activities and of course, wineries, you will be sucked into the Southern lifestyle. Not to mention, if you both want some time away from all that wine, you can check out the nearby orchards for apple picking and petting farms.
Some orchards to check out around this area are Hillcrest Orchards (popular for wagon rides, petting farm, and their apple cider), R & A Orchards (popular for pony rides and corn mazes), and Red Apple Barn (popular for flowers, apple fritters, and games). Remember channeling your inner child in Atlanta? Well, you can also do that here in Ellijay!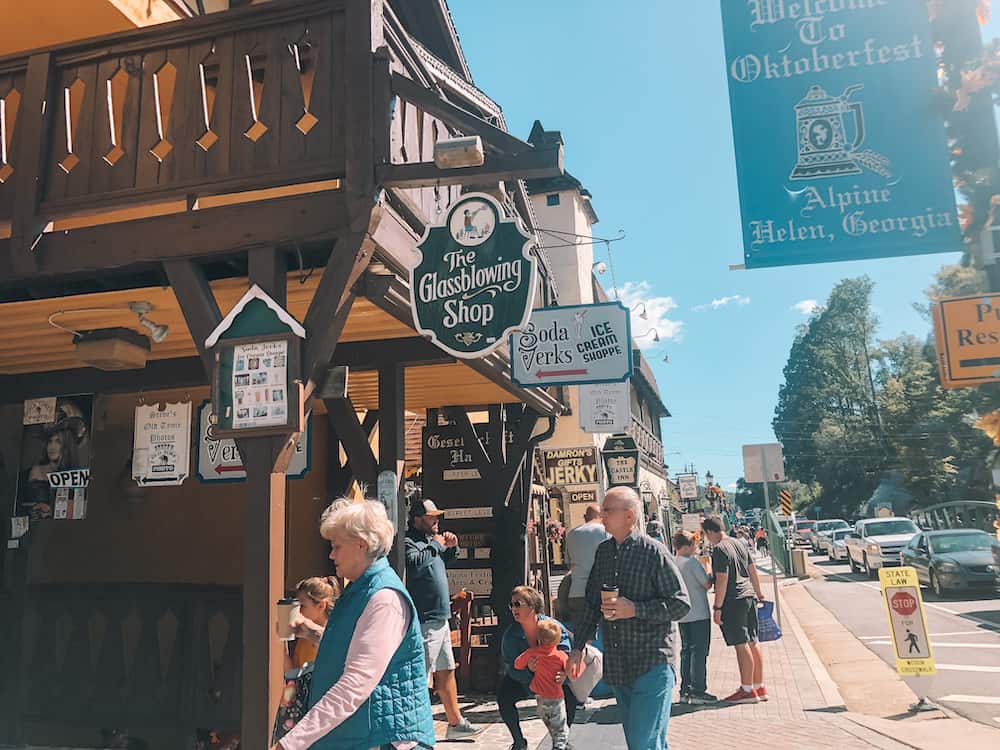 Read: The Ultimate Travel Bucket List for Adventurous Couples
No matter what the occasion, Atlanta and all surrounding areas offer the perfect romantic getaway for every type of couple! Spend your afternoons downtown hopping from place to place before unwinding in the cutest Airbnb. OR, head outside of the city to get closer to each other and nature for the ultimate romantic experience!
| State | Georgia |
| --- | --- |
| Atlanta Currency | American Dollars (USD). Use Multicurrency Card while traveling to reduce the fees. |
| Travel Insurance Atlanta | Check out the best options on World Nomads. |
| Atlanta Souvenirs | Check out this guide. |
Pin For Later:
The post was written by Tatum Skipper from Bonvoyage Babes Blog. The photos used in this article are either Tatum's or royalty-free stock.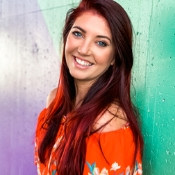 Bio: Hey babe! I'm Tatum. I'm a social media influencer, blogger and vlogger passionate about helping people all around the world turn their travel dreams into reality. I circle the globe full-time promoting scenic destinations, affordable hotels, and brands that encompass all things travel on my blog! My overall goal is to inspire babes to get out of their comfort zones and travel the world–on their own terms. I want traveling to feel more attainable and relatable to the average person!