Bali Romantic Guide
This post is written by a fellow travel blogger. Cal Bailey runs Mountain Leon – a travel blog he started after two years on backpacking around the world. If you want to learn more about life on the road or his blogging, you can read his latest blog posts.
The depth of a Balinese experience is almost ineffable, as anyone who has been to this incredibly beautiful island can tell you. It is one of the world's most popular destinations for honeymooners, as there are so many awe-inspiring locations and Bali romantic activities available.
After the release of the hit, movie Eat Pray Love, public perception of this beautiful island as a romantic paradise was shaped that little bit more, and now singletons, lovers and honeymooners all come to Bali in great numbers in the hope of experiencing a similar degree of romance. It's pretty easy to achieve, and you don't need to be part of a couple to experience the romantic side of Bali… that's because Bali needn't make much effort to be romantic – it simply is.
Why is Bali such a romantic destination?
Firstly, the people of the island are some of the world's most openhearted, and they do whatever they can to provide rich experiences for visitors. It is so easy to feel relaxed and unrushed; the stresses of daily life somehow seem like a thing of the past. Consistently smiling faces make a big difference to your day!
Alongside this, the scenery is just jaw-dropping, with looming volcanoes, tropical beaches, rugged cliff tops, and lush green rice fields. The stunning sunrises and sunsets certainly have aphrodisiac effects, and the balmy evenings also lend a hand.
During our recent trip to Bali, we experienced much of what this island has to offer couples seeking a deeper connection and exquisite memories. We certainly weren't disappointed. Here is our romantic Bali itinerary:
Romantic Things to Do in Bali
Trekking in Rice Terrace Tegalalang
Most people have seen the Balinese rice fields in photographs, as they're one of Bali's most iconic attractions. Being inside one is harder to imagine, what with the balmy tropical air, birds, and insects humming and buzzing, and the total immersion into lush green surrounds. This all does something for the soul, as we found out when trekking through Rice Terrace Tegalalang (situated between Tegalalang and Ubud).
It wasn't a tough trek in terms of effort, but we recommend sturdy shoes for trekking in general. Aside from the sounds of nature, this was a serene experience and the gentle breeze kept us cool while we meandered through the terraces. It was interesting to see the intricately carved terraces and clever irrigation systems. We went early in the morning to avoid both hot sun and crowds, and this proved to be a peaceful time of day… highly recommended, and excellent photo opportunities!
Purification Ceremony at the Holy Water Temple
About an hour from Denaspar, you can find the Tirta Empul Temple, where water purification rituals take place. This is a truly unique activity and one that made our time in Bali very memorable. The Temple is built on a bubbling spring connected to the Pakerisan River, and the Balinese have been using it to cleanse and purify spiritually for over a thousand years.
There are thirteen fountains here, and legend has it that these are infused with magical qualities by Hindu god Indra. Again, we got there early – 7 am – as there's something about crowds that dilutes the romance! We bathed in the waters and moved through the showers of each fountain one by one, saying a little prayer and rinsing ourselves in the flowing water as the ritual dictates. There were even little fish inside the pool, which was a pleasant surprise!
Although we had a lovely time performing the ritual as best we could discern it (with guidance from a friendly local!), there's no pressure to perform it… as always, you're free as a bird here in Bali.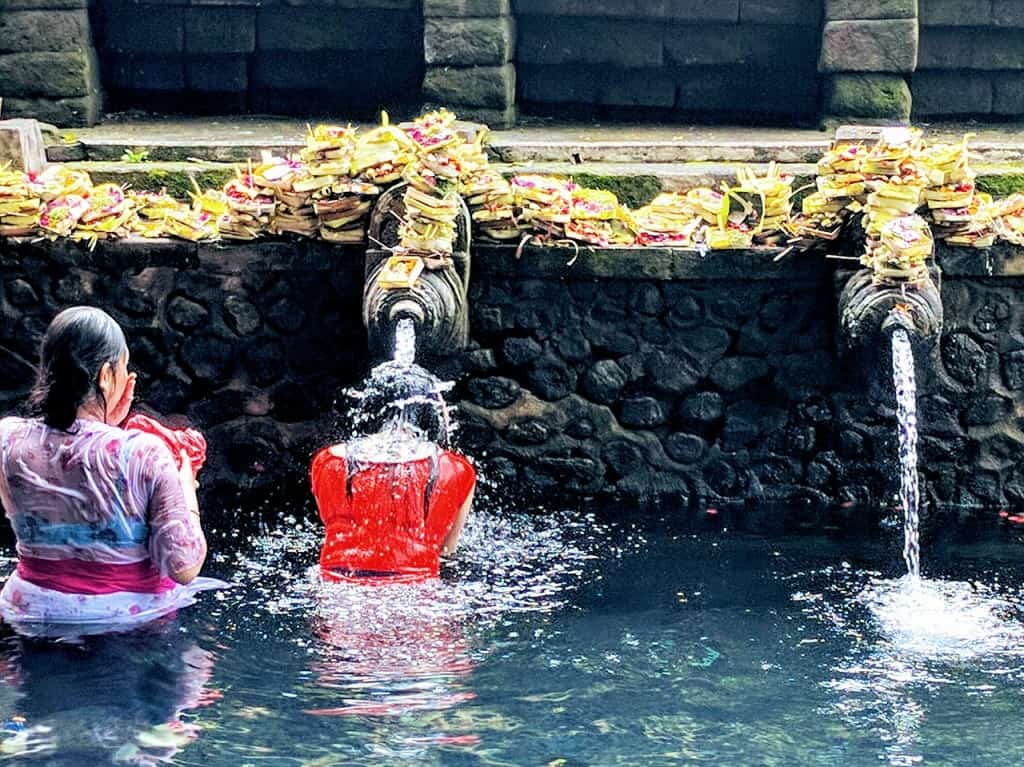 Pure indulgence at Karsa Spa, Ubud
Ubud is a wonderful place and seems to be one of Bali's favored spots despite there being no beach. We had heard about Karsa Spa from a fellow traveler, so we booked in on rest day to recuperate from trekking. We thought it will be one of those romantic things to do in Bali that will make this trip unforgettable.
Karsa Spa turned out to be a truly magical place. We decided to opt for the Buddha package, which constituted a one-hour massage, thirty minutes of chakra balancing, and a one-hour facial. What a wonderful experience that was… we both came out of it feeling utterly refreshed and blissed out on every level. It happened to be a rainy day, so this was the best way to spend it.
Another thing we heard about (but didn't get a chance to do) was a sensual massage class by The Art of Touch. These guys teach you techniques aimed at increasing intimacy and relaxation as a couple. It's on our list for next time!
Catch a beachside movie at Karma Beach
Karma Beach Club in Uluwatu is well worth visiting for any reason, day or night. It is set in one of Bali's most stunning coves, where a crescent of white sand meets a tranquil blue lagoon. We happened to be there on a Monday afternoon, enjoying a lazy beach day and doing a bit of kayaking and snorkeling.
Those were beautiful experiences, as was the Prawn Linguine lunch… but what we enjoyed the most that day was the movie night by the beach. We relaxed by the beach under a canopy of stars, nestled at the foot of an impressive limestone cliff, snuggled up together on a lounger watching the film. It was a novel experience and one we would be happy to repeat! It might not be the most romantic thing to do in Bali but it definitely was the highlight of our trip.
Take a couple of days out to see Nusa Penida and Lembongan
Although this is technically off the island, the little islands of Nusa Penida and Nusa Lembongan are a short boat ride away and are well worth exploring. We jumped on a fast boat from Sanur and hired a scooter upon landing on Nusa Penida. That really helped us to explore the gorgeous beaches with minimal effort, and we had a lovely time cruising through pretty back roads and forested areas, finding ourselves in secluded, pretty spots and feeling like we were the only people in the world!
We particularly liked Angel's Billabong, which is less secluded but still beautiful, and the views at Pantai Atuh Beach are something else. Two days later we boarded the boat once for Lembongan and spent the day there snorkeling amidst the colorful reefs and spotting Manta Rays. We didn't partake, but there are even cliff jumping opportunities for the braver among you! Lastly, we went for a romantic walk to the iconic yellow bridge to Nusa Ceningan, and all in all, had a wonderfully relaxing and sun-soaked few days.
Romantic Dining Experiences
Romantic soirees are heavily linked to candlelit meals and the like, and in Bali, this is so efficiently catered for that almost every meal could be a romantic interlude if you were so inclined! Here are our favorite dining options:
Most Romantic Bali Breakfast
Breakfast by the Rice Terrace, Alaya Resort
One of the best places to stay in Bali for couples is Alaya Resort in Ubud. That's where we have been staying for a few days. It is right in the center of Ubud but immersed in gorgeous nature. We were loathed to leave at all really, as the restaurants here had such amazing delights on the menu! There are two restaurants – Petani Restaurant and Manisan Bali – and both have been so tastefully decorated that you can tell they had romance in mind.
Here we ate breakfast every morning, and it was set up in the form of an intimate picnic by the rice terrace. This was such a lovely part of the trip, and everyone we met there was of the same mind! Don't miss it.
Check out the latest prices for Alaya Resort –> click here.
If you are looking for best Bali honeymoon villas check out–> AirBnb.
Most Romantic Bali Dinner
Candle-lit dinner at Swept Away Restaurant, The Samaya (Ubud)
One candle on the table may be pretty standard, but at Swept Away Restaurant they know romance takes a little more effort… they'll sweep you off your feet with a hundred candles! Sunset dinners have never been so perfect, it's definitely the most romantic Bali dinner.
Another of Ubud's gems, Swept Away offers a unique dining experience. They offer an excellent food menu, but as there is only one table set up for this romantic experience each night, you'll need to plan ahead! While this may mean waiting awhile (four days in our case), you're likely to feel incredibly special. During this romantic Bali dinner, we loved sitting by the river and working our way through a delicious six-course meal at a leisurely pace, washed down by wine… after all, you'd have to be mad not to!
Pin For Later: