I've lived in Toronto for 23 years and I've seen this city in so many ways. My husband and I love to eat out and try new restaurants and do date nights in Toronto. So I am sharing with you the best romantic places to visit in Toronto.
Going into 2021, unfortunately, Toronto is in lockdown but hopefully by the time you visit, everything will be open.
Your romantic Toronto getaway starts with where you're staying. There are lots of beautiful hotels depending on your budget or you can always opt-in for an Airbnb. Personally, I prefer a hotel because you have room service, housekeeping & a concierge which is better than you having to do all those things by renting a condo.
Toronto is a big city but for the best romantic getaway, you have to pick a hotel that is downtown. The last thing you want to be doing is spending more money than you need to on uber & being stuck in traffic. It's nice to be able to walk out of your hotel and take a scenic walk in the city.
The romantic activities in Toronto that you two can do will depend on what time of year you come to visit. I have listed various activities for each season that you can do.
Best Places To Stay In Toronto For Couples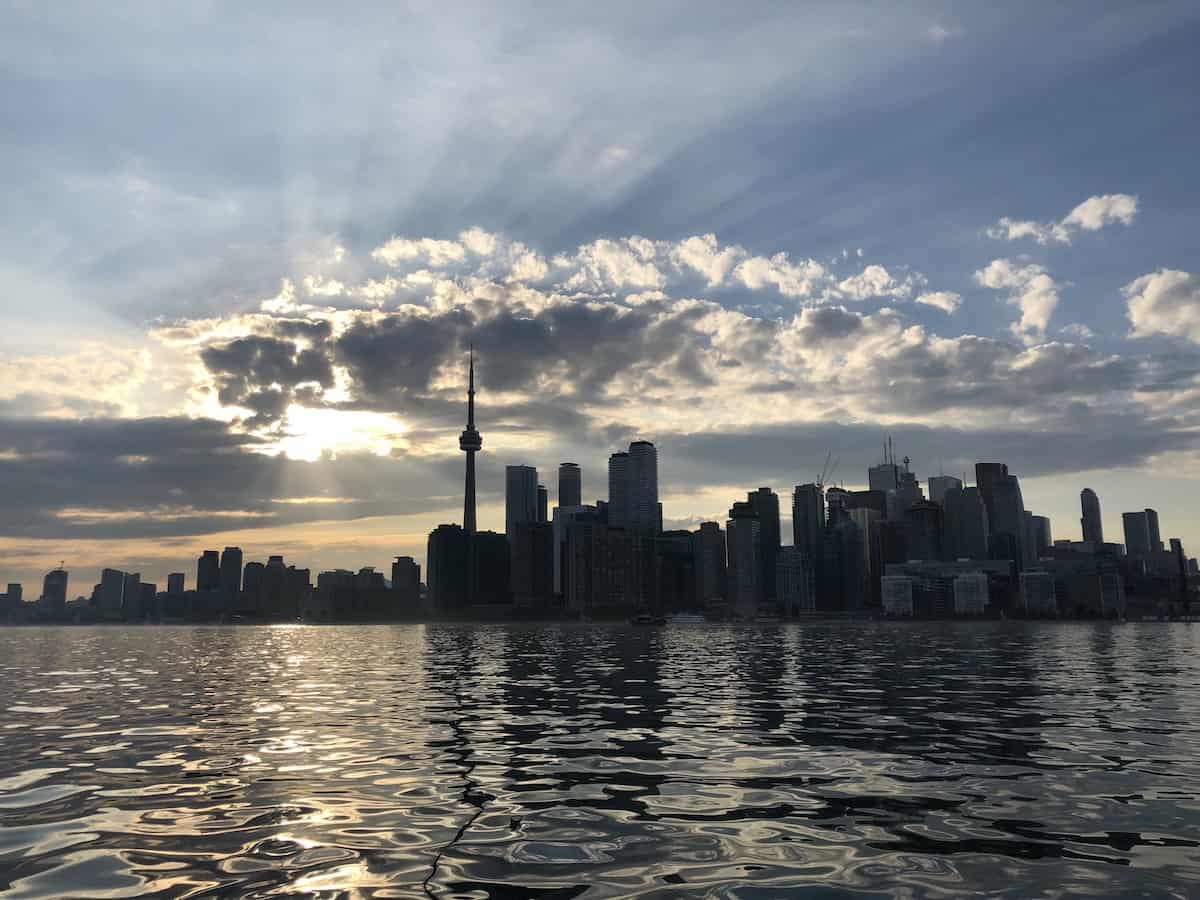 This is a trendy executive boutique hotel in downtown Toronto that has everything your romantic getaway would need.
It's clean, modern & has beautiful rooms with perfect city views. It is downtown Toronto & is within walking distance away from everything and is located right near Toronto's Entertainment District.
You'll likely pay a minimum of $230 CAD per night so the prices are very reasonable.
If you're looking for more of a luxurious upscale experience then this is one of many fabulous hotels. It is walking distance from the most important sights in downtown Toronto including the Eaton Center, Union Station, and the Shopping and Entertainment District. It is in the heart of the Financial District.
This hotel is amazing. From the interior decor, clean high-end rooms, valet parking, room service, some of the best views of the city & much more!
You'll pay around $600 CAD per night but it will be very worth it and be an unforgettable experience. Sometimes for a special romantic getaway, you need to splurge and spoil yourself & your partner a bit.
For a more budget-friendly yet trendy & upscale luxurious boutique hotel, the One King West is ideal. The name of the hotel is also the address. It is in the heart of downtown Toronto's Financial District with walking distance from St Regis, Eaton Center & you can take an Uber, hop on the streetcar or walk a little longer to get to the Entertainment District.
There is a Starbucks and a Tim Hortons on the other side of the street. You can take a short uber ride or a ten to fifteen-minute walk as well to get to the waterfront.
On average you will pay between $135-$150 CAD per night which is very reasonable.
This is one of the most iconic and oldest hotels in downtown Toronto. It is located right in front of Union Station and is a short walk to the waterfront. You can take a short Uber ride to the Entertainment District or walk up to the Eaton Center and the Financial District.
The building dates back to 1929 and has kept a lot of its original interior paintings & columns. Not only has this hotel been used in lots of shows and movies including Suits, but the Queen of England and lots of celebrities have stayed here. If you come during the International Film Festival you will likely bump into someone famous.
Romantic Activities in Toronto
Romantic Things To Do In Toronto During Spring
This is a long-time popular Spring tradition for Torontonians and tourists and is a must-see. The cherry blossom trees become in bloom in spring and the best time to visit is from the end of April to early May.
If you want to come when crowds are low, it's best to come early morning during the week when most people are working. This way you can take some beautiful romantic photos with not many people in the background.
High Park is the biggest park in Toronto and is located just outside the downtown core, about an 11 minute drive and a 35-40 minute ride on the transit.
Romantic Things To Do In Toronto During Summer
Dinner, Brunch or Cocktail Cruise
There are lots of different cruise lines but Hornblower or Mariposa has the best ones. This is a fun romantic Toronto activity you two can do in the summer. Before you book your cruise, check Groupon to see if there are any specials (usually there are).
You can get some beautiful romantic photos, especially around sunset. This is an activity you and your spouse will love.
Don't forget, before or after your cruise take a romantic walk along Toronto's harbourfront.
Romantic Things To Do In Toronto During Fall
Toronto International Film Festival
This is our favorite yearly event we never miss (except during the pandemic). Every year we watch 6-7 movies. You have to plan and book in advance because some of the movies you want to see you might not be able to get tickets for.
Some people wait in line to try to get in the day of the movie because there were no more tickets available online, but that's not a very romantic experience.
King St is the main street where a lot of TIFF events happen and where people line up to see the stars.
To have the best romantic TIFF experience for you and your partner, first, buy your tickets in advance. Second, depending on the time of the movie, come early before the movie starts and head on over to one of the restaurants I recommended for a beautiful dinner and drinks. If your movie starts too early, then you can go to a restaurant for food or drinks after the movie.
If your movie is at the TIFF Bell Lightbox, there you can purchase alcoholic drinks and enjoy them inside the movie.
Pro Tip: If you try to buy tickets for a movie but all the times are unavailable, keep checking frequently because it may open up. I've done that a few times and managed to get tickets.
Romantic Things To Do In Toronto During Winter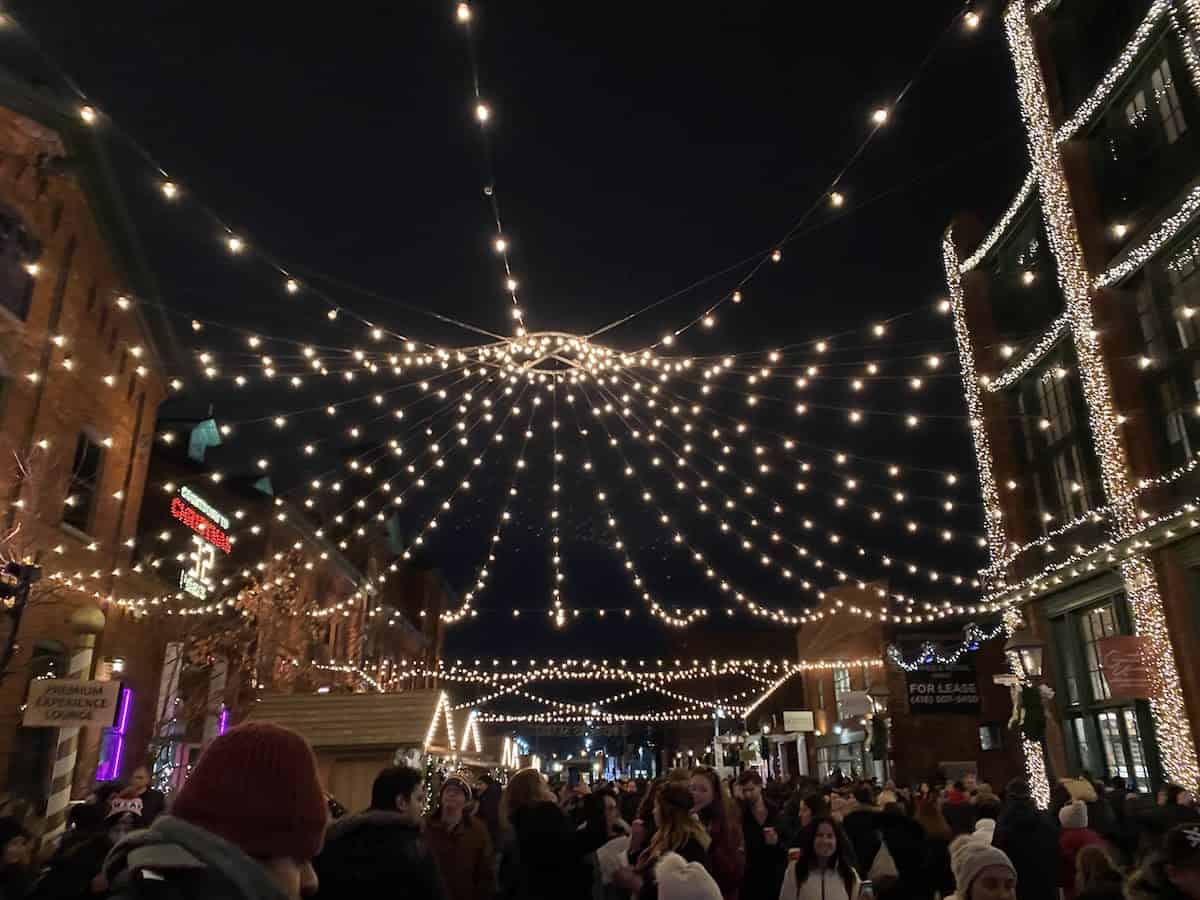 This is the best part about winters in Toronto and is a perfect event for couples. Located in one of the most historic part of Toronto, the Distillery District is transformed into the most beautiful festive Christmas market!
Carol singers, lots of food & drink stations, shops and more! Take photos in front of the official Christmas tree and grab a cup of mulled wine at one of the many outdoor bars.
Romantic Things To Do In Toronto All Year Round
Visiting the Distillery District anytime during the year is always beautiful. It was founded in 1832 and maintains a lot of the original structures and buildings. There are lots of art galleries, unique shops, and gourmet restaurants in this area with tons of great photo opportunities.
You can take a short uber ride from any of the hotels I've recommended.
Edwards Gardens
This is Toronto's botanical gardens located northeast of the downtown core and is the furthest romantic Toronto experience but a beautiful place to go for a romantic walk any time of the year. For me, because I get cold easily I prefer to go here in the summer or fall.
There is no fee to come here, you just walk in and spend as much time as you want walking through. We love coming for walks here.
Best Places To Eat In Toronto For Couples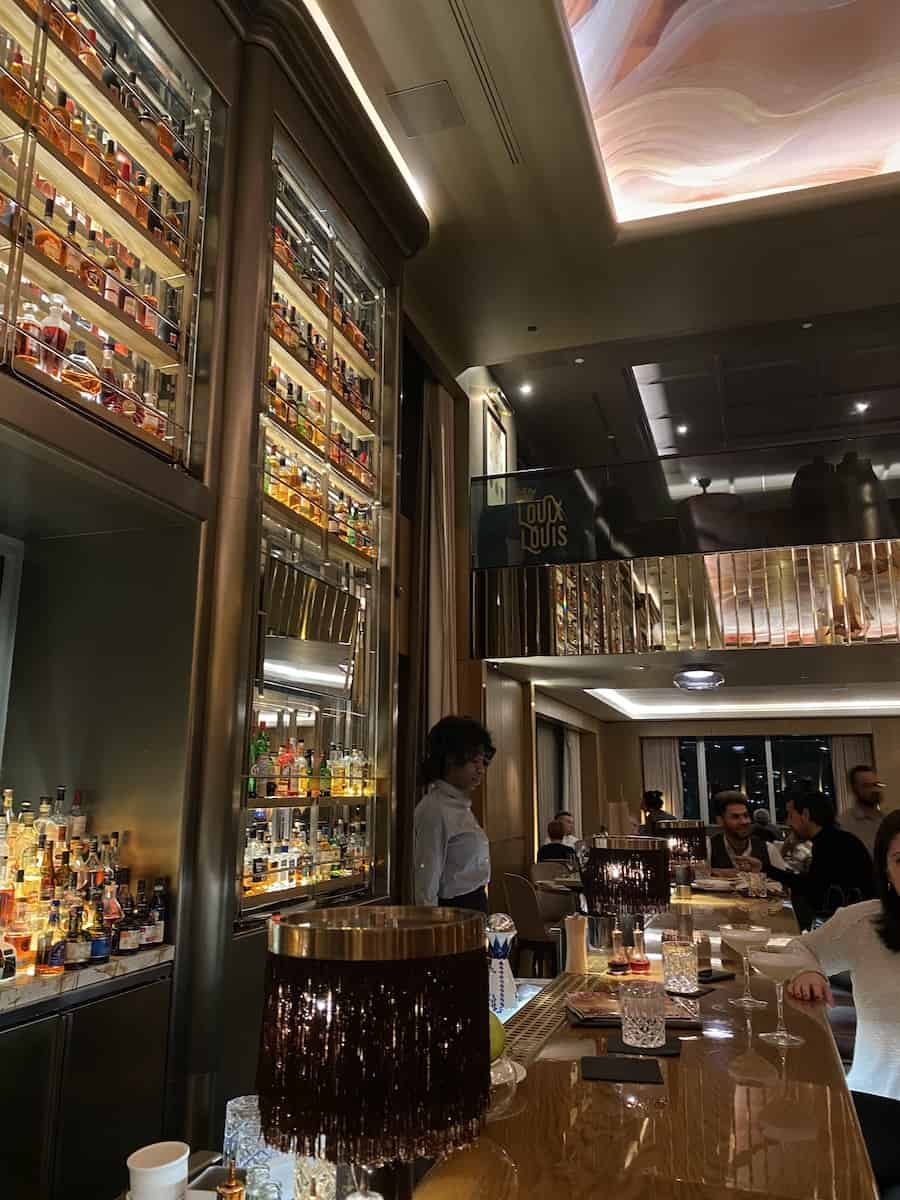 This a gourmet delicious South American restaurant located in the heart of downtown Toronto that's connected to the Eaton Center. The food is unbelievable and the ambiance is upscale, romantic, and trendy that is perfect for a date night out.
You can't go wrong with anything on the menu but the first thing you have to order is the Empanadas! They're our favourite and are made in the traditional way they make them in Argentina.
Prior to the pandemic, they used to have Latin music downstairs for a more intimate experience that went into the late hours of the night. Hopefully, they will resume that again.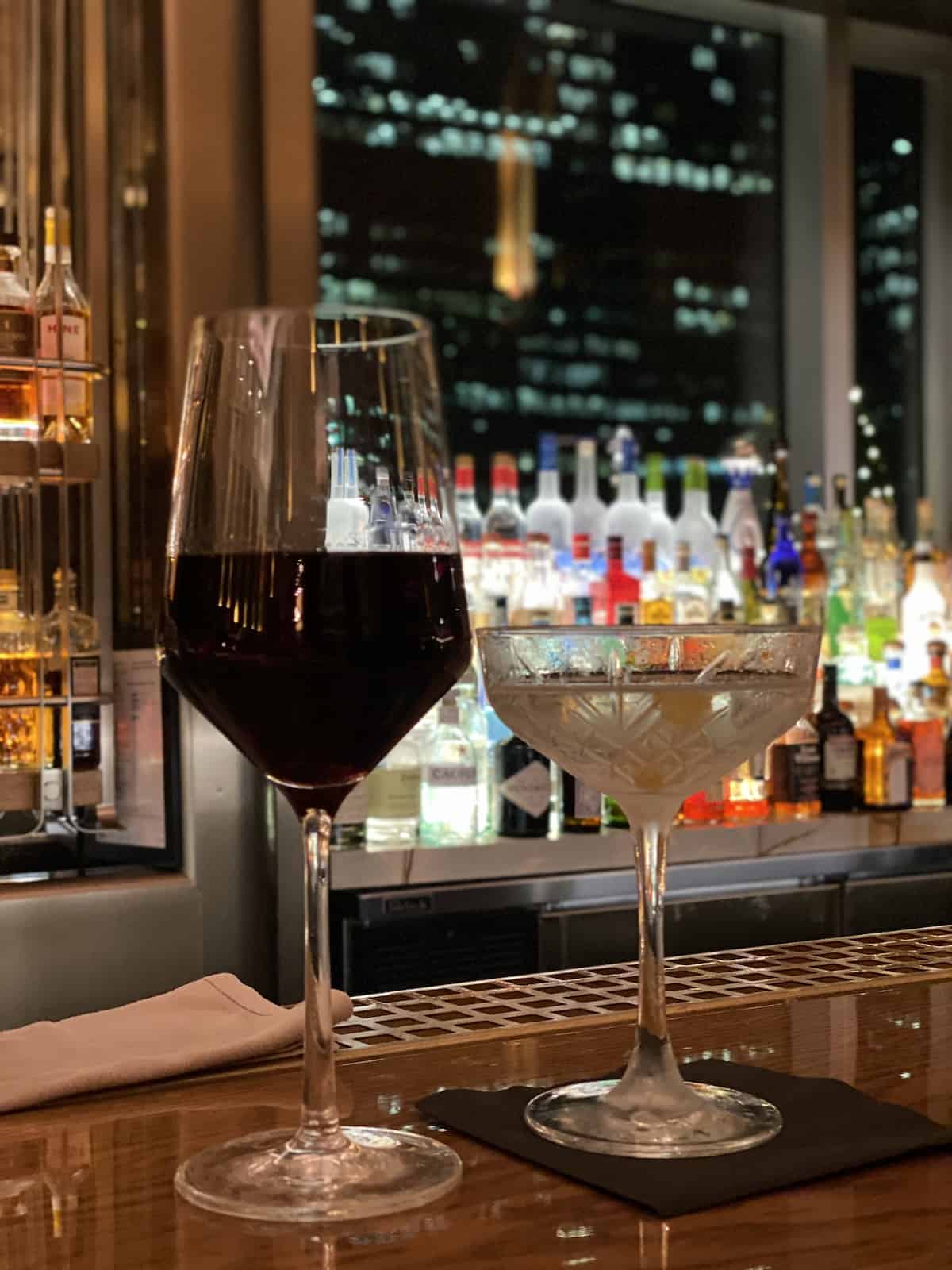 This bar and restaurant is located on the top floor in the St Regis Hotel. A very luxurious upscale bar to grab some food and drinks on a romantic night out in Toronto.
You'll probably spend $200 before tip and tax but it's truly a one-of-kind place with amazing food.
Note, the portions are small so it's ideal for light apps and drinks instead of a full dinner.
We've been here many times for food and drinks on a date night or even when meeting friends or clients. It's a trendy sophisticated lounge restaurant and they have DJs and a fun vibe. There is a beautiful rooftop patio, so if you're here in the summer be sure to sit there.
Weekends get very busy so I highly recommend making reservations in advance. There are locations all across Canada but this one is attached to the First Canadian Place in the Financial District across the street from the St Regis Hotel but the entrance is from the outside.
The prices are pretty average, not expensive depending on how much you're ordering of course.
We both love seafood and oysters so this is one of our favorite restaurants located in the Distillery District. They do have other things on the menu as well if you or your spouse don't like oysters.
It's definitely a popular place especially when the Christmas Market is on so I recommend making reservations in advance.
The prices vary but for the main dish, it will be closer to $25 and higher. The food is amazing and the ambiance is perfect for a date night out in Toronto.
A Romantic Weekend Getaway From Toronto to Niagara-On-The-Lake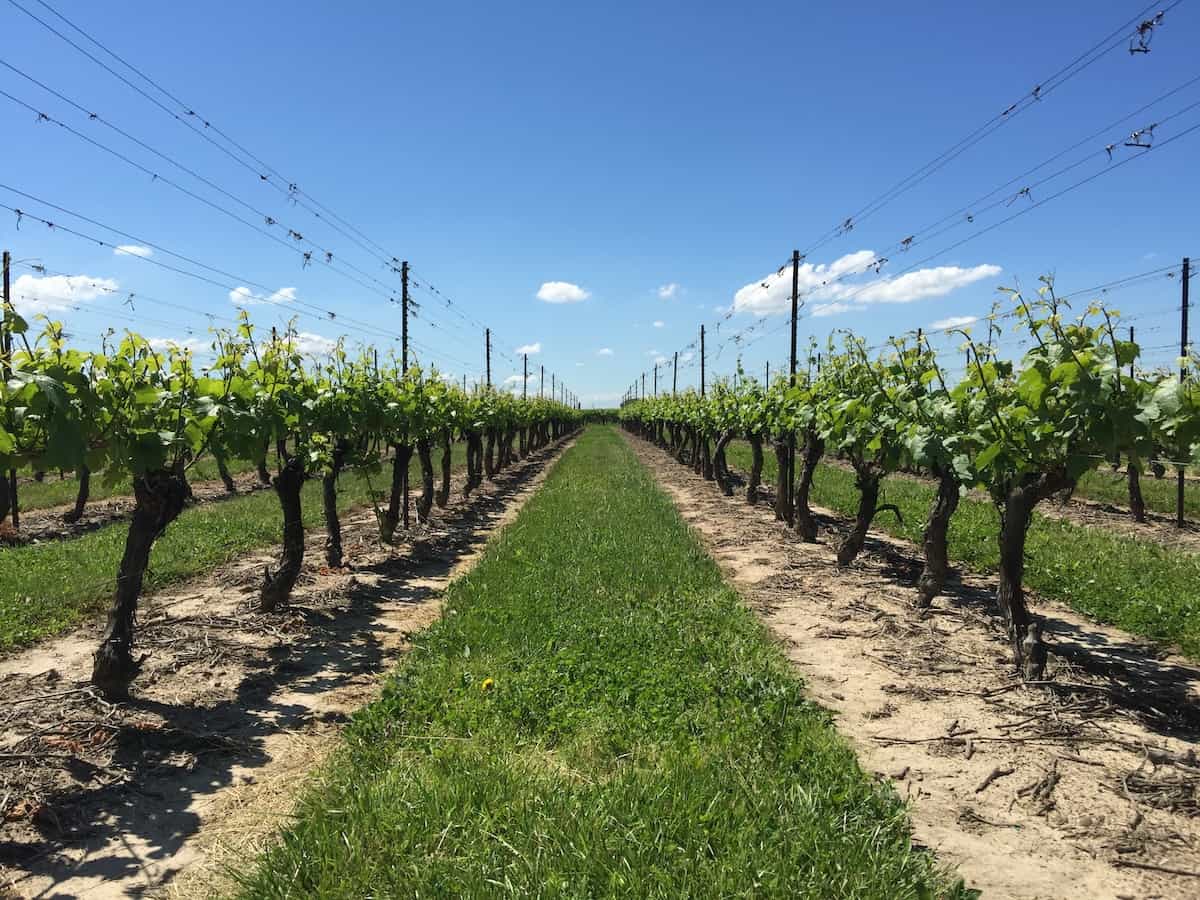 You can't come to Toronto and not make a trip out to Canada's best wine country, Niagara-on-the-lake!
Niagara-on-the-lake is about 1.5 hours drive from Toronto so I recommend renting a car and coming for at least 2-3 days. You can take the GO train from Union Station but it takes about 2 hours and there is no public transit in this town and not many uber cars so I don't recommend it.
Niagara-on-the-lake is a 20-minute drive from Niagara Falls and is a very old historic town that was founded in 1792. The war of 1812 was also fought here and there are historic sites you can visit.
This is also considered Canada's best & biggest wine country. We've been to 23 wineries in the area but there are about 50 wineries in total in Niagara-on-the-lake.
Where To Stay In Niagara-on-the-lake?
There are lots of cozy bed & breakfasts in old historic Niagara-on-the-lake and a few of the oldest hotels in Canada.
This inn is the oldest inn in Niagara-on-the-lake, over 200 years old. Now it's a luxurious boutique hotel, with a spa and of course a restaurant, located in the heart of the Old Town.
They also have an outdoor pool & jacuzzi surrounded by lush gardens. Some of the rooms have balconies or patios.
This is a large upscale & elegant B&B located in the heart of the Old Town. There are only 3 rooms – the Main Suite, and the East & West wing. We stayed here for 1 night and it was a beautiful romantic experience. In the morning, Julie the manager will prepare a gourmet breakfast for the guests and it will be served either outdoor or indoor depending on the weather.
The art you see on the walls & sculptures all have a story and you can ask the owner if you happen to meet him, but the paintings he buys from a local artist in Miami.
The nightly room rates are between $400 – $600 per night but it will be an unforgettable stay, and even better than a 5-star large hotel. Definitely worth it if you want to spoil yourself & your spouse.
This is another 5-star old luxurious cozy inn. This inn has an outdoor & indoor pool, a sundeck and outdoor hot springs surrounded by a beautiful garden. You can also reserve a spa package to get pampered.
The rooms are cozy and warm & some have electric fireplaces.
Romantic Things To Do In Niagara-On-The-Lake
Wine Tastings!
This is a must when coming to Niagara. You can either drive on your own to any winery you want or book a tour either on a bus or bicycles. The wine tours will cost around $80 -$110 per person for a guided tour depending on if you take the half-day or full-day package with lunch or not. We've done bicycle wine tours a few times and they are the best! I highly recommend doing a tour on bicycles. The other option is to do your own tour by renting your own bikes and getting a map.
Be sure to try Ice Wine! Canada is the number 1 producer of Ice Wine globally.
To find out the best wineries you need to visit & do tastings, check out the post on my blog for the Best Non-Traditional Wineries in Niagara-on-the-lake! The best wineries are not the big commercial wineries but rather the smaller family ones.
A Romantic Walk…
…in the old historic village. This town is so cozy & picturesque! Grab a coffee or hot cocoa at Balzac's cafe before you go on your walk.
Romantic Horse & Carriage Ride & Tour with Sentinel Carriages
.
The price is $100 for 30-minutes, $145 for 45-minutes & $165 for 60-minutes. They have blankets for sale in the winter for $25. You can make reservations on their website or just show up and buy the tour on the spot.
Take a Ghost Walk Tour with Ghost Walks
in Niagara-on-the-lake.
This is a fun activity for all ages & great for couples. Niagara-on-the-lake is actually considered Canada's most haunted town because of the history of the war of 1812. They do several tours a day usually starting around 7pm, and they're very busy in the summer months and in October because of Halloween.
The number of tours slows down after Halloween but they never stop doing tours. The tour guide is dressed in an old period costume from the 1800s & holds a real oil lamp. The fee is $12 per child & $16 per adult & senior.
This is a short 10-minute drive from the Niagara-on-the-lake town and is a beautiful experience for couples. The fee is $16.50 per adult over the age of 13.
There are so many beautiful butterflies flying all around you. Yes, they will sit on you too so have your camera ready!
Best Places To Eat In Niagara-on-the-lake For Couples
The food and restaurants in Niagara-on-the-lake are my favorite. All the restaurants I recommend here and most restaurants in Niagara-on-the-lake are farm-to-table using local ingredients from Niagara farms & they've been doing that since before it became more popular.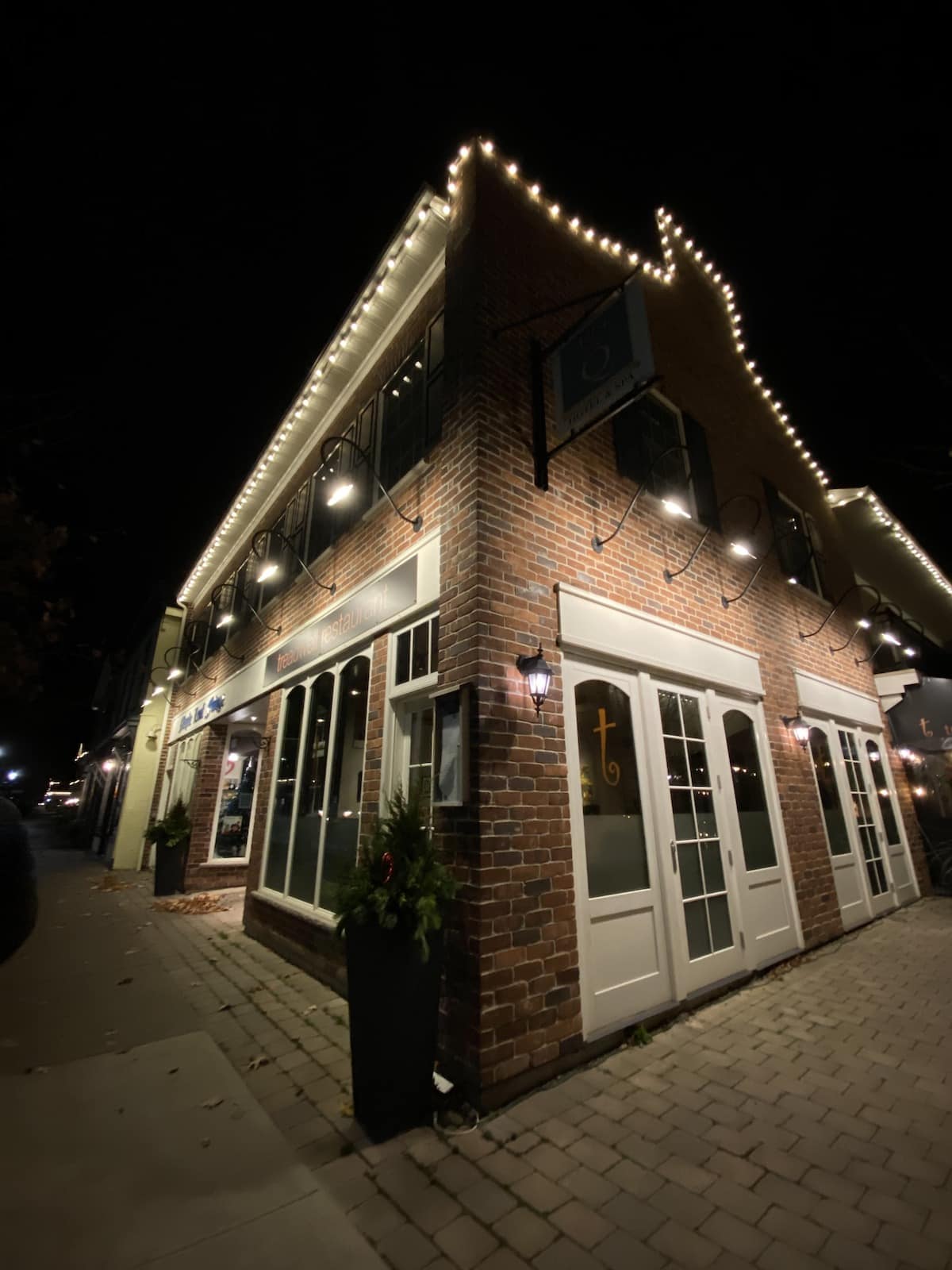 This is one of my favorite places to eat in the old historic town. The ambiance, food & service is fantastic. This place is great for a romantic dinner. Because of the pandemic restrictions, they did a great job to set up a patio that's sealed off from the wind with heaters everywhere so you can enjoy the patio even on a cold windy night.
Located inside a small family-run winery called Caroline Cellars, this is a perfect place for a romantic lunch. I love their wines here but you won't find their wines at any of the LCBOs so make sure to buy a few bottles to enjoy at home or back at the hotel.Be sure to try the blueberry, cranberry and the Farmers Red wines.
The tasting fee is $5 for samples but it gets waived if you buy a bottle of wine.
The dining room has a cozy cabin vibe inside and there is a large patio as well. The prices are reasonable and the food is amazing.
For a more luxurious and upscale dinner, this is the perfect place. The food here is amazing! This restaurant is located inside the Pillar & Post hotel. Be sure to book a reservation & request to be seated by the fireplace. You and your partner will love this restaurant and will enjoy a lovely romantic dinner.
PRO TIP: After dinner, end the night with a romantic horse & carriage ride!
Enjoy your trip!
Pin For Later:
About the Author: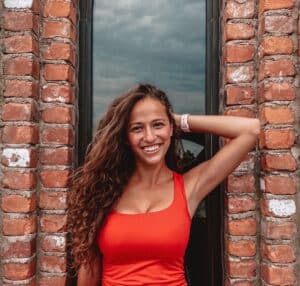 My name is Asya Muzlera. I come from a family of sculptors, painters, classical musicians, writers & art critics. Photography has always been my passion since high school. I am a Travel Influencer, Content Creator, Blogger & iPhone Photography Coach based out of Canada. I've been perfecting the iPhone photography game since 2015!
I used to model for 8 years. I did a lot of runway, studio & on-location photo shoots. I was awarded the title of Miss Toronto Tourism Swimwear 2007 & Miss Canada Tourism 2007. I had the privilege of representing Canada in Turkey at the Miss Tourism World 2007 pageant where I was crowned Miss Bikini World Americas 2007 & Model of the Universe Americas 2007.
I am engaged to be married to my best friend & we love to travel together, explore our local city doing wine tastings & drink lots of coffee!
Now I post travel tips & guides and I work with students, entrepreneurs, influencers & content creators in online classes, 1 on 1 or in a group coaching setting around the world to teach them how to take & edit professional photos for their online business & brand.