Romantic Zurich Things To Do
The post is written by a fellow blogger, Anna Timbrook. Anna was born to travel the world having studied languages all her life. Although she has traveled the world, she now calls Switzerland home and spends her time writing about her experiences on her travel blog with her husband.
Everyone knows that Paris is one of the most romantic cities in the world. But did you know that Zürich comes pretty close? It has a picturesque river, a tantalising lake and mountain views that will stun. All of these present unique opportunities for romantic moments with your significant other. There are so many romantic Zurich things to do!
You just need to bring yourself and your partner to any of these great locations.
Here are the top things to do in Zurich for couples:
Dinner On The Limmat River
The Limmat river is a pretty romantic part of Zürich. It's in the middle of the Old Town, so when you're on a boat on the river, you have gorgeous views of the city from either side.
You will pass the Zürich Town Hall, the Grossmünster church and Lindenhof, among others. And, admiring the river from the shore is one thing, but seeing all of these parts of the city from the water is something else completely. Which is why a river cruise is an excellent way to start off your date.
There are many different boats on the river, and most of them will take you on a round trip. There are some that stop at the lake so that you can enjoy dinner peacefully. Those cruises are often 2 hours long. But, most other boats also have restaurants, and you can usually enjoy cocktails, a barbecue or a romantic dinner.
There is no better way to enjoy Zurich by night.
Evening Train Ride And Dinner On Uetliberg
Zürich even has its own mountain. At least that is what the locals say – it's called the Uetliberg. A train will take you from the city's main station to the top of the mountain in about 30 minutes. The ride is quite scenic, and you can enjoy some lovely views along the way – but they are nothing compared to the views from the top of Uetliberg.
The mountain is more than 2,500 feet above sea level, and it stands much taller than any other part of Zürich. From the top, you have an amazing view of the entire city, and you get to see rooftops of some of its tallest buildings. But if you look the other way, along the lake, you will also see the alps beckoning in the distance, providing a jaw-dropping backdrop to this stunning scene.
There's a lookout tower you can climb, if you want a really impressive view. But if you're more interested in a dinner, head to Berggasthaus Uto-Staffel. This restaurant offers a mesmerizing view of the city. You will have a perfect dinner with a breathtaking view. In the summer you can sit on the wide deck, and in the winter you can grab a table next to a window and still enjoy the view.
Just remember to check the weather forecast before you make any plans. If it is really humid outside, your panoramic view of Zürich might be blocked by the fog.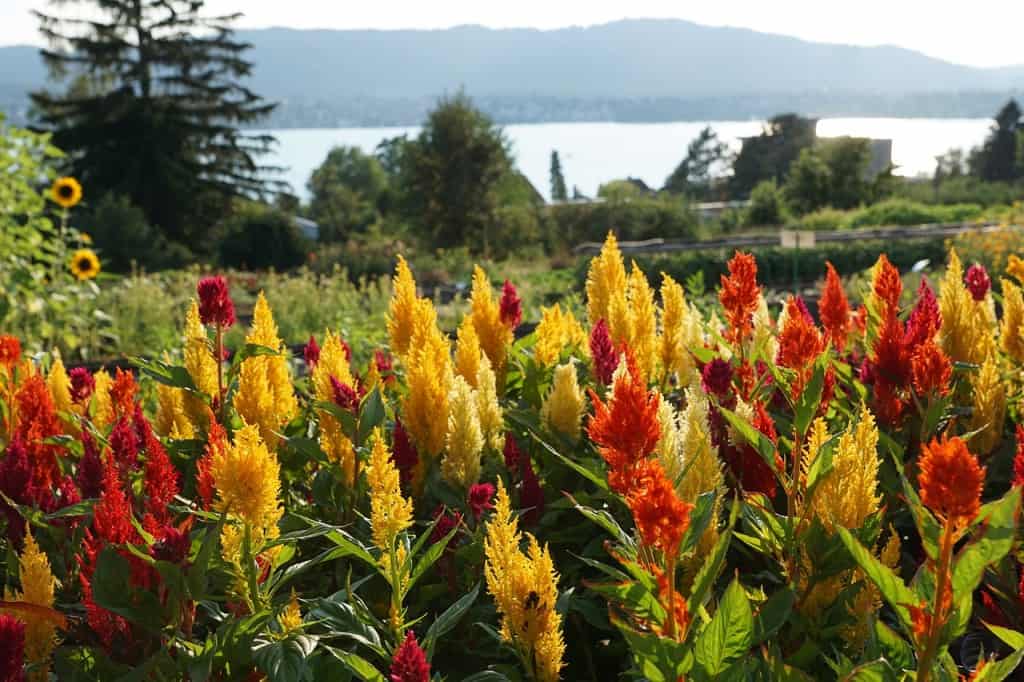 Dinner In The Clouds
Yes, you can literally have dinner in "the Clouds" in Zurich – it's a fantastic restaurant. And as the name suggests, it's very high up in the sky, in the Prime Tower in Zurich's trendy West.
A dinner with a view of the city is romantic everywhere, but especially in Zürich – just imagine watching the sunset over the lake while sipping wine with your beloved. And, it's not just any dinner with a view; it is the best dinner with a view in the entire city.
Prime Tower is the tallest skyscraper in the city, and it was even the tallest building in the country, until 2015. The Clouds restaurant is at the top floor, so you will literally be at the highest point in the city.
Obviously, this is only romantic if neither you nor your partner have a fear of heights – otherwise, it's kind of a nightmare. Just something to keep in mind before you a book a table for two for a romantic dinner overlooking the city.
Boat Ride To Rapperswil
Going on a boat ride from Zürich to Rapperswil is the best thing you could do on a Sunday. Most of the city is closed down and sleeping, so it is the perfect time to escape for a break.
The boat ride lasts for about an hour and 40 minutes, and there are snacks and drinks on board. It's a great way to experience both towns from the water – not to mention how romantic that is outside with the wind in your hair and the alps right in front of you .
Rapperswil is the City of Roses. It lies on the upper half of Lake Zurich, and it is truly picturesque. Part of the Old Town is medieval, with quaint alleys full of small shops – a great place for a stroll.
But what you should definitely do is go visit the Rapperswil Castle, which overlooks the town. It's very romantic, in fact so much so, one of my best friends married around here. It was built way back in the 12th century, and renovated countless times since. There are two museums inside – the Polish museum and the Stadtmuseum Rapperswil, both of which are open to public.
It's up to you whether you want to visit the museums, or you just want to walk around the castle, exploring it. But whatever you choose, you will want to take a minute to stop, and admire the enchanting view of the City of Roses below.
Paddle Boat On Lake Zürich In The Summer
Paddle boating is a fun thing to do in Zurich. And in the right circumstances, it can be pretty romantic.
Going for a ride on lake Zürich, on a warm summer evening (it has to be during sunset) is how you can make a romantic evening out of this experience. You will make some amazing new memories and be brought right back to your childhood – when you begged your parents to take you on a paddle boat ride that one holiday, until they finally caved in.
To make it an even more romantic experience, you can take a small picnic with you. Be sure to get a waterproof bag that you can carry all the snacks and electronics in. You know, just in case.
Obviously you can't really bring a blanket and a proper meal – you are on a paddle boat far out in the lake after all. But you can definitely eat chocolate-covered strawberries, perhaps the most romantic snack ever created. Or have some local pralines or cheese – just think small snacks that you don't need to eat with utensils.
And of course some local Swiss wine (it might not be famous like the French, but it's just as good)! Not too much – you do have to paddle that boat back to the shore. But just enough to make the experience more romantic, and make you and your partner feel a bit younger and more playful.
Fondue Tram Ride In The Winter
A pot of melted cheese doesn't scream romance. But, when that pot is served to you on a tram that's taking you around Zürich in the winter, there's certainly something romantic about it.
It's best to experience this around Christmas, when the city is fully decorated. And then imagine going on that fondue tram ride – perhaps it's snowing a little and everything around you is sparkling, including that champagne in your glass. Now that's textbook romance.
The tram takes you through city center, and passes next to some of the most beautiful squares in Zürich. It passes through Bahnhofstrasse, offers stunning views of the lake from Quaibrücke and wanders through Zürich-West. It is a loop ride, which begins and ends in Bellevue.
The menu on the tram is diverse, with lots of vegetarian options. The tram dinner lasts for about two hours, so you'll have plenty of time go for a walk and enjoy Zürich during Christmas even more. And burn off some of those fondue and chocolate mousse calories!
Not interested in a fondue tram ride? Book your fondue food tour with a guide here.
Stroll Along The River/Lake
There's something really romantic about strolling along a large body of water with the one you love. Like a stroll on a beach – but in this case it's along Lake Zürich. Or the Limmat river – pick your preference.
Walking along the promenade hand in hand, stopping every now and then to admire the lovely views and take some selfies with a stunning background – is there a more romantic way to spend a summer evening?
And if it's a particularly hot day, there's nothing stopping you from jumping in the lake and cooling off a bit. It's a fun and spontaneous thing to do, and it will definitely make the evening memorable. Well, as long as 300 other people don't have the same idea of romance as you – maybe make sure to find a secluded spot for a swim, to avoid any large crowds. I recommend the little island in Wollishofen (train or tram from downtown) or Bade Enge just around the right hand side of the lake from the end.
An Evening Of Romance In Lindenhof
Lindenhof is a popular, but somewhat hidden historic site in the city centre. It is on Lindenhof Hill, and it was once the site of a Roman Castle.
The area provides amazing views of the Old Town, the Limmat river, the Town Hall and of pretty much half the city. And sitting there, admiring those views and looking at the mountains in the distance is a great way to just switch off and relax for a little while.
This is one of the most romantic spots in the city. Just imagine sharing all those stunning views with your significant other by your side. Just keep in mind that you can only get to Lindenhof by foot, from the medieval alleys of the city center.
An evening stroll through city center, followed by panoramic views of the river and the Old Town – you'll hardly top the romance of this outing, so do it towards the end of your trip!
Hot Chocolate At Cafe Schober
There's a lot to see and do in Zurich Old Town. When you get tired of walking around and sightseeing, head to Cafe Schober. A delicious hot chocolate is the perfect way to recharge your batteries and warm up after a day of exploring Zurich in the winter.
The cafe is pretty romantic, with an arch in the middle of the room and beautiful decor. Especially around Christmas, when the entire place is decorated, and there are lots of heart-shaped ornaments.
The food is amazing – Cafe Schober is the best cafe bar in the town (according to TripAdvisor). The sweets are delicious, the hot chocolate is extremely chocolatey, and there's even some savory foods you can try if you're really hungry. It's definitely an experience you'll want to share with the person you love. If they have a sweet tooth, taking them to this cafe is the most romantic thing you can do!
Of course, there are lots of other great chocolate experiences in Switzerland, but this is the closest to downtown Zurich.
Romance In Zurich
So, there you have it. Awesome ways to add a little romance to your time in Zurich and make the most of this fantastic European city. Just don't forget to bring a camera and share those memories when you get home. The views are stunning!
Pin For Later: