[Total: 4 Average: 3.8/5]
Rovaniemi Santa Claus is fake!
Yes, we know that we are adults and we shouldn't believe in Santa Claus. But hey- who doesn't like the big guy with white beard, fat belly, red outfit and loveable smile?
I am all crazy about Christmas. I start celebrating Holidays in October (buying gifts, listening to carols and thinking about Christmas decorations)
We booked a flight to Finland on May. We were waiting half a year for this wonderful winter adventure at the Arctic Circle.
Rovaniemi didn't disappoint us. It is an amazing town, full of snow and friendly people. On December, the day lasts there for only 4 hours (10 a.m.- 2 p.m.) Even though it was dark almost all the time, we felt great and had a lot of fun.
There is little snow in Europe in December, so it was awesome to find a real winter spot.
But… this post is about Santa, right? 😉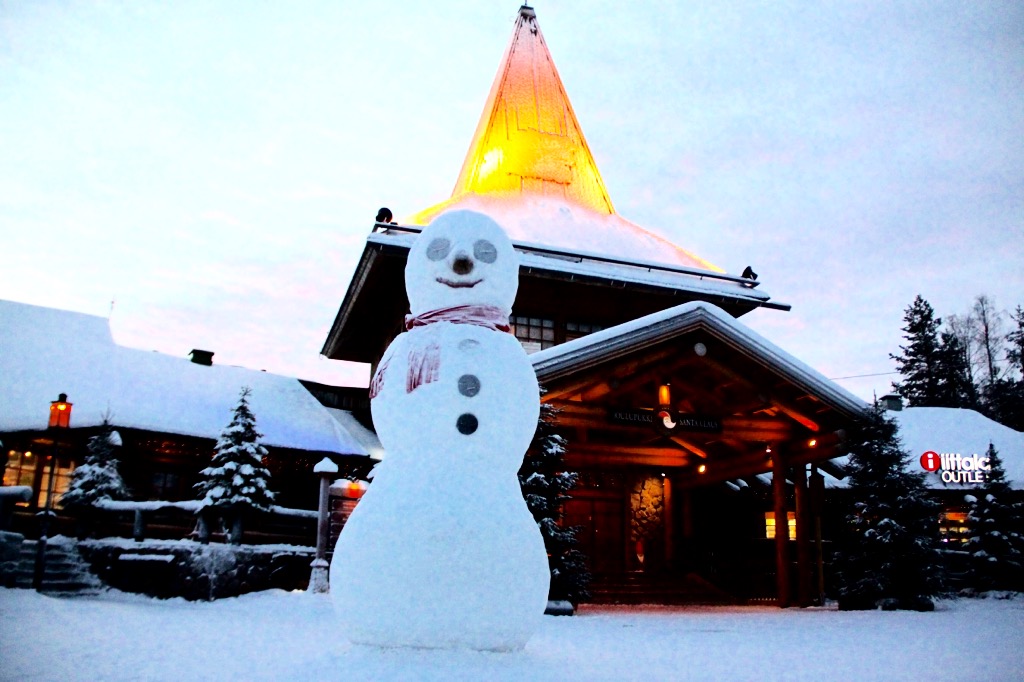 Why Rovaniemi Santa Claus is fake?
We came to Rovaniemi Santa Claus Village in the morning, right after it was opened.
The village itself is wonderful: playing with husky dogs or watching the reindeers were amazing experiences.
It was great to visit Santa's Main Post Office and send cards to our family.
We couldn't wait to meet Santa Claus in person. Excited, we followed all signs and entered to Santa's home.
Right after we got in, two ladies told us that it is forbidden to take pictures with Santa Claus.
Wait… WHAT? Why? The real Santa Claus would allow us making as many photos as possible.
This was the first warning sign for us. We went further. There was no one there. It was weird because the whole village was full of people.
Finally, we stood in the queue waiting to visit Rovaniemi Santa Claus.
After few minutes we saw 2 Chinese girls that just went out of his room. It turns out that one photo with Santa Claus cost 40 euro!
40 euro for ONE picture. It is just insane.
We were really disappointed. We knew that the guy in the room is not the real Santa Claus for sure.
It was just an ordinary man, sitting in a place full of commercialism.
We heard salesladies saying that it is a very good deal to buy this photo because you can download it for free from Santa Claus's website for one year.
We started to laugh and felt that all the Christmas magic was gone. We decided to get out of this place as soon as possible. We left the queue and quickly went out of Santa Claus home.
When we were back in the village, we felt good again. We started to listening to carols and children's laugh.
We felt the real Christmas spirit in the air. Full of joy, happiness and friendliness.
What's the big deal?
Maybe we are idealists but we think Christmas shouldn't be all about the money.
We know that Santa Claus Village in Rovaniemi is not a non-profit organisation and they should earn money from what they do.
But don't you think Santa should be available for every child, not only those that have rich parents?
There are many paid attractions in Santa Claus Village. And it is fine.
But Santa Claus is this one, unique person that should be able to see for free. And make as many pictures with him as possible. Including selfies and all the funny photos.
This guy should be full of joy. He should walk around the village and talk with tourists, not just sit in one room and pose for photos.
We think that the owners of Rovaniemi Santa Claus Village don't really understand the idea of Christmas.
They took away the only attraction that should be available for everyone: Santa Claus.
They hid him somewhere and did not allow to leave the building.
Santa Claus as a slave? Yes, in Rovaniemi!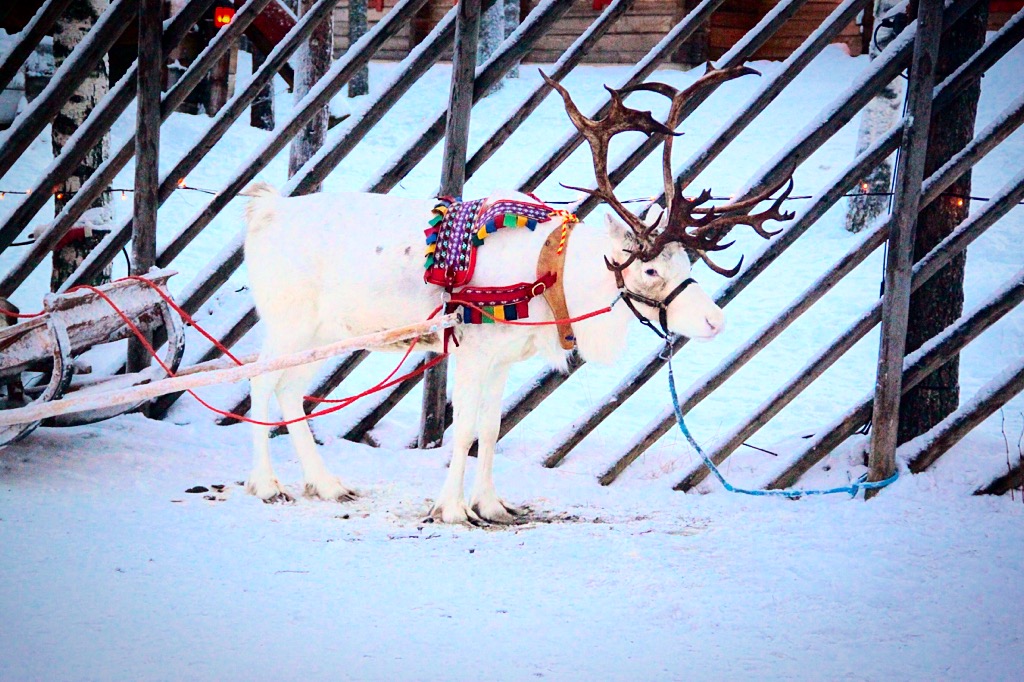 It's not only about Rovaniemi Santa Claus…
Believe it or not, but there are no elves in Santa Claus Village. We were expecting dozens of dwarfs walking around Santa Claus Office.
No. We saw none.
Ladies in the gift shops sometimes have elves outfit. But they are sad and ordinary, they definitely don't feel the Christmas spirirt.
There is also no Mrs. Claus in the village. Looks like a Santa Claus in Rovaniemi is still a bachelor. Maybe this is the reason why he sits all the time in one building, too afraid to see the daylight. He doesn't even have a change to meet a woman that he could make his Mrs. Claus.
We were expecting that Rovaniemi Santa Claus Village will be full of joy. That the Christmas lights will be the brightest on the Earth. And Christmas songs would be so loud that they will bump in our ears even after we leave Lapland.
We thought everybody in the village will be smiling and wishing us Merry Christmas.
Well… it didn't happen. People working in the Santa Claus Village behave the same as all the ladies in supermarket. They seemed bored by their jobs. From the look in their eyes, we can tell that all they think about is going home.
We were also expecting a wonderful Christmas food there. We hoped to buy everything in gingerbread or cinnamon flavour.
There is nothing like that in Rovaniemi Santa Claus Village… The shops are ordinary and the gifts you can find there are just the same as in any other country in Europe.
Always look on the bright side of life.
There are some awesome things and activities in Rovaniemi Santa Claus Village. This place can be nice if you visit the right spots.
What are the best things in Rovaniemi Santa Claus Village?
Husky dogs.
Playing with husky dogs is one of the best things to do in Lapland! They are so cute and friendly. We like dogs but when we saw more than 100 of them in the village, we were a little scared.
Soon it turned out that there is nothing to be afraid of. Huskies in Rovaniemi Santa Claus Village are very peaceful and nice.
Their trainer told us that they let them run in one day and then give them one day to relax. And these dogs really hate it. They would like to train all the time, so every time someone is entering the sleigh, you will hear very loud barking.These are dogs, attracting the attention to be picked to run.
An interesting facts about husky dogs is that they are very good
climbers. They are surrounded by a high fence but they can easy
go to the other side. They never do it. Why? Because they are 
well-trained :).
Sometimes they climb to the top to have a better view on what is
going on in the neighbourhood. Like this cute dog on the picture
below.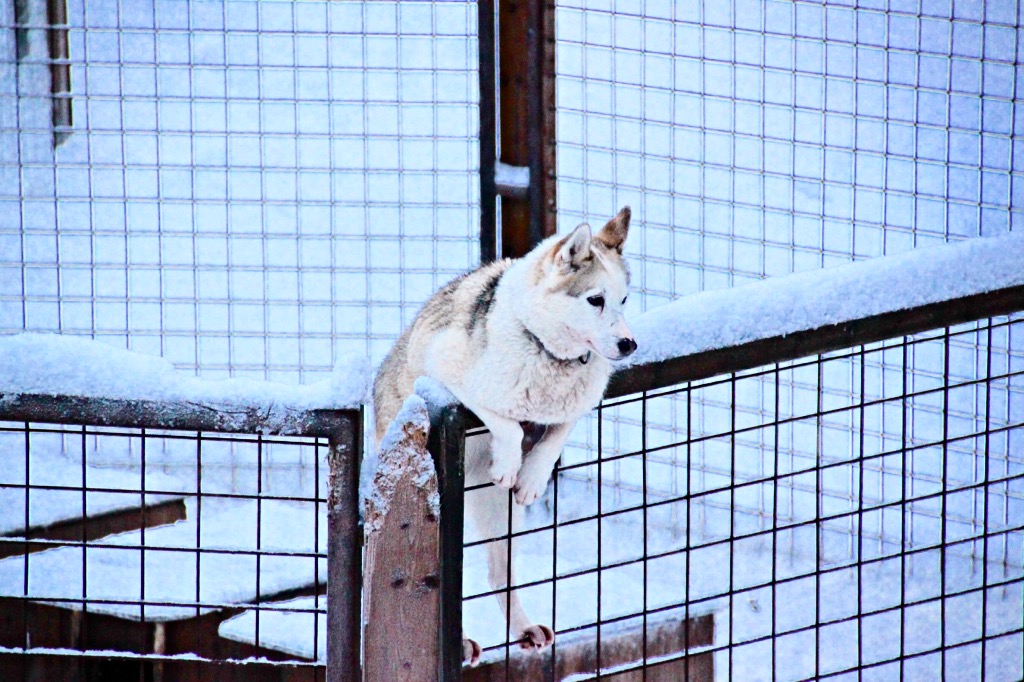 Another interesting fact about husky dogs is that they like
 living in a small spaces. That's why their cages are very tiny.
Dogs trainer said that she also has her own husky at home.
When she leaves an entire apartment for him, everything will be
destroyed. But if she puts him into one small room, the dog will
be calm and happy.
In Rovaniemi Santa Claus Village, there are two main activates associated with husky dogs:
It is a great fun to ride in a sleigh pulled by dogs.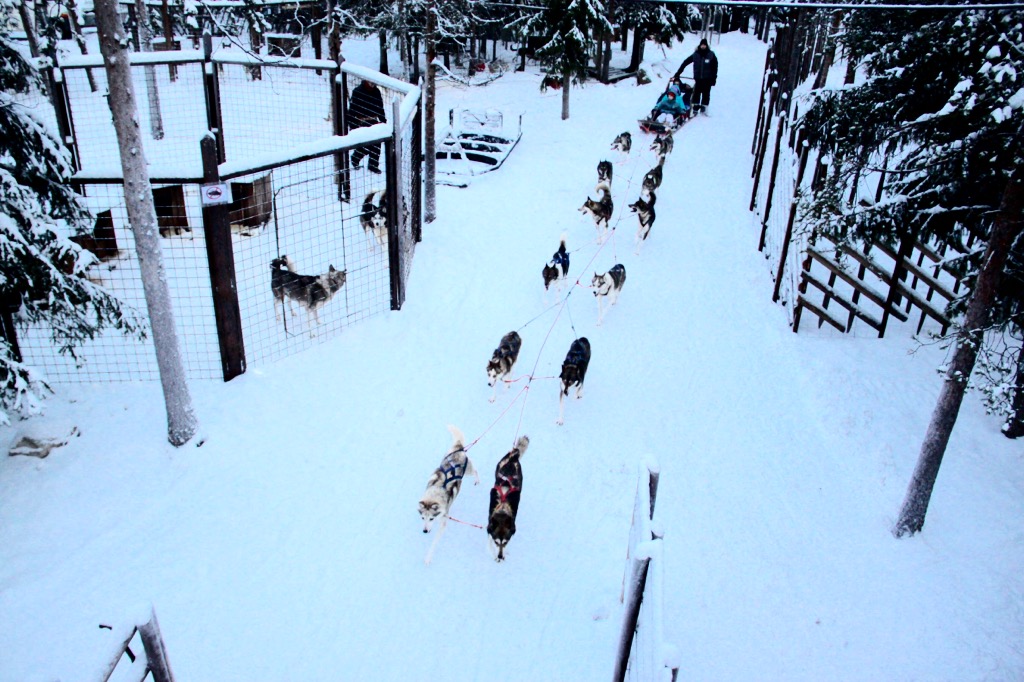 visiting the husky dogs park
What an amazing experience! For only 5 euro you can enter the husky dogs park and play with the puppies or talk with their trainers about huskies.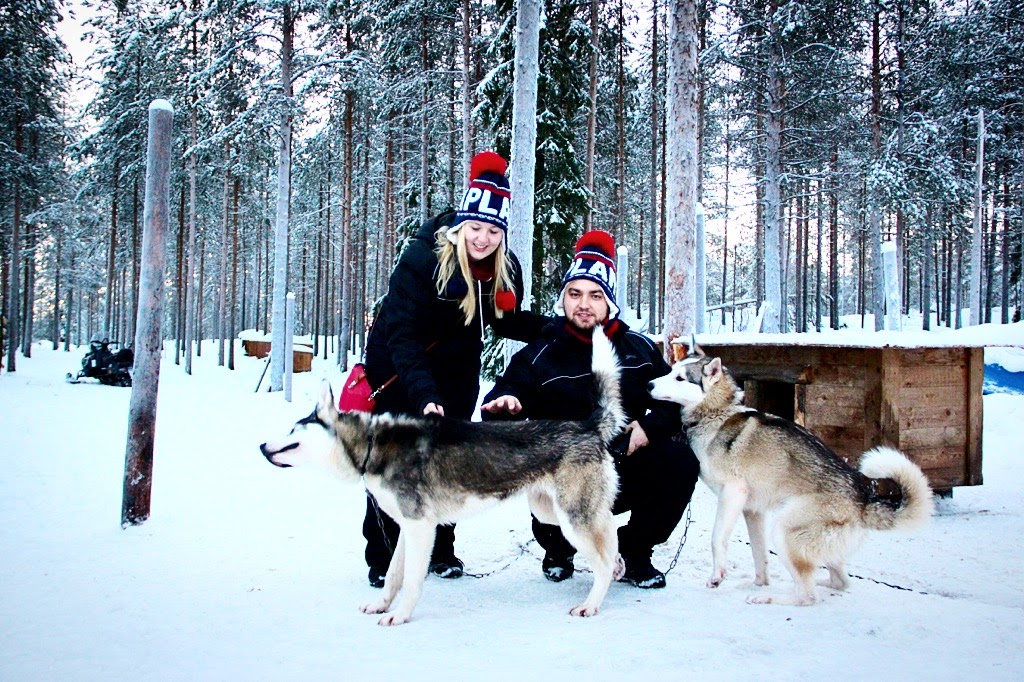 2. Reindeers.
Unfortunately, you can't just go and pet the reindeer or take a picture with him.
All you can do is watch them from the distance or buy a reindeer sleigh ride.
We have never saw the reindeers, so it was a great experience for us to see them!
Interesting fact: Finns like to use reindeers in their sleighs 
but they also love to eat them. It is very easy to find reindeer
meet in every supermarket in Rovaniemi.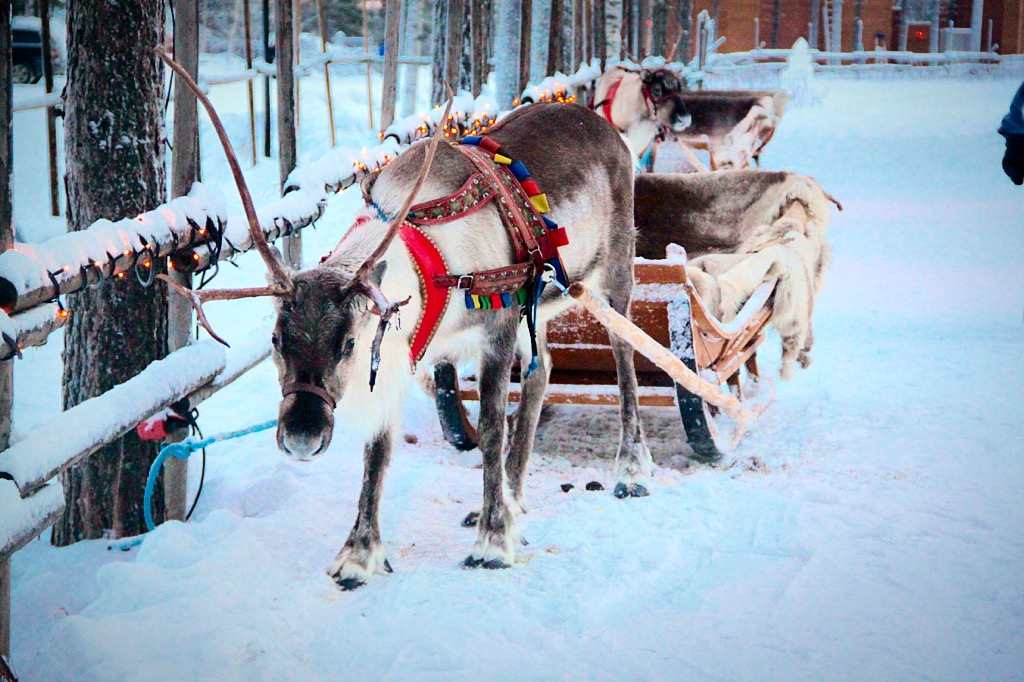 3. Santa Claus Main Post Office.
What can be better than getting a postcard from the Arctic Circle?
At Santa Claus Main Post Office you can send a card to your family and friends. The Post is well-decorated (in contrary to other parts of the village). You can really feel there the Christmas Spirit :).
4. Snowman world.
Sadly, it's still under the construction. They are building an ice hotel, ice bar and ice restaurant in the Snowman World. Everything there is made of ice and snow!
It was an amazing experience to get inside this huge igloo.
By buying a ticket to the Snowman World, you also get an access to carousel sled.
You can slide downhill on a sled or tire. We were watching kids playing on the snow and we we can certainly say that they were having fun!
5. Snowmobile Park.
Great fun for children and adults. You can rent a snowmobile and happily drive on the snow.
The minimum age of getting to Snowmobile Park is only 2 years old, so it really is an activity for everybody.
See also our post about the interesting facts about Finland.
Disclosure: Yay for transparency! Some of the links in the article are affiliate, which means that if you book something by clicking on them, we will get a small commission with no extra cost to you. Your support helps this blog going.