What To Do In Rovaniemi Santa Park?
Lapland Holidays In A Nutshell
Yes, I know that I am an adult and I shouldn't believe in Santa Claus. But hey- who doesn't like the big guy with the white beard, fat belly, red outfit, and a friendly smile? I am all crazy about Christmas. I usually start celebrating Holidays in October. Visiting the home of Santa Claus was on top of my travel bucket list and I was beyond excited when I was booking the flights to Finland. Rovaniemi didn't disappoint me! In this post, I am sharing with you the best tips for having amazing Lapland holidays and what to do in Rovaniemi Santa Park.
About Rovaniemi
It is an amazing town, full of snow and friendly people. In December, the day lasts for only 4 hours there. The sun goes up at 10 AM and goes down at 2 PM. Even though it is dark almost all the time, you still can have lots of fun there.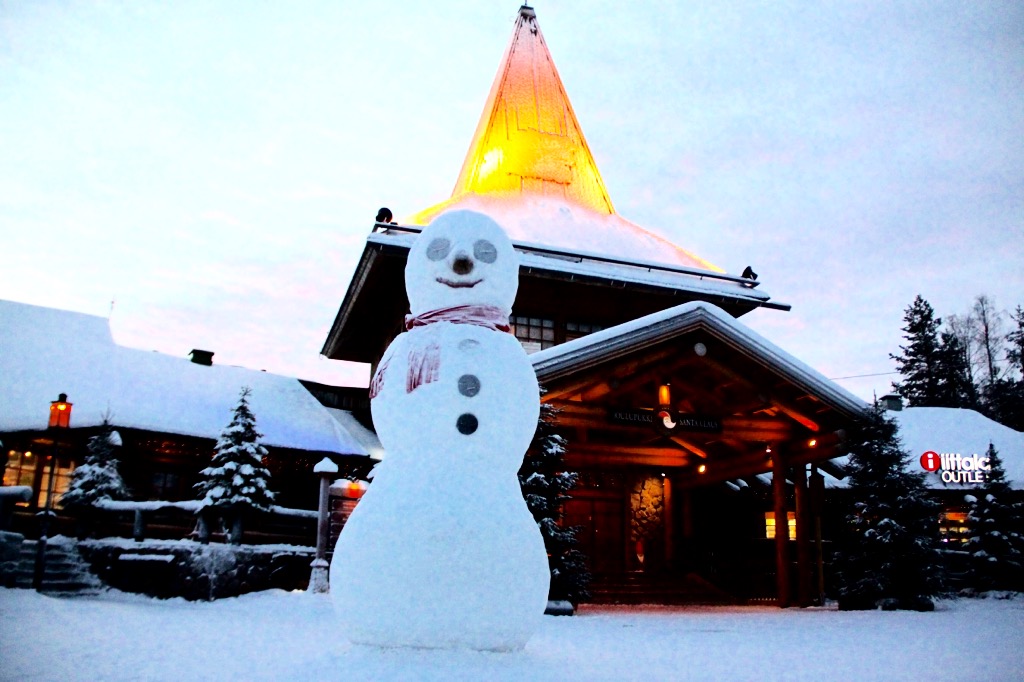 About Rovaniemi Santa Park
The village itself is wonderful: playing with husky dogs or watching the reindeers are awesome things to do not only for kids but also for adults.
You can visit Santa's Main Post Office and send cards to your family as well.
We couldn't wait to meet Santa Claus in person. Excited, we followed all signs and entered Santa's home.
Right after we got in, two ladies told us that it is forbidden to take pictures with Santa Claus.
Wait… WHAT? Why? The real Santa Claus would allow us taking as many photos as possible.
This was the first warning sign for us. We went further. There was no one there. It was weird because the whole village was full of people.
Finally, we stood in the queue waiting to visit Rovaniemi Santa Claus.
After a few minutes, we saw 2 Chinese girls that just went out of his room. It turns out that one photo with Santa Claus costs 40 euro!
40 euro for ONE picture. It is just insane.
We were really disappointed. We knew that the guy in the room is not the real Santa Claus for sure.
It was just an ordinary man, sitting in a place full of commercialism.
We heard salesladies saying that it is a very good deal to buy this photo because you can download it for free from Santa Claus's website for one year.
We started to laugh and felt that all the Christmas magic was gone. We decided to get out of this place as soon as possible. We left the queue and quickly went out of Santa Claus's home.
What's The Big Deal?
Maybe we are idealists but we think Christmas shouldn't be all about the money.
We know that Santa Claus Village in Rovaniemi is not a non-profit organization and they should earn money from what they do.
But don't you think Santa should be available for every child, not only those that have rich parents?
There are many paid attractions in Santa Park Rovaniemi. And it is fine.
But Santa Claus is this one, unique person that should be able to see for free. And make as many pictures with him as possible. Including selfies and all the funny photos.
This guy should be full of joy. He should walk around the village and talk with tourists, not just sit in one room and pose for photos.
Maybe the owners of Rovaniemi Santa Claus Village don't really understand the idea of Christmas.
They took away the only attraction that should be available for everyone: Santa Claus.
They hid him somewhere and did not allow to leave the building.
Santa Claus as a slave? Yes, in Rovaniemi!
It's Not Only About Rovaniemi Santa Claus…
Believe it or not, but there are no elves in Santa Claus Holiday Village Rovaniemi. We were expecting dozens of dwarfs walking around Santa Claus's Office.
Nope. We saw none.
Some ladies in the gift shops wear elves' outfits. But they are sad and ordinary, they definitely don't feel the Christmas spirit.
There is also no Mrs. Claus in the village. Looks like Santa Claus in Rovaniemi is still not married. Or maybe they seriously kidnapped him and forced him to sit in one building his entire life. Maybe Mrs. Claus is waiting for him somewhere, crying her eyes out, waiting until he comes back home.
We were expecting that Santa Park Rovaniemi will be full of joy. That the Christmas lights will be the brightest on the Earth. And Christmas songs would be so loud that they will bump in our ears even after we leave Lapland.
We thought everybody in the village will be smiling and wishing us Merry Christmas.
Well… it didn't happen. People working in the Santa Claus Village behave the same as all the cashiers in the supermarket. They seemed bored by their jobs. From the look in their eyes, we can tell that all they think about is going home.
We were also expecting a wonderful Christmas food there. We hoped to buy everything in gingerbread or cinnamon flavor.
There is nothing like that in Rovaniemi Santa Park… The shops are ordinary and the gifts you can find there are just the same as in any other country in Europe.
So… Are Trips To Lapland Worthwhile?
There are still some things to do in Rovaniemi that are pretty awesome. This place can be nice if you visit the right spots.
What To Do In Rovaniemi?
Play With Husky Dogs
Playing with husky dogs is one of the best things to do in Rovaniemi! They are so cute and friendly. I like dogs but when I saw more than 100 of them in the village, I was a little scared.
Soon, it turned out that there is nothing to be afraid of. Huskies in Santa Claus Holiday Village Rovaniemi are very playful and nice.
They also well well cared for. The trainers let them run for one day and then give them one day to relax. And these dogs really hate it. They would like to train all the time, so every time someone is entering the sleigh, you will hear very loud barking. These are dogs, attracting the attention to be picked to run.
An interesting fact about husky dogs is that they are very good climbers. They are surrounded by a high fence but they can easily go to the other side. They never do it. Why? Because they are well-trained.
Sometimes they climb to the top to have a better view of what is going on in the neighborhood. Like this cute dog in the picture below.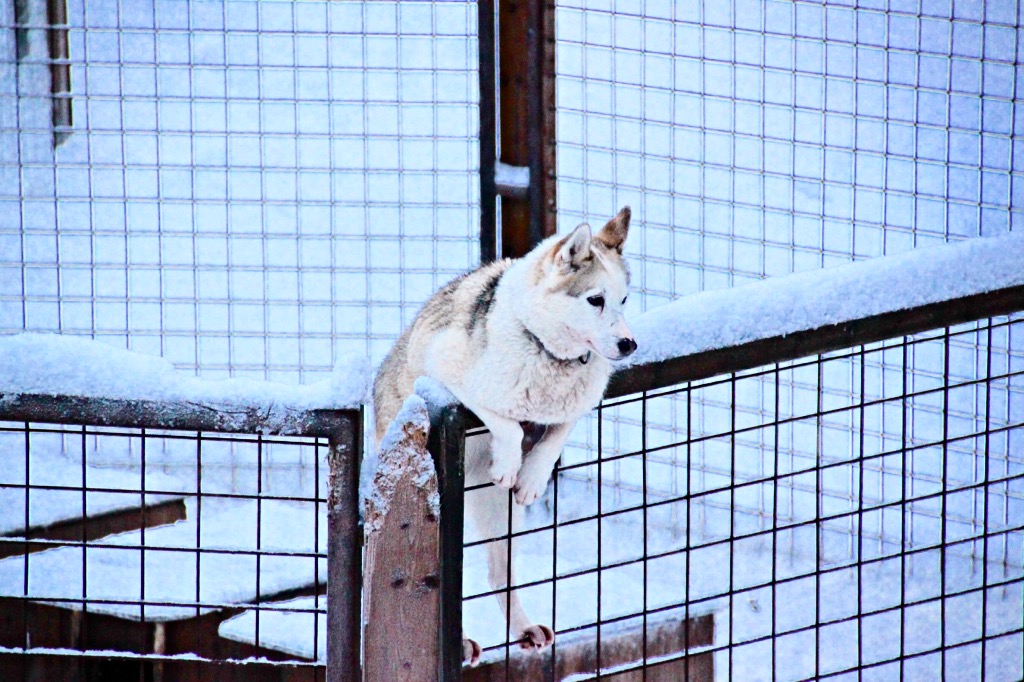 Another interesting fact about husky dogs is that they like living in small spaces. That's why their cages are very tiny.
Dogs' trainer said that she also has her own husky at home. When she leaves an entire apartment for him, everything is destroyed. But if she puts him into one small room, the dog is calm and happy.
There are two ways to have fun with husky dogs at Santa Claus holiday village Rovaniemi:
Sleigh Ride
It is great fun to ride in a sleigh pulled by dogs.
You can also book a sleigh ride outside the park here.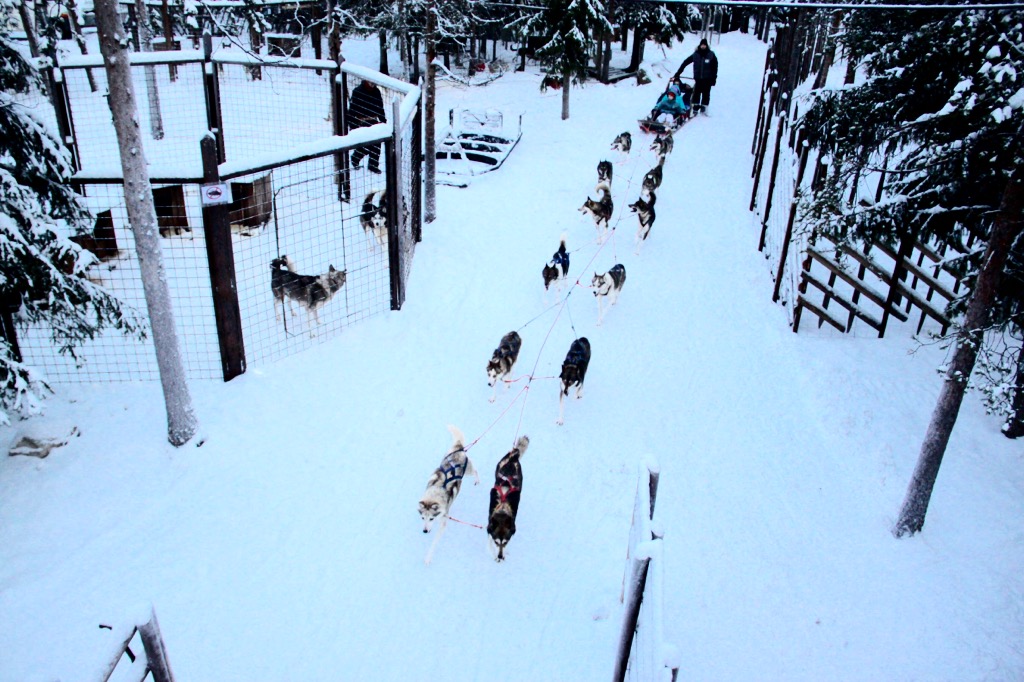 Husky Dogs Park
What an amazing experience! You can enter the husky dogs' park and play with the puppies or talk with their trainers about huskies.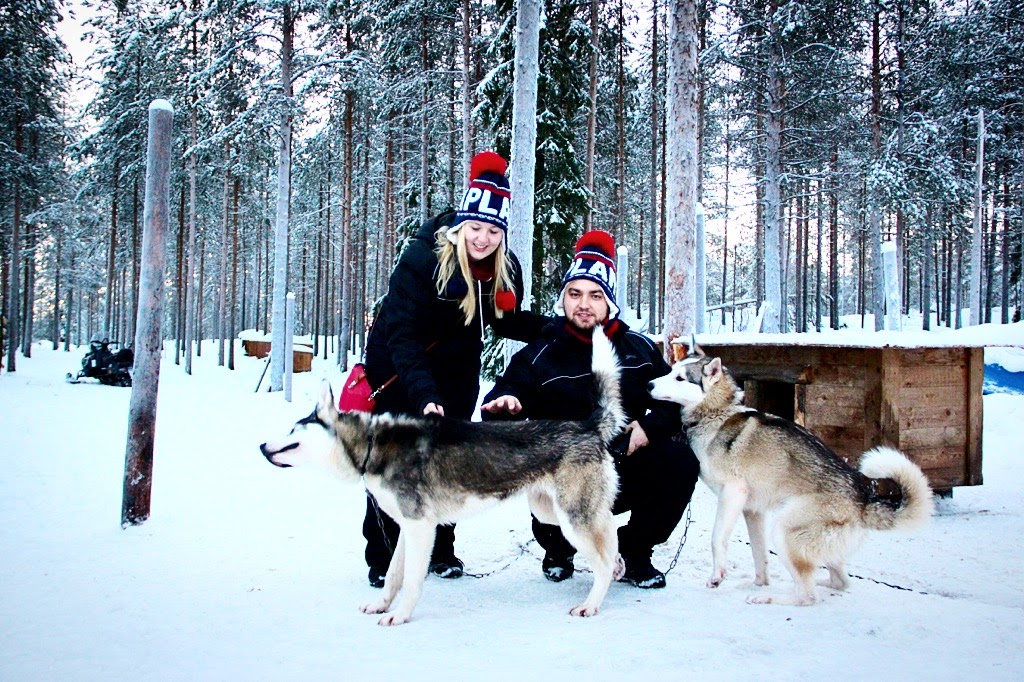 Take A Reindeer Sleigh Ride
Unfortunately, you can't just go and pet reindeers or take a picture with them.
All you can do is watch them from the distance or buy a reindeer sleigh ride.
Interesting fact: Finns not only use reindeers to travel but they also… eat them. You can find a reindeer meet in almost every supermarket in Lapland.
Skip the lines and book a tour to traditional Reindeer Farm Rovaniemi here.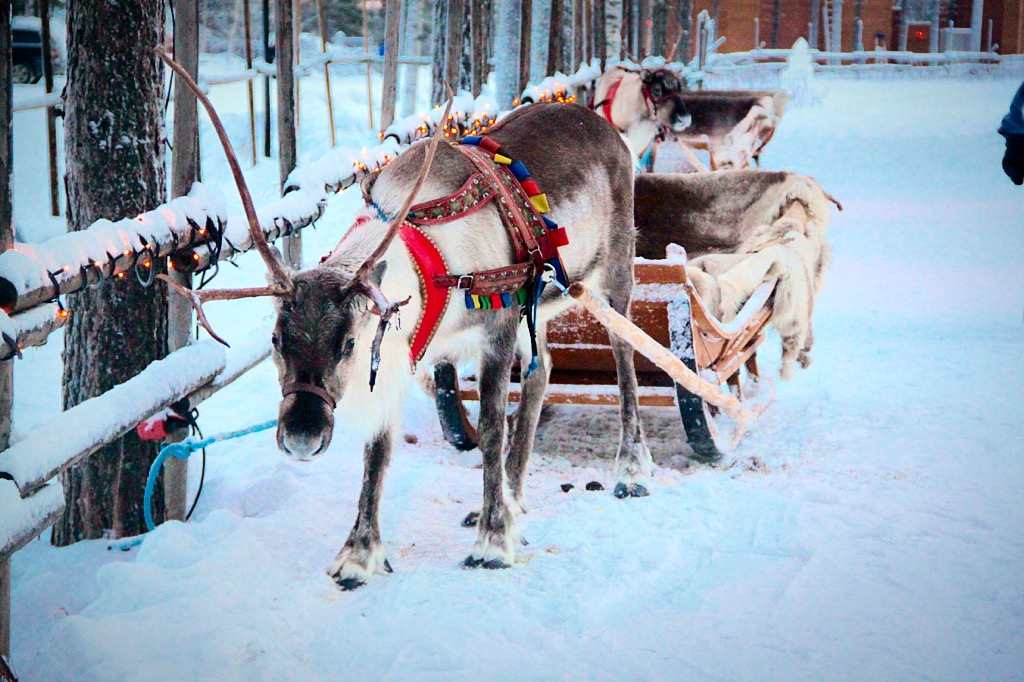 Send Postcards From Santa Claus Main Post Office
What can be better than getting a postcard from the Arctic Circle? Christmas trips to Lapland won't be complete without visiting Santa Claus Main Post Office.
It is beautifully decorated (in contrary to other parts of the village). You can really feel the Christmas spirit there.
Skip the lines and book a tour to Santa Park here.
Visit The Snowman World
Open only in the winter, from December to March.
The huge igloo with bar, restaurant, and awesome activities for the kids. They can try sliding, ice skating, and even play with the snowman.
The tickets to the Snowman World can be purchased here.
Want to have an unforgettable dinner at the Ice Restaurant? Book it here.
Have Fun At Snowmobile Park
Great fun for children and adults. You can rent a snowmobile and happily drive on the snow.
The minimum age of getting to Snowmobile Park is only 2 years old, so it really is an activity for everybody.
See The Lapland Northern Lights
Depending on the time of your Lapland travel, you will have greater or fewer chances to spot the Northern Lights. The famous Aurora Borealis can be seen from September to March.
We were visiting Lapland in December and we were lucky enough to see the Northern Lights! They are not visible in Rovaniemi though, so the best is to rent a car and drive on the outskirts of Rovaniemi or book Aurora Borealis tour to let someone take you there.
Learn To Cook Lappish Food
That may be a great alternative for those who get tired of spending time outdoor! No matter if you are traveling alone or with a family, you may spend a wonderful time discovering the culture of Lapland and learning to cook traditional dishes from the local.
Book the tour here.
Tips For Planning Lapland Family Holiday
Book Your Tickets In Advance
If you are traveling to Finland during the high season and dream about the Lapland Christmas holidays, be sure to plan everything in advance.
For example, here you can book a New Year's Eve Christmas dinner with Santa.
More tours here:
Plan Your Budget Carefully
Let's face it- Lapland prices are not low. If you are traveling with kids, be ready to spend A LOT of money. 40 euro for a photo with Santa Claus may give you a general idea of the budget you need to prepare.
Souvenirs, activities, food, and accommodation costs are quite high, so cheap Lapland holidays are impossible to organize. Santa Claus holiday village Rovaniemi is an expensive place to visit, so be sure to calculate the cost before the trip to avoid disappointments.
Pin For Later:
Have a question? Join our Family Travel Support Facebook group, we will be happy to help you!