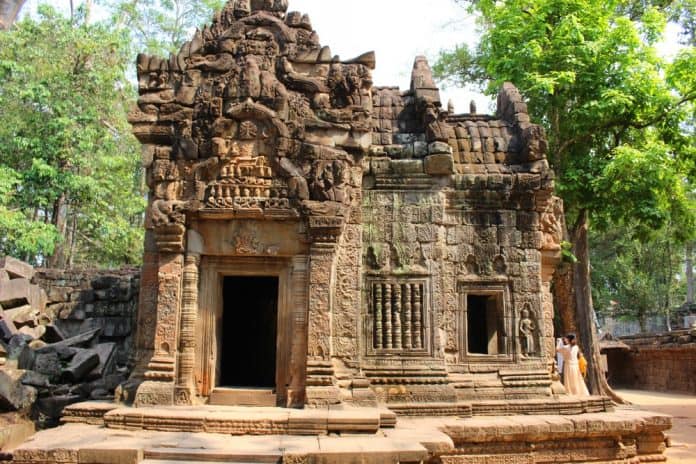 Angkor Wat – Info
Siem Reap is a city close to the Angkor Wat, which is the most popular tourist attraction in Cambodia.
Many American and European tourists who come to Thailand, decide to see Angkor Wat in Cambodia as well.
It's the huge temple complex, all made from stone almost a thousand years ago. Angkor Wat is one of the UNESCO World Heritage places. It's considered as the best monument in Asia.
Angkor Wat -Food for thought
Angkor Wat is really impressive. When our country, Poland, was baptized and converted to Christianity, Angkor Wat was built. Cambodia was one of the most developed country on the world! In contrast to what is now.
We could think of that when we are watching all these temples. Right now, they are just big buildings made of stone. But long ago, Angkor Wat something divine, amazing and exceptional.
Unfortunatelly, we were sick during our stay in Cambodia, maybe that's because we didn't remember this country well.
Everyhting was dirty and the poverty was just terrible. People would do anything to get few dollars from you.
Most of them speak English perfectly, which was pretty suprising for us.
Both of us are pretty sensitive to other people's suffering. We just couldn't stand dirty children who didn't even have shoes. Maybe we haven't seen much yet. Maybe we will get used to it when we travel more.
But Cambodia was too difficult for us…
Prices
However, it's a place where you can save some money. Accomodation in great hotel in the center of Siem Reap, cost only $15 per room. Foot massage costs few dollars.
And you like to have fun, it Happy Pizza with.. marihuana!
Transport
You'll be surprised but there's almost no taxi in Siem Reap! The only conveyance is tuc-tuc. This is a small motorbike with a place for maximum 4 people.
Tuc tucs are really cheap. All day of driving cost only $10-$15.
Remember to bargain because the first price will be high. However we always give more money to drivers because we just felt sorry for them. They are just poorer than us and we feel they need these money more then we do.

Angkor Wat – Useful informations
1. Take a tuc-tuc to see the temples.
It's very popular to go there early in the morning to see the sunset. Driver will be waiting for you while you will be sightseeing. All day of his work shouldn't cost more than $15.
2.Dress properly.
Remember that you are in the temple. Wear long pants and long sleeve shirt.
3. Help other people
If you are reading this article, you are probably wealthier than most of Cambodian. So never refuse if somebody asks you for help. Few dollars is not much for you, but it's a lot for these people.