Facts on Singapore That Will Surprise You
Singapore is an amazing place, so different from all the other South East Asian countries like Vietnam, Thailand, Malaysia, Myanmar or Philippines. It is actually more similar to American cities like New York. In this post, we are giving you facts on Singapore.
We were surprised how many of them we found! But just think about it… the land built on the ground with no natural resources, on a tiny land with nothing but great ideas must be different from everything else.
Singapore is unique on a global scale! In this post about the fun facts on Singapore, you will find out why…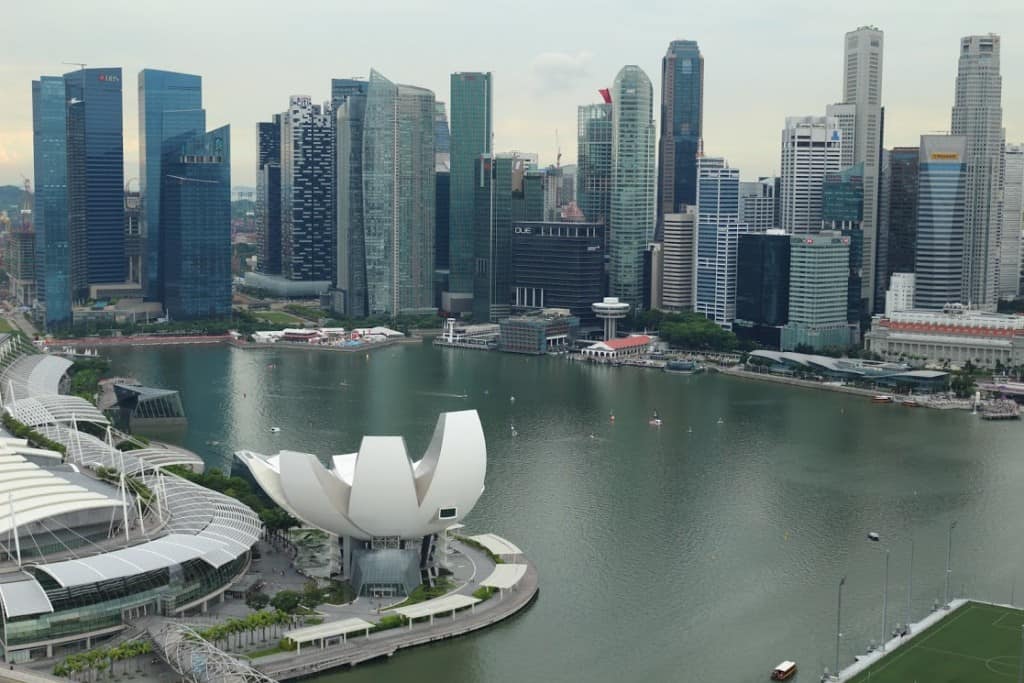 Interesting Singapore facts #1
You can't buy chewing gum in Singapore
One of the interesting facts of Singapore is that yeah, this Singaporean law is one of the funniest we have ever heard of. Chewing gum (except dental and nicotine gums) is officially forbidden in Singapore.
You won't find a chewing gum in any store. The only doctor can prescribe it to you! Why Singapore has such a weird law? It is all about the cleanliness. The government's main goal is to keep the country neat and we all know how many people throw the chewing gum on the street, without thinking about how disgusting it is.
It's also not allowed to eat and drink on public transportation (buses and MRT). It's basically for the cleanliness again. With so much good food across the country, it might be hard to resist, but you wouldn't want to get a fine!
If you want to get snacks from all over the world directly to your home—> click here.
Singapore interesting facts #2
Singapore is the only island city-state in the world
This is one of the cool facts of Singapore. There are other city-states in the world, like for example Vatican, but Singapore is the only one situated on the island (and 62 small islets).
What's interesting, Singapore is a really small country but it's not the smallest on Earth.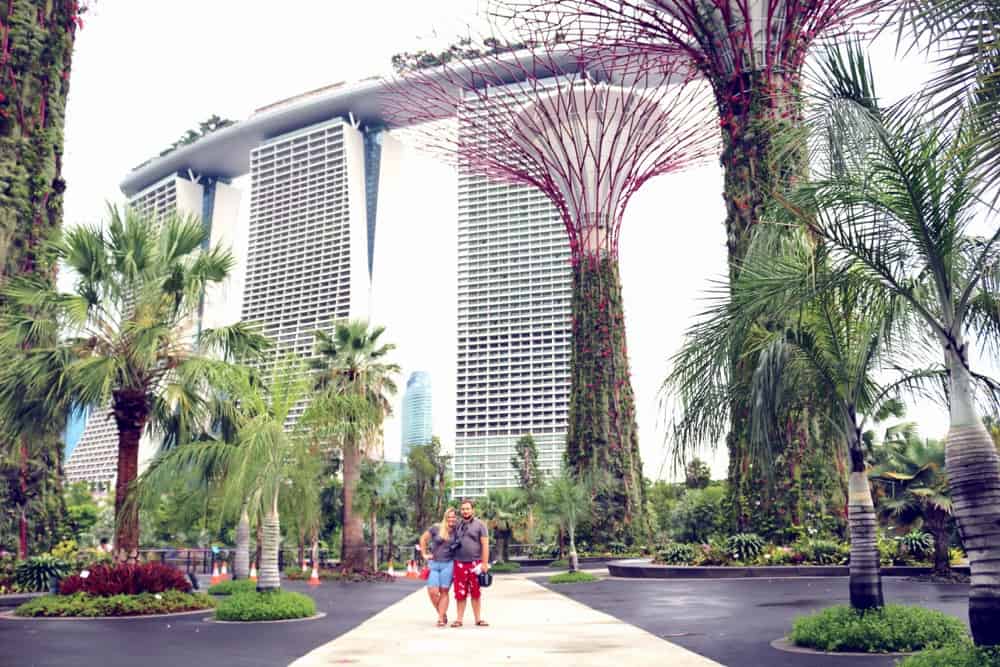 Interesting Singapore facts #3
The most famous hotel in South East Asia is situated in Singapore
One of the cool facts about Singapore is the next one! If you have ever been to South East Asia, or at least read something about this area of the world, you must have heard of Marina Bay Sands. This is the most famous hotel not only in Singapore but also in the whole ASEAN.
What's special about this place? First of all- the architecture. Marina consists of the three buildings and a huge boat-shaped roof on the top of them. Secondly- an infinity pool that is situated on the rooftop and it is considered one of the best in the world. Last but not least- events. A lot is going on in this hotel! The grand final of Asia Got Talent show is just an example.
You can read the detailed review of Marina Bay Sands and other hotels in Singapore here.
Check out the latest prices for—> Marina Bay Sands.
[thrive_leads id='17883′]
Singapore interesting facts #4
Singapore was a Malaysian city in the past
One of the very interesting facts about Singapore is that some people still don't realize that Singapore is not only a city but also a country. When talking with other people, we often hear that they thought Singapore is just another Malaysian city like Kuala Lumpur.
It is not but these countries are connected to each other. Some Malaysian people go to Singapore to work and earn money. And Singaporean people visit Malaysia very often during their free time (like weekends).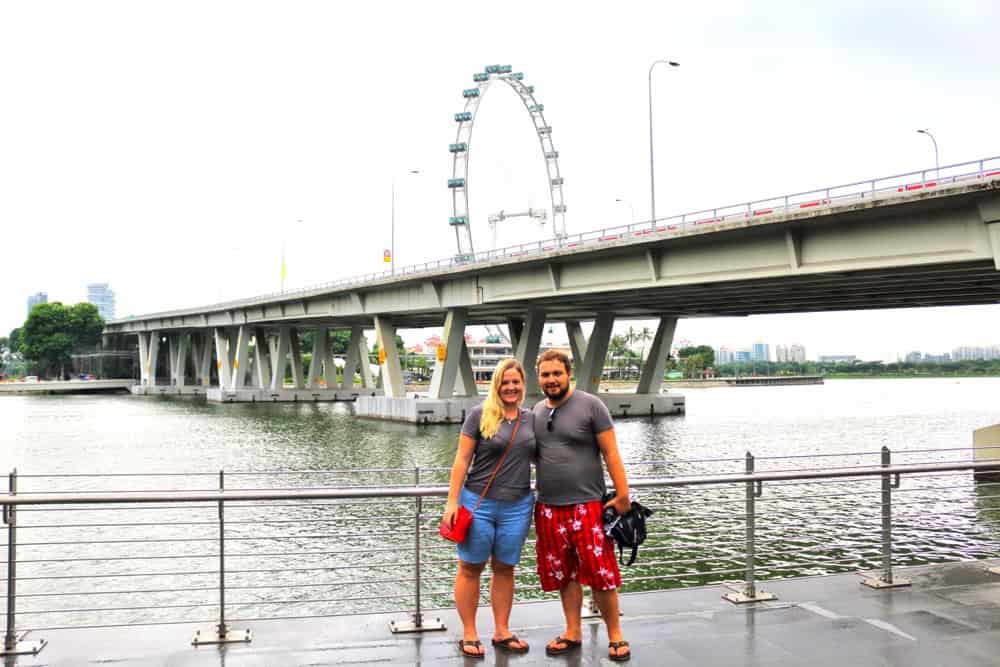 Interesting Singapore facts #5
Singapore is a new country
One of the great facts about Singapore is that when we were in Singapore last year (in 2015), Singapore celebrated the 50 anniversary of its existence. It became independent from Malaysia in 1965.
It is worth to mention that through the years, Singapore was also dependent on Japan and Great Britain.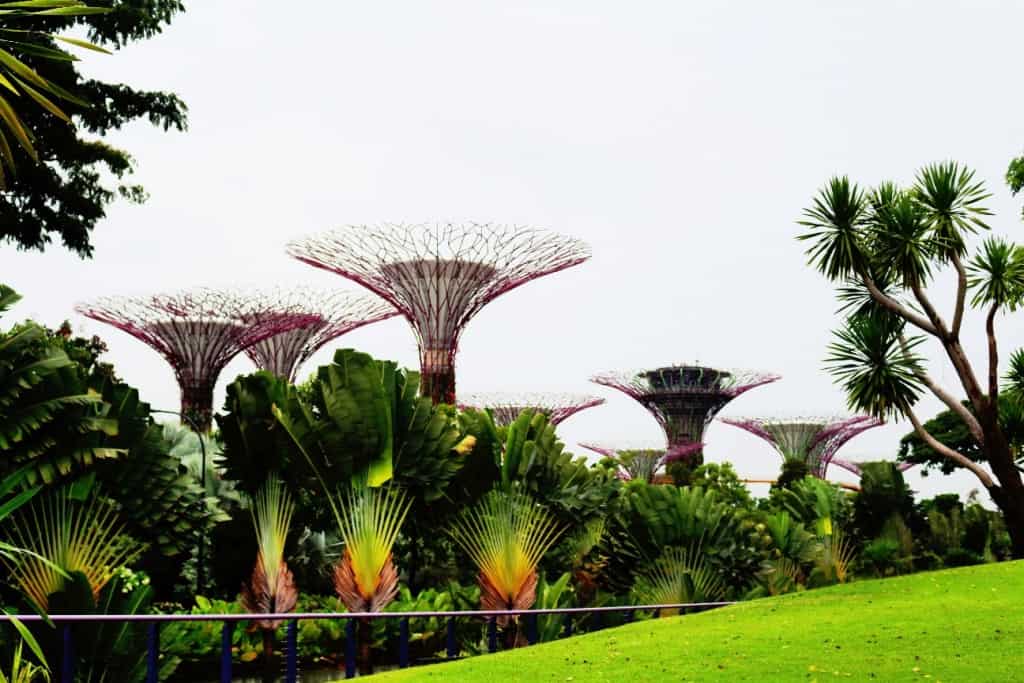 Singapore interesting facts #6
It's forbidden to build high buildings in Singapore
One of the interesting facts on Singapore is that although there are 64 skyscrapers right now in Singapore, it is forbidden to build buildings higher than 280 metres (919 ft). Why? Because it is a small country and the military base called Paya Lebar Air Base is situated really close to the central business district.
High buildings could be a big trouble for the planes, that's why the law regulates their height.
Interesting Singapore facts #7
Lion is the symbol of Singapore
Singha means lion in the Malay language, that's why Singapore is also called The Lion City. The lion head is also a symbol of Singapore. it's funny because actually, no lion has ever lived in that area.
For the government of Singapore, it doesn't really matter. They say that lion represents the strength, excellence and courage, that's why it a symbol of their country.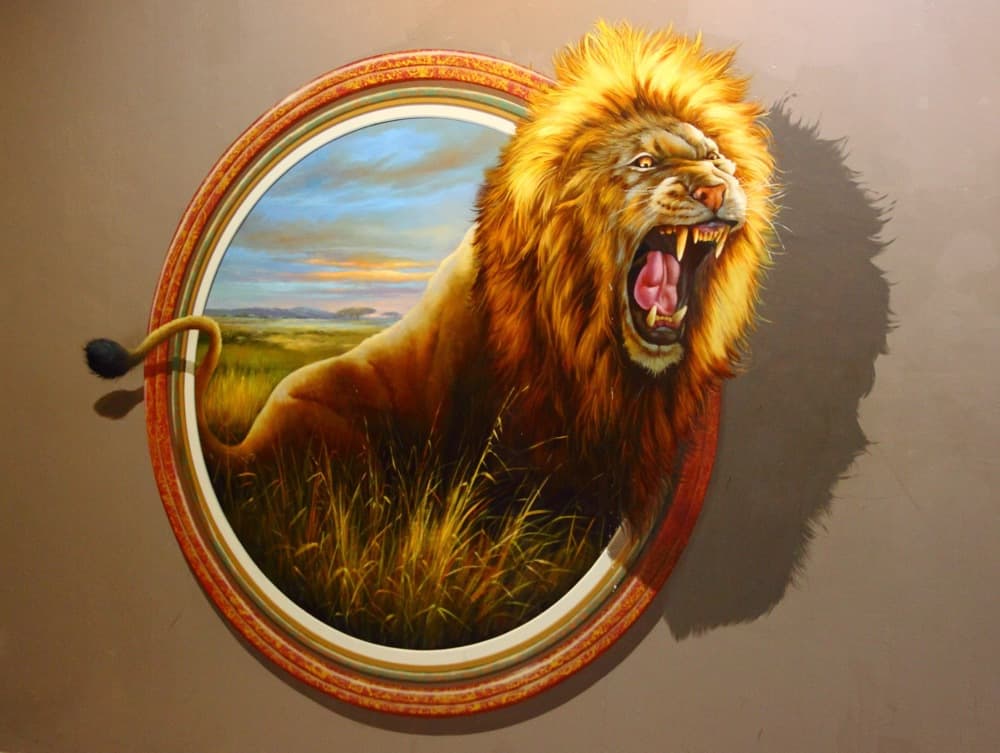 Singapore interesting facts #8
A millionaire's city
It is almost unbelievable but one of every six Singaporean households have more than US$1.000.000 fortune! And we are talking about disposable wealth, means that properties, businesses, cars etc. don't count!
Singapore has the highest percentage of millionaires in the world. How awesome is that?
Interesting Singapore facts #9
Singaporean people speak Singlish
Some people think the Singlish (also known as the Singaporean English) isn't supposed to be spoken because it is not exquisite enough.
What is Singlish? It's the language spoken in some parts of Singapore. It has words from many different languages, including English, Malay and Chinese.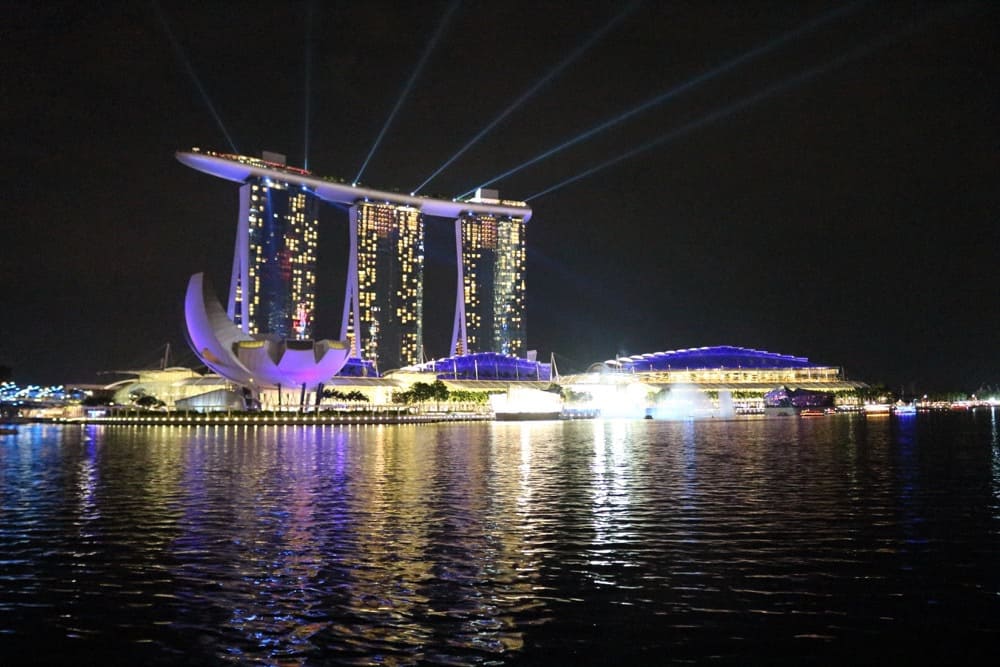 Singapore interesting facts #10
There's a lake in a Singaporean shopping mall
That's one of the facts of Singapore that was super interesting for us. Have you ever seen a lake and gondolas inside the shopping mall?
We did only once and it was in Singapore! More specifically, inside the Marina Bay Sands Shopping Mall.
We were really surprised when we saw it!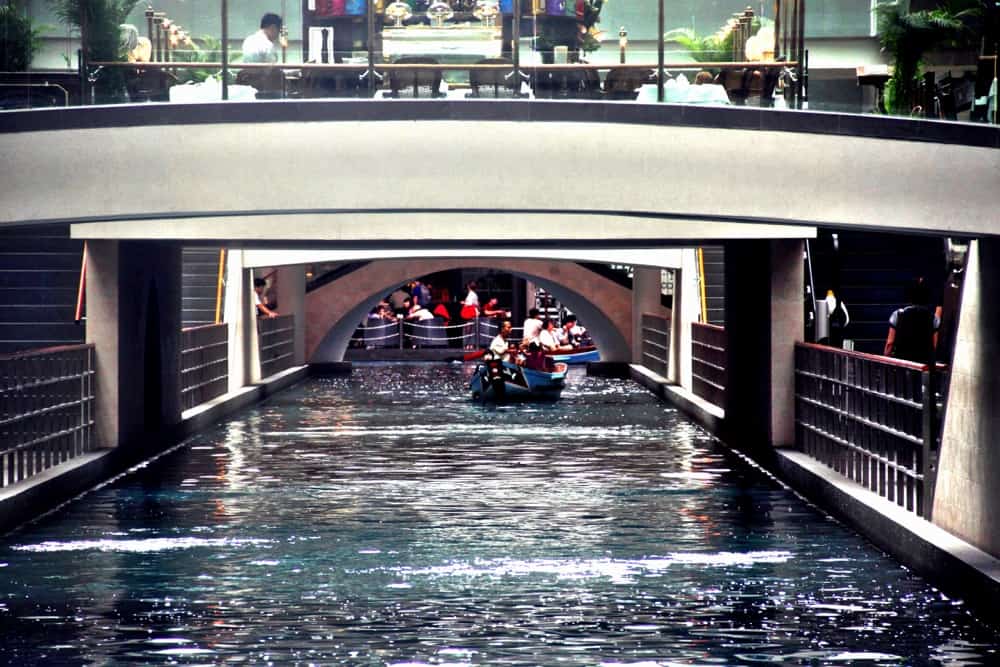 Interesting Singapore facts #11
Singaporeans are the fastest walkers
Singaporeans have the fastest walking speed, which is approximately 6.15km an hour. It could be related to their efficient and busy lifestyle.
Singapore interesting facts #12
Singapore is known for its boutique hotels
When it comes to finding the place where to stay, Singapore knows how to impress! Make the most of your stay in Singapore and stay at one of the coolest hotels found in the city.
Hotel G Singapore has an outstanding design which provides cozy, colorful and unique vibes! Check out the latest prices for—> Hotel G Singapore.
Wanderlust is another gem! With its modern, color themes and quirky twists, it's definitely a unique hotel! Check out the latest prices for—> Wanderlust.
Naumi Hotel offers an amazing terrace as well as comfortable and modern rooms. Check out the latest prices for—> Naumi Hotel.
Are you heading to Singapore next? You might want to check out the deals on Big Bus Singapore!
Did you know these facts about Singapore? Do you know any other interesting facts on Singapore? Share your thoughts in the comments!
[thrive_leads id='16373′]